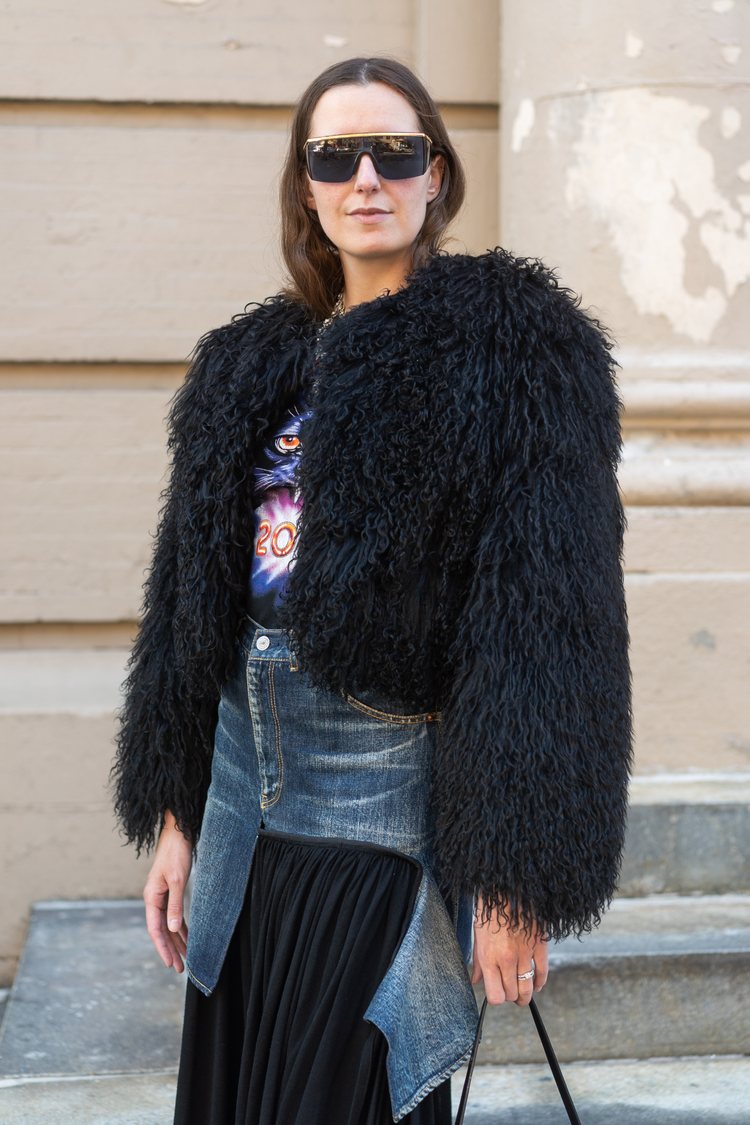 Business
Nina Gabbana Vintage – Celebrity Worthy Designer Vintage
Read how vintage seller Marie Laboucarié ended up working with celebrity stylists, and see the most precious items from her own wardrobe.
"I started collecting 90s and early 00s designers Jean-Paul Gaultier, Christian Dior by John Galliano, Thierry Mugler, and Gianni Versace, among others, when I was 18. Because 90s and 2000s vintage designer pieces were not as popular back then it was easy to find them at really good prices. As I often say, those were the days.
But the story started even earlier, with all the women of my family. I am French and grew up in the south of France where style is definitely a way to express your personality. My Mom, aunt, cousin, and sisters were all very elegant French women and they loved and lived for fashion. I grew up among them, saw them wearing Mugler, Chanel, Gucci, Dior and Lacroix and having all these fashion magazines around the house. This had a tremendous impact on me.
It's almost as if I did not have a choice – I was meant to love fashion, too. 
My earliest memory of falling in love with a piece was when I was in middle school coming back home and rushing to my Mom's closet to try on her clothes. I remember trying on her Dior by Galliano Spring 2000 asymmetrical denim skirt, seeing myself in the mirror and thinking "This is who I am going to be as an adult." I realize now that this moment was defining for me because that is indeed who I am as an adult, and I own this specific skirt in different colors and materials.
When I was 18, my mother decided to sell some of her 90s and 00s clothes because it wasn't her style anymore. I managed to keep some pieces for myself because I had memories of her wearing them growing up and I just found them truly beautiful. I understood that these pieces have an important meaning and also great value, they were unique and nothing in fashion would come close to what had been made in the 90s and early 00s.
Six years ago, I started selling 90s and 00s designer pieces from my personal collection on Etsy as I needed money at that time. It immediately took off, and that's when I started considering the idea of becoming a vintage seller. So I took a risk and quit my job as a store manager.
I stayed on Etsy for about two years. I then decided it was time for me to have my own website and opened my online store. Etsy gave me a lot of visibility and really helped me get access to clients around the world. But Instagram definitely helped too. At the time the algorithm was very different, and it was easier to get great followers like influencer Sita Abellán who has been a client since I started my business, and still is to this day.
I never studied fashion, but I was always passionate about it. I have endless curiosity, and so I always read fashion magazines and was fascinated by editorials from the 90s and 00s. I also have a huge collection of fashion books, and I've spent a lot of time watching runway shows and still do because there's so much to know and discover about fashion. It's endless! I can spend hours watching fashion documentaries too.
I'm like a sponge and have always been like that. I need to understand everything and get as much information as I can.
Jean Paul Gaultier was always super fun and unconventional to me. For example, his SS89 collection is a very good one – that's when he introduced the cutouts on clothes. He made extremely feminine versions out of masculine garments without changing the shape of the garment. If you look at the blazers from this collection, you can see that they were like cages over the female body, revealing skin and the shape of the body, just showing the body silhouette in a completely different light. It's extremely sexy and elegant at the same time.
My favorite collection from Christian Dior by John Galliano is SS2000. It's an innovative and relevant collection that targets a younger audience. It displayed unconventional shapes and cuts, and a style that felt way more in touch with what was happening in the world at the start of the new millennium but still respected the codes of the house. This collection includes items at a more affordable price point, which helped make the brand more accessible. It was a commercial success and made sure that Dior was still a powerful fashion house in this new era.
Last summer I moved to New York where I've always wanted to live. For the most part, my clients have been based in America, and I feel that my work, selection, and style are way more understood, appreciated, and celebrated here in the US. People are less conservative in terms of style than in France, and Americans want to have fun and experiment with their clothes. I feel that this is where I belong. In France, people did not understand my curation so well. I remember doing pop-ups in Paris and some French people telling me how ugly and weird they thought my selection was!
A big turning point was when I started working with celebrity stylists.
Three years ago stylist Dani Michelle DMed me about a piece for her client Kourtney Kardashian. She not only rented but bought a Dolce Gabbana Spring 2000 crystal choker from me. Kourtney has been seen wearing it several times since she purchased it, even recently. Having my first celebrity client definitely opened new doors for me as it gave me visibility and credibility too. Right after that I started being contacted by many other celebrity stylists, getting more clients and my sales definitely increased.
A few months after that Rihanna's team contacted me. I remember it was a gloomy Sunday evening in Paris and I got this DM out of nowhere. At first I thought it was a joke! They bought several items, including a Dior by Galliano choker which Rihanna wore with a vintage Chanel jacket from another vendor. That was a major moment for me as the picture of her wearing the choker was everywhere, and a writer from Elle UK magazine wrote a profile about me that gave me even more visibility.
Still, this is a tough and competitive business, especially now that vintage designer pieces are so popular.
For young vendors, I would recommend them always to be curious. Go deeper and deeper in your research. The more you know, the better for you and your business. Don't lose your passion even during hard times."