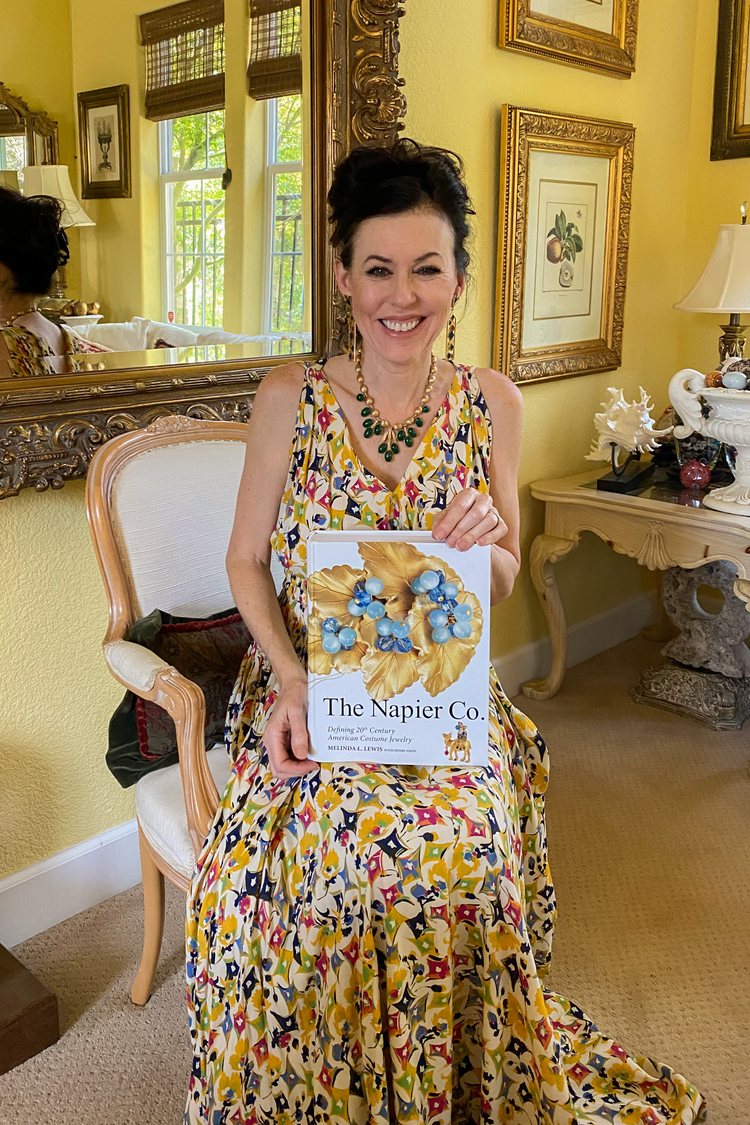 Melinda Lewis spent 11 years researching the history of Napier, the American jewelry brand that once dominated American fashion and introduced costume jewelry to the US market.
"I was inspired to learn about Napier as I had an opportunity to purchase part of the original company archive in 2001. There was very little information available at the time, and that sent me on a journey of research and then later authoring my book, The Napier Co.: Defining 20th Century American Costume Jewelry.
When I realized that the story of The Napier Co. had been largely untold, I felt compelled to write about the company's history. As with most history, if it's not recorded, it's lost forever once the principles pass away. As my research progressed, I developed a deep sense of responsibility to share what I had learned.
The editing and tracking of facts was quite complicated. Every 'fact' needed to be triangulated as memories change through time. I had to back up the oral history with something tangible in the way of written history. I developed a system of involving Excel spreadsheets documenting sources as well and general editing tasks. The entire process from start to publication took 12 years with 11 years of research. I'm still involved with research and those updates or clarifications often get posted on my blog.
Today, in 2021, the Napier brand has a 143-year history. The company began as The E. A. Bliss Co. in Attleboro, MA, in 1878. Its story is long and rich—full of discovery, travel, bad investments, perseverance and excellence.
James Napier took over the helm of the company as president in 1920. Two years later, stockholders recognized his leadership and voted to change the company's name to Napier. He led the company until his sudden death in 1960.
Of its entire history, the 1950s represented the golden years and the apex of design for The Napier Co. It was this decade where they shifted from a small-town company to one of the top three jewelry manufacturers in the United States. Their status as a leader in the fashion jewelry industry endured for almost five more decades until the closure of its plant by a new owner, Victoria & Co. Multiple generations in families worked for a company that had a hard work ethic towards perfection and beauty. After the plant's closure, the brand's new owner, Victoria & Co., announced that it would manufacture Napier jewelry overseas due to costs.
With the change in ownership, most of the Napier employees were laid off, and the soul of the brand faded over time. Both collectors and former Napier employees hold on to the history that preceded the plant closure with a sense of nostalgia for a bygone era of greatness in the American fashion jewelry industry.
It is my experience, over the last 20 years, that the brand lost its high-end style and evolved into a lower-end jewelry brand losing its endearing qualities as a fashion jewelry icon.
For the Napier woman, the company created a one-stop-shop brand that featured jewelry for all occasions. The company had metals, pearls, and colors, which meant that from casual wear to formal wear, the company had designs that suited most customers' needs. She didn't need to go from counter to counter in the department store, and she had a brand with consistent quality.
Napier sold its items individually, which allowed a woman to budget for her purchases. Yet, it was known that once the pieces sold out, they were gone for good, which often inspired immediate purchases. Typically, a collection was designed around one 'museum' piece with coordinating pieces at lower price points. This strategy allowed women to participate in a fashion look at a lower cost without compromising the brand.
Napier was one of the first jewelry companies to go to Paris and report those trends to the American public. This practice of visiting the European market in the 1920s was essential, but the company also had a long history of traveling to Europe for design inspiration in the late 19th century. Jewelry collections by renowned designers such as Lelong, Patou, Premet, Worth, Paquin, Agnes, Chanel, Schiaparelli, Vionnet, and others were sourced inspiration and sold by the company with great success often a couple of years before the fashion would come to American via other channels.
One interesting Napier innovation was the over-the-ear 'chatelaine earrings', designed by Eugene Bertolli. It was first advertised and sold by Saks Fifth Ave in 1953.
Napier was a small, privately held company that didn't have to answer to a large body of shareholders. This structure gave designers, all of whom were artists first, unprecedented freedom to create forward-fashion-oriented designs. The word 'Napier' means 'without equal', and that was the company's mantra. It didn't copy designs; it created designs, which its competitors often copied.
Napier was one of the only companies that produced most of its jewelry from design to finished product in-house. The designers were not instructed to design any genre, which is why Napier has so many different looks. This freedom of creativity allowed Napier to produce designs that were not only democratic such that women from all social-economic backgrounds could afford Napier jewelry, but the jewelry has remained relevant in style and quality for over 100 years.
Mr. Napier, unlike other CEOs or presidents of the company, was not a designer, and he did not design the jewelry. He was an accountant by trade.
Currently, the designs from the late-eighties and early 90s are the most sought-after Napier jewelry designs. These big glitzy collections often use custom-designed Swarovski crystals, large cabochons, rich jewel-tone colors, or specialized beads. Collection names include Byzantium, Hollywood, Milano, Glitterati, and Starlight.
However, the Napier charm bracelet with over 100 designs remains a must-have for most Napier jewelry aficionados. Because there are so many combinations and themes, the Napier charm bracelet is always a hot seller.
Many folks do not know that Napier not only produced fashion or costume jewelry, but it also produced 14k jewelry at various times throughout its history. These pieces are often 'sleepers', as the 14k mark can be hard to see. Because Napier triple-plated its jewelry and often looks like genuine gold, it can be hard to differentiate between costume and fine jewelry, particularly with designs from the 1960s and 1970s."
Melinda Lewis
The Napier Book
Follow Melinda on Instagram @thejewelrystylist