store owners
The French Way – How Paris Made Keesean Moore A Vintage Vendor
Keesean Moore learned the tricks of the vintage trade by frequenting Paris flea markets.
Liisa Jokinen · Jan 25, 2022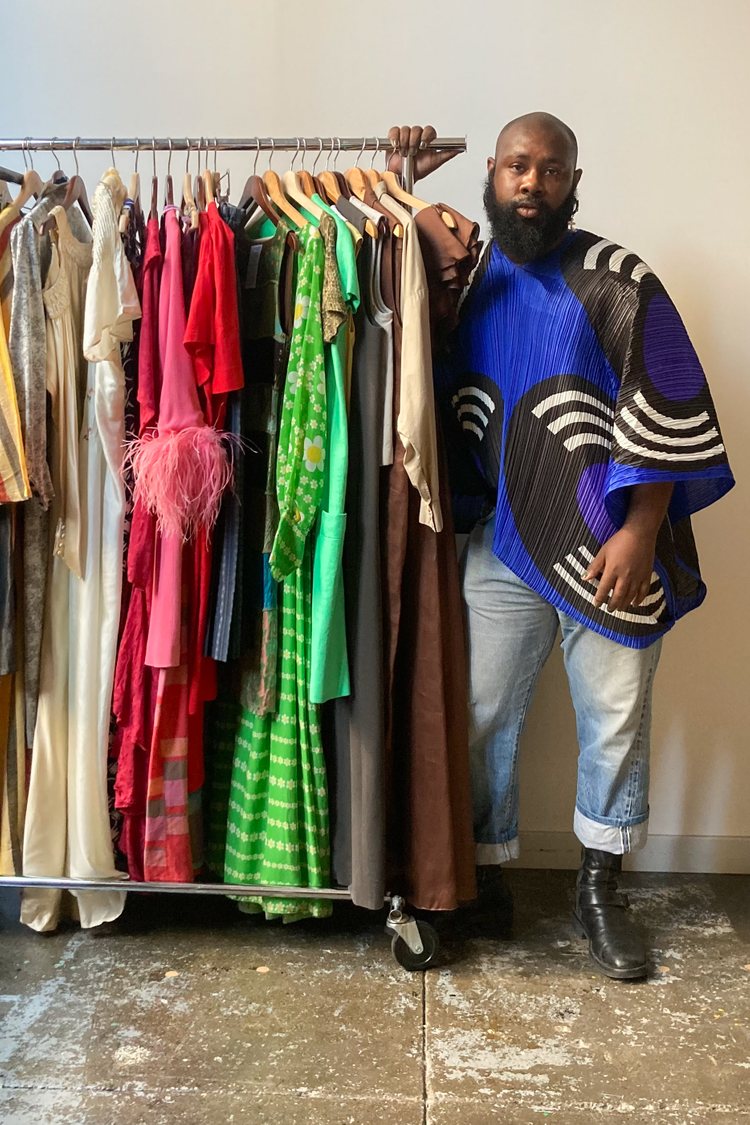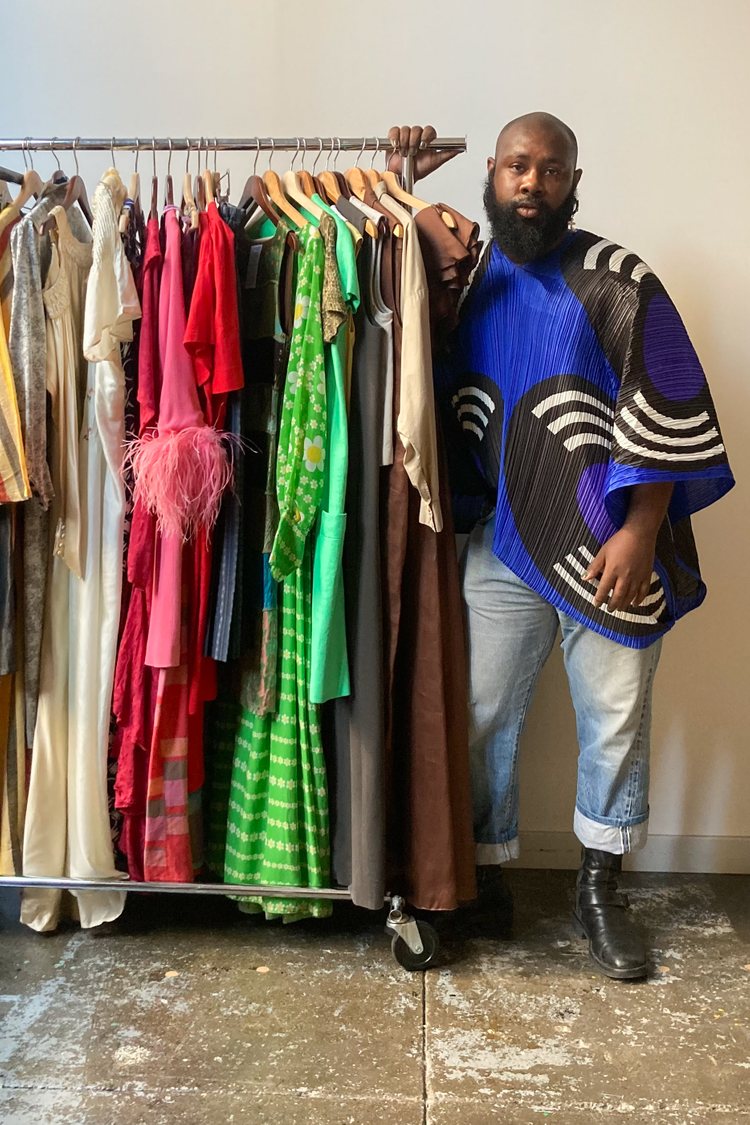 store owners
The French Way – How Paris Made Keesean Moore A Vintage Vendor
Keesean Moore learned the tricks of the vintage trade by frequenting Paris flea markets.
Liisa Jokinen · Jan 25, 2022

"The first time ever I walked into a vintage store I felt like I was transported into a different world. My mind was blown. There were just so many new things to learn. This happened during my high school years in Jersey City.
There were two vintage stores that were really big in Jersey City: Hala Vintage and Another Man's Treasure.
AMT opened their first store at that time, but it was the Hala Vintage I interned for. I worked there for store credit. I would buy little things like brooches and ties, that was what my appetite was like then.
I was interested in fashion but I had no knowledge about fashion history. This was the time of the Mad Men tv show which sparked a renewed interest in vintage, especially the 50s and 60s.
I was not fully attuned to my own queerness then but being surrounded by vintage ushered a deeper understanding of who I was. With vintage you can create new identities, it is almost like costume dressing, identities are in flux...
For a long time, I resisted my interest in women's clothes because of whatever stigma is attached to femininity in men. Working with vintage opened my eyes to different ways of being.
During college, I started to buy and sell vintage. I would go to local thrift shops and estate sales and resell everything at Beacon's Closet in New York, and then buy more. In 2009 during my sophomore year, I studied in Paris for 6 months.
I would spend every weekend going to flea markets. Every weekend there were like 10-12 flea markets in different parts of the city. And this was before smartphones so I had to draw maps in a journal to navigate around. I would make a plan of the day, draw my map, and spent all my weekends speaking to vendors and finding out what the city has to offer. Thankfully I speak French and I was able to disguise my Americanness to get killer deals and avoid tourist prices. Visiting the flea markets and haggling with native dealers my French got so sharp and strong. They all thought I was a West African immigrant.
I made great contacts even in those earlier years. I still meet those people when I visit Paris.
After college, I started working with a couple of stylists in New York, Los Angeles, London, and Paris. I was doing a lot of advertising and editorial styling. I got my first styling job responding to a Craigslist ad and just kept growing from there. In college I interned at T: The New York Times Style Magazine when Stefani Tonchi was editor and Cathy Horyn was still a fashion critic. At that point, Andreas Kokkino was an editor and I assisted him again for a few years much later in my career.
After some time I was kind of burnt out by the styling work and it was also not paying very well. So I decided to quit and start selling more vintage. My brother helped me form everything together.
I started doing big shows like The Manhattan Vintage Clothing Shows, A Current Affair, and a stint of time at Franklin Flea in Philly (which does not exist anymore).
Going to Paris every year for the past ten years, I have developed my own relationships and ways of getting around. People always ask me to give recommendations to Paris but I can't tell all the secrets. Now of course I haven't been back since 2019 because of the pandemic.
Paris is a fashion capital like New York but there the level is just raised: It is an older culture and world.
Every time I visit Paris I learn about the city and it becomes better for me. I am endlessly curious that way, always looking for new places to shop.
But I am also a nostalgic person and every time I visit Paris I make sure to have at least two weekends so I can visit the flea markets. It reminds me of the time when I was 21 and in Paris for the first time by myself, wandering around, never knowing who you are going to meet and what you are going to find.
I need to have a story for each purchase that I can share. It helps with selling and cherishing the items.
The only thing that has changed during these years is my knowledge.
What I'm looking for at flea markets is different now. During my college years, I would buy books, dolls, leather, militaria. Now I obviously visit the flea markets with a much more fine-tuned eye. I'm always looking for Karl Lagerfeld, Thierry Mugler, Issey Miyake, Patrick Kelly, Stephen Burrows, Norma Kamali. The best thing I have found in Paris was a bright orange 1960s Courreges couture gown. You can visit the fleas every weekend, and always find new vendors. It is bottomless.
One of my fondest memories is a kind of eldorado moment to me. Usually, the flea markets are a bit of hodgepodge, there can be a lot of junk and less curation so you never know what you are going to see.
But this one time the flea was organized in a warehouse with tens and tens of vintage dealers. It was my first time seeing a show of that size. I was broke as a college student and I could not afford to buy anything but looked through every booth. Even if I have been going to Paris for 9 years I have never been able to find the place again! It feels like a dream now although I remember so vividly sitting down at a curb and smoking a cigarette after the show. It was so magical.
Of all the American fleas, I think Parisian fleas are most similar to Brimfield but imagine it being every weekend. Both have the same overwhelming and intoxicating element because there is so much to see and you have to narrow your interest and focus. But of course, Parisian fleas have the added element of being in a historical metropolis with tons of beautiful buildings, patisseries, boulangeries, wide streets...
What I really want to do next is to visit some Italian flea markets. One of my goals, when I am in my 40s, is to live a summer in Paris as a flea market vendor. That is my ultimate dream. Going back to where I started but with all the knowledge and experience I have gained now.
There is a renewed interest in vintage in Paris now. It has really exploded in the last few years. Even Galleries Lafayette has a vintage store!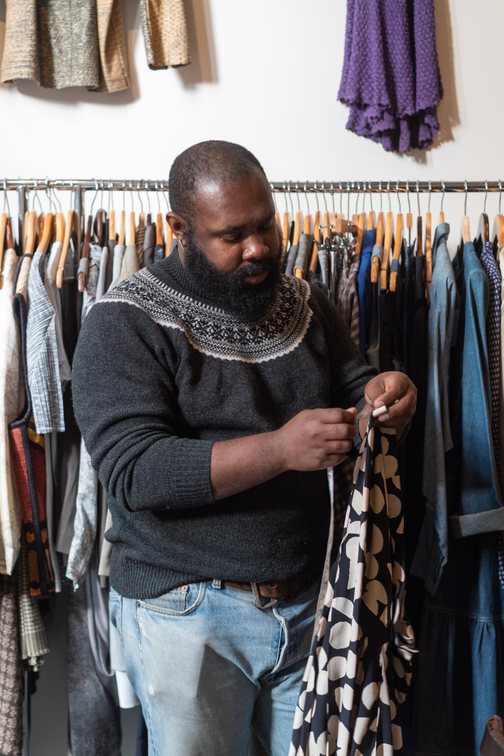 I'm super proud of what I have been able to do in such a short amount of time and few resources.
Every step of the way I have been collecting experience and knowledge.
The sky is the limit to what I can learn. Always being a sponge, figuring out what makes me happy, and turning that into a career.
Deciding to quit styling was a huge moment as I had invested in it so much. But I felt I had to move into vintage as it had captured my interest for decades."

Moore Vintage Archive
BOK building
1901 South 9th Street, STE 1H
Philadelphia
@moorevintagearchive
All items in the photos are available on Moore Vintage Archive.