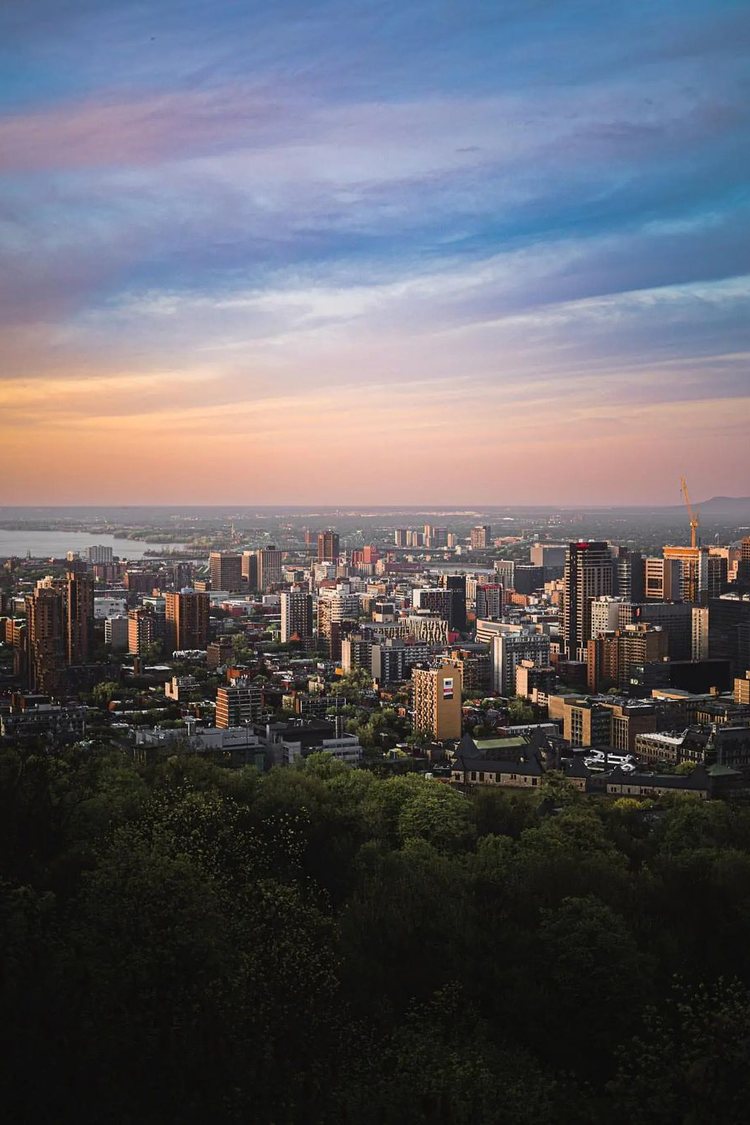 Get to know the vintage and thrift stores in Montreal with our recommendations and comprehensive Google Maps list.
Montreal is renowned for its abundant selection of secondhand and vintage, commonly called friperies by locals. The city's vintage and thrift stores cater to all tastes and price points, although the 90s and y2k vintage dominate the scene – thanks to the new generation of entrepreneurs who have opened their stores during the last couple of years.
Keep in mind that stores usually close earlier during the weekend. The longest opening hours are usually on Thursdays. St Laurent Boulevard, Mont-Royal Avenue, and Saint Denis Street are the three streets with the most stores, but we recommend venturing out to other neighborhoods, too.
Our comprehensive guide to Montreal vintage and secondhand stores helps you to find your favorite stores. Check out our Google Maps list for even more tips.
Collectives
Marché Floh
Montreal's biggest and most well-known vintage and streetwear store houses around 20 vendors who are mostly specializing in 90s and y2k vintage. This is the place where many now independent store owners have launched their careers. The three-level huge space is a former Urban Outfitters store. If you like newer vintage and have time to visit only store, check out this one! Friendly, young, and hip staff.
Marché Floh
4301 Saint Denis St
Mon–Wed 12pm–6pm
Thu-Fri 12–8pm
Sat–Sun 11am–5pm
@marchefloh
The Gallery Montreal
The Notre-Dame-de-Grâces neighborhood has only a couple of vintage and secondhand stores, but they are all very good at what they do. The Gallery Montreal has expanded into two levels and two store spaces, has altogether 20 vendors, and affordable pricing: Nothing here costs more than C$35. The inventory is mainly from the 90s and from the early 2000s, but there are some older pieces mixed in as well. They also have a 2nd Location at 77A Donegani Pointe Claire.
The Gallery Montreal
5584a Sherbrooke St W
Tue–Fri 12-6pm
Sat-Sun 11-5pm
@thegallery.montreal
Streetwear & T-Shirts
Theos Montreal
Theos Montreal opened its doors three years ago after selling on Instagram for a couple of years. On sale are vintage apparel from the late 80s, sneakers, and streetwear. Seasonally new items from local businesses (like the popular Dime skater brand).
Best-selling vintage items in the store are black-and-white art tees from the 80s and 90s – Montreal is an art city, the owners explain!
Theos Montreal
1134-a Mont-Royal Ave E
+15146920176
Mon, Wed, Sun 11-6
Thu, Thu, Fri, Sat 11-7
@theosmontreal
Stop Shop Boutique
A hidden secret! Follow the rap music and climb the stairs to the second floor where amazing vintage gems and paraphernalia awaits. We were lucky to meet the founder Flex who also makes some custom pieces. The store has been around for 9 years and resellers love it – because of the $5 dollar bin! Visit this store if you are looking for single-stitch or music tees.
Stop Shop Boutique
3641 St Laurent Blvd
Mon, Wed-Sat 11-7pm
Sun 12-6
@stopshopboutique
Carole
Sweatshirts, t-shirts, workwear pants, and jeans. The minimalistic, uncluttered store is run by three founders. Great place to spot a sweatshirt in any color. Good deals on the sales rack.
Carole
4321 Rue Saint-Denis
Mon-Sun 10-6pm
@carole.vintage
Steal Strt
A sweet couple runs this store – they started at the Marché Floh and "graduated" by opening their own location. Some racks are offered to outside sellers and small local brands. The owners source everything, the service is friendly, and prices are good!
The owners want to offer customers multiple options to choose from and not stick to just one style.
Steal Strt
1269 Mont-Royal Ave E
Sun-Mon 12-6
Wed-Thu 12-6
Fri-Sat 12-7
@steal.strt
Le Ninety
The one-year-old place functions both as a vintage store and an event space. Hosts pop-ups with local celebs like singer Angele Nonante. We loved the fun interior with tv display installations, careful curation, and ambition level here! Like the name implies, the focus is on the 90s vintage. Carhartt, Nike, and Coogi are some of the most popular brands here.
Le Ninety
4361 Saint Denis St
+14384678097
Mon-Fri 12-7
Sat-Sun 11-6
@le.ninety
LNF
Famous for its Polo Sport items, but has a little bit for everyone from 50s slip dresses to Nike windbreakers, denim jackets and Supreme. The focus is on menswear, 90s, t-shirts, and designer items.
"The idea of our shop is similar to a thrift store, so you never know what you will find! We go for high quality and good condition pieces that are on trend today", the owners say.
LNF
5319 Park Ave
+15142777417
Mon-Fri 12-7pm
Sat-Sun 12-6pm
@lnfshopmtl
Classic American Vintage
Palmo Goods
A delight for eyes and vintage lovers! This pretty store is heaven for anyone who loves workwear and classic American vintage.
Palmo Goods' collection mixes specialized, hard-to-find items alongside easy-to-wear staple pieces that fit seamlessly into any wardrobe.
"We're especially drawn to vintage Americana, denim, military, workwear, and a touch of western wear. Some items you'll always find in our shop are vintage Levi's denim, t-shirts from the 60s to the 90s, French and European workwear, vintage Canadian and American military, varsity items from the 40s to the 80s and rare items from the 30s to the 60s", the owners explain.
Palmo Goods
263 Mont-Royal Ave E
Mon-Fri 12-6pm
Sat 11-6pm
Sun 12-5pm
@palmogoods
La Caravane
A dream store for all the cowgirls and cowboys! Amazing selection of denim, cowboy boots, fringe leather jackets, silver jewelry, and rare band tees.
The founders Stéphanie and Erika ran their individual vintage clothing companies (Orik Vintage and Widow's Blow) before opening their own store.
La Caravane
4116 St Laurent Blvd
Mon, Tue, Wed, Sat 11-6
Thu-Fri 11-7
Sun 11-5
@lacaravanevintage
Affordable Vintage
Hadio
Prices are the lowest we saw at Montreal stores: three items for C$10, C$10 Hawaiian shirts… Everything comes out of the bales, so clothes can be wrinkled, and the store requires some digging. A popular destination.
Hadio
308-314 Mont-Royal Ave E
+1-514-286-7042
Sun-Thu 10-8
Fri-Sat 10-9
@hadio514
Lau B
Like L Train Vintage in NYC, the collections are more consistent; the space is organized, and decorated with greenery. Some price examples: Sports shorts C$35, summer knits C$35. Lots of sweatshirts, trench coats, and dress shirts when we visited. We loved the plants, greenery and the vibes!
Lau B
4292 St Laurent Blvd
Mon-Sun 12-7pm
Lazy
Lazy has two stores in Montreal. Everything is hand-picked by the owner from the warehouses and washed before putting on display. Also 90s deadstock sunglasses and tops.
Lazy Mont-Royal
1682 ave du Mont-Royal Est
(844) 997-5299
Mon-Wed 11-7pm
Thu-Fri 11-9pm
Sat-Sun 10-8pm
Lazy Gay Village
3730 Ontario St E
+18449975299
Mon-Wed 11-7pm
Thu-Fri 10-9pm
Sat-Sun 10-8pm
Sidneys Friperie
Run by a mother-and-daughter duo this store is also a community hub: the owners organize concerts at their back patio, donate the unsold goods to the church next door, and they used to take care of the community fridge too. The inventory is newer secondhand for all genders, prices affordable (mostly under C$40). We recommend visiting – three friendly dogs will greet you at the door.
Sidneys Friperie
5165 Notre-Dame St W
+14387647286
Tue-Fri 11-7pm
Sat 10-6pm
Sun 12-5pm
@friperie_sidneys
Designer Vintage
Ruse
Montreal's best store for contemporary designer items, consigned from local customers. High-end finds from traditional luxury houses like Louis Vuitton, Chanel, Prada, Gucci, and Hermès; ready-to-wear pieces from contemporary brands such as Jacquemus, Maison Margiela, Acne Studios, Comme des Garçons, Rick Owens and Dries Van Noten, and affordable pieces from brands such as Ganni, Diesel, Sandro, Frankie Shop, and Staud. Daily new arrivals.
"When we opened the store eight years ago, we realized there was an interest in consignment but a lack of stores and knowledge about the concept. We decided to pursue this aspect to inform people about the concept, and offer the chance to shop a selection of high-end luxury pieces at affordable prices", says the owner.
Ruse
5141 St Laurent Blvd
Mon-Fri 11-7
Sat-Sun 11-6
@ruseboutique
90s and Y2K Vintage
Nuage
Three local sellers met at vintage markets during the pandemic, became friends and decided to open a store together. The store is tiny, but super cute and cozy. Two floors are packed to the brim with 90s and y2k colorful, on-trend clothes, accessories, jewelry and home goods. Kitten heels, spaghetti strap dresses & tiny handbags. We fell in love with the pink store front, original details, and overall cuteness!
Nuage
222 Rue Rachel E
Tue-Fri 12-6
Sat-Sun 11-5
@nuagecollectifvintage
Seconde
This store seems to be everyone's favorite and we understand why! Eclectic, colorful and feminine vintage and designer for all sizes. Lots of Y2k slips and kitten heels, blazers, and flimsy skirts. Some price examples: Betsey Johnson denim peplum mini dress 70, Ralph Lauren paisley print silk skirt 70.
​​Seconde
5274 St Laurent Blvd
+14387960858
Mon-Wed 11-6
Thu-Fri 11-7
Sat-Sun 11-5
@seconde.vintage
Inedit.e
A trendy, well-curated collection with a minimalist, stylish interior. Fun home decor items, too. Three vendor-founders – Paris-Montreal, La Coco Vintage and Les Gentils Bandits – all bring their own vibe to the store. Ganni, Isabel Marant and other sustainable brands plus curated vintage.
Inedit.e
6370 St Laurent Blvd
+15145451781
Mon-Wed 11-6pm
Thu-Fri 11-7
Sat-Sun 11-5
@inedit.e_
Annex & Empire Exchange
These three sister stores specialize in sought-after pieces from the y2k, including everything from floral dresses and racks of mock-neck shirts to denim items and rare vintage t-shirts. Items here move fast, and there is new stock every day. In addition to the in-house collection, the stores work with a group of a dozen hard-working consigners who scour the city to find vintage items for all three stores. The vintage racks are at the back of the stores, while the fronts are dedicated to new items like gifts and accessories from local designers. At Empire Exchange stores, you can sell and trade your old clothes.
Annex
5364 St Laurent Blvd
+15149034404
Mon-Wed 11-6
Thu-Fri 11-7
Sat-Sun 11-5
@annexvintage
Empire Exchange Mile End
5225 Saint-Laurent Boulevard
(514) 903-8385
Mon-Wed 11-6
Thu-Fri 11-7
Sat-Sun 11-5
Empire Exchange Little Italy
6796 Saint-Laurent Boulevard
(514) 379-3326
Mon-Wed 11-6
Thu-Fri 11-7
Sat-Sun 11-5
@empireexchange
Older Vintage
Rudston-Brown Vintage
The best curated vintage collection if you are looking for 80s and older vintage. The owner Amanda knows her stuff and has a great eye. We admired the antique dresses, designer vintage pieces from Nina Ricci and Chloe, a 50s Cecil Chapman opera coat, and all the 70s boho chic pieces and cute accessories.
Rudston-Brown Vintage
5879 Sherbrooke St W
Wed-Fri 12-6
Sat 12-5
@rudstonbrown
Eva B & Eva D
A bit chaotic but inherently cool store with fun punk vibes. This iconic store opened already in 1987 (albeit first as a book store) and is now a Montreal landmark, a multi-level emporium full of vintage, funky art objects and decor, and a cute cafe. If the NYC stores 1ft Single by Stella Dallas and Search&Destroy had a baby it would be Eva B. Some price examples: tie dye tees cost C$20-25, dresses starting at C$20.
A few storefronts down the street you'll find sister location Eva D with a slightly more curated selection of older vintage, including rentable gowns for special occasions.
Eva B
2015 Saint-Laurent Boulevard
+15148498246
Mon-Sat 11am-7pm
Sun 12-6pm
@evabvintage
Eva D
1611 Saint-Laurent Boulevard
Mon-Sat 11am-7pm
Sun 12-6pm
@evadvintage
Ribotti Vintage
This store specializes in retro 80s and 90s outerwear and skiwear – if you visit Montreal during the winter months, rent your groovy vintage look here. During the summer months, you can find vintage staples for all genders: Levi's, graphic tees, unique knits and tops & accessories. All at affordable prices!
Ribotti Vintage
5149 St Laurent Blvd
Sun-Mon 1-6pm
Tue & Sat 11-6pm
Wed-Fri 11-7pm
@ribottivintage
Men's Vintage
mervmatsui
​​Another hidden gem! A bit further away from other stores but worth the trek if you are looking for classic men's vintage. The store is tiny but has an impressive amount of Barbour jackets, old flannels, and men's boots.
mermatsui
1025 Ave Van Horne
+15142700123
Tue-Sun 12-6pm
@mervmatsui
Boutique Swing
Great for leather jackets, coats, men's suits, and other outerwear. The owner Mone Virasith has over 30 years of experience in vintage clothing. He wants to offer something for all styles, from more daring to more conservative styles. "Quality comes first, and fashion should be fun!" he says.
Boutique Swing
151 Ave des Pins
+15148458361
Mon-Wed 12-6
Thu-Fri 12-7pm
Sun 12-6pm
@boutiqueswing
Altered Vintage
ERA Vintage Wear
This huge, airy store is hidden inside a 200 years old industrial building in Saint Henry neighborhood. Climb up the stairs to the third floor, and get blown away by the colorful vintage explosion. Several racks of dreamy floating gowns, silk garments, printed skirts and other gems await you. 99% procent of the inventory is reworked or altered by the owner Elaine Leville who has her studio and workshop inside the store.
Everything inside the store is meant to be worn and tried on. As Leville says, clothes should not be kept in museums. The only rule here is: take your shoes off before entering the store.
ERA Vintage Wear
999 Rue du Collège #41
Wed-Fri 12-6
Sat 12-5
@eravintagewear