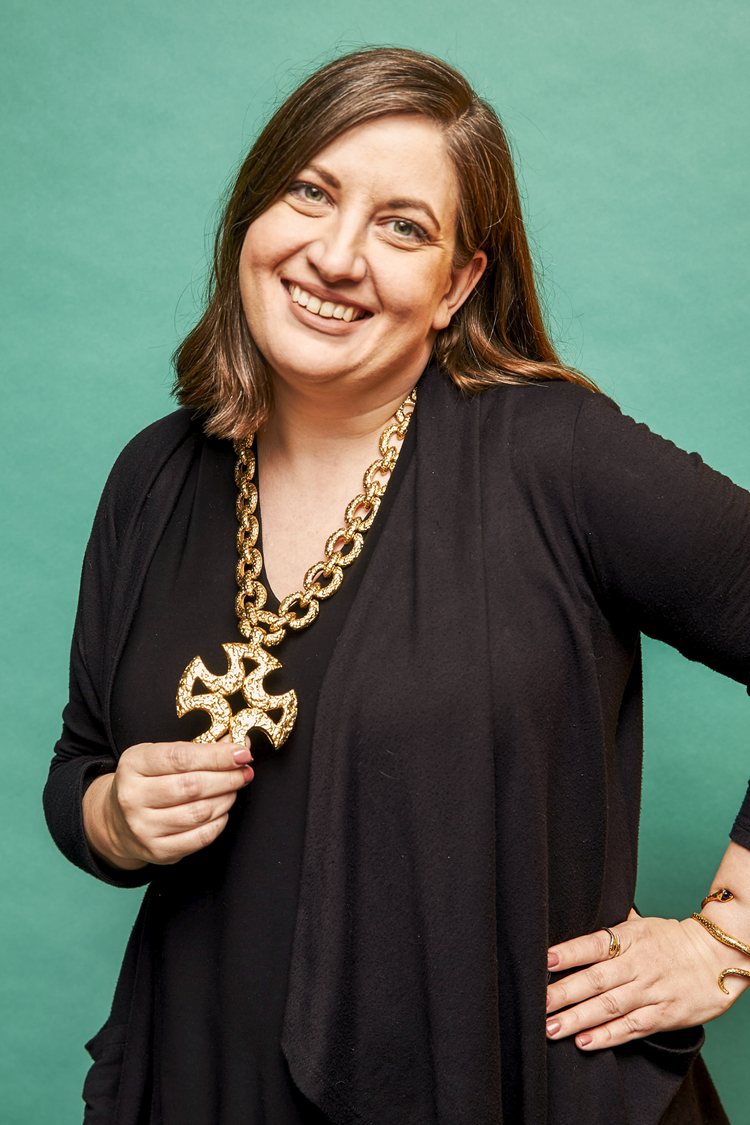 Rebekka Adams, the founder of the Austin-based Bloomers and Frocks vintage store, is an avid Monet collector. Now she shares her most treasured pieces from this pioneering costume jewelry label.
"I stumbled across Monet jewelry about five years ago at an estate sale when I was shopping for my boutique. At the time, I did not know anything about the company, but the design caught my eye. I snagged two necklaces and matching earrings from that sale. I had intended to sell them, but they spoke to me and I kept them in my personal collection. I started doing a bit of research and found that the items I had purchased were rare and highly collectible. Monet jewelry is now part of my signature style.
Originally called Monocraft Products Company, this line was founded by the brothers Michael and Jay Chernow in 1929. They originally started as a monogramming business and ventured into costume jewelry during the Great Depression, formally changing their name to Monet in 1937. Their goal was to target jewelry consumers seeking affordable, high-end looking pieces. Monet pioneered a movement toward accessible jewelry items for those who couldn't afford luxury jewelry or didn't want to splurge.
Monet Jewelry imitated fine jewelry, and while it contained lower end metals and imitation stones, the craftsmanship, finish, and quality of the piece was meant to achieve a sophisticated, classic, and high-end look without the steep price.
Regarding style, Monet's first collection was largely influenced by European fashion designers Coco Chanel and Elsa Schiaparelli. Florals, animals, and abstract designs were noticeable from the beginning and hugely popular in the 1930s.
Metals used in Monet production changed in the 1940s due to war restrictions and they heavily focused on sterling silver plating. Military motifs were popular as were brooches and fur clips. They also introduced a line of charms, which became highly collectible. The charm trend spanned the following two decades.
In the 1950s, they removed most stones and gems from their pieces – creating designs just from metal. Rose and yellow gold plating became popular once again when war restrictions were relaxed. Bigger is better became the theme for the following decades.
My favorite decades for Monet are the 1960s-1970s. These pieces are inspired by other cultures, particularly India, and have a unique look to them. The older pieces (the 1930s-50s) tend to be smaller in size. I guess you can call me a size queen when it comes to jewelry.
In the 1980s, their jewelry design reflected the loud and colorful trends of the decade. Layers of pearls were also vogue. It was in this decade that they partnered with YSL to produce their jewelry line. Monet was the only jewelry company with high enough standards to produce the YSL line.
I love Monet jewelry for the style and quality. Unlike other jewelry from the period, Monet jewelry is well constructed and last decades. Some of the features include triple gold or silver plating, heavy chain links, solid connectors, and unique sturdy clasps.
My favorite Monet pieces are their necklaces with "bracelet extensions." You can wear them as longer necklaces or as a shorter necklace and bracelet set. They are also credited with many technological advancements in jewelry production such as the "friction" earring clip (which are now the most common earring backs) and the barrel clutch which make their clip-on earrings extremely comfortable to wear.
My personal collection was once well over 150 pieces. I've recently downsized to about 50 special items and sold more of the basic pieces that I wasn't wearing. I believe that the items we own should be used and worn, so I wanted to pass these on to a new home where they could be loved versus sitting in my jewelry box. I have another 40+ pieces for sale in my shop – some from my personal collection. Whenever I wear a piece to work, customers want to buy it off my body.
I am always looking for Monet. I'm seeking rare items that aren't in my collection, particularly gold-tone pieces. My favorites are chunky statement necklaces and layering pieces. If I come across an item I already have in my personal collection, I buy it for my shop so I can continue to share my Monet jewelry love. My Holy Grail is the 1970s asymmetrical multi-strand Rams Head necklace from the Aries series. I have only ever seen a photo of it on Pinterest. I am secretly hoping one of the readers of this post has this and wants to sell it to me!
I have three necklaces that are rare, the 1968 Scheherazade series necklace, a 1969 multi-layer wide collar necklace, and the 1971 Shandelle collar necklace. Scheherazade is the first Monet pendant I purchased. At the time, I did not realize how rare it is. I also have 5 dinner rings from their 1970s collection, which were only sold that year and hard to find.
I wear my pieces every single day from accessorizing a dress to a t-shirt and jeans. I feel naked if I do not have at least one necklace on. Even when I am grocery shopping, strangers stop me and complement my jewelry. I do not need a special occasion to wear these pieces.
Though I collect Monet, it is not an expensive habit. Most items can be found for under $100, with rare pieces fetching up to $500 or so. People should be aware that Monet still manufactures costume jewelry and sells at JC Penny. The company was sold to Liz Clairborne in 2000 and the quality and style have declined since the 1980s. Just because it is stamped Monet does not mean it is a collector's piece.
For anyone wanting to get into collecting, I recommend the book "Monet: The Master Jewelers" by Alice Vega. It depicts the history of the company, their advertisements over the years, and documented jewelry by year. It is a fantastic read to learn more about the company. The photos of their jewelry over the years are fascinating."
Bloomers & Frocks
1628 S 1st Street
Austin, TX 78704
(512) 715-4611
@bloomersandfrocks