fashion history
Michael Hoban North Beach Leather – 80s Leather at Its Best
Melissa Peterson Lee has loved Michael Hoban's leather designs for decades. Through her Hooked on Honey vintage store she has sold way over 100 of his pieces.
Liisa Jokinen · Oct 13, 2020
Photos: Hooked On Honey Vintage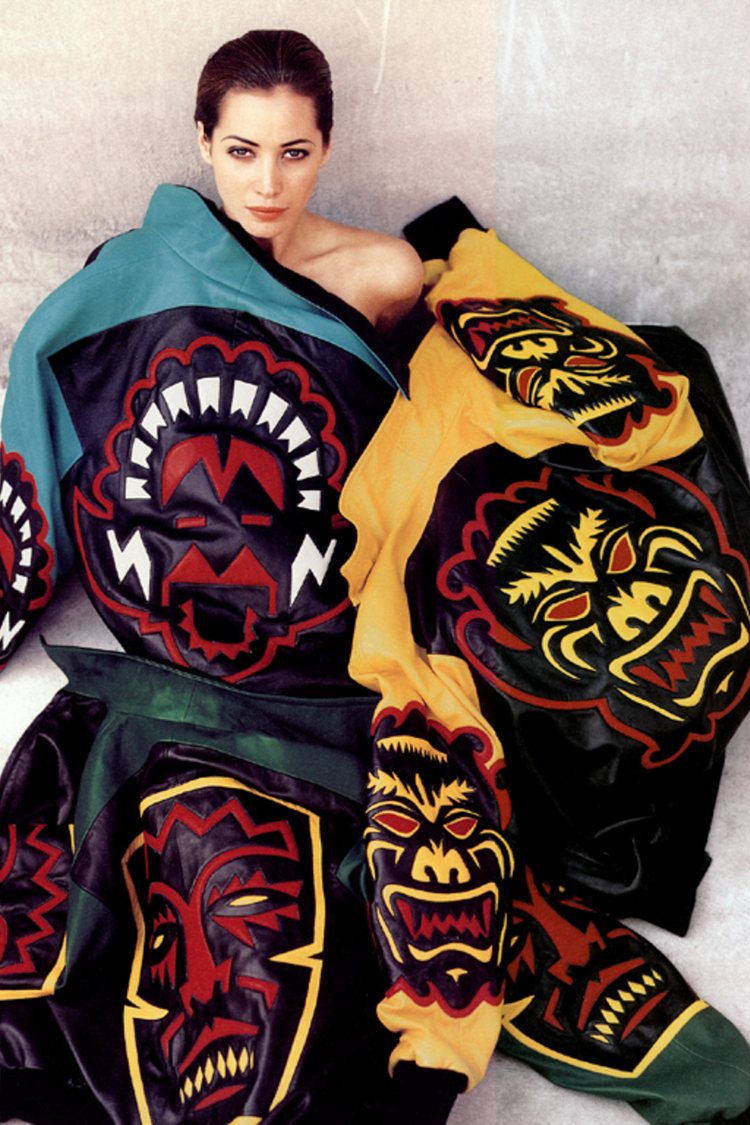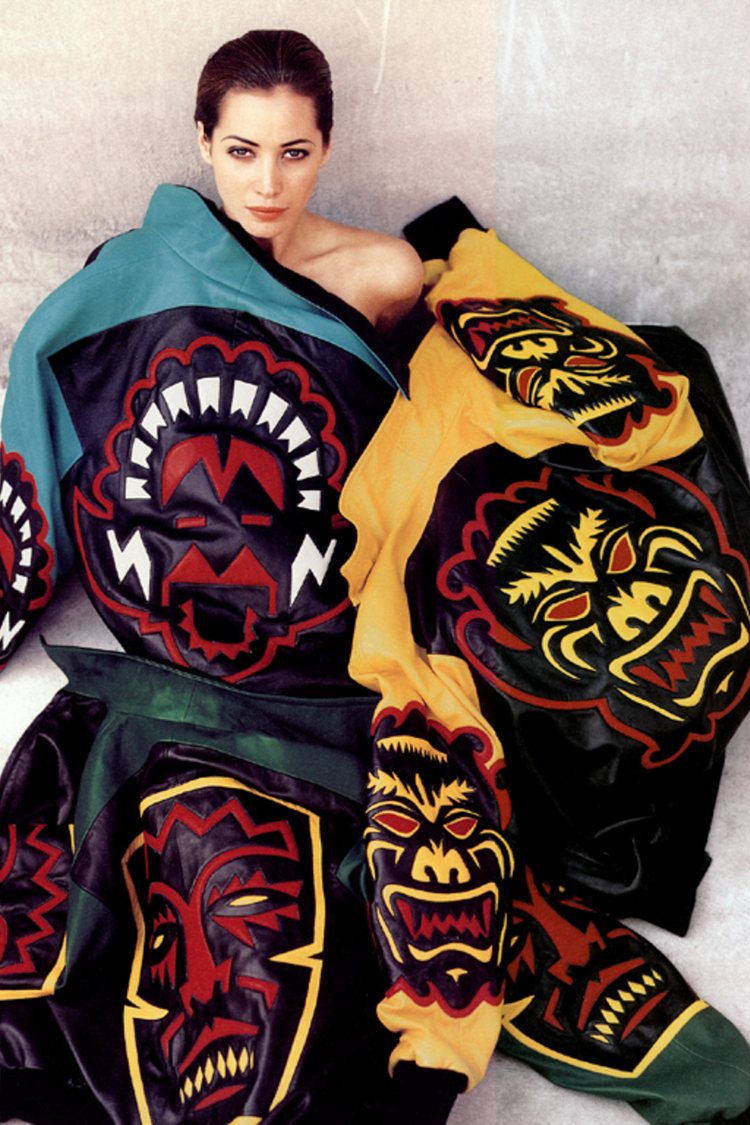 fashion history
Michael Hoban North Beach Leather – 80s Leather at Its Best
Melissa Peterson Lee has loved Michael Hoban's leather designs for decades. Through her Hooked on Honey vintage store she has sold way over 100 of his pieces.
Liisa Jokinen · Oct 13, 2020
Photos: Hooked On Honey Vintage
Michael Hoban grew up in Boston as the leader of Boston's Warriors teenage street gang, did his service at Marine Corps, and ended up living a hippy life in Aspen, Colorado. It was in Colorado that Hoban made himself a pair of leather bellbottoms that eventually led to the founding of the North Beach Leather Company. Hoban was hesitant to the idea of designing and producing clothes at first, but eventually, he opened a shop in Los Angeles.
Hoban started by making three items: leather jeans, a Levi's-style jacket, and a double-breasted, knee-length Edwardian coat. In 1967 the small shop moved to San Francisco's North Beach district, from which he took the company name.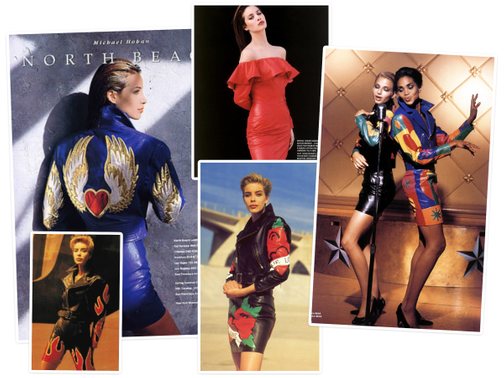 Customers soon included Hell's Angels and all the rock stars and celebrities of the time: Janis Joplin, The Grateful Dead, Jim Morrison, The Who, Tina Turner, the Rolling Stones, the Beatles, Elvis Presley...
Hoban stayed popular until the 80s. Now his vintage pieces are rare to find and are extremely sought after – vintage vendor Melissa Peterson Lee of Hooked on Honey knows why.
"Growing up in the 80s and 90s, I remember seeing the fantastic Michael Hoban NBL fashion ads with models like Cindy Crawford and Chisty Turlington in the pages of fashion magazines.
Ever since working in design and fashion in the early 2000s, I have had a true love for the Michael Hoban NBL brand, particularly the pieces from the late 80s-90s. I'm so drawn to the fun bright colored leather jackets, supple soft leather used, and the beautiful tailoring of each piece.
I used to live in New York City between 2001-2011, working as a designer and design director for various companies. As my career evolved from a designer to a vintage collector in NYC I would always spend my weekends in vintage shops and markets.
One day I found a yellow True Love moto leather jacket in an East Village vintage store and knew it was a piece I had to add to my online store. I have been collecting these beautiful pieces ever since.
The quality of these pieces is fantastic. The leather is so soft and easy to wear. Many leather jackets from the 80s and 90s will harden over time, but good quality leather like the leather used in the NBL pieces is ageless and is still as soft today as they were 30 years ago. I love how so much of the patched leather artwork designed into these jackets is timeless and still relevant today too. Take, for example, the "True love" leather jacket and dress set we have had in our shop, it's one of my favorite pieces and I love the message behind the artwork.
We try to keep our shop stocked with fantastic options in a range of sizes and colors! In the past, I have found Michael Hoban NBL pieces through private estates and had many collectors work with me.
I think to find one of these in a thrift store would be like finding a diamond in a haystack. These pieces were definitely "investment pieces" back in the 80s and 90s so most original owners do not want to get rid of them too easily.
The brand has been around since the 70s, but our shop focuses on the 80s-90s designs and womenswear. The motorcycle-style jackets move quickly, but what many people don't realize is that most jackets were designed at the time to be worn with a coordinating dress, skirt, or shorts. For example, The Flame jackets had high waisted shorts and dresses that coordinated back to the jacket and the True Love Jacket had a gorgeous strapless dress with the same design!
Of course, fashion changes over time, and many of the pieces have been separated from their sets, but if I'm able to gather up the whole set (matching jacket and dress, or jacket and skirt) we prefer to keep them together because it's very rare to find.
I once had the "Wham" leather jacket, which was a beautiful leather jacket designed back in the 80s/90s by some of the designers working under the brand at the time (Nigel and Paul Wearing). One of my collectors was searching near and far for it so I sold her mine but was overjoyed to see her then model it in Russian Vogue for an editorial! It looked gorgeous on her.
I love to wear the Michael Hoban NBL jacket myself and did so in NYC all the time. But now, my life in Florida is much more relaxed so I really just hold onto my personal True Love leather jacket, that I will never sell.
There is still a store in San Francisco called West Coast Leather. I visited the store a few years back and they were able to recreate some of the vintage styles – with a hefty price they will make you any of the vintage designs. They also showcased some of the original pieces worn by Cher and other various celebrities which was pretty fun to see since I'm a super fan! I almost commissioned them to make me a "new" Wham jacket but I know if I'm patient enough, another original vintage one will pop up eventually – fingers crossed!"
Shop Hooked on Honey on Etsy
Follow Hooked on Honey on Instagram