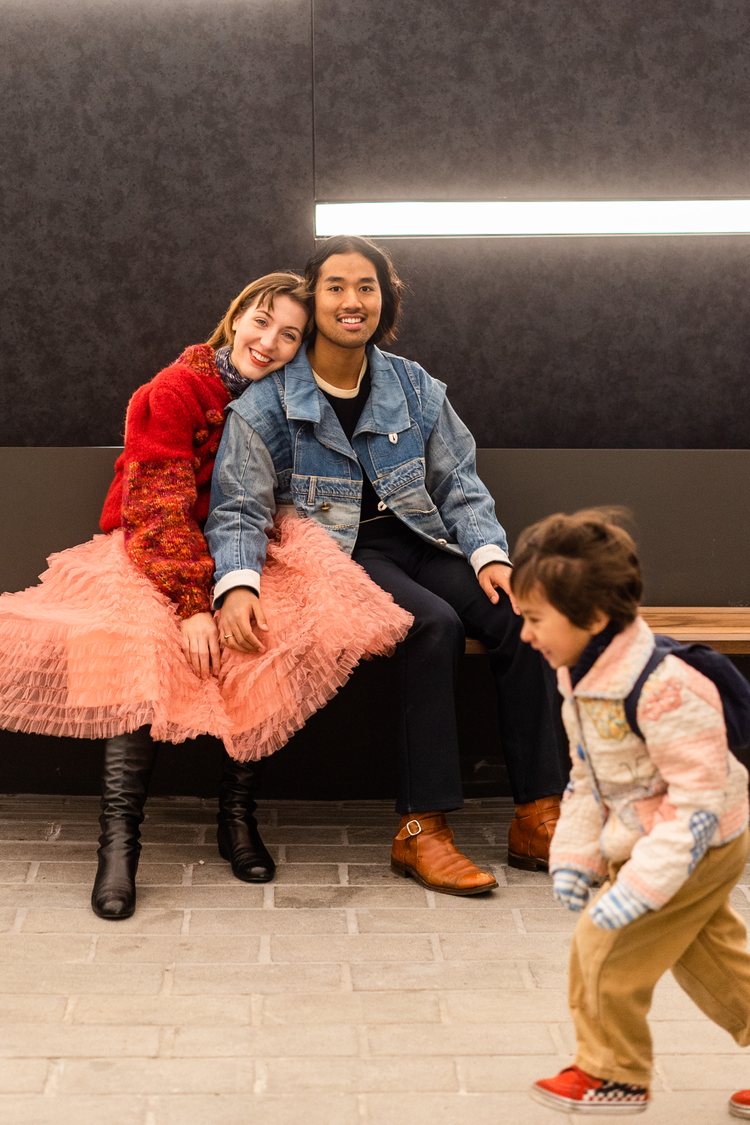 Nong Rak's fun, magical, colorful visuals and whimsical collections are rapidly melting hearts of vintage lovers in New York and beyond.
Home Phuangfueang, 25, and Cherry W. Rain-Phuangfueang, 27, are a Thai-US duo behind New York City-based vintage concept shop, Nong Rak (meaning 'young love' when translated from Thai).
Cherry and Home met in Thailand in summer 2015, unifying their separate loves for Bangkok vintage markets, and started collecting - first for fun, and then professionally. After moving to Portland in 2017, they conceptualized and launched Nong Rak without knowing what direction it would take. They now live in NYC with their son and dog. Here is Cherry telling their story. (And follow their Instagram to see more!)
"After we met everything happened so fast, and it hasn't slowed down. At 22, I was living alone and working as an au pair in Bangkok, but outside of that didn't have much to do so I started checking out things recommended for tourists. That is how I discovered the world-famous Jatujak market as well as JJ Green night market. One day while walking at the market I met Home.
Most Sundays from then on we visited the markets together and shopped vintage for early Americana denim jackets which could (at the time) be found for $20, and mid-century dresses for $3-5. We often visited Talad Rod Fai Train Night Market for incredibly inspiring objects, furniture, and art as well as historic Thai memorabilia. There is so much vintage in Bangkok, but at that point we were not thinking about resell at all.
We started dating during Home's last year of university, and were quickly inseparable. Because of this, his senior thesis' design and content was something we worked on together.
This early time in our relationship really helped us realize how much more we wanted to do together.
Home started into photography that year also, and was spending everyday shooting Thai scenes on the street, as well as using me as a subject for more stylized experiments. I was a little exhausted by the mall culture in Bangkok, and was always trying to find a way to adventure around outdoors, which we could only do at night because of the heat. Because of this Home started to use a lot of flash out of necessity, but I think this is how Nong Rak's aesthetic really begin.
When I got pregnant, we moved back to the US, first to California with family, then Portland, then back to California, and then finally here to New York. In Portland we nearly opened a brick-and-mortar store in Fall of 2018, but last minute the landlord offered the space to someone else.
We were really heartbroken and defeated. Since we had been promised the space, which had been an unmatchably good price, we had received a business loan and started preparing our inventory and interior design. But then after being turned away we found ourselves in a really difficult situation. Eventually, that led us changing our focus to online sales.
I personally have a really strange relationship with style and clothing – I've loved vintage clothing and second-hand shopping since adolescence, because my dad worked at Value Village in Tucson for years before it closed. I found myself collecting things that I found visually interesting, but I never really knew what I was looking for or how to wear what I was attracted to. I've grown up with Body Dysmorphic Disorder, and my Gemini pen is regularly dipped in too many inks, so there has habitually been a lot of confusion in my own manner of dressing.
Being able to source and style for others through our shop and photoshoots has been an irreplaceable outlet to express something with a comfortable distance from myself, and that has been fulfilling in ways I never imagined.
Home loves to dress up, and is kind of a shopping diva. Such a Taurus through and through. I only ever shop for Nong Rak and very rarely keep anything, so my own wardrobe is surprisingly small.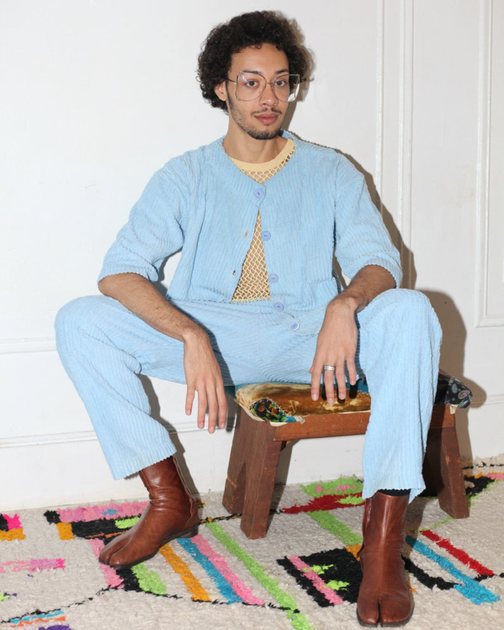 We are still in such a meditative state in terms of curation as well as our concepts and goals, but it's been changing and rearranging rapidly since we arrived to New York this past July. This city really is a red-hot hot-spot for motivation and productivity, especially in terms of visuals, design and style. We draw a lot of inspiration from the people we are so fortunate to have model for us, as each person's ambience lends itself to different kinds of styling.
Creatively, we are trying to incorporate more mediums into our photoshoots, and have been steadily working towards moving picture and sound in order to create more in-depth scenarios for the scenes we envision.
Up until recently we did our photoshoots intuitively on the spot, and truthfully our process is still chaos. We're usually trying to fit too many ideas into one image and it often ends up unnecessarily busy. But sometimes we get the shot!
We don't go out much besides sourcing so we're just about the extent of each others daily conversations, and that includes all of the ideas and questions we have for what creative direction we want to take the shop in. Almost every little detail is a collaboration and there are so many little duties that get divvied-up that it's hard to keep track.
We've been told that Nong Rak seems as if it has a whole team behind it, but it's just the two of us trying to balance everything and merge our visions, while simultaneously trying not to bite each-others heads off.
Much like the rest of the Nong Rak, our collections morph and explore different designs and themes. It seems the ones that linger no matter what are sensory textures, vivid colors and prints, unique cuts and overall fun-factor.
Both of us love knitwear and outerwear above all else, so fall and winter are the most fun to collect for.
Sometimes we try to add designer or high quality basics but have found that simple pieces, however wonderful and necessary they are, don't lend well to our imagery or audience.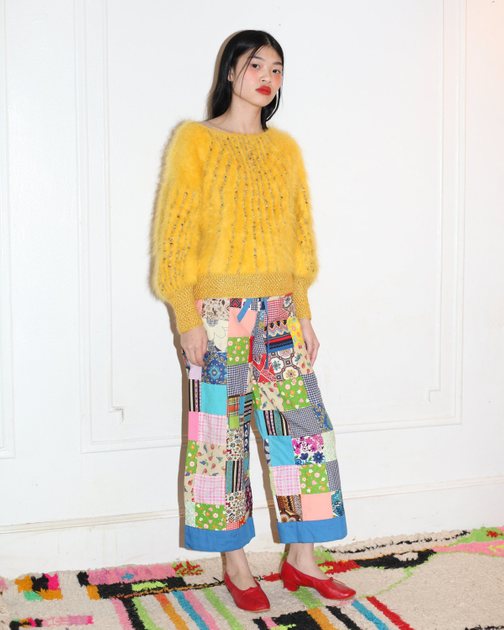 We are endlessly influenced by Bangkok's exciting and fast paced atmosphere and try to breath that into Nong Rak as much as possible.
We spent so much time walking around at markets, surrounded by old things and fun strangers, that Bangkok set a solid premise for what we are now trying to form. It was the place we met and started to create together, and that nostalgia alone comes into everything we do.
Nong Rak is not just a shop, it is also our collective voice – as a multi-cultural household, as Millennials on the precipice of environmental catastrophe, and as visually driven people who want to create imaginary worlds out of the world we live in.
Our ultimate dream is to create a space that's not just for sales, but where people are invited to ponder the importance of vintage as an endless source of design, story and heritage. It would be an absolute dream to open a brick-and-mortar shop one day, and have a physical space to manifest our vision."
Meet Nong Rak at Artists & Fleas Williamsburg Sat & Sun 11/30-12/22.
@thenongrak