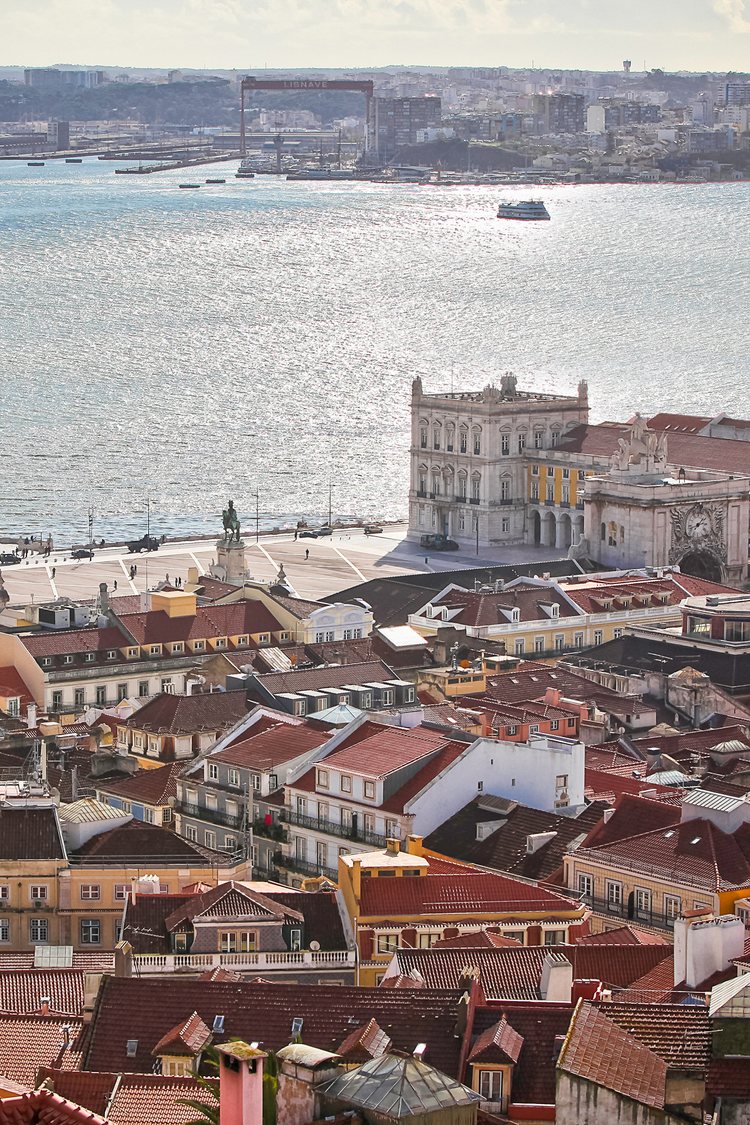 Lisbon is an amazing city for vintage shopping. You could easily arrive with an empty suitcase and leave with it filled to the brim with awesome vintage finds.
I've been vintage shopping in Lisbon since 2017 and it's always had cool vintage shops. Now it feels like a surge of vintage shops have opened with many of them being first-time vintage shop owners as well as long-established ones branching out and opening new locations or concepts of their current shops. There are also tons of pop-up markets and fleas happening all over Lisbon, making Lisbon the perfect destination for vintage and second-hand shopping.
It's not always easy to find vintage shops in Lisbon. Sometimes they aren't shown in a Google search or on Google Maps. They also could have wrong opening times or an incorrect address. Sometimes cosmetic stores or specialty grocery shops can be inaccurately categorized as vintage shops. As a seasoned Lisbon vintage shopper, I still find this a bit puzzling. There's nothing more frustrating than making your way to what you thought was a vintage store and it ends up being a hair salon or pet grooming shop. That's why blog posts and using Instagram and TikTok to map and save vintage shops in Lisbon is so important!
Lisbon is a city best explored by foot, so you can leave the car at home. You may find a vintage shop just by walking around and exploring these magical city streets. You can also hop on a bus or the metro to shop vintage and thrift as public transportation is pretty easy to navigate in Lisbon. I personally find the unique and cool vintage shops in Lisbon are located outside the city center.
But if you're visiting Lisbon for the first time or just starting to check out the vintage shopping in Lisbon, here's a list of vintage shops that are conveniently located in the downtown areas and/or close to public transport. Since there are well over fifty vintage shops in Lisbon, we'll focus on those that are mainly downtown near the city center. I promise you that they won't disappoint!
Also, here's a Google Map list of the shops highlighted in this read.
A Outra Face da Lua
A Outra Face da Lua is one of the first vintage shops I discovered in Lisbon back in 2017. It used to have a cafe inside but now it's just a vintage shop packed with great vintage finds. I have a thing for old-school and somewhat "traditional" vintage shops, with fun retro decor and a variety of vintage pieces from several eras.
A Outra Face da Lua could easily be your one-stop shop for all your vintage needs. I'm always impressed by their collection of clothing and accessories. Like most vintage shops in Lisbon, they pretty much have vintage items from all seasons on the sales floor. So you can shop for cold weather jackets and hats all year round. I personally think it's awesome to be able to find the jacket of your dreams even during the hottest days of the summer.
There's a mix of almost everything here, from 50s hats, and 80s dresses to 90s Hawaiian button ups. It's located downtown in Baixa and will surely have something for just about everyone. The prices are also affordable and in line with other vintage shops in the area. For example, women's 80s and 90s dresses are 20-40€ ($22s-$44).
A Outra Face da Lua
Rua da Assunção 22, 1100-044 Lisbon
Mon–Fri 10am –7pm
Sat 11am – 7pm
@aoutrafacedalua
Flamingos Vintage Kilo Lisboa
As you can probably tell by the name, Flamingos Vintage Kilo Lisboa sells items by weight (by the kilo). When you want to know the price of an item, the very helpful staff will weigh it for you to determine the price. Some pieces like blouses, tees, and men's summer shorts have fixed prices whereas bulkier items like jackets and coats are by the kilo. The price tag on each item lets you know if it's by the kilo or a fixed price.
Flamingos Vintage Kilo Lisboa is another must-visit vintage shop in Lisbon, as it has women's, men's clothes and a really nice assortment of accessories. I love the retro decor in this shop and the fun wall colours. I love the fashion basics the shop has, like blazers as well as colourful men's swimming trunks, stylish varsity jackets, and a selection of sequin dresses.
The collection is a mix of 80s, 90s with a few Y2K pieces and athletic jackets. The prices here won't break the bank and I find them in line with prices in other vintage shops and even a touch cheaper. For example, a winter trench coat in really good condition was 44€.
Flamingos Vintage Kilo Lisboa
Rua dos Douradores 168, 1100-207 Lisbon
Mon–Sat 10am – 8pm
Sun 10am –7pm
@flamingosvintagekilolisboa
Ás de Espadas
Ás de Espadas has two locations. I've been shopping at their first location in Chiado on Calçada do Carmo since 2017. Their newest shop is located in Baixa on Rua da Conceição (the location featured here). It's easy to fall in love with the retro feel of this shop and it's loaded with a variety of vintage treasures.
This location of Ás de Espadas is well organized and has a mix of women's and men's vintage fashion as well as an amazing collection of vintage purses. This shop stands out because they have a nicely curated mix of vintage from several eras and a unique mix of evening gowns you don't always find at vintage shops in Lisbon.
This is an all-around great vintage shop that everyone is likely to find something they like, whether it's 90s graphic tees, 70s leather skirts, or 80s sequin dresses and tops.
Some would say that the prices here are just a tad more than other vintage shops in the area. But I disagree as the vintage items here are damage free and in pristine condition and there are some very special vintage pieces here that you may not find at other vintage shops. To give you an idea about prices, 80s and 90s dresses were about 30€ ($33).
Ás de Espadas
Rua da Conceição n.º 117, Lisbon
Mon–Sun 11:30am–8pm
@as.de.espadas
Feira da Ladra
Located in Alfama, one of the city's most iconic neighborhoods, Feira da Ladra is the biggest and possibly the best flea markets in Lisbon. It's become wildly famous over the years and you may have seen it on Instagram or TikTok. Also known as Thieves' Market, it's been around since the thirteenth century and you will literally find just about everything here, from vintage Hawaiian shirts, old books, and records to a variety of vintage housewares and decor.
Feira da Ladra is a massive flea market and you could definitely spend most of the day here. It also has a mix of local and handmade pieces and art, but it's well-known for its vintage and antique items for sale.
If you're on the hunt for vintage clothes and accessories, you'll need to have the eye to spot and identify true vintage and note that vintage sellers are scattered throughout the market. Here's my advice when shopping at Feira da Ladra:
• Get there early, around 9am or 10am as it tends to get quite crowded now that it's so popular.
• Take your time to look and check out each seller in each section.
• Be prepared to dig, as you'll find some vintage clothing on the ground in piles or stuffed on a clothing rail.
• Wear comfortable shoes as there's a lot of ground to cover.
• Stop and take a break. I recommend grabbing a coffee and snack at Clara Clara Café located in the park just above the market. It has great views of the river.
• Don't be too shy to bargain with the sellers, they almost expect it.
You can get super affordable vintage clothing and accessories here if you're willing to dig just a bit and ask for a better price!
Feira da Ladra
Campo de Santa Clara, Lisbon
Tue & Sat 9am-6pm
@feiradaladralisboa
Golpe
Golpe has to be one of the coolest vintage shops in Lisbon! It's located in Entre Campos, about twenty minutes by metro from Baixa-Chiado in downtown Lisbon. But trust me, and it's well worth the trip!
It has two floors and the vintage is well-curated at very affordable prices. The store has an eclectic and retro vibe with a selection of women's and men's clothing and some modern accessories from local designers. It's the perfect place to get your Y2K fix. You could easily get a full outfit or two here and not break the bank. Men's button-down shirts were 9€ ($10).
Golpe
Rua Visconde Seabra 22A, Lisbon
Tue-Sat 3pm-8pm (hours vary, please check their Instagram for the most up-to-date opening times)
@golpe.store
Humana Vintage
Humana is a well known thrift shop in several European countries. They've created separate shops called Humana Vintage which are full of amazing vintage fashion and accessories. If you like thrifting for vintage, this is the place for you! Prices are very affordable, and on some days they offer most items in their vintage stores for 4€ ($4.5).
Quite a few Humana thrift shops and Humana Vintage shops have recently opened up in several areas in Lisbon, and I feel like every neighborhood has one now. The Humana Vintage featured here is on Rua dos Fanqueiros and is my favourite location.
On non-sale days, I find the shop to be neat and well organized. It has two floors with women's clothing upstairs and men's and denim located downstairs. Racks are organized by item type and you should take your time to go through each one.
I love this location in particular because they always seem to have a great selection of women's vintage dresses and blouses in the most amazing vintage prints. I'm not sure how they manage, but every time I walk into this location, I'm blown away by the gorgeous vintage prints in the women's section. They also have accessories like purses and shoes.
There's a mix of 80s, 90s, and Y2K pieces making this is a great option for the budget shopper, especially when the shop is having a promotion. Check their Instagram to see when they're having big sale days!
Humana Vintage
Rua dos Fanqueiros 197, Lisbon
Mon–Sat 10am-9pm
Sun 11am-8pm
@humana_secondhand_pt