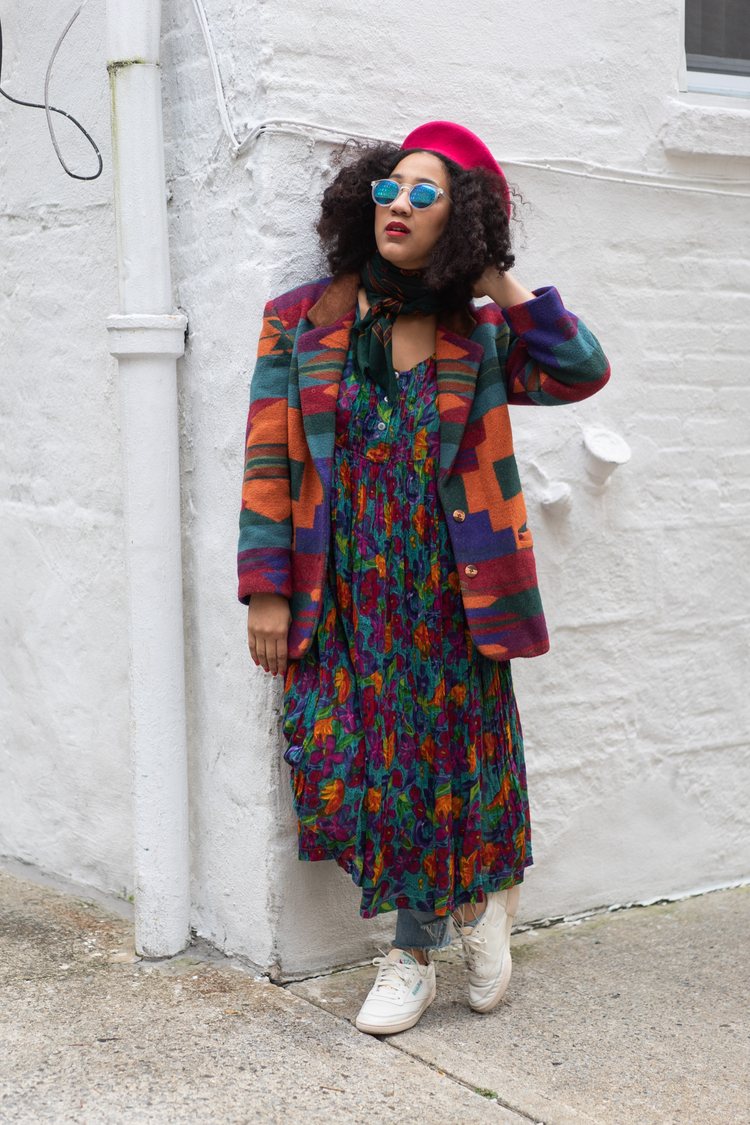 Vintage fashion blogger Leigh Ray knew already 10 years ago that jeans and dresses are a perfect match.
"I used to be a girl who only wore 50s dresses, but always with a pair of jeans. Gradually my look became too expensive because I would always rip the old delicate dresses!
Now I wear mostly 80s and 90s vintage because that is what is available. I do not fall in love with the era but the piece. I still love wearing dresses and jeans together.
I feel empowered when I'm wearing a vintage garment because it is a piece of history.
At first, I was hesitant to buy vintage because of the stigma associated with wearing used clothing. My first vintage piece was a white and green 80s dress; once I started wearing it, I was hooked.
When combining dresses and denim, I prefer to wear anything with a full skirt (think 80s dresses) in tandem with skinny, tapered jeans.
I just adore how Beth Jones and MaKenzie Godso layer and mix unexpected pieces.
When it comes to shoes and skirts, I love sneakers with any type of dress— it is still such a fresh look. I wear my cropped jeans with a light blazer in spring and summer, and with boots in winter.
The pink jacket and the dress are from Retrospect Vintage in Philadelphia. The jeans are Levi's, the sunglasses from East Village Vintage Collective.
I am always hunting statement earrings, ruffle blouses, and jumpsuits. As I'm looking to simplify my looks and going back to slacks or jeans with t-shirts and blouses, statement earrings call me because they make a fashion statement while still keep the look minimalist.
Ruffle blouses are romantic, feminine, and also make a fabulous statement. Jumpsuits are easy to wear and can be chic, too.
Pants and suits are at the top of my new shopping wish list to make my outfits more sophisticated.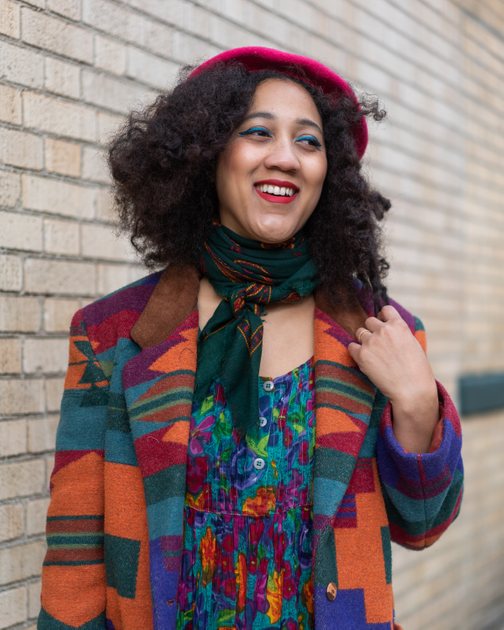 I shop vintage online because I seldom have time to visit the stores. Shopping online you just need to know your measurements because there are usually no returns. If I get something online I either love it or hate it. If I hate it, I just need to start loving it!
You can wear vintage with what you already have. Treat it like something that you bought in Zara or H&M. Many things that we see at those stores are knocked-off vintage pieces.
Wearing vintage can be for everyone. It's all about how you wear and style a look.
I love mixing colors. My favorite color combo is the one in this photo: red, white and blue. Pink and green also rank high on my list.
Dressing up and down is a constant theme in my style, as you can see. I paired the golden skirt with a t-shirt and made the whole outfit even more glamorous with a fake fur coat. The coat is from Etsy, the t-shirt from Barcelona, the skirt is from Hustle Vintage, and the sneakers are Fila."
Leigh's vintage fashion blog: Pink Vintage Heart