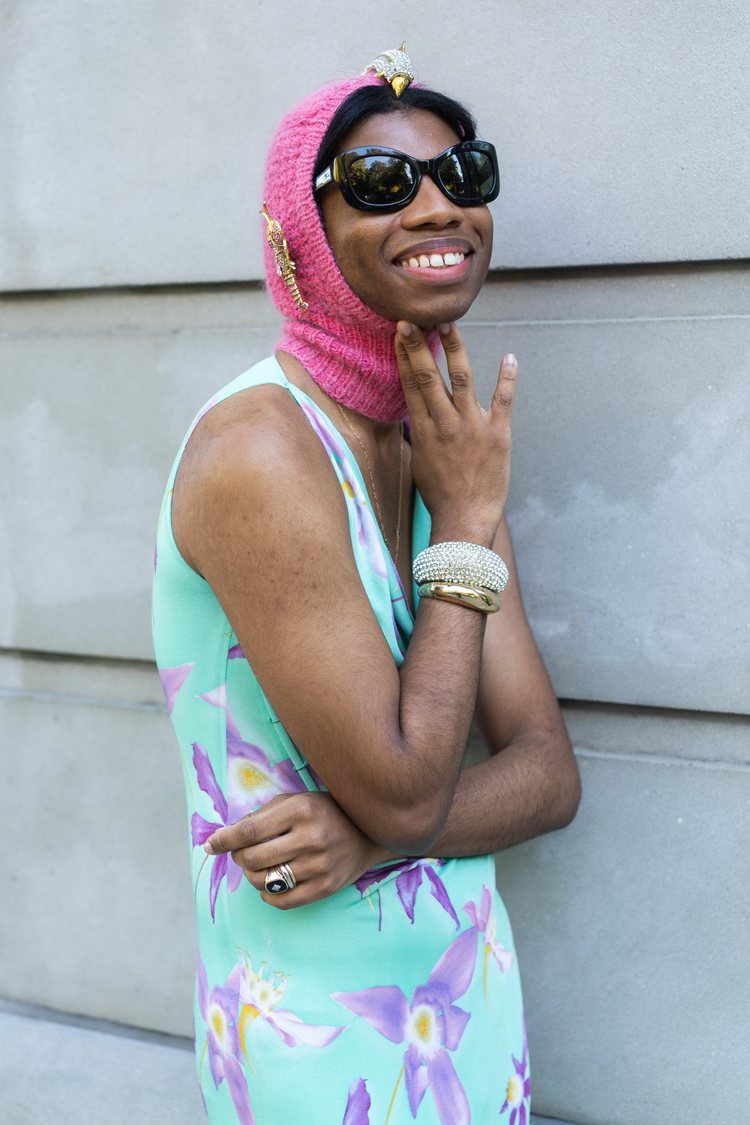 style persons
Street Style Star Jalil Johnson
This New York street style icon and fashion office assistant of Saks Fifth Avenue discovered vintage through Macklemore and Tumblr.
"My earliest memories revolve around getting dressed up for church. My mom usually dressed me first, so she could spend the next few hours fussing over what outfit would top last Sunday's look. It's during these bouts of theatre that I became simply obsessed with fashion.
While I was watching my mom and grandmother getting dressed, I began to wish that I could design clothes for them so that they could see themselves in my vision.
Oddly enough, what sparked my vintage shopping was Macklemore's Thrift Shop video – I know it's an odd catalyst, but I was 12.
Where I grew up, as I would assume would be the case for most of the country at the time, there were negative connotations associated with second hand shopping. Macklemore's video took all those connotations I grew up with, and threw them out the door!
Then I discovered Tumblr, which made me reconsider my association not only with being a part of the fashion industry but also second hand clothes. The coolest people on the site were the ones that were obsessed with finding old Prada campaigns and dissecting collections. Not only were these kids so knowledgeable, they also had a great style that was mainly fashioned from second hand clothes.
They inspired me to explore Goodwill and the local thrift shops for gems that my classmates would not be able to find. While I was working at the YMCA during high school, most of my paychecks went to American Apparel and thrift shops. When I moved to New York, it opened my eyes even more to the world of vintage. Though at times it feels a little saturated, there are still spots in the city that provide that feeling that you can hunt for a really good piece.
I bought this coat at Ina NYC at their 13th street location (RIP) about four years ago. I remember seeing the coat at the beginning of May and falling head over heels for it. However, it was very much out of my price range. I would go into Ina every week, during that summer, hoping the coat was still there and that it was on sale. Finally, in the middle of August, the coat finally went on discount. Sadly, it was still a bit out of what I could afford, and the shop clerk gracefully gave me a little extra discount because they had seen me check on the coat all summer!
The top is a slip from Araks worn as a top, and I paired it with a 90s Donna Karan sequin skirt I bought from The RealReal. The shoes are Saint Laurent from the current season, which I feel is the perfect 'lady' shoe. I put them on and I immediately feel like singing 'Ladies Who Lunch'. On the topic of ladies, one can not be a lady without gloves. These are cashmere opera-length gloves from The RealReal. The earrings are from Jiwinaia, all of their jewelry feature little cheeky details.
I styled this in homage to the great fashion photography of the 50s and 60s. So you have a little sequined action from the skirt, and the shoe makes this look! I try to limit how much new I buy, but these shoes were a must. I got them from Saks.com.
Last summer, I went on a deep dive for Versace silk shirts that weren't astronomical in price. I searched high and low, until I found this perfect one on eBay. The first thing that caught my eye, of course were the boys playing volleyball. I thought the graphic was so cheeky and so unique. I decided to style it in an almost bourgeois way with these Claude Montana pants, from Front Street General, tucked into the knee-high boots. It is very equestrian in nature, which somewhat ties into the athleticness of the boys on the back of the shirt.
I like to shop vintage both online and irl. For online shopping it's the usual suspects: The RealReal, Etsy, eBay, Vestaire Collective. For irl: Front Street General, Desert Vintage (love their online store as well!), Stella Dallas, Chickees Vintage, Ina NYC on 13th street (rip), and many more that I think I want to keep to myself!
My first piece of Halston was this chocolate ultrasuede dress I bought for $40! Unfortunately, this was a deal too good to be true. I wore it to work so proud of my epic find! I came home to find that the dress had come apart, with big holes forming around my shoulders and back. Because of the condition of the fabric, a tailor told me that it was beyond repair. Though I am still trying to figure out how to salvage this archival piece, I decided to show it amongst all the other Halston I've collected so far.
I thought it would be cool to play with the collars, so I layered them on top of each other, which also produced this beautiful color-blocking moment. I also pinned a carrot brooch for another pop of color, which also happens to be the vintage piece I've had the longest.
Styling for me is very much feeling-based. I loathe the idea of planning out outfits, unless there is a particular piece I'm excited to debut!
What usually happens is that I wake up with a vague idea of the temperature and a very precise feeling and idea I want to convey. I'm heavily inspired by cinema, old magazine spreads, and just general gestures. So I take all of those things and try to take what's in my head and configure it into a reality. Karl Lagerfield said something along the lines that when he designed collections, they were of course referencing whatever he was into at that moment, but he would make it a point not to design exactly what he saw. Instead, he pieced together whatever he remembered of the reference and his imagination. I feel I take that same approach.
I love a good reference, but I take whatever reference is in my head, and put it in my little kaleidoscope to create a look.
This look is a little Alfred Hitchock's 'The Birds' and a little Catherine Deneuve in 'Belle du Jour'. The black velvet Yves Saint Laurent jacket is one of my most prized collections. If a fire was burning and I could only save a few items, this would be one of them. My favorite vintage shop in New York is Vintage Thrift in Gramercy, NYC, and as the store started to open back up, they posted that they had a rack full of 70s and 80s YSL. Needless to say, I ran to them because this era of YSL is my absolute favorite era. There's such a powerful reassurance when you put on a piece of YSL from that era. You feel confident and determined, alluring and sensual, witty and cunning. You just feel completely elevated.
The skirt is also Yves Saint Laurent, this time from the 80s. The shoes are the same Saint Laurent heels, which I paired with a little polka dot headscarf that I got from a Batsheva show, Oliver Peoples x The Row sunglasses, and a 60s leather top handle bag and cotton gloves. I feel this look wouldn't be complete without my taxidermy pheasant, Phyliss. I gifted this to myself for my 21st birthday, much to my partner's dismay!
I, like most people, am obsessed with Martin Margiela's Hermes era. His collection was the epitome of luxurious ease. I found this skirt in the middle of the pandemic for a fantastic price and had to have it even though I do not wear that much brown.
For this look, to offset the very conservative silhouette of the skirt, I decided to put something a bit more architectural on top. This is an Issey Miyake shawl that can be tied in a myriad of ways. As I was twisting, wrapping, and tying the shawl, I wanted to create something that was almost Comme des Garçon-ish. The boots are Khaite, the necklace is from Vintage Thrift, and the bracelet is from Etsy.
I'm on the hunt for a few more pieces from the Hermes collections designed by Martin Margiela at an affordable price. A good pair of riding boots! Anything from the Isaac Mizrahi FW94 collection featured in Unzipped. A vintage clown costume, I was very much inspired by Bode's recent Halloween collection. Finally, I'm on the hunt for that May Vogue from 1984 with that amazing Helmut Newtown spread with Daryl Hannah and Madonna's Sex book. I've found a few copies of the Madonna book on eBay, I just haven't purchased it yet.
When I wear this Versace S/S 99 dress I feel like a Botticelli chick! How could one not feel like Venus riding a clam shell when you're wearing a jersey Versace dress? I bought this dress for my graduation; unfortunately, my graduation was held over Zoom, so only my partner and my friend got to bask in the dress' glory. The dress is from The RealReal which I scored for an unreal price. Needless to say, this dress is another item I would save if there was a fire. The shoes are Manolo Blahnik, and they have these fun coral-like bits. To match the aquatic glamour, I added my bedazzled crawfish clip-ons from Shrimps.
I love vintage Vogue, and I feel some of the most stunning images were from the December Issues during the Diana Vreeland years. The covers were always so whimsical and transported you to galaxies far far away. With that in mind, I remembered seeing this image of a model with a bejeweled fish brooch in her mouth with a scarf or hat encasing her. This inspired me to pair my balaclava with a few of my vintage brooches. The encrusted lobster is from Etsy, while the dolphin is a shoulder brooch from Jewel Diva.
My forever style inspiration is Jackie, more so the Onassis years than the White House years. There's just such a luxurious ease to her looks post-White House. Such assurance can only be described as chic. As Rachel Tashjian, Harper's Bazaar's Fashion News Director, mentioned in her review of Bottega Veneta's show and its relationship to chic: 'When you start to get a few lines around your eyes—that's when you have something to say about style. That's when you begin to know yourself, and appreciate yourself at your most complex. Your insecurities soften and self-assurance appears.'
The ultimate style goal is to know thyself completely, and not feel the need to bend and shift to some vague whim or trend.
Jackie was not known as a trend follower, more so a trendsetter (who can forget her inaugural Halston hat with the accidental dimple); nonetheless, it's the Jackie walking down the street in linen separates, big sunglasses, and her namesake bag slung on her shoulder nonchalantly that exudes the essence that hopefully, we are striving to become. But I digress!"