people
Influencer Malvika Sheth: How to Shop Vintage and Stay on Trend
Malvika Sheth, 21, shares her best vintage finds emulating the hottest trends. Vintage doesn't mean you can't be on-trend.
Liisa Jokinen · Aug 25, 2020
Cover photo: NYC Looks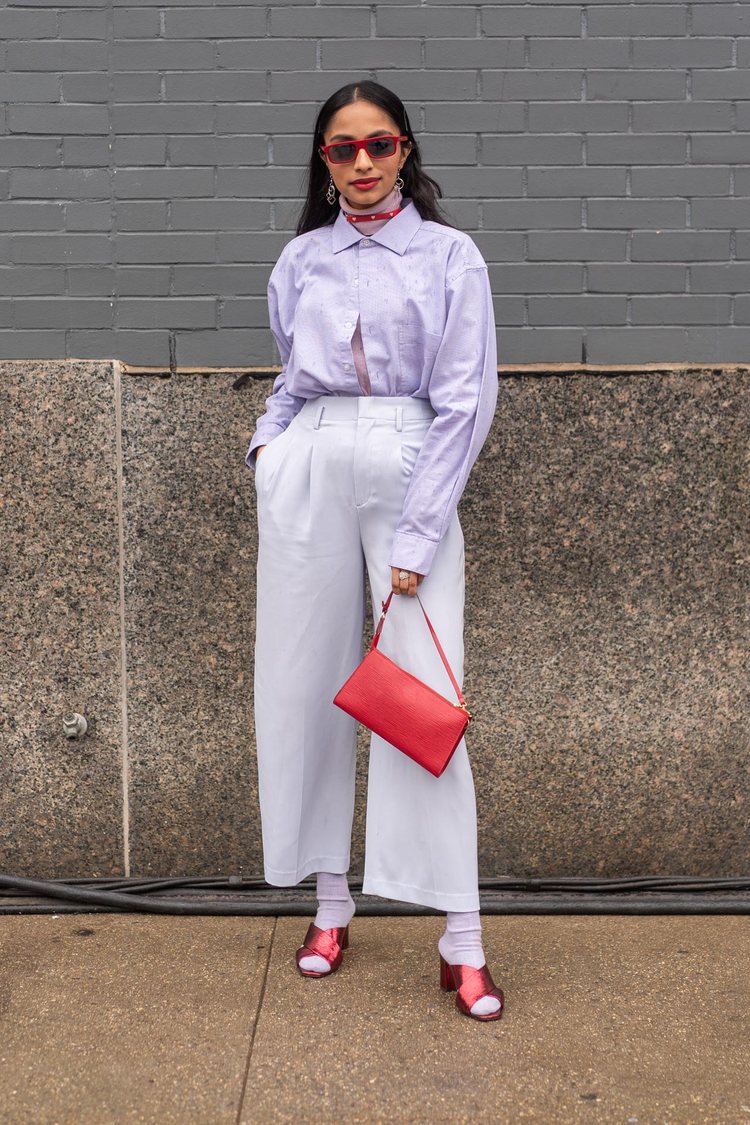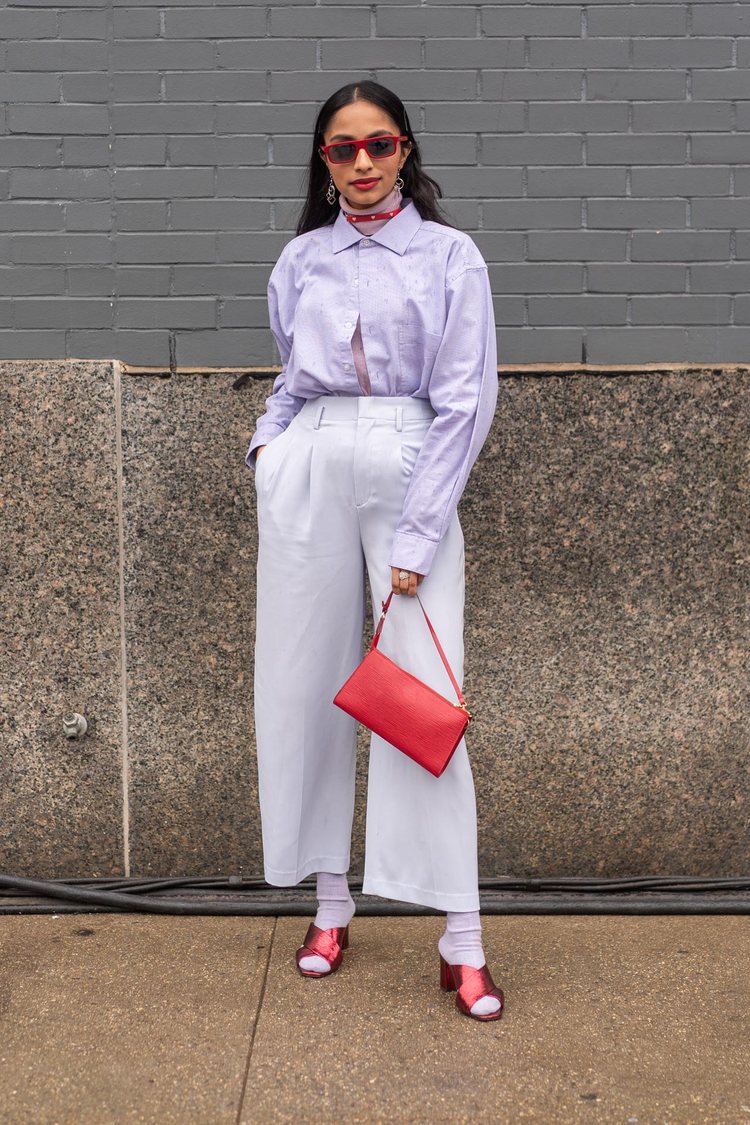 people
Influencer Malvika Sheth: How to Shop Vintage and Stay on Trend
Malvika Sheth, 21, shares her best vintage finds emulating the hottest trends. Vintage doesn't mean you can't be on-trend.
Liisa Jokinen · Aug 25, 2020
Cover photo: NYC Looks
"I owe my love for vintage to one of my biggest style inspirations, my late grandmother. She had some of the funniest pieces like Chanel glasses with a pearl hanging down on it that were in the family and weren't being used! When my family showed them to me and asked if I'd like to keep them, my mouth literally dropped. I was just a young girl in high school. Once I found fun ways to style these vintage pieces, I got interested in shopping vintage to differentiate my style from the monotony that sometimes exists in the fashion space. There's something to be said about putting your best self out there with older pieces that not everyone is obsessed over. It gives you a sense of renewed individuality, and sometimes even greater confidence.
Vintage is not yet a huge part of my wardrobe but this is definitely changing. I wear a lot of the vintage pieces I buy a great deal, so I'm actively looking to increase the percentage of my closet that is vintage, and perhaps give away or sell other non-vintage pieces that I'm not wearing.
This silver, small-sized Fendi logo top handle bag is one that I don't think I'll ever be able to let go of. It's so versatile and ever since the logo bags came back in trend, I've been wearing this on repeat.
Trends tend to be cyclical in nature, so I think that's where keeping and shopping vintage can be helpful.
Plus, it feels extra special to have this bag in my collection since it was my late grandmother's. Whenever I wear it, I feel like her "style blessings" are with me.
Styling this piece is one of the easiest things ever – because of its standard color, the bag goes with most casual to semi-dressy day outfits. Or if your clothes have a ton of color this bag acts as a subdued piece to balance out the look.
When the Dior book tote was trending, I found myself really wanting a big, travel tote, but one that was a bit different from what everyone else was carrying. I found this piece at TheRealReal and it's become a go-to travel carry-on piece. It fits so much – from my skincare essentials to my passport, laptop, and snacks! This bag is a super dark color, so it goes with most of my looks. This piece is all about practicality for me.
When it comes to vintage, I think it's always a little extra special to shop designer because pre-owned is a great way to get designer items inexpensively. In my daily outfits, I am alright mixing in non-designer pieces as long as the material, cut, and fit are good.
Another piece that was in the family was this Emilio Pucci mini purse with shades of trendy millennial pink in it. It was actually given to me by my aunt, who had it in her collection but wasn't using it. It seems to be a pretty old purchase, perhaps from the 2000s or before, but the fun with Emilio Pucci pieces is that the patterns transcend time. There's not really a way of being able to tell how old the piece is if someone sees it in plain sight.
Truth be told after my aunt gave it to me, it sat at the back of my closet until I started my platform Style by Malvika. When I actively became more and more into styling myself in new ways, this piece was the perfect fit as a standout piece for simpler outfits.
Slim, rectangular sunglasses have been a regular addition across the last few years to help pull together my best looks. I purchased these beautiful vintage YSL shades in a punch pink for summer on Poshmark. I love wearing these with a lot of white, to really draw attention to the pink in shades. As well, any monochromatic looks (all lavender, all blue, all lime green, all red, etc.) that aren't pink would look great with these, I think.
My vintage shopping hack: I like to scour the market for less mainstream styles of popular silhouettes, colorways, or trends.
Some trends I am seeing now: baguette bags, millennial pink and sea green, pastel bucket hats, neon green with white accents, square-toed heels, and slip dresses.
For example, when it comes to square-toed heels, the most popular pair is made by Bottega Veneta. I wanted something a bit different as my first square-toed piece, so I bought a vintage square-toed brown heel by Marc Jacobs.
Like mentioned, the baguette-shaped bags are still trending and this piece is close to Pantone's Magenta Purple from the recent AW collections. I've been playing with purple a ton as of late – even in beauty. Purple shades of lipstick, purple on the eyes, and even in the bags, pants, and tops!
I laid eyes on this gorgeous vintage Louis Vuitton and purchased it just recently from an online shop, Consign Times, which is based in Miami. I'm still waiting to wear this out since it was bought recently during the lockdown, but I'd probably pair this first with a head to toe white look and a purple eyeshadow moment.
This Christian Dior blazer was another purchase from TheRealReal. It was a perfect addition to my Paris Fashion Week wardrobe, has a classic, feminine cut, and can be worn over jeans to make any outfit a bit more dressy, or else super formally – for job interviews, business meetings, and events of the sort.
TheRealReal and ConsignTimes are my favorite online stores at the moment. A lot of my purchases have either been things I've seen directly on Gem or have been inspired by things I have seen on the Gem homepage.
But I think the best steals are always found in-person, at less mainstream locations. I hear Scotland has some great vintage stores, and I know firsthand that there are a few really cool vintage shops in San Diego. I remember being in San Diego a few years ago, finding a full logo, authentic, Hermes jumpsuit in my size for an insanely low price, and somehow letting me convince myself "I didn't need it". Man, do I regret that!"