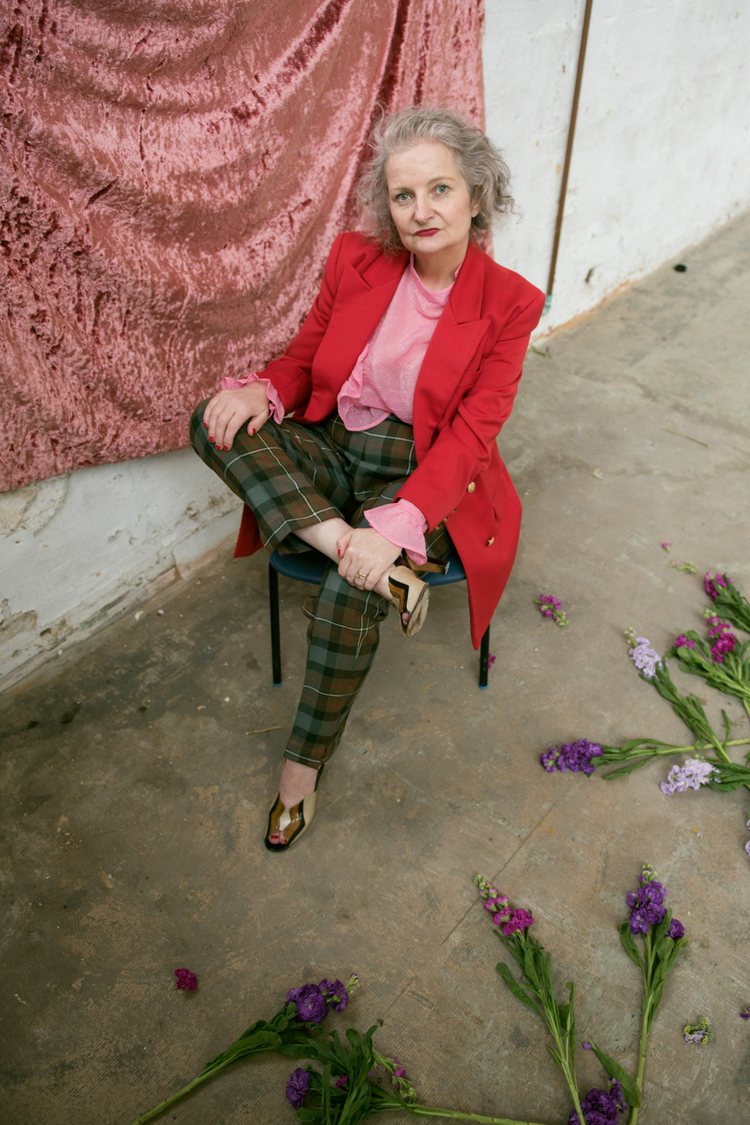 Stylist Karen James-Welton, 55, aka Fabulous Miss K shares her tips on how to add a touch of vintage to any wardrobe, at any age.
"Polling women over 50 and beyond on the topic on vintage and most of them will say that it doesn't appeal – you can never be sure of sizing and trying on in a makeshift fitting room at a market stall or in a dusty old vintage store doesn't hold much appeal. So it is no surprise that the older woman is less inclined to strip down and pull on a vintage frock. The most common argument I hear is "it won't fit me".
But it is actually an older and curvier woman who is likely to unearth a vintage gem at a bargain price.
Kerry Taylor of Kerry Taylor Auctions regularly sells lesser-known designer vintage pieces for under £100. Larger sizes are often sold cheaper simply because they are harder to sell. Older women exclude themselves from the market because they are of the mindset that vintage doesn't work on them, Taylor says.
You can find vintage pieces that work on every shape and size – think of a classic hourglass figure with hips and boobs perfect for 40s and 50s suits.
Don't be afraid to have a piece altered to make it fit your shape – better to be sustainable and give these beautiful pieces a new lease of life rather than sitting in a dusty shop. Most women over 50 just can't fling on a vintage frock in the same way a 20 something could but with a bit of tailoring it can look amazing. And many vintage pieces are perfect for an older lady that wants a touch of coverage in the upper arm area – think of all of those glorious balloon and chiffon sleeves from the 70s!
The other excuse I hear all the time is "vintage will make me look frumpy or like my grandma". But designers draw inspiration from the past all the time and there are only so many ways that you can re-invent a frock.
Many vintage pieces are classic items that are always on-trend – think of a navy blazer or a pussy-bow blouse. Study the trends and see where the influence has come from.
Colour and texture are the first things to look for when vintage shopping – you can't beat the intensity of vintage colors! For instance, take a vintage jacket in bouclé or tweed (very Chanel) and throw it over your jeans and a white tee for a classic look.
Look at the shapes next – 60s coats are the ultimate in chic when thrown over a pair of jeans. 60s and 70s shirt dresses are always on-trend and perfect for summer with a pair of modern shoes or belt. Take a classic pleated or A-line skirt which was all over the runway this season from Chloe to Gucci, Victoria Beckham, and Mulberry – wear it with a polo neck in winter paired with knee-high boots or a simple white shirt and loafers.
The key to making vintage look modern is mixing it with contemporary pieces rather than wearing everything from the same era. But don't get me wrong – there are some fabulous 50 plus women who wear full-on vintage every day and look amazing. For the majority of more mature women not looking as though you stepped out a BBC costume drama is not the look we are going for.
Vintage jewelry and accessories are an excellent way to embrace the vintage trend. Try statement pieces like layers of pearls á la Coco Chanel who wore them in vast numbers right into her 70s. Or try an armful of vintage bangles – channel the extremely chic Iris Apfel or find a great pair of vintage chandelier earrings.
Vintage silk scarves are perfect accessories – invest in a few that you can wear in so many ways: in your hair, around your waist as a belt, or just throw on around your neck for a pop of color. Instead of carrying the latest "it bag" choose a cool vintage one that no one else will have.
One advantage of buying vintage is the quality of the fabric and the way the garment is cut. You just don't get that with high-street pieces and as you get older it is all the more important that your clothes look and feel good. Think of it as investment shopping. To get the quality of fabric found in vintage clothing you are talking designer prices.
My best advice is to stop thinking about the fact that it is vintage and just think of it as clothes."
Read more on Karen's blog The Fabulous Miss K