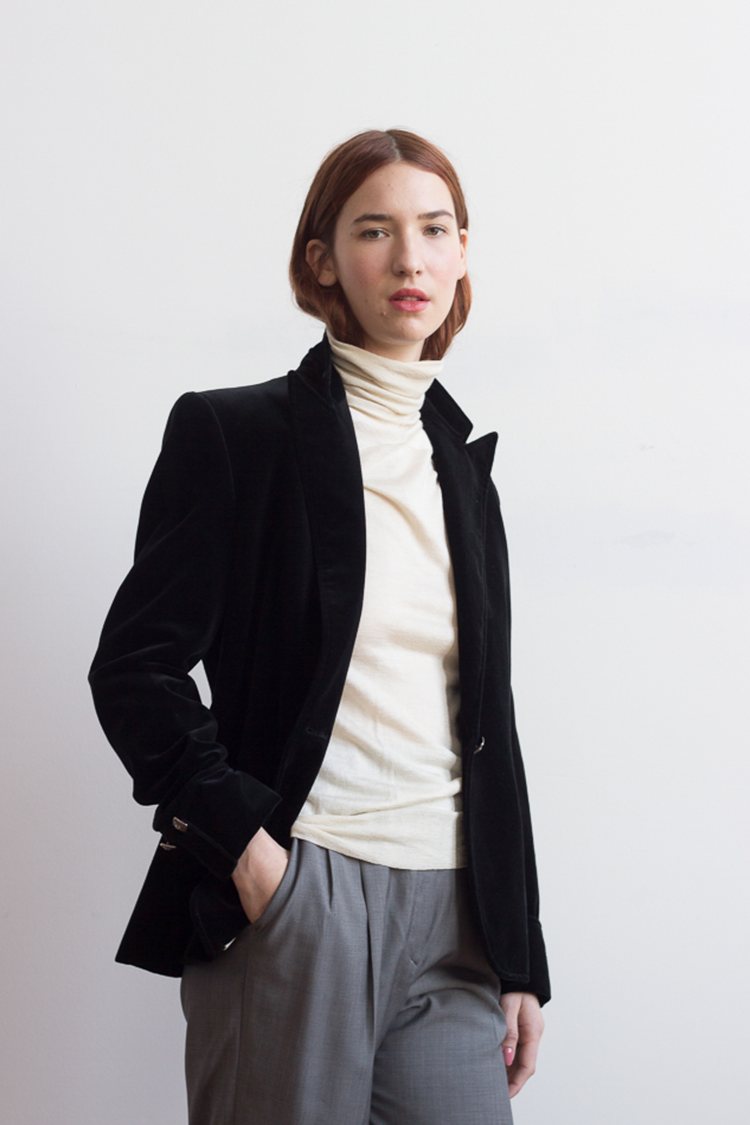 Look smart, sharp, and professional with these tips from vintage vendors! Learn which materials, items, and colors to shop, and how to style your outfit for work.
"Vintage is a great option for work because you can get the nicest materials and cuts without having to invest in something new and designer," Lauren Moetell, founder of Mirth vintage store, knows.
"I always dreamed of being able to wear business casual at an office job. So maybe that's where my shop's career-woman bent comes from. Many of my customers tell me that they get their work clothes at Mirth."
Materials
The number one rule when shopping vintage for work is to focus on materials.
"The key to wearing vintage that doesn't look dated is to focus on materials—wearing silk, wool, linen, cotton, and even great printed rayon pieces will always make a more polished statement", says Haley Pelton from Wayward Collection.
Natural materials are breathable, and therefore more comfortable to wear. They also maintain their shape and quality after years and years whereas contemporary fabrics with elastane tend to loose their structure even after a couple of washes.
"Well-made garments from quality materials will always be in style and will stand the test of time. That's one of the things that's so great about vintage — it's already proven its ability to endure and remain stylish", says Caitlin McNulty, owner of Narrō vintage store.
Decades
Vintage is usually taught to be clothes that are more than 20 years old – anything from 1999 or before is now considered vintage. But which eras are best for office outfits?
The golden era for great work clothes, in Moetell's opinion, is the early 1990s. "That era of Ralph Lauren is particularly good I think — khaki cotton, white shirts, full skirts, trousers."
Another era to look at is the 1970s. "Despite the fact that I'm still sad about Phoebe Philo leaving Céline, the new head designer Hedi Slimane's fall 19 show inspired me to start sourcing 1970s plaid wool middy skirts to wear with straight shaft knee-high boots, cashmere turtlenecks and camel blazers...I'm all about 70s louche-preppy vibes and that's kind of the perfect look for work at least in the fall", says Pelton.
McNulty loves to mix different decades. "When wearing vintage, it's all about recontextualizing the piece so it feels modern and relevant. Oftentimes this means layering it with another piece—say, pairing your favorite bold print vintage blouse with a modern suit. Best practice is to definitely mix up your decades! You can wear head-to-toe vintage if you mix your pieces right."
It is also worth noticing that sometimes brands that we now think of as ubiquitous and dare-I-say crappy mall brands were once more high end or at least made things in truly fine materials, says Pelton.
"I always love a silk or wool Jones New York blazer, silk shirts from Express Tricot (look for Made in Hong Kong-era tags), Ann Taylor and Anne Klein both used to be sold at Bergdorf Goodman and pieces from the 70s and 80s are often excellent quality and classic design."
Staple items
You can build your work wardrobe around a couple of staples: a good pair of pants, a blazer, a knit, and blouses.
"I think the most essential pieces are a good pair of pants, a blazer, and a neutral-colored knit — in silk or wool, turtleneck or crewneck. For pants, try late 90s-00s flat front cigarette pants with a side zip and mid-rise. Or maybe some more 70s-80s inspired wide-legged pants, with an extra-high waistband", tips Moetell.
Another option is a pair of dark jeans, says Pelton. And vintage jeans often come in better quality than new ones. Once again, check that the denim does not contain any synthetic fibers mixed in. "You can never go wrong with a combination of a double-breasted blazer, a silk shirt, and a pair of dark jeans, all of which will be better quality (and price) if you buy them vintage."
Blazers should make you feel chic and not stiff or boxy, says Montell. "I always prefer a longer, leaner cut, usually with three buttons, whether you wear with the shoulders fitted to your own or more oversized. I frequently wear men's myself."
Shoes
What comes to work wardrobe, the shoes come first though.
"Cheap shoes are always a tell if you're going to wear vintage or thrift—as Carrie Bradshaw once said 'I was looking for the perfect $7 vintage dress to wear with my $300 shoes', and she had the ratio right. The shoes don't have to be new, but they do have to be good—I almost exclusively buy designer shoes second-hand on eBay or The Real Real because I am not rich but I reallllly love expensive shoes! I think for work, having a pair of shiny leather loafers, a great knee high boot with a stacked heel and a cool wild card pair will take you far", lists Pelton.
Tailoring
All your work clothes should be comfortable to wear. Do not buy anything that is too tight or too small for you. Learn which cuts work best on your body type and you feel most comfortable wearing. A good tailor is worth millions, all vendors agree.
"It's a good idea to invest in a tailor, especially to alter the length of your pants so they work just right with whatever shoes you most often wear", Moetell says.
"A few tweaks to a pair of trousers or suit can do wonders. This is especially useful when shopping vintage since you can't always find your exact size", McNulty comments.
Colors
Office looks do not need to be all black, quite the contrary.
"In a past life, I worked for a major corporate beauty brand who made us wear a color code of black, gray, and red to the office and it really made me depressed and was one of the reasons I started hating my job—dressing up in color and print for work definitely makes the existential slog of trying to get that schmoney somewhat better, so don't limit yourself too much", says Pelton.
While shopping for herself, Moetell often pictures her color-coordinated closet to get an idea of whether she already has similar hues. "A bit of monochrome/color coordination in an outfit can really elevate a look, especially when you're trying to go more formal."
Photos: Mirth, Narrō, Wayward Collection.