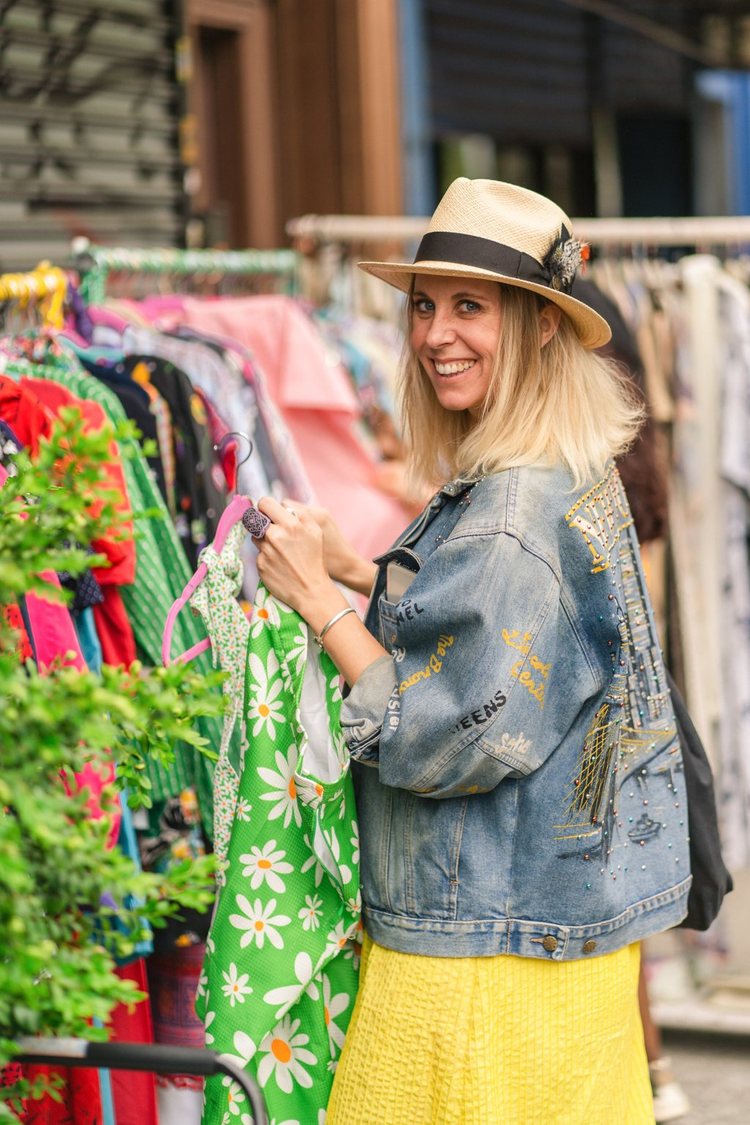 To celebrate the Secondhand September, three professional thrifters share their best tips on how to make great thrift store finds.
Thrifting can happen almost anywhere: at thrift stores, yard sales, charity shops, vintage boutiques, online resale platforms, flea markets, and even ... the closet of a close relative. "Wherever you find your thrifted treasure, so long as it wasn't purchased new from a box store, chances are high you've actually thrifted it", says Sammy Davis.
Thrifting also usually means low prices. By thrifting, you can save your cents, make unique finds, and save items from ending up at the landfill.
And naturally, anyone can thrift! All you need is some time, a curious eye, and an open mind. With these tips from professional thrifters, your next thrifting trip will be double the fun!
1. Is the item at least an 8 of 10 for you?
Oftentimes we just get excited by finding a "label" or a "material," but we don't stop to think "do I really, really like this?" But this is what we need to ask ourselves, to know if we are buying something that we will actually wear. Another rule of thumb is, "Can I wear this garment this week?" If the answer is no, rethink the purchase, unless you're buying for a special occasion that is potentially far in the future.
2. Give the item a 360-degree look
Look at every square centimeter of that garment. Are there holes? Stains? Tears? Loose or missing buttons? These are just some of the things you have to look out for, as unfortunately most garments are not filtered out for having these issues. I've forgotten to give a garment a full 360 only to come home and find something wrong with it.
3. What is the material and quality of the garment?
Oftentimes high-end labels will even be made from, dare I say it, crap. It's up to you to determine if you're willing to pay $10 for a Polyester top that's see-through and might not last past a few washes. Maybe forking over $15 for the cashmere sweater is a better idea. Some people prefer buying cheap fast-fashion pieces in thrift stores. Power to you! Whatever is best for you, just make sure you've made that decision for yourself, versus via an impulse buy that you might regret later on.
4. Do YOU like the item?
Spotting a real gem at a thrift store is really about your personal eye and what you gravitate toward and want to wear. A fast-fashion top for $2 could be your find of the day, or perhaps, a Muu Muu broach that just popped out at you from under the encasement at your local thrift jaunt. There's no rhyme or reason to a thrift "gem" because truly, beauty is in the eye of the beholder (or in this case, the thrifter).
I love thrifting because it's access to who you truly are. In the thrift store, everyone (and everything) is equal. Without pressure from mainstream society, you are free to choose "who you will become" in the thrift store. The more you exercise your thrift muscle, the higher the chance you be an independent thinker, self-starter, and self-reliant person in your life. I believe that thrifting is more than just the surface, but rather, a spiritual activity of self-discovery that can continue way past your "fashionable youth."
1. Check ALL sizes
Your fellow shoppers don't always put clothing back where they found it, so sizes are often in the wrong sections. Also, most employees stocking the racks are going by the size on the label. Modern sizes are typically smaller than vintage, so a vintage size 16 placed with the plus sizes might best fit a modern size 10. Don't forget about the kids' department: if a garment looks small, an employee might think it's for a child and put it there.
2. Don't skip the lingerie
Clothes mistaken for lingerie can end up here...like the 70s Halston dress I found that an employee thought was a nightgown (!!!). Coverups and caftans can also find a home on a lingerie rack.
3. Salvage buttons
How many times have you found a sweet piece of clothing, only to find that it's missing buttons? Finding replacements can be daunting and expensive. If you see great buttons on a bargain priced or damaged piece of clothing, you could save a lot of money by repurposing those buttons.
4. Be nice to the staff
The pay isn't the greatest at most thrift stores, and non-profit and church-affiliated thrifts are often staffed by volunteers. A lot of them are short-staffed, and donations are piling up. They're overwhelmed, and kindness and a pleasant attitude from a customer can go a long way. If you become a regular and build familiarity, the staff may be more likely to go out of their way to help you, direct you to new arrivals, or work out a discount.
1. Research
If you are new to vintage, second-hand shops can be as invisible for you as Hogwarts for Muggles. You will need some time to rewire your mind to the vintage universe, so first check out Google Maps and mark with a star all the second hand and charity shops that are in your neighbourhood. Make a list of all these places which you can edit later once you have more information about them. It is also worth doing a casual google search for "your city+charity/vintage/second hand" as you might find more information on local portals. Here is my list for Budapest in Hungary.
Once you have your list, start visiting the shops. It will take some time, but you will eventually find the best shops for you, in terms of location and offer.
2. Bring your buddies
I recommend bringing along a friend to your treasure hunts until you have your own routine. Think about friends whose style is close to yours. It also helps if the person is honest and has an eye for vintage aesthetics. Second-hand shops often lack mirrors and changing rooms, so your friend can tell you how you look and maybe shoot a couple of photos. It is also more fun to tackle heaps of vintage clothes together with a friend than alone.
3. Prepare yourself mentally
Vintage shopping can be quite a dirty business, very different from the glamorous, shiny world of malls. The general rule is that the messier the place, the cheaper the clothes. But this does not mean that these places do not have awesome stuff! Dirty, little charity shops often have real, hidden treasures because the owners are not able to tell the difference between a polyester rag and a Hermes silk scarf. The key is grit – do not give up!
Another thing to keep in mind is that in contrast to planet-killing fast-fashion shopping, vintage shops do not offer the same clothes in different sizes. It's better to prepare a shopping list with various types of clothes, try to think about everything you might need in the next months. You can make a pinterest board! It is very unlikely that if you are looking for a pair of jeans of 2000s fashion style, you will get them in your size on the first vintage hunt. BUT! If you happen to find a beautiful dress which would be great for a New Year's Eve party, then bring it home even if it is the middle of the summer. The golden rule is always to shop for opposite seasons (buy winter stuff in summer and vice versa) because it is much cheaper. I bought once a cotton winter coat for €2.5 in August and bathing suits for €0.5 in October.
4. Dress for the occasion
The changing room situation is not the best in most small vintage shops, and you might have to wait in long queues if there is a vintage sale. So, our next tip is to go on a hunt in an appropriate outfit. The important thing is to dress up in a way that you can try on anything without dressing down to your panties. I recommend a catsuit or a leggings+top combo. If you are not too shy, you can try simple thighs+skirt.
5. Bring your own bag
Firstly, you do not want to buy plastic bags, do you? A tote will come in handy for bringing your vintage clothes home, but it might be already useful during shopping. Charities and second-hand shops often do not have baskets or only have small ones, so, it is useful if you have a larger tote bag or one from IKEA to collect your vintage treasures.
6. Tiny alterations
After you gain some experience in thrifting, you will be able to spot that perfect colour or pattern even if they are hidden under a huge pile of clothes. The question is what to do when that skirt with the lovely pattern is too long; when that cool coat is missing a couple of buttons, and when the jeans of your dreams have a huge spot on it. No worries, you can mend it! Replacing a couple of buttons is not rocket science (there is a tutorial for everything on youtube!), and it is also easy to hem a skirt even for a beginner. If you know someone who can sew, you can ask them to do it for a reasonable price. You can remedy hypo or grease spots by strategically ironing patches on them. Smaller rips can be made "invisible" by stone washing.
Keep in mind though that you should buy clothes that need alterations only if they are must-haves. If you already have a box of almost-perfect garments that has been waiting for ages to get reworked, it's better to let them go. Bring it to a charity shop so that they can be found and loved by someone else.
7. Check the label
Another golden rule is that expensive clothes have pretty, woven labels, so it is worth checking. The materials and the country where it was "made in" is also telling. Try to get natural materials, for instance, cotton, silk or a mixture of wool (full wool clothes can be prickly!) because these are comfortable to wear and do not pollute nature with millions of tiny micro-fibres. It is OK to buy polyester coats, jackets and evening dresses as you do not wash them in washing machines and they don't touch your skin.
8. Always try it on
Never buy vintage without trying it on first. It can be cool and super cheap, but if it looks awkward on you then you will not wear it and there's no point buying it. Seriously, try on everything (OK, maybe you do not need to try on oversized band-tees). Also, be aware that vintage and foreign size scales can differ from what you are used to, so you cannot always rely on them.