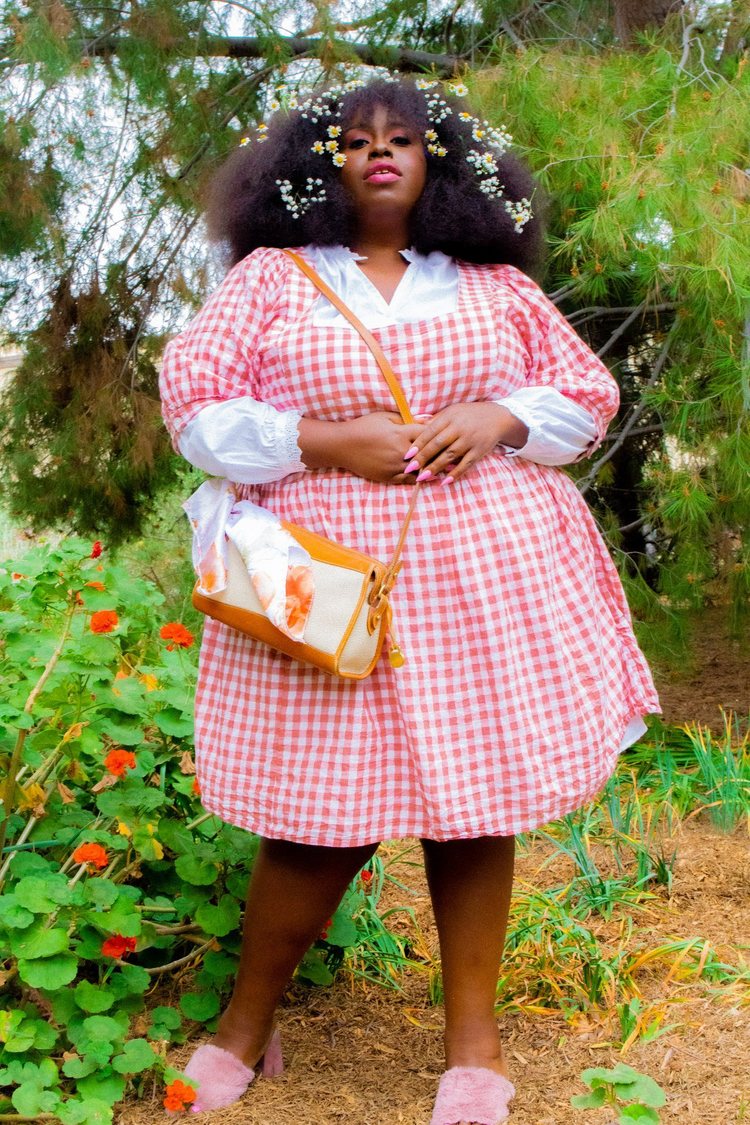 Jen Wilder and Marcy Guevara-Prete from The Plus Bus share their best tips on how to find vintage gems in inclusive sizes.
There is nothing quite like scoring the perfect vintage find, is there? But with the inconsistencies of sizing and the frustrating lack of options at most vintage stores, how do we set ourselves up for success, as plus size vintage shoppers? Here are our tips for how to shop for fabulous plus size vintage without tearing your hair out.
Know your measurements, and shop with a soft measuring tape in hand!
We know sizes are a whole mess nowadays, but when shopping for vintage, sizing can be even more confusing. Measuring a garment gives you concrete information to go off of.
Some helpful measurements to take: bust (armpit to armpit), waist (smallest part at the middle of dresses or the top edge of pants/skirts), hips (the widest part at the middle section of dresses or a couple inches down from the edge of pants/skirts).
Also, it can be helpful to be armed with the measurements for some clothes from your collection that you already love the fit of. Find some pants with the same measurements as your trusty faves? Boom! You may have just doubled your trusty faves pile!
Try things on (if you can)!
Knowing measurements gives you the best idea of whether something will fit, but trying items on gives you the sure-fire answers to the questions: Do I love this piece? Do I need it in my collection? Of course, this isn't necessarily always an option, but when you can shop in person, it's a game-changer. With sizing fluctuating so vastly from brand to brand (for a million reasons we won't get into here), it is SUPER important to be open and just put it on your body!
Don't be afraid of trying something new.
When it comes to vintage fashion, sometimes you have to look outside of all the boxes. If you're struck with inspiration, run with it! Don't feel constrained by what you've worn before or what your "style" "is". There are no rules! If you like it, at least try it on.
Shop at vintage stores you KNOW carry plus sizes! We're so lucky to live in 2021, where not only are there fabulous brick & mortar plus size stores carrying vintage options (our store The Plus Bus in LA, Two Big Blondes in Seattle, and Plus Brooklyn in NYC for example), but there are also a million online stores via Instagram, Etsy, Depop, Poshmark, and beyond that sell exclusively plus size vintage (Berriez, Luvsick Plus, and Fatties, to name a few).
When shopping online, try to search for your favorite brands that you know specialize in bigger sizes. Try also some other keywords than plus size: muumuu, free form, extended sizes.
Find your community.
Online or in-person, find the people who share your passion for fashion and stick by 'em! Whether you're inspired by 50s silhouettes, 70s roller disco, or you mix and match the best of every decade and trend, there are cuties out there who love the same things and want to chat, laugh, and help each other find your dream pieces! We've found that connecting with other similar body types serves the soul in ways we could never imagine. When you haven't grown up sharing clothes with others, it really feels amazing to be around people who love, appreciate, and admire your style!
Have patience, take it slow.
Shopping in general, as a plus size person, can be overwhelming and frustrating, but it can also be energizing and revelatory. If you don't find what you're looking for, don't settle. Take a deep breath, a quick break, and jump back in. You got this! You can also make a "dream list" of pieces you want, and as you search for and save for them, it can help you stay focused on creating the closet of your dreams. Manifest that dream wardrobe.
Shopping for plus size vintage is a super fun way to curate a closet that is totally unique to you. Bold colors, wacky prints, timeless silhouettes — don't wait a moment more to dress your body in clothes you adore. Take these tips and get your shop on!
The Plus Bus
5031 1/2 York Blvd
Highland Park, Los Angeles, CA
Open daily 12-8pm
@theplusbus