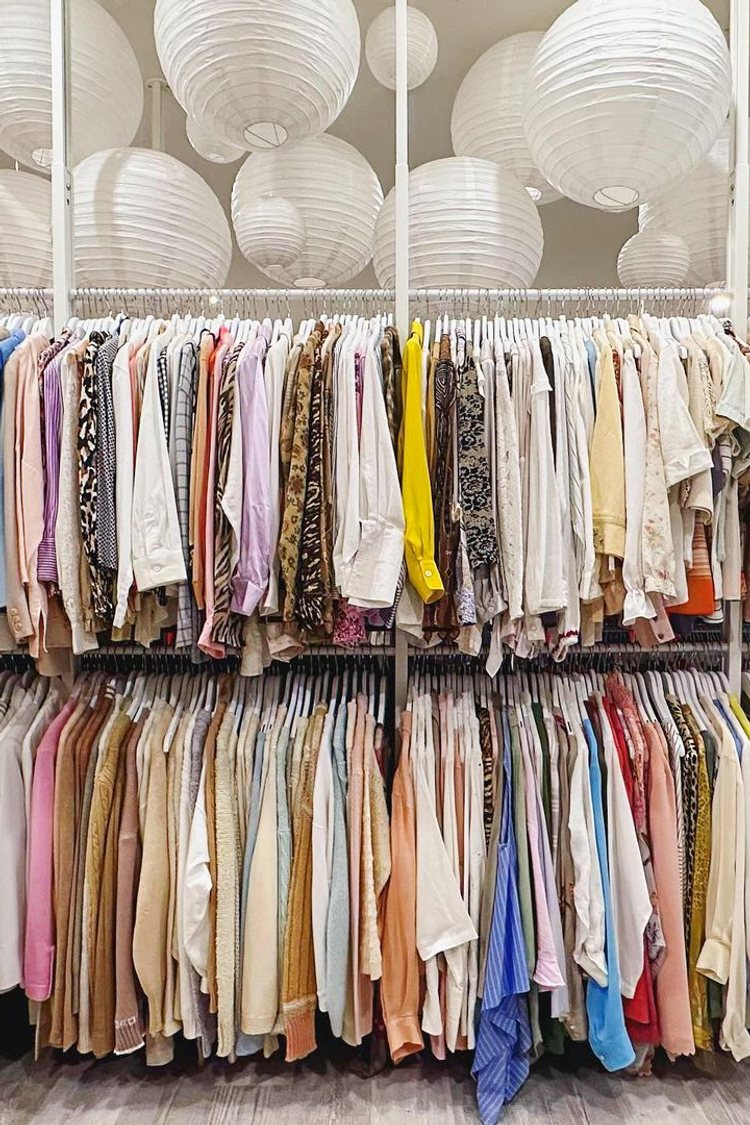 We all have old clothes we no longer want to have. But what items can be donated, and how? We asked three NYC-based thrift stores for advice.
We have all been in that situation: wondering what to do with the old clothes we no longer wear or want or have no space to store anymore. If you are too busy (or lazy – no shame on that!) to sell the clothes, the most obvious option is to donate them.
But we don't want our problem to become someone else's problem. We asked a couple of thrift stores in the NYC area for advice on donating our old clothes responsibly. What items are ok to donate, and what should we do with the rest?
The first question is, what clothing items do thrift stores generally accept? Or better yet, what do they not accept?
"We accept most clothing that is in good or excellent condition. Vintage clothing, vintage t-shirts, jewelry, home goods, furniture, and art are always good things to donate", says Liz Wolff of Cure Thrift, an East Village-based thrift store that benefits type 1 diabetes research and advocacy.
"We do not accept socks, underwear, or bras (unless they are vintage and special). We try to avoid lower-level fast fashion brands like Forever 21, H&M, SHEIN, and Aeropostale. We also do not accept fundraising t-shirts/sweatshirts or used workout gear", Wolff continues.
Jose Medellin from Goodwill NYNJ gives a great piece of advice: "The rule of thumb when selecting what to donate to Goodwill, ask yourself: Would I give this to my grandma, mom, or best friend?"
As a social enterprise, Goodwill NYNJ stores support employment opportunities for people with disabilities or other obstacles to employment.
All the donated clothes should be in good condition – you would not gift a ripped shirt, or jeans with a broken zip to your friend, would you? If you are not wearing the piece because it is somehow broken or ripped, it is probably too damaged to be donated.
The clothes should not have 'stains, odors, rips or tears, or pilling', lists the Goodwill website. Basically, any visible sign of wear is a no-no to Goodwill.
Sometimes damaged garments are ok to donate, says Wolff of Cure Thrift.
"If a button or zipper is missing from a special vintage or designer item, there is no need to repair the item. However, if a zipper is broken from J. Crew jeans, for example, we'd prefer that it not be donated. We do in-house repairs, but only when it is worth the time and effort. Shoes should be in excellent condition. If they have cracked soles, or are sneakers that have been through a marathon, please leave them out of the donation bag."
The same rule applies to stained clothing. "If you have a collection of vintage t-shirts with stains, we'll handle it. If you have a bunch of Zara blouses with deodorant stains, we would prefer that you leave them behind."
So if a garment is visibly dirty, wash it before donating it. But if your clothes come straight from a storage unit or your wardrobe, you do not need to wash them before donating.
"While we don't launder everything we put out, if something requires a little extra cleaning, we handle it. If you do dry clean items or donate items that are hanging in dry cleaning plastic from your closet, we ask that the plastic and hangers are removed before donating", Wolff says.
Goodwill does not require or encourage washing before the donation, either. "If clothes are clean but have been in storage for a while, we encourage donors to drop them at our stores as they are to avoid extra electricity and water usage. Same for clothes that require dry cleaning. As experts recommend, one should wash/dry clean any new, or in the case of Goodwill, pre-used clothes before wearing them.
"Wash after your purchase, not before the donation!" says Medellin.
Kyle Craft of the Vintage Thrift says, "The staff here has several years of experience sorting through clothing donations and can usually tell at a glance if something has been cleaned recently. We have a dry cleaner located next door for tougher stains and we have a washer and dryer in store for more simple jobs. But arriving clean is always appreciated."
To summarize: only lightly worn garments are good for donating. Other garments need to be recycled (taking the item's materials, reprocessing them, and using them elsewhere), which is something that thrift stores do not do themselves.
"The most common mistake that people make is treating a donation to a non-profit thrift shop like a textile recycling center. They throw old bathrobes, single socks, stained bedsheets, the garbage from their underwear drawer (old batteries, sticks of gum, single buttons, random cords, etc.) into the bag and assume that we will discard those items for them. It makes the sorting process timely, costly, and sometimes quite disgusting," Wolff says.
Do not fret if you accidentally throw some worn-out clothes into your donation bag. Most thrift stores have good connections with textile recyclers and can dispose of them responsibly.
Cure Thrift has undesirable clothing picked up by a textile recycler, and Goodwill can recycle unwanted clothing, too.
You can drop your non-salable, recyclable clothes at Goodwill – just put them in a separate box and bag, and mark it clearly 'to be recycled'.
"We can divert these items through partners who can recycle", says Medellin.
Vintage Thrift sometimes sells damaged clothes 'as-is', or the staff does little fixes themselves, says Craft.
"Luckily most people in New York City are willing to take on the project. If we have the time, we also repair the clothing before we sell it. If the shoes have surface issues, we have several tools and polishes we keep on hand to freshen them up. Only if something is torn, tattered, or stained beyond our ability to fix it do we redonate the clothing."
The unsellable goods are given to a recycling company once a week from Vintage Thrift.
But if you have large amounts of ripped and stained clothes, do not burden the thrift stores with them. Thrift stores have limited space and a limited workforce to sort items they can't sell. Instead, try to find a company that handles these items.
Cure Thrift receives donations daily, and about 25% are unusable. That means every 4th garment they get is trash. Vintage Thrift might get two dress shirts and three badly stained t-shirts – dress shirts can be sold, but not the t-shirts.
"We put them out on the curb for free during the day. We don't normally have items left by the night's end," says Wolff.
Now that we know what we can donate or what needs to be recycled, the next step is deciding whom we want to donate. You might want to research your local thrift stores to see which one supports a cause close to you.
Calling the store before bringing them your donations is always a good idea. Ask what kind of clothes are most needed, when is the best time to drop off your bags, and if the store can accept damaged clothes.
The rule of thumb: if you would not gift the garment to your friend, a thrift store does not want it either. Damaged clothes need to be recycled, not donated. To find a recycling bin or company, google 'clothing recycling near me', or ask your thrift store for advice.
You can also donate the clothes to local shelters, charities, and 'buy nothing' groups, to name a few other options.
Never throw your old clothes in the trash! Even 95% of old textiles can be recycled, no matter how damaged they are.
Photos: Cure Thrift & Vintage Thrift