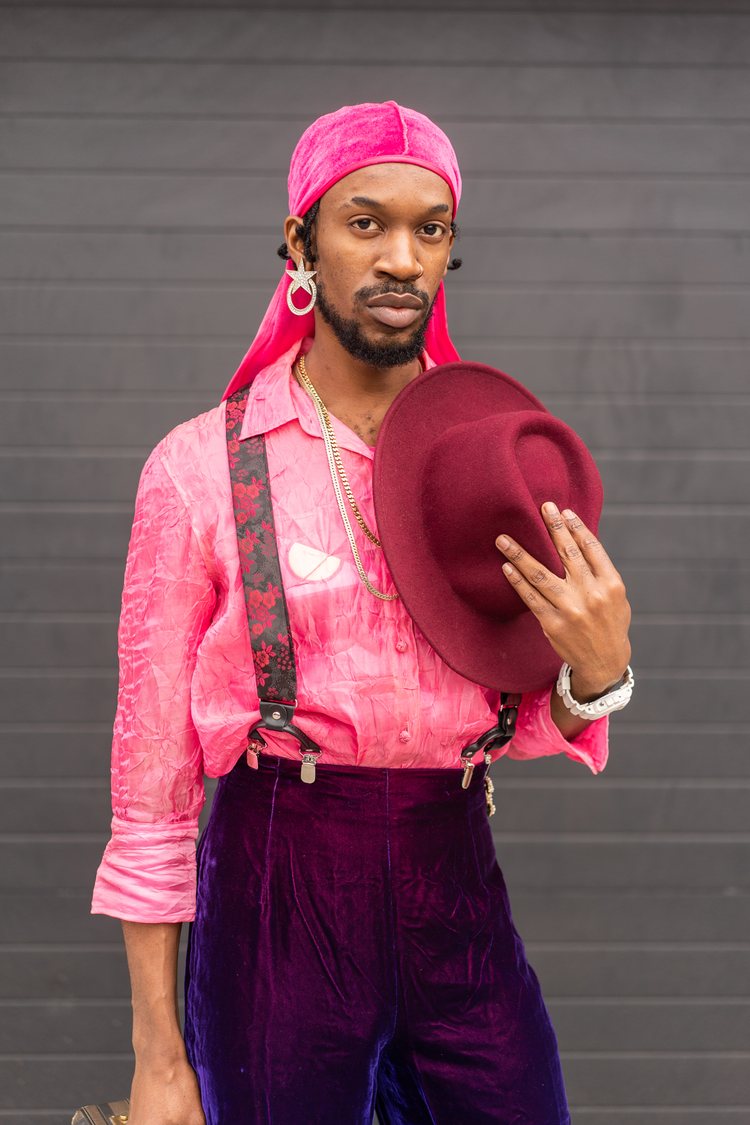 By frequenting thrift and vintage stores, Kechi Onimo was able to cultivate his own sense of style.
"I started thrifting with my mom when I was 20. Up until then the way I consumed wasn't very wise and was more as a means to fit in. The store my mom and I frequented the most was only open for three hours on Saturday mornings so it was best to be there right when it opened.
On my first visit I lucked out and found a Dior trench coat for twelve dollars and a velour Dior jumpsuit for seven dollars. I was familiar with Dior but I never could have afforded it, let alone knew where to buy it. Right then and there I was hooked, realizing how cheap I could get nice clothes. And after that it was like I couldn't thrift enough. It became a weekend ritual for my mother and I.
I also started visiting a local vintage store and became cool with the owner. One day she commented that I had 'a good eye'. That was when I first thought I might have a skill that existed somewhere in the realm of fashion.
It was by going to thrift and vintage stores that I was able to cultivate my own sense of style.
Whenever you walk into any store, be it fast fashion or high end, you are being sold something – everything is marketed in a way to be consumed. In a thrift store, you need to look and find things you like yourself.
After studying cultural anthropology and sociology in college I moved to New York to get into fashion and had a couple of jobs before I ended up working as a buyer at Beacon's Closet.
This outfit was inspired by Prince and Lisa Bonet. Both were eccentric and dressed outside the norm.
For me, style is more important than fashion. Fashion is ephemeral but style is timeless.
I can replicate an outfit that Bonet wore 30 years ago on the Cosby show as Denise Huxtable and still manage to look fly.
I was initially more into the way Prince dressed and then got more interested in his music, too. He had his own wavelength of style, very flamboyant. He was all about prints and colors and so am I.
I come across a lot of kimonos and end up giving most of them up. But this one was the perfect color and length so I kept it. It reminds me of how on Golden Girls they were always wearing such long robes with them hems tailing on the floor.
Underneath the sheer shirt I'm wearing another shirt with a map of Mississippi, my mom's home state (another cool Goodwill find). The shoes are 1970s men's clogs that I've had for over ten years. I thrifted them back at home in Michigan.
I love clip-on ear-rings. I got my ears pierced when I was 17. My parents made me take them out so I started wearing clip-ons. There are a lot of great vintage clip-on earrings as piercings did not become socially acceptable until the 70s.
I never think about how I'm going to wear a piece when I buy it. I'll grab something because it has a nice color, print or some other quality that draws my attention.
I have been obsessed with the 70s forever. I especially like the transition from the late 70s to the early 80s.
I was never into neutrals until a year ago when I happened to wear an all neutral outfit to church and got so many compliments that I was like 'neutrals are dope!'.
I sometimes beat myself up for wearing a lot of designer items. I allow myself to wear them even in a very ostentatious manner but I force myself to be creative with it.
I definitely like getting luxury pieces but there has to be some sort of quality a particular item has or at the very least a fondness for the designer/house.
I have two of the same glove but they are both for the right hand. Very weird – and Michael Jackson-esque.
This outfit ended up being very Michael Jackson mixed with some businessman. The white socks, Versace loafers, and the hat are very Michael. The Fendi suitcase and the suspenders give the white-collar feel. The older Gap pants are from Goodwill. The Helmut Lang clear trench coat I threw on top last minute.
I couldn't find this type of durag for the longest until finally this summer I visited a beauty supply store in Crown Heights and came across in this particular style. It's interesting because they were initially meant for practicality back in the day to keep your waves or braids fresh but then became a stylish and the cool guys rocked them back when I was in high school.
The same thing with Timberland boots, Nike's and Jordans – they are fashionable now but 10-15 years ago it was the kids from the hood that started it. I don't think I was cool enough to do it back then though.
I come across a lot of good stuff at my job at Beacon's Closet. If I bought everything I liked I wouldn't be able to pay my rent. It's necessary to have sartorial discernment and a sense of my personal style. Otherwise, I'd be overwhelmed and end up looking pretty generic.
I do a good amount of thrifting outside of my job. My go-to place is Goodwill. I don't like paying for clothing, so when I do I want it as inexpensive as possible. Growing up my parents were very frugal and non-materialistic which definitely carried over to the relationship I have with clothing today.
Because of thrifting I have so many clothes so I end up giving a lot of stuff to my friends at my church. It blesses me to see them rock stuff better than I can. Some stuff is hard to give away but at least it gets a new life and it enables my friends to experiment.
There are way too many clothes on the planet. By thrifting, I can buy stuff that is readily available, eco-friendly and inexpensive.
I can shrink my eco-footprint when I shop second-hand not to mention it's fun!"
Follow Kechi on Instagram: @theeccentricdandy