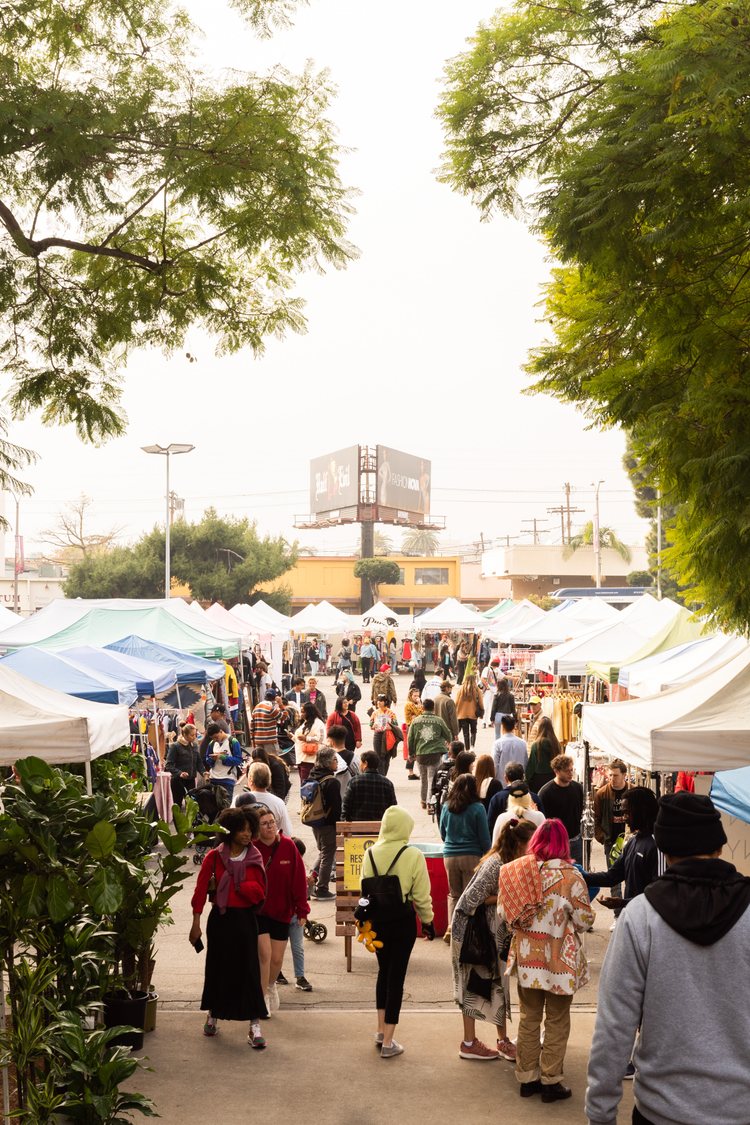 Check out our updated and expanded guide to Los Angeles flea markets.
There are SO many great outdoor fleas in Los Angeles: more than one for each weekend.
No matter which flea market you visit, remember to bring the essentials with you: water, cash, sunscreen/hat/sunglasses, comfortable shoes, snacks. You do not want to get too hangry in the middle of a huge market.
And yes, you can haggle at a flea market. Just be considerate and respect the vendors.
Calendar of LA Flea Markets
Every Sat
• Artists & Fleas
• Los Feliz Flea
• Silverlake Flea
Every Sun
• Melrose Trading Post
• Silverlake Flea
1st Sunday of the month
• Pasadena City College Flea Market
• Santa Monica Antique Market
2nd Sunday of the month
• Rose Bowl Flea Market
3rd Sunday of the month
• Long Beach Antique Market
4th Sunday of the month
• Topanga Flea Market
• Santa Monica Antique Market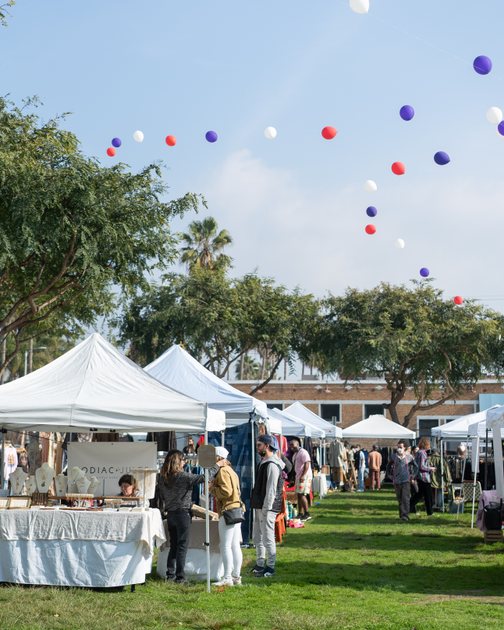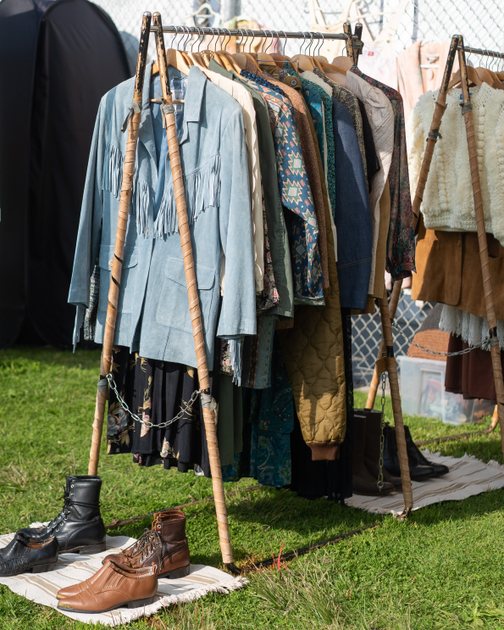 Artists & Fleas
LA edition of the multi-city market. A cute Saturday market in Venice.
This Saturday flea market in Venice Beach was a nice surprise – 90% of the vendors were selling vintage (at New York Artists & Fleas is usually much less). The location on the hip Abbott Kinney road is also nice – plenty of food options nearby. And we love the balloons in the sky and the grass underneath our feet!
The variety of vendors is also nice: to name a few: Scarf Brothers specializes in workwear and denim, Schipper Vintage has carefully curated 70s-ish vintage in neutral colors.
While you are on the flea, do not miss the vintage stores on Westminster Avenue: Adorned Vintage is a collective of several vendors and Ciao Cherub will fulfill all your dreams: what you did not find at the market you will find here.
Artists & Fleas LA
Every Sat 11am-5pm
1010 Abbot Kinney Blvd
Venice, CA 90291
Free entrance
@artistsandfleas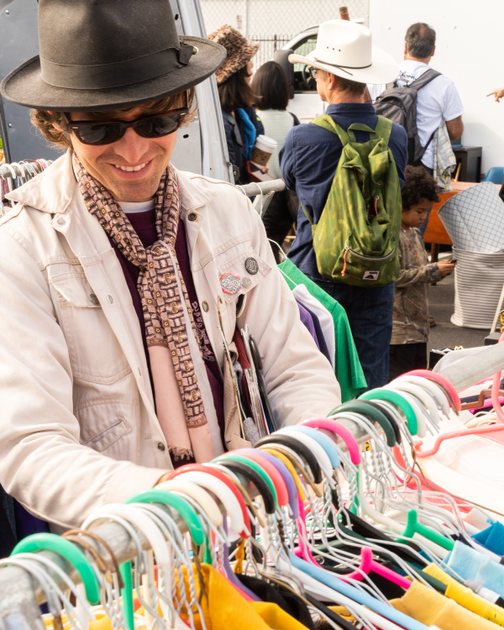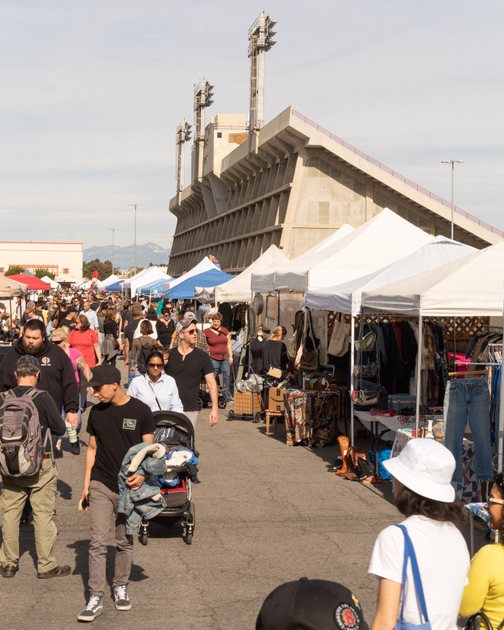 Long Beach Antique Market
The most old-school of the LA flea markets – charming and more slow-paced than Rose Bowl or Silverlake.
Long Beach Flea is where vintage store owners come to shop. There are approximately 800 vendors, most of them selling antiques and collectibles, not clothes – as the name indicates.
The entrance is not very clearly marked – look for the ATMs in the middle of the parking lot and there it is. Most people seem to arrive by car. We recommend having at least 4 hours to browse everything. The square-shaped area is pretty easy to navigate. There is another exit on E Lew Davis Street.
No dogs allowed but free parking. Tickets cash only.
Long Beach Antique Market
Every 3rd Sunday of the month
Long Beach Veterans Stadium
4901 E Conant Street
Long Beach, CA 90808
5.30-6.30am $15
6:30am-2pm $10
@longbeachantiquemarket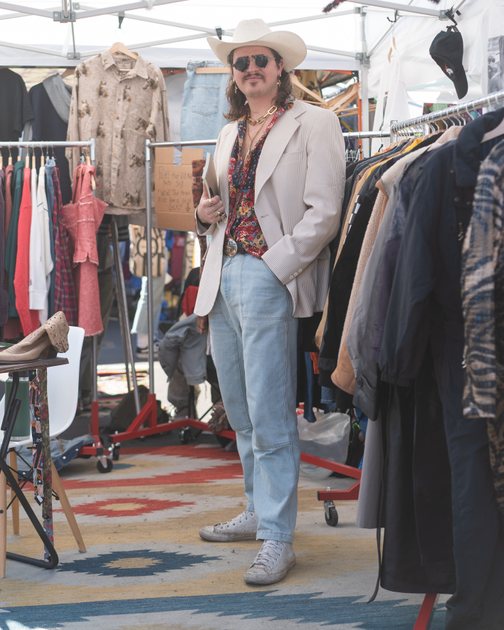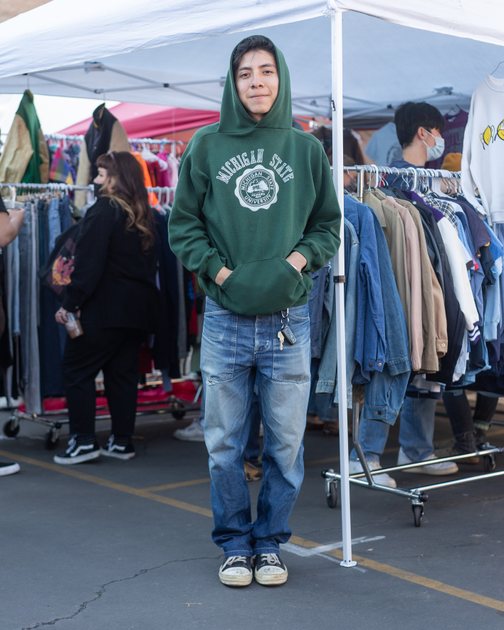 Los Feliz Flea
Every Saturday in Los Feliz. Youthful neighborhood market with lots of vendors and nice vintage.
Two years ago this flea market had only a handful of vendors but now it is filled to the brim. Over 190 vendors according to the website. Friendly, youthful vibes, lots of families with kids visiting.
The flea market is set up in the schoolyard so there are nice shady areas and spots. Nice neighborhood feeling and some food trucks outside in the street. Restrooms are available inside the school building. Free admission and free parking.
Los Feliz Flea
Every Saturday 11am-5pm
Marshall HS
3939 Tracy Street
Los Angeles, CA 90027
Free entrance
@losfelizflea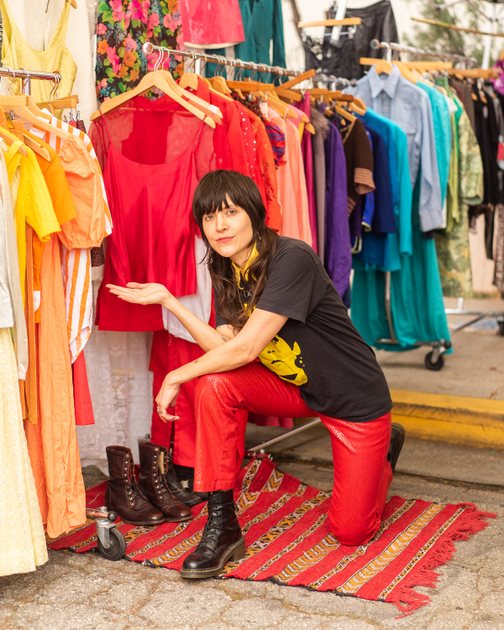 Melrose Trading Post
An LA classic, every Sunday in West Hollywood. Young crowd, young vintage.
Sadly the amount of vintage sellers has diminished at the Melrose Trading Post. You can find more new merch here than vintage. Most vintage is pretty young (90s or so), or t-shirts. Actually, there is an insane amount of t-shirts here.
There are two entrances, one on Melrose Avenue and one on Fairfax. A couple of hours is enough to stroll through the whole L-shaped area. There was no line at the gate and not too crowded. Young crowd, 5,000-8,000 every Sunday.
A nice food court with tasty street food, picnic blankets, and live music. Lots of tables and chairs.
The flea market has been organized to collect funds for the Fairfax High School since 1997.
Melrose Trading Post
Every Sunday 9-5
7850 Melrose Ave
Los Angeles, CA 90046
Tickets $5
@melrosetradingpost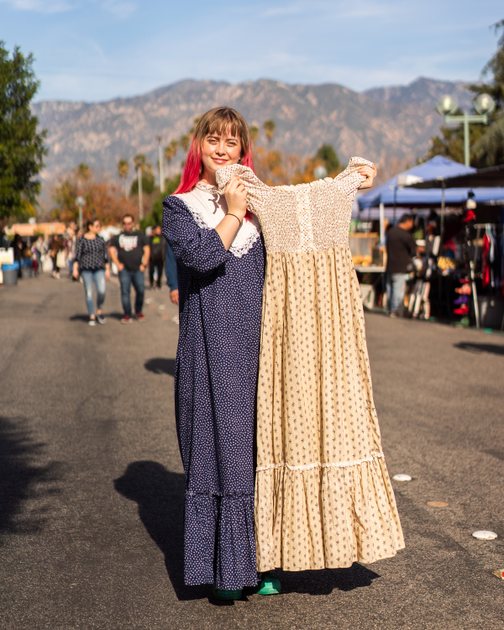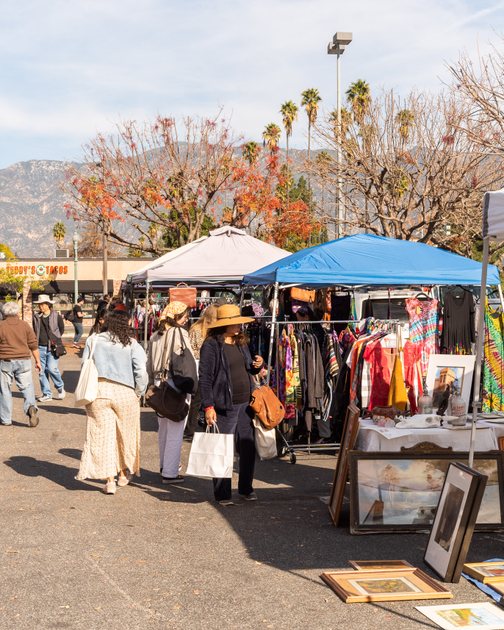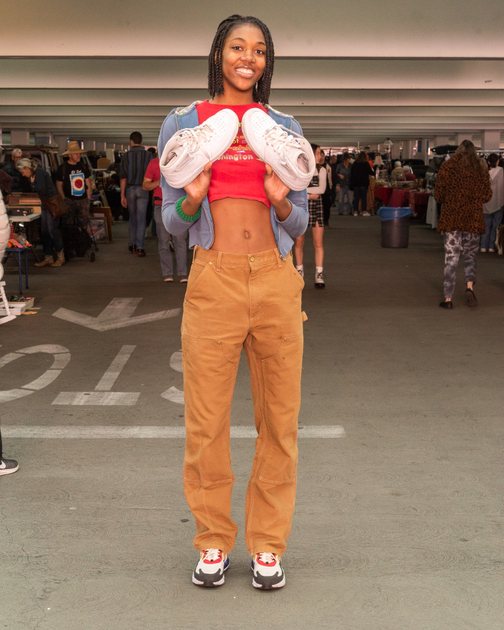 Pasadena City College (PCC) Flea Market
Once a month in Pasadena. Similar to Rose Bowl but smaller and no entrance fee.
Much smaller than Rose Bowl, more vintage clothing than at Melrose Trading Post, free entrance! Those are some of the reasons PCC aka Pasadena City College flea was one of our favorite fleas to visit. There is no crowd, no rush, no confusing ticketing options. The only downside is that the flea market is spread at different locations which are easy to miss if you don't pay attention: there are vendors inside the parking garage on multiple levels and on two separate parking lots. Luckily there are maps and staff everywhere. And the garage is nicely cool during the hot summer months.
A fun fact: The Pasadena City College Flea Market boasts one of the best collections of record vendors in Southern California. Over 50 record and used music vendors are located in the Bonnie Street parking structure (Lot 5) on the 4th floor ramp. Products range from memorabilia to new and used CDs and DVDs, from big band to present day performers.
PCC Flea Market
Every first Sunday of the month, 8am-3pm
1570 E Colorado Blvd
Pasadena, CA 91106
Free entrance
@pccfleamarket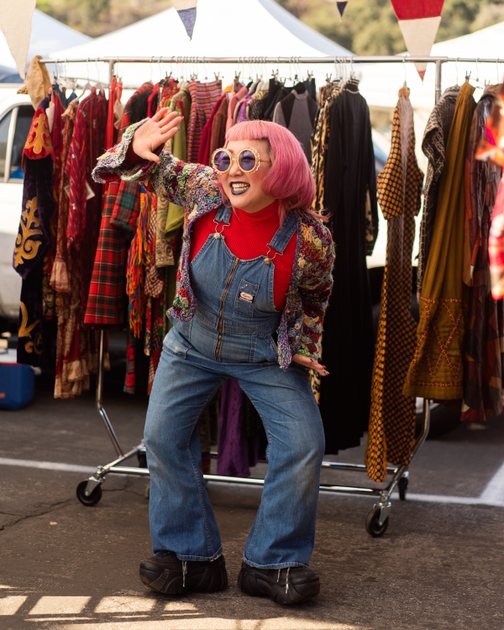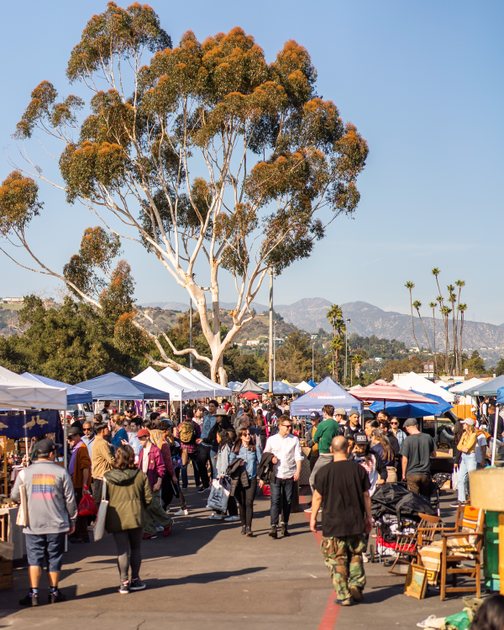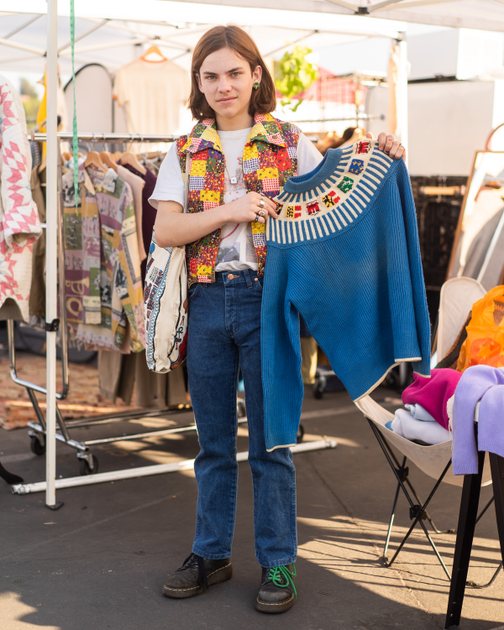 Rose Bowl Flea Market
The biggest and most famous of them all. Second Sunday of every month.
There are over 2,500 vendors at the Rose Bowl. You are guaranteed to find something here! People say the prices tend to be a bit higher than at other fleas.
New in 2022: Tickets need to be purchased online!
Bring your own water bottle, snacks, even a meal if you can. Plenty of food vendors but they are sadly not worth the price. (I found pieces of meat in my veggie burrito.)
Rose Bowl is huge so arrive as early as you can. I recommend arriving soon after 9 am when the ticket price drops but the crowds are not there yet. We spent six hours at the market and didn't get to see all the vendors!
Have a look at the map before you arrive so you know how to orientate yourself. The white and orange areas (to the left from the main entrance) are the ones with most vintage clothing vendors. The other areas are dedicated to new merchandise. The area is not the easiest to navigate – I tried to find my friend vendors but the rows and lot numbers can barely be seen as they are often covered or faded. Clothing vendors are mixed in with antiques and furniture, older clothes with 90s stuff and t-shirts so prepare to walk a lot to find your favorites.
Rose Bowl is also great for people watching. You can enjoy the flea 100% even if you do not buy anything. You won't be alone here – on average 20,000 people visit the flea so it can get crowded.
Rose Bowl Flea Market
Second Sunday of every month, 5am-4pm
Rose Bowl Stadium 1001 Rose Bowl Dr
Pasadena, CA 91103
Tickets $12 – $20 (online only!)
Children under 12 years old are free with an adult. @rgcshows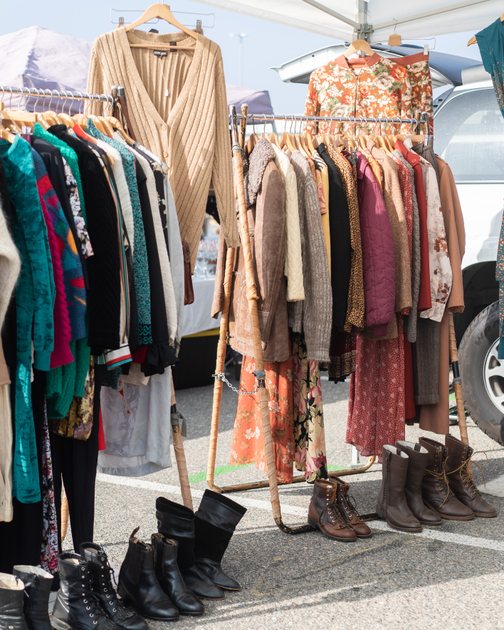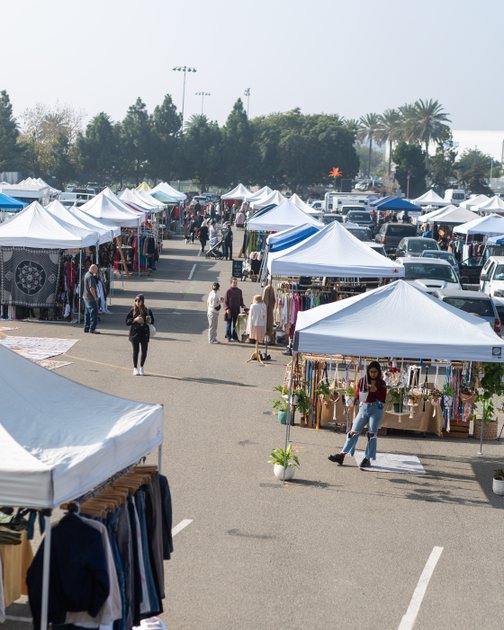 Santa Monica Antique Market
Similar to Long Beach Flea but a bit smaller and quieter. Once a month, $5 entrance.
Twice a month the huge parking lot by the Santa Monica Airport turns into a flea market. This flea is pleasant to browse as it does not get too crowded or cramped.
Everything from quirky antique objects to art and handicrafts. We spotted around 20 vintage clothing vendors on an early January Sunday.
No food available.
Santa Monica Antique Market
First and fourth Sunday of every month
7am-3pm
Santa Monica Airport
3233 Donald Douglas
Santa Monica, CA 90405
Tickets $7-5
@santamonicaantiquemarket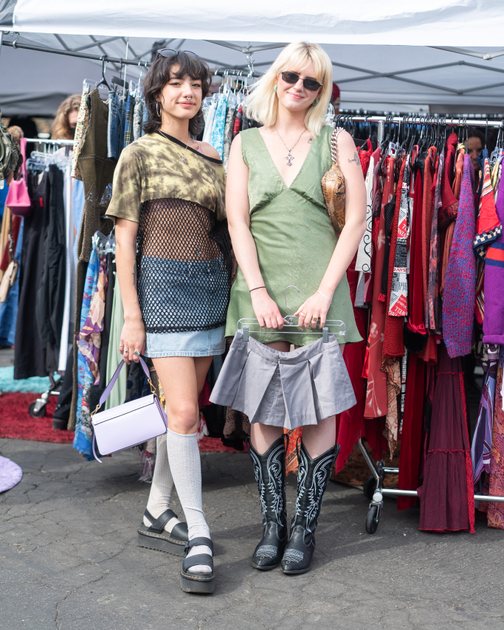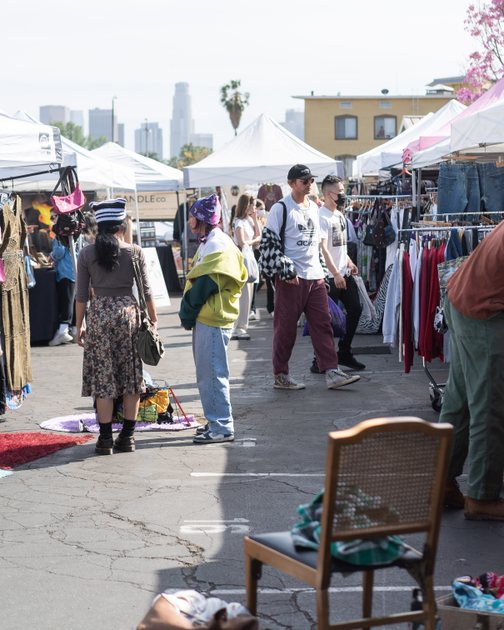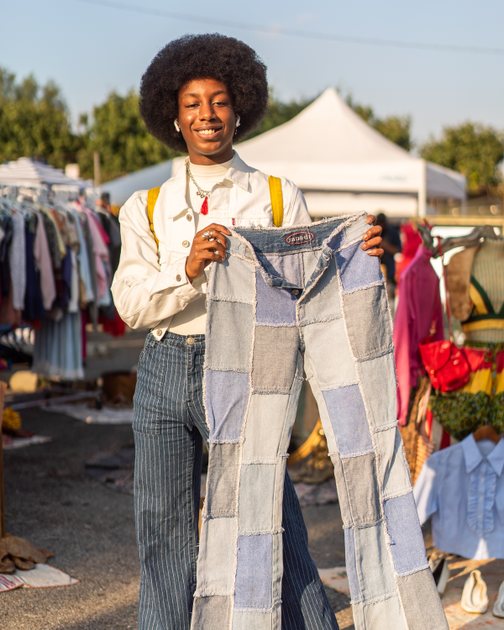 Silverlake Flea
Every Saturday and Sunday in Silverlake. A compact market with mostly 90s and Y2K vintage.
Young sellers, great prices, cool kids. Mostly vintage from the 90s and y2k. Some cool regular vendors are Vintage Materials (great t-shirts), Roman Adler (90s and 2000s streetwear) and Sunny Buttons Vintage (fun vintage from all decades). At least 50 vendors each weekend. Great for people watching and street styles too!
Silverlake Flea is like a smaller and younger version of the Rose Bowl. If you are in Echo Park or Silverlake during the weekend, do stop by. The market is conveniently located between the two neighborhoods.
Silverlake Flea
Every Saturday and Sunday 9-4pm
2007 Reservoir St
Los Angeles, CA 90026
Free entrance
@silverlakeflea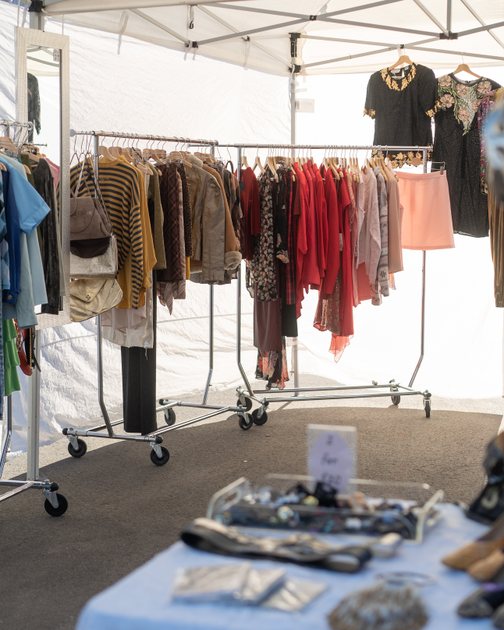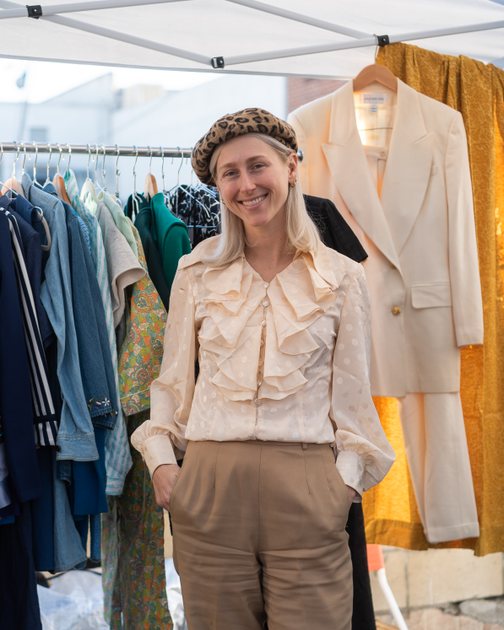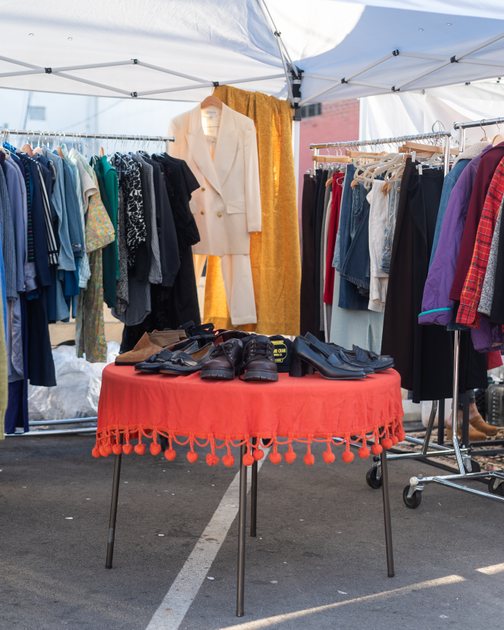 Soft Humans Vintage & Craft Market
Do you miss the Zebulon Bazaar? Then this one is for you.
A small but really worth the visit! Organized by the owner of the Soft Humans vintage store next door (while here, you definitely should check that one out too.)
A handful of vendors but they are some of the best in LA! Plus there is live music and it is always a good idea to visit Highland Park.
Soft Humans Vintage & Craft Market
1st and 3rd Saturdays of the month 11am-5pm
112 N Ave 58
Los Angeles, CA 90042
Free entrance
@softhumansshop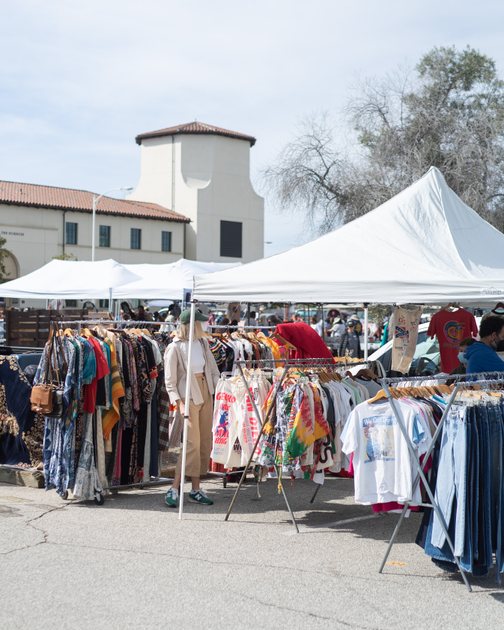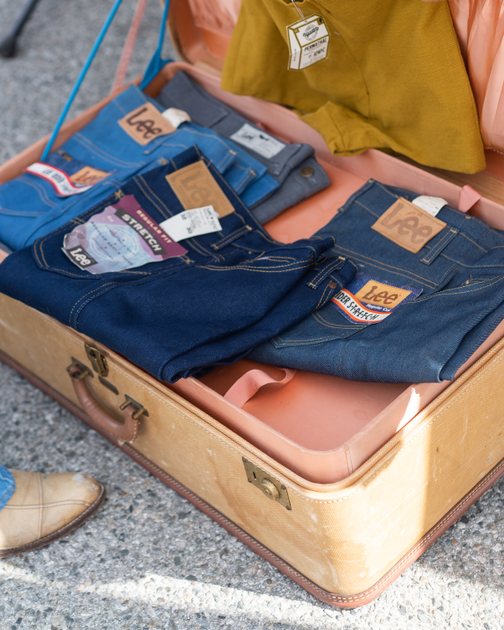 Topanga Vintage Market
Smaller, calmer, and quieter than Rose Bowl.
Set up in a parking lot next to a college, this flea market has some 50 vendors selling vintage clothing and/or jewelry. The rest sell furniture, homegoods, knick-knacks and some have new merchandise. Worth a visit if you are close by and want to go hiking in Topanga! No dogs allowed.
We met several vintage clothing vendors who were trying out this market for the first time - we do hope this market will only grow and more young shoppers will find it, too.
Topanga Vintage Market
4th Sunday of the month
8am-3pm
Victory Blvd at Mason Ave
Winnetka, CA 91306
Tickets $5
@topangavintagemarket