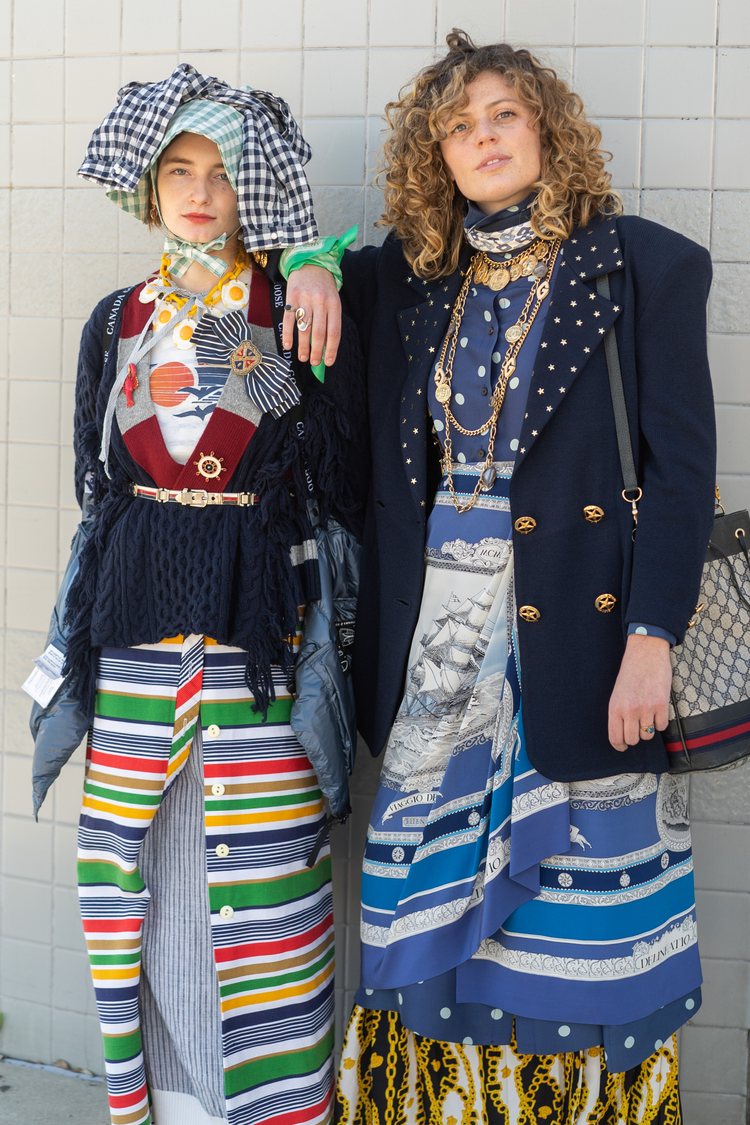 Get inspired by the nautical spring looks created by the owner of The Curatorial Dept., Wendi Weger.
"Styling is in my bones. I've always done it, it just happens naturally when I'm around great clothes – my brain starts crackling. It's an artistic process. Like if you were to ask someone how they paint or play jazz they can't really tell you what each step is in the process.
I use tons of complimentary colors and try to vary textures as much as possible. I start with simple pairings or groupings, and build sculptures on mannequins until it feels right. I use humor a lot. In my IG story highlights, one of my favorite outfits features a grandmother's face on a t-shirt front and center. Above all else at my vintage and designer clothing store The Curatorial Dept., we prioritize fun!
I'm a film/tv producer by trade - but that's a learned skill set. My innate one has always been styling. I've dressed like a complete lunatic as far back as I can remember. I was selling on eBay in the 90s while programming the New York Underground Film Festival, always had a package for Etsy in tow while producing at Weiden & Kennedy, and through advertising, I styled Isaac Hayes in the early 2000s. Styling has been my art, my passion, my 'flow', my side hustle, and now my main hustle.
I love mixing high and low, new and old. This is a Thom Browne sweater over a Magnolia Pearl flannel over a Blumarine top paired with a handmade patchwork skirt. Accessories include vintage and high-end designer. The hand-knit cashmere leg warmers I commissioned from local fiber artist Martha at Dimensional Knit. Oh! And those baby blue patent leather Clarks are wild.
In the resale clothing business, you have to be inspired by what's around you. Lately I have a lot of primary colors in the shop, rugby shirts, gold tone jewelry, scarf skirts, and 80s Benetton, so in that amalgam, I saw nautical. While nautical is among the most basic of clothing themes, it's so much fun. It's bright, it's spring-y, it's a nod to adventure which everyone is craving right now.
I love the El Dantes platform boots with the sequin mermaid dress! The coat with the little ships all over it was from Uni Vintage via Pickwick Vintage Show. And the hat, if you look closely, is a wicker clamshell with pearls and a fishing net.
I lusted after the El Dantes platforms for months online, combing for coupon codes and discounts. They were from a seller in the UK, and weigh a ton and cost insane amounts to ship and of course when they arrived, they didn't fit me. So it goes… So they'll be for sale at the next Pickwick Vintage Show May 21st.
All my jobs in the film business are stressful. With this career, I enjoy a more relaxed mindset, and I'm loving it! But it's still incredibly hard work and just a different brand of stress. But so worth it to help people dress more creatively. It takes guts to wear crazy outfits. I encourage people to be confident, trust their art, and be bold and unconventional. Don't be shy - I find that most people get it, admire it, and feel inspired to try it, too. We all have a little kid inside of us who wants to wear her tutu with her cowgirl boots and her sequin top. Be that kid! You're doing the world a favor."
The Curatorial Dept.
3360 Glendale Blvd
Atwater Village, Los Angeles
Mon–Sun 11am–7pm
@curatorial_dept