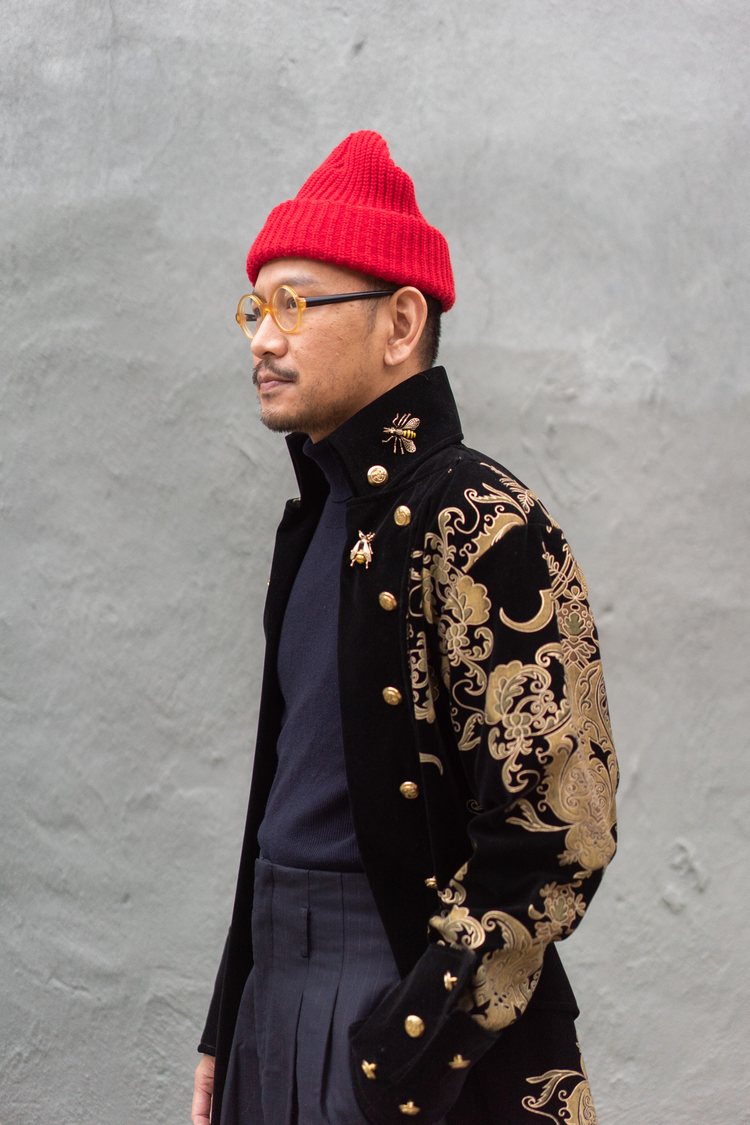 Illustration artist Prates Songtieng, 35, also known as Monsieur Poppi, builds his winter outfits around statement vintage jackets.
"For me, one statement piece makes an outfit: a color, a print, or an oversized item. If I add multiple showy elements to the same outfit I end up feeling like a clown or looking costumey.
Usually, I create my outfits around the shoes because I live in New York and the weather here changes a lot; it can be rainy, snowy, cold, or maybe I need to walk a lot that day. These crocodile boots are from Rich Cast Of Characters.
The J. Crew cardigan is from the 10ft Single vintage store in New York and the belt I bought in Santa Fe for $15. My Dolce & Gabbana coat I bought new a couple of years ago, I love it because it looks vintage already! My friends joke that it looks like a sofa.
I bought my Levi's pants for two dollars at a big weekend market in my home country, Thailand – vintage is cheap there, and there is a lot of it. All the Japanese vintage buyers go shopping in Thailand.
I like vintage jeans because denim looks better when it is a bit worn-out; the fabric becomes softer and the faded colors look nice. I do not like perfection.
Two years ago I started wearing high-waisted pants because they make me look taller and create better silhouettes. The only downside is that you can't eat too much when wearing hi-waisted pants! I found these 40s pants at Richard's Fabulous Finds in Wicker Park, Chicago.
The biker jacket is from the 80s and I got it pretty randomly: A truck pulled into Union Square in New York, and a driver opened the doors and started selling stuff. I paid $40 for the jacket. The vintage Johnston and Murphy shoes I bought on eBay for $70.
After visiting Santa Fe, I fell in love with Western style, like cowboy boots and old Navajo jewelry. This suede fringe jacket from 10 Ft Single is my best vintage find ever. It fits perfectly, and I have never seen fringe this long on a jacket. The color matches nicely with turquoise jewelry. I folded my Comme des Garçons jeans to make them look like vintage American workwear.
I like to wear vintage head to toe. But as I do not want to look like I'm from a particular era, I often mix vintage with something simple from Uniqlo, for example.
Sometimes you need to wear a piece to see its full potential. At first, I thought this jacket was too much and not my style at all, but when I tried it on I fell in love. It was probably made for a theatre show or a musical. I got it from the vintage store, Search & Destroy, for $60.
I got inspired by Alessandro Michele's Gucci, and decorated my jacket with vintage insect pins.
I always wear a hat and glasses. After getting married and having my wedding ring I started wearing more rings, too. It is like tattoos; you get one and you immediately want more."