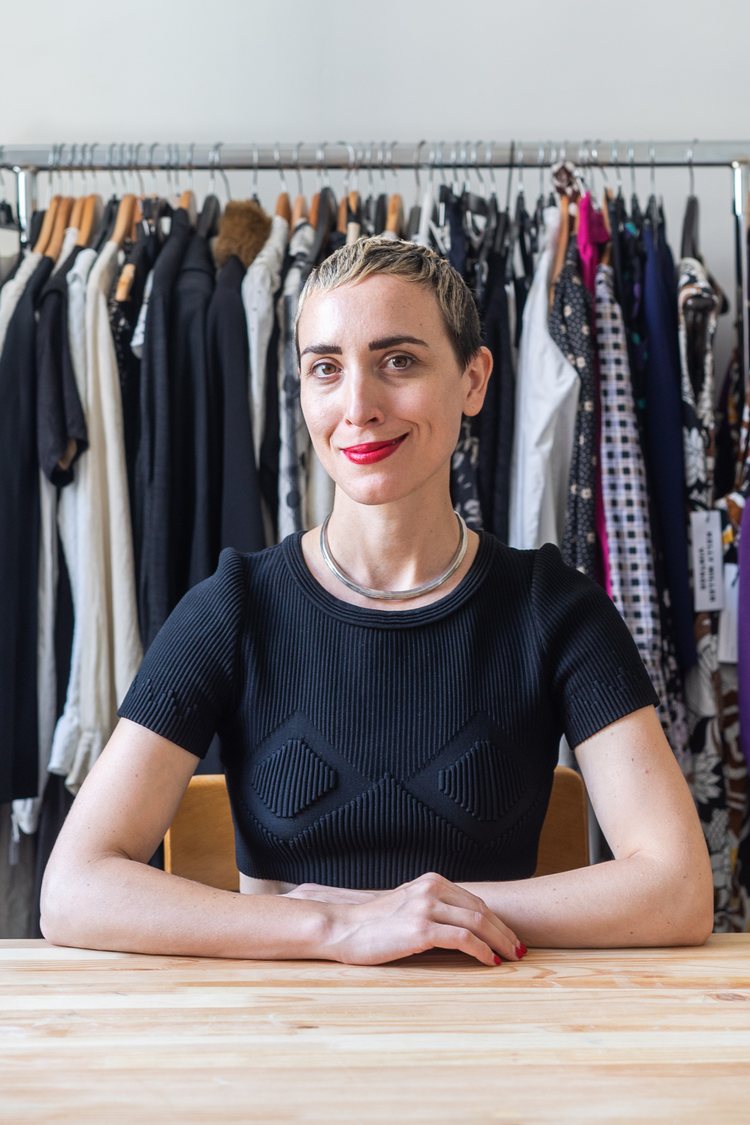 business
From Seattle to Paris – Interview with Kelly Miller
Kelly Miller studied fashion design in NYC and Milan, worked with trend forecasting and vintage in London and Paris, and now runs her own business in Paris – which she says is unparalleled in vintage.
"I have been interested in vintage since I was 12-13, growing up in Seattle. It was a moment when the thrift stores were really taking off. I used to wear a lot of 60s clothes with crazy prints. I always had wild outfits. My aunt, who lived in New York and wore these really extravagant outfits, was my inspiration.
I moved to New York to study fashion design at FIT in 2003, and after three years, I moved to Italy and graduated from (FIT's) fashion program in Milan. Vintage clothing was always a reference for me, inspiring both my classwork and frequent visits to vintage stores across the European cities I visited during my 2 years of school here.
Fashion design studies have absolutely informed my vintage selling; if you're obsessed with clothes and how they're made, it's a natural evolution to collect and sell excellent fashion of the past.
Fashion design studies will (or should) give you extensive technical knowledge about garment construction and textiles; this will naturally help you as a seller.
Then I moved to Paris and worked as a trend forecaster for the now-defunct Stylesight.com (since sold to WGSN). I was their Paris correspondent so my job was to keep the pulse on what was happening here fashion-wise, covering trade shows and store openings and taking street style photos. Then I moved to a new position which was called 'vintage editor' – I got to analyze current runway shows through the lens of vintage. That was probably my most favorite job I have ever had! I got pretty good at doing visual research – I was able to make visual connections across decades, linking, say, a photo by Irving Penn to a current Rick Owens collection, or Antonio Lopez illustrations brought to life on the runway of Thom Browne.
Eventually, I moved to London, where I continued to work for Stylesight and then WGSN, before moving onto Beyond Retro. I was helping with their upcycled clothing line and managed to help their archive – a small but wonderland room full of treasures they source in picking warehouses around the world. The job helped me to understand the global secondhand and recycling industry better. For example, you should never ever throw clothes away. Wash them and donate and they will get used – if they are too worn or broken to be sold as clothes, they will be incinerated and used in car insulation.
But by 2016, I was really over London, and I moved back to Paris just a few weeks before Brexit and, months later, the election of Trump. Helluva year. At the end of my time in London I found an amazing, perfect vintage leather jacket – the item everybody is always looking for. But the jacket was so smelly I could not wear it. By coincidence, I met a Savile Row tailor and leather expert. He helped me to copy the pattern and make an adjusted copy for myself. I got so many comments and I decided to launch a label which I ran for a few years, and still take occasional orders under my label Kelly Miller Paris.
In Paris, I started to work for a renowned American retailer in the vintage space helping them source vintage here in Paris. It was another dream job! To get paid for shopping vintage! In 2019 I went full-time with them. I had large budgets to execute and a very specific shopping list of the items and brands I was supposed to find and shop: x number of Gucci bags, Louis Vuitton, etc.
It was working like a magpie, looking any place you would normally go when vintage shopping.
Over time we built a network of people from whom we would buy. They were mostly professional sellers but sometimes also private individuals.
When covid happened, overnight, like for so many people, there were layoffs, me included.
I knew I had the skills to sell vintage, and I started slowly making small purchases. I reached out to my friend Julien Sanders and he loaned me a pile to model for Instagram. Next fall I stumbled upon a very intact collection of Alaia. That was the first big success.
Between the lockdowns, Julian suggested we try to do a pop-up. That turned out to be a very good decision – interesting fashion people in the Marais came and shopped. We have continued to do pop-ups and gotten bigger and better each time. It was a surprise to discover that selling in person was much more profitable than selling online. For the more special pieces with specific references, I do sell well online.
At the same time, I went back to sourcing for American clients. I got more budget to shop ready-to-wear, which was really fun for me.
I could walk into a store and shop all the cool Gaultier I could never afford myself, as if I were a Kardashian!
Now I share a showroom with Julien. Maybe one day I'll have a store, but I like the idea of having the freedom to pursue other projects simultaneously, and you can't do that when you have a store that's open 6 days a week. A showroom is a neutral space where you can receive clients professionally, but you choose the working hours and when you want to be open.
I source my pieces the way anyone would really, at flea markets, garage sales, from individuals, and more.
I am more interested in silhouettes than having a specific decade, though I have a real soft spot for 80s Claude Montana and strong Mugler. 90s and y2k vintage is trending here in Paris too, although it is not my style really and is often poorly made. Roberto Cavalli makes my skin crawl. In Paris, vintage YSL and Guy Laroche always sell very well.
I think Paris is unrivaled in vintage. There is such a breadth of product, items and stores at every price point.
You can find amazing things for every genre here. America is perhaps better at older vintage from the 20s to the 40s, London is great for streetwear and 60s/70s/80s vintage (and super high-end), and I love going to Milan and Italy in general for luxury vintage.
To be selling vintage today makes sense to me, for my path and the trajectory I've been on. What I find interesting is the group of younger dealers who want to sell vintage. They often have zero knowledge about fashion history, but something happened during covid that got them interested in secondhand. I am curious to see what will happen, who will still be selling clothes a few years from now.
With a group of fellow Parisian dealers, we are launching a new series of pop-ups called 'Mémoires de Mode', where we invite a retired designer or person of interest to come speak about their career as part of our event. The first one is in November 2022 and will feature the designer Angelo Tarlazzi, an Italian who made his career in France, starting out at Jean Patou in the 1960s and working as creative director for various houses (Guy Laroche, Carven) in parallel to running his namesake label from 1977 until the late 2000s, when he was forced to close due to financing. His name is not so well-known overseas, but he was a fabulous designer.
Julien Sanders and I will continue to run our showroom, open by appointment to clients and design teams, and run various popup and consulting projects."
Follow @kellymillervintage on Instagram
Shop online