stores
From a Teenage Thrifter to a Professional Vintage Seller
Naomi Bergknoff shares the inspiration behind starting her gem-filled online shop Omnia.
Liisa Jokinen · May 20, 2019
Photos: Naomi Bergknoff and Liisa Jokinen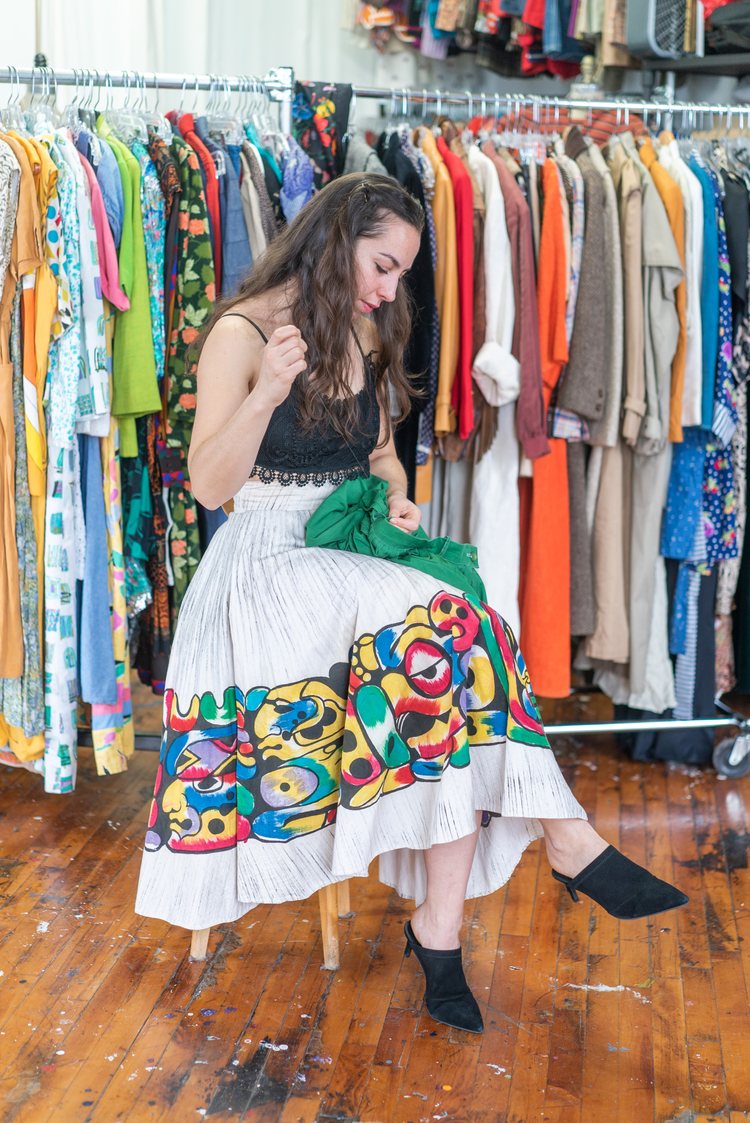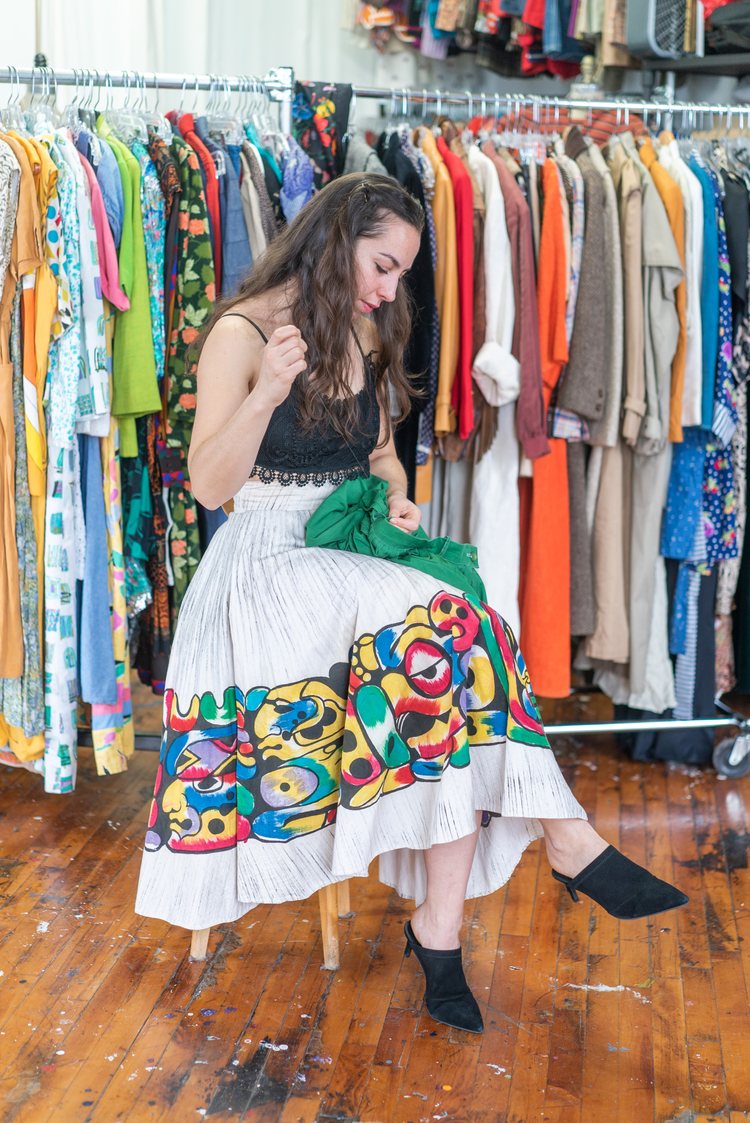 stores
From a Teenage Thrifter to a Professional Vintage Seller
Naomi Bergknoff shares the inspiration behind starting her gem-filled online shop Omnia.
Liisa Jokinen · May 20, 2019
Photos: Naomi Bergknoff and Liisa Jokinen
"I discovered vintage clothing as a kid back in the 90s on a family trip to my grandfather's house in upstate NY. I stumbled upon my aunt's childhood bedroom, untouched since her high school days in the 1970s, and found her collection of Levi's 517s, cool graphic tees, bikinis, plaid bells, ski jackets – and it all fit me perfectly. What are the odds?! She let me have the relics and my obsession with vintage began.
Growing up in a big family I pretty much only got hand-me-downs and craved clothing that expressed the true me. We didn't have much money so thrift shopping became my treasure trove.
In middle school, I began to deconstruct and alter found garments to make them fit just right. This was the 90s and it was all about the mall. And for a time I wished that I could afford to buy a sweet Contempo Casuals set or some Paris Blues flares but that quickly faded when I discovered vintage. I appreciated the fit, fabrics, construction and rarity in older garments.
It felt good to go my own way. To me, a one-of-a-kind piece that made me feel kinda magical, was so much cooler than looking like everyone else.
Fast forward to 2010, I launched OMNIA. I'd always had an independent spirit, loved retail and knew I'd own my own business someday. I was already obsessed with vintage & thrift, so I started hunting, collecting and figuring out how to sell what I found. It was a bumpy start with many challenges along the way but I kept at it and kept evolving.
After so many years in the game, I've developed my eye for what styles, fits and sizes work for the shop. I'm a big fan of a voluminous hemline, nipped in waist, almost all patterns, 70s prairie styles and high quality tailored 80s dresses. The 80s had some questionable style moments but also some really chic ones!
It's important to me to keep the price point attainable and the selection wearable. Fit is essential so I pay extra attention to how a garment falls on the body to make sure it can be worn on a wide range of sizes and body types.
I search for quality natural materials like cotton, silk, wool and rayon – although I won't say no to a #polybutgreat maxi dress. My favorite pieces are a touch fancy but can be worn with a simple tank and sneakers or sandals for a day of running around.
I'd define the OMNIA style as feminine and strong; a touch extra but also practical. As displayed by me schlepping heavy IKEA bags and loading my van in a flowy tea skirt (with pockets of course).
Above all, the most rewarding part has been the amazing customers. I love to find that perfect piece for one of my OMNIA regulars and I'm so grateful to have shoppers that come back to shop again and again.
One question I'm constantly asked "where do you find all of this stuff?" – the answer is…everywhere! I'm always digging around and buying wherever I am, whether it's at a random estate sale or a thrift store when I'm on vacation.
Some of my best scores have come through private appointments and referrals, including an out of this world collection of over 100 Gucci pieces from the 60s and 70s. That was insane!
It may be tempting to hoard the good stuff but it's even more rewarding to see it go on to its next life. That said, there have been a few gems that I slightly regret selling. Namely, a Stephen Burrows dress and floral skirt that I absolutely loved, some rare Bonnie Cashin bags and a pair of 70s Biba satin stripe flares.
Finding a diamond in the rough is great but seeing where it ends up is even more thrilling. The most jaw-dropping moment was when Sarah Jessica Parker posted a selfie in a dress that her fabulous costume designer picked up at OMNIA last fall for her HBO show, Divorce. It was a deep green and violet paisley piece from the 80s, by Jessica Howard I think. When she 'liked' my reposted pic, I almost died.
If you're just discovering vintage, start off with a great accessory like a tooled leather bag or interesting chain belt. They're easy to style with modern clothes but definitely not lacking in the detail and character you'll find with vintage.
When shopping for clothing, focus on finding a vintage version of a silhouette that you already love to wear and lastly – get to know your seller. Most of the vintage I buy for myself is from the same few sellers and I stick with them because I like their style, trust the quality and most importantly, they're nice!"
Shop OMNIA online and weekends at the Brooklyn Flea in New York.
@omnia_clothing on Instagram