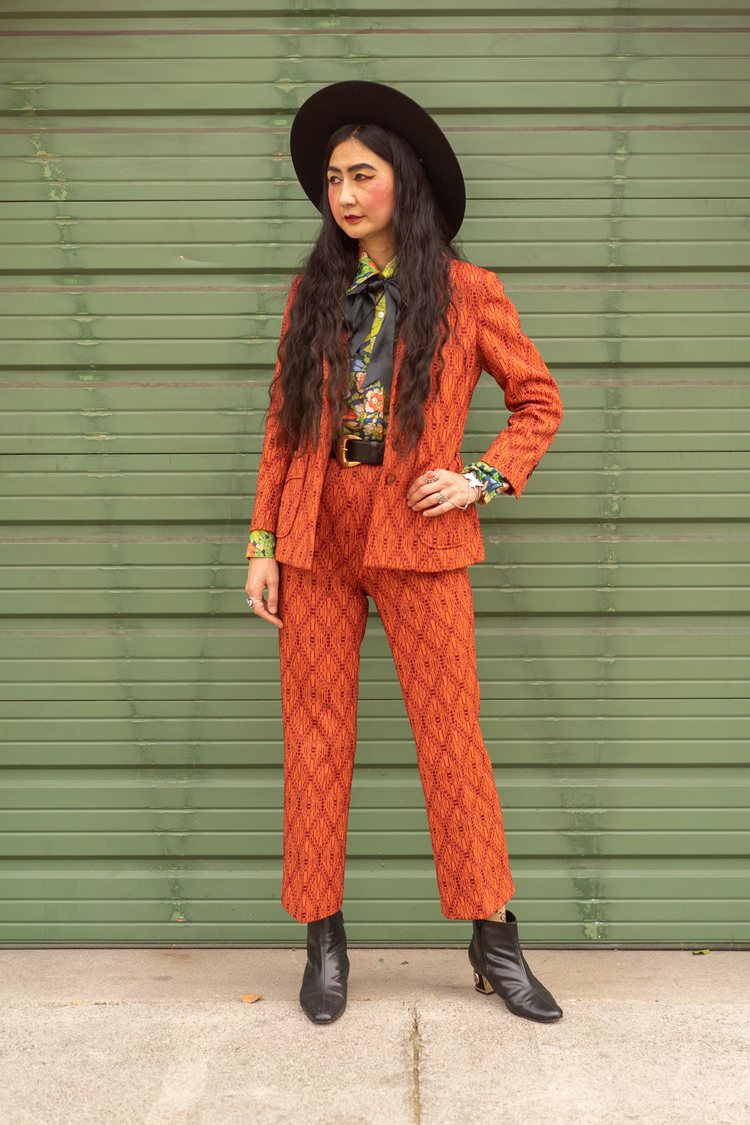 Ringo discovered vintage after she moved from Japan to San Francisco at the age of 24. She has been collecting vintage ever since. And now, she sells her collection online.
"I always wanted to move to the US. As a kid I watched the movie Stand by Me and had a huge crush on River Phoenix. I loved America because it seemed to be a country with less rules and uniforms than Japan. In Japan, we had to follow so many rules.
First in San Francisco, I couldn't find affordable and cute clothes. But then my Japanese friend introduced me to Goodwill stores where I scored many clothes from the 80s.
They reminded me of my childhood fashion and I fell in love with vintage.
This 60s psychedelic printed mock-neck dress in spring-like colors is sourced at one of my secret spots in San Francisco. I like the dress because of the print, puff sleeves, and Gucci vibes.
My favorite era is late 60s to early 70s. I also like the 30s as well as '70s does 30s' style. Fashion was getting freer than ever before then and unisex clothing started to appear. It was just good times! I also love garage and psychedelic rock of that era.
I am always hunting and I collect many things – go-go boots and Bantam Travelware suitcases for example. Go-go boots are a MUST item for a 60s look and Bantam bags are just so cute, so mod, and made in Japan!
This Gunne Sax dress I bought to sell it but now I am keeping it! I will sell it when I am ready. I often end up keeping things if they fit me and decide to sell them later on.
Besides Gunne Sax, I like BIBA, Alley Cats by Betsy Johnson, Vuokko Nurmesniemi for Marimekko, Jules-François Crahay for Lanvin, Rudi Gernreich, Louis Féraud, Youssef Rizkallah for Malcolm Starr, Giorgio di Sant'Angelo, Vera Neumann, Gene Berk for Paganne, Mary Quant, Char… there are so many.
I love vintage because every piece is original. Materials and quality are better, and every piece is pretty much one of a kind!
I don't really have style icons, but I get inspired by vintage fashion magazines, ads, and patterns.
I found the purple suede set at from Static Vintage and it is one of the most expensive things I have bought. In general, I don't want to pay too much for my clothes. The matching purse I found recently in LA. The blouse is thrifted and the boots from Love Street Vintage.
I can't really tell you my favorite spots in LA, but i can tell you the ones in SF! Goodwill stores in Haight and Tenderloin, Love Street Vintage, Static Vintage, Held Over Vintage, and Schauplatz.
My best vintage finds ever? Ummmmm that's real hard... Late 70s Gucci tote bag, 70s North Beach leather jacket, 70s Char leather patchwork skirt, 60s Rudi Gernreich double knit dress, early late 70s Giorgio di Sant'Angelo dress, 60s Malcom Starr dress, 70s Char leather patchwork maxi skirt."
Ringo's Etsy store Thee Apple Boutique
@theeappleboutique