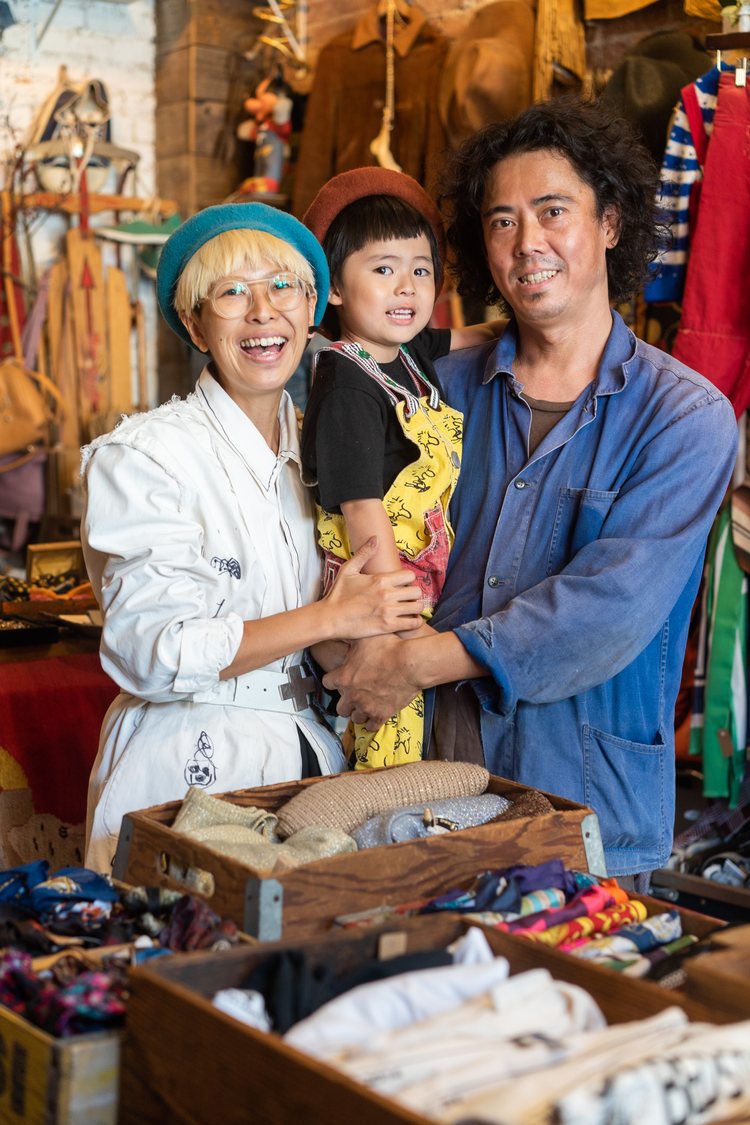 stores
Five NYC Vintage Stores You Should Also Know
Check out these NYC vintage stores and find your new favorite!
There are almost 300 vintage and thrift stores in New York City. To show the variety of the NYC stores and to hear fascinating stories behind them, we visited five of them – all in different neighborhoods and with different inventories.
If you want to find even more NYC stores, check out our NYC Vintage Map. It lists all the city's vintage, thrift, and resale stores plus consignment stores.
Madame Matovu – Treasure Trove in West Village
"I opened my store 15 years ago. I always wanted to open up a store: a store of beautiful, original things. I always had a love for vintage and art. When this space came up, I asked myself what could happen? When I heard the landlord was nice I decided to go for it. I took a chance, called the number, and rented the space. It was the right place at the right time. I have lived in the neighborhood for a long time.
Before opening the store, I worked for the wedding dress designer Lucy Barnes.
My collection is just a love for beautiful things. Whatever I like, I buy. It is like a current. The biggest inventory is our own Madame Matovu brand scarf dresses. One of my neighbors gifted me 1000 scarves and we started making dresses out of them. They are our staple items.
I repurpose old garments too: if a part of a garment is damaged and can't be repaired, I use whatever is still in good condition and make something new out of it, like a headpiece, bag, or sometimes a dress becomes a skirt. I also hand-dye and decorate old garments.
My shopping window is my biggest publicity. It brings the kids in, and they bring in their parents. I need to have some items that are priced from $2 to $20 for my young customers. I want every customer to find something here. Movie people love my store, too.
My store has also become a social place. People come to hang, and they bring their friends and parents. Some people come straight from the airport with their luggage. Some people have been coming for 15 years.
Lately, I have sold so many pearl necklaces to men and men's button-ups to young girls, the bigger the shirt the better! Some girls put them over a skimpy dress, some over a pair of tiny shorts and that always looks right. T-shirts with funny slogans are also big.
Some things I always carry are beaded bags, all kinds of jewelry, headgear, and art. Regarding clothes, I always try to have some white cotton pieces for my European customers. Quilts are my biggest love so I try to have them always, too.
When people come, they like to stay, they compliment each other. Before the pandemic, the store was a meeting point every Sunday at 4pm. I have had husbands calling my store and asking 'is my wife there'. So many people have met each other here and become friends. I hope to bring the Sunday tradition back soon."
Madame Matovu Vintage
240 West 10th St
West Village, Manhattan
Wed–Sat noon–6pm
Sun noon–5pm
@madamematovu
Harold & Maude – Japanese Curation in Bed-Stuy
"I, Mami, have been into American vintage for most of my life. I grew up in the so-called 'American village' in Osaka, Japan – a neighborhood with a lot of stores selling American vintage.
I worked at the vintage shop 10ft Single by Stella Dallas in Williamsburg Brooklyn from when they opened in 2006 until 2013. The owner's lifestyle inspired me a lot and after me and Ryoma met, we started selling vintage together at flea markets in Lower East Side and Long Island City, and started to look for a storefront. After we found a space in Bed-Stuy, we opened our store on 4/25/2014.
Our budget was small and Bed-Stuy was still affordable back then. We also felt the neighborhood was 'upcoming' like Williamsburg was 15 years earlier. Bed-Stuy was a mix of different cultures which we love.
We named the store after our favorite 70s movie Harold and Maude.
Our customers are all ages and all genders. We don't choose our customers – the customer chooses us!
Some things that we always carry: Japanese vintage like kimonos, children's vintage, and Western wear. We are trying to have affordable prices: t-shirts around $20, sweaters $25, jackets $45, dresses $28, and so on. Because our space is small and we can't have a huge inventory, we try to make sure every piece is special and unique. We also collaborate with a local mending artist KR Chandler.
Some customers stay at our store for an hour digging and listening to music in our tiny space. We play jazz and bluesnand also sell records you can request to play. You don't have to buy anything – just explore our tiny world! All people are always welcome. We hope they make themselves at home here."
Harold and Maude Vintage
592 Lafayette Ave
Bedford-Stuyvesant, Brooklyn
Mon, Wed–Sun noon–7pm
@haroldandmaudevintage
Finn Vintage – Accessible Vintage for All in Bushwick
"I've been shopping vintage since I was a teenager but my introduction to the business side was in my early 20s when I went to work at Collections (closed since the pandemic) in Bushwick. I learned so much about all aspects of the vintage business, from running a brick-and-mortar to working with customers (my favorite part!) while working at Collections, so my dream of having my own shop was born during that time. About two years later, I opened Finn Vintage.
I started stocking up on inventory and looking for storefronts in early 2019. Finding a location in Bushwick within my budget and with the look I wanted was not easy. But after months of searching, I settled on our location at 210 Irving Ave. At the time I felt like I was settling because the interior was essentially just a white box but during the build out we found a hidden brick arch, old wood floors under layers of tile, and the gorgeous original tin ceiling. In the end, it turned out to be exactly what I was looking for. My mom is an interior designer (check out Angela Asbury Interiors!), so together we teamed up to create the interior look of the shop. After two months of construction, Finn Vintage opened on November 9, 2019.
My cat, Finn, died suddenly at only a year and a half old. Finn was by my side when I began my venture into opening a shop, so it only felt appropriate to name it after him.
My customers are confident and whimsical, and just great people! I feel very lucky to be in the heart of Bushwick because the community is very supportive of each other and genuinely kind. Our customers are people who think and act sustainably, and would rather wait to find the perfect vintage piece than shop fast fashion for immediate (yet fleeting!) gratification.
My goal when opening Finn Vintage was to create a place where people could comfortably experiment with their style, find pieces to help express themselves and make them feel at home in their bodies. We do our best to inclusively source pieces so that no matter gender or size, they can all find something that exudes who they are. The result of this is that our clientele is very diverse!
We carry most decades through the early 2000s. The bulk of merchandise right now is 80s-90s as during the pandemic my clients wanted easy, laid-back comfort which those eras cover well. I personally have a passion for the 60s and 70s so I am always on the hunt for those items. The 70s pieces we get in don't last long… generally they sell as soon as they hit the floor or as we post them on Instagram. We always have a great range of jeans from different eras as well as denim shorts in the summer. Around the holidays, we will have more fancy evening dresses and cocktail attire, as well as cozy cashmere sweaters and wool coats to keep you warm.
The majority of our pieces are between $25-$100 and we try not to have many items that cost over $200. We always have a $10 rack outside and we have two huge sales every year with $1 and $5 bins. It's important to us that vintage is accessible, so we want everyone to be able to find something within their price range when they shop with us."
Finn Vintage
210 Irving Ave
Bushwick, Brooklyn
Mon, Wed–Sun noon–7pm
@finnvintage
9 To 5 Vintage — Williamsburg Pandemic Breakthrough
"The vintage world has always been around me, starting from my childhood. Growing up, my family home was surrounded by antiques. We had all types of vintage furniture and very rarely (from my memory) if ever, bought furniture brand new from a furniture store. Antique furniture was the way to go in our home and it has stuck with me. In addition to vintage furniture, I also grew up going vintage and thrift store hopping with my mother on the weekends.
As I grew older, I grew an even stronger appreciation for vintage clothing and started discovering shops on my own. Over the years, I have become so attracted to the "vintage" world that I find modern-day chain stores uncomfortable. My grandfather also had an upholstery business which made it even easier for us to find gems and have them repaired.
I opened my store in the middle of the coronavirus pandemic. The lockdown had just been lifted in the fall of 2020, and with motivation from my husband, I started as a pop-up. A good friend of mine, Yoko that owns Haco NYC art gallery & creative space, was kind enough to lend me her space for a period of time. The pop up was scheduled to end in the spring of 2021. At that time, I then moved to my permanent space just two blocks away here in Williamsburg, Brooklyn.
I knew that I wanted to stay in the same neighborhood. I also knew that I had to keep my eyes and ears open for any opportunity that could arise. One day, I was doing my research on locations. After days, weeks and months of being on the hunt I stumbled upon a gem. I contacted the realtor right away to see the space and snagged it as soon as I could! It's small, it's quaint and it's perfect for customers and myself.
At one point in my life I worked the traditional 9am-5pm shift as a visual merchandiser in a corporate office. I will be honest to say, that I did mostly enjoy my colleagues and was able to do a bit of travel. But, I knew I couldn't strive in that setting. I wanted to create a space, a world that people could let go in, and redefine what a traditional career looked like. It was somewhat of a special time for me to start my business because the world had been locked down for so long and people were eager to get out. We didn't get a chance to socialize, enjoy others' presence or let alone go into a store for months. Working from home became the new normal and I was able to be there for this transition in redefining the traditional 9 To 5 "Vintage".
Who are my customers? EVERYONE! People who are both familiar and unfamiliar with the vintage world. Since I was a kid, I have enjoyed talking and getting to know and listening to people. Combining that with my love of clothing, music and the arts, it allows me to provide the best for each and every one of my customers.
My inventory is a variety of vintage clothing and accessories. There is something for everyone in my store. Now, of course, I can't just "run into the back" to grab another size though.
Some current highlights are European workwear, original military goods, and sportswear. I sell clothing and accessories ranging from the 1900s to the early 2000s. I also have a special kids vintage section."
9 to 5 Vintage
130 Grand St
Williamsburg, Brooklyn
Wed–Sat 12–6pm
Sun 12–5pm
@9to5vintagenyc
Pippin Vintage – Jewelry at All Price Points
"We launched our jewelry business at the New York City's famous Chelsea Flea Market. There used to be 450 dealers every weekend, 25-50k people would attend every day. Andy Warhol was probably the most famous customer. Catherine Deneuve was our regular customer.
When the flea market lot was sold to a building company to make condominiums, the market was closed. We found a store on Orchard Street below Delancey for $3000 including an apartment. Now that area is posh and hip but then it was an underwear district. But we were a destination store and people would know us from the flea market. We got featured in a couple of newspapers and people learned to know us quickly.
We had a ton of low-end jewelry which we bought directly from the auctions and brought to the city. Some stores bought from us and sold for three times more three blocks north! In 2006 we moved to the current location in Chelsea.
Our store is unique because we feature all eras and all price points. We don't believe there is another store like ours in NYC. We set out to create a store where displays and vignettes are special but the jewelry is reasonably priced. We decided early on that we will let our customers touch the jewelry. It is part of our success. We have 5000 pieces you can touch. Ours is an experiential store.
Stephen comes from a family of jewelers, and none of his relatives could have imagined a store like this where an affordable glass ring is next to an expensive emerald.
We are well-known for our collections: not many stores have a collection of 2000 pairs of clip-on earrings. We even have golden clip-ons which are rare to find.
We have a niche customer: someone who is curious about old jewelry, wants something special, and does not want cookie cutter. What you find at our store, you can't find at the next store. Most of our customers want to keep our store secret and not tell anyone about it!
Some popular items at the moment are old hand-cut, pre-1930s European diamonds, old natural sapphires that have not been heat-treated, and pearls – either we price them reasonably or there is something going on!
Grace for us means a place where you can forget the world outside. We think we provide that experience. This is a garden of jewelry."
Pippin Vintage Jewelry
104 W 17th St
Chelsea, Manhattan
Wed–Sat noon–7pm
Sun noon-5pm
@pippinvintage