people
Fauve of Blondes In Heaven Vintage Shares Her Vintage Finds
Fauve Schoen runs a bi-coastal vintage business together with her Mom. Here she shares her favorite vintage finds with us!
Liisa Jokinen · Apr 5, 2022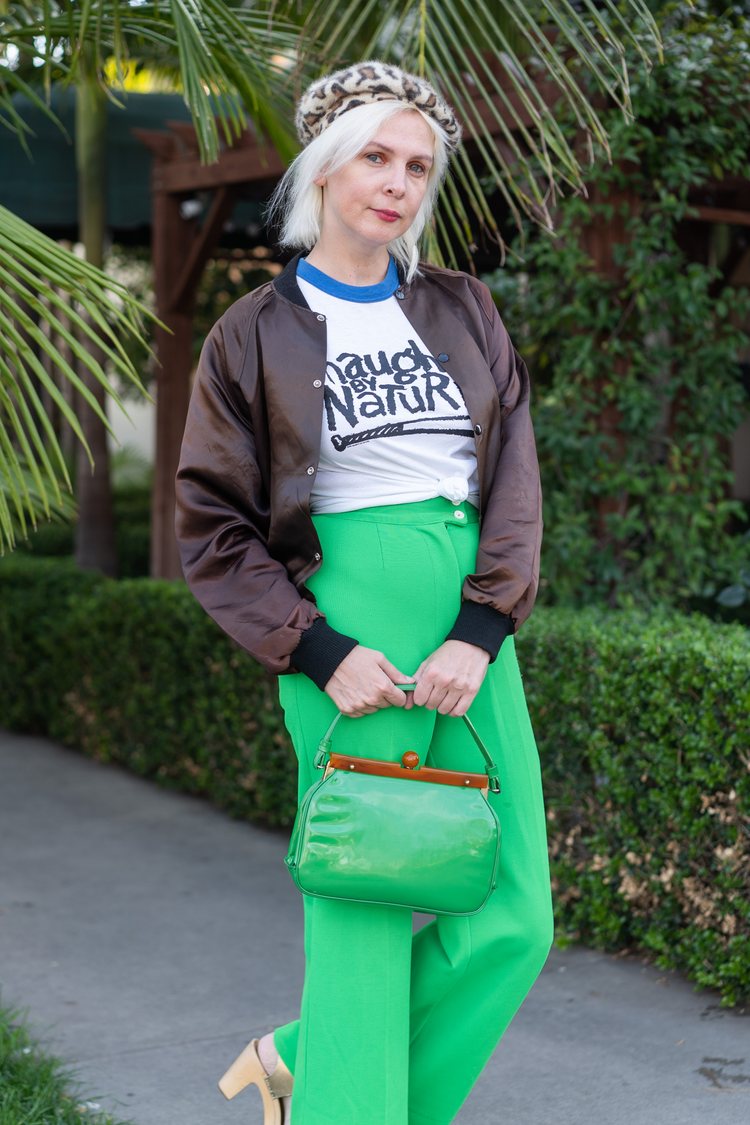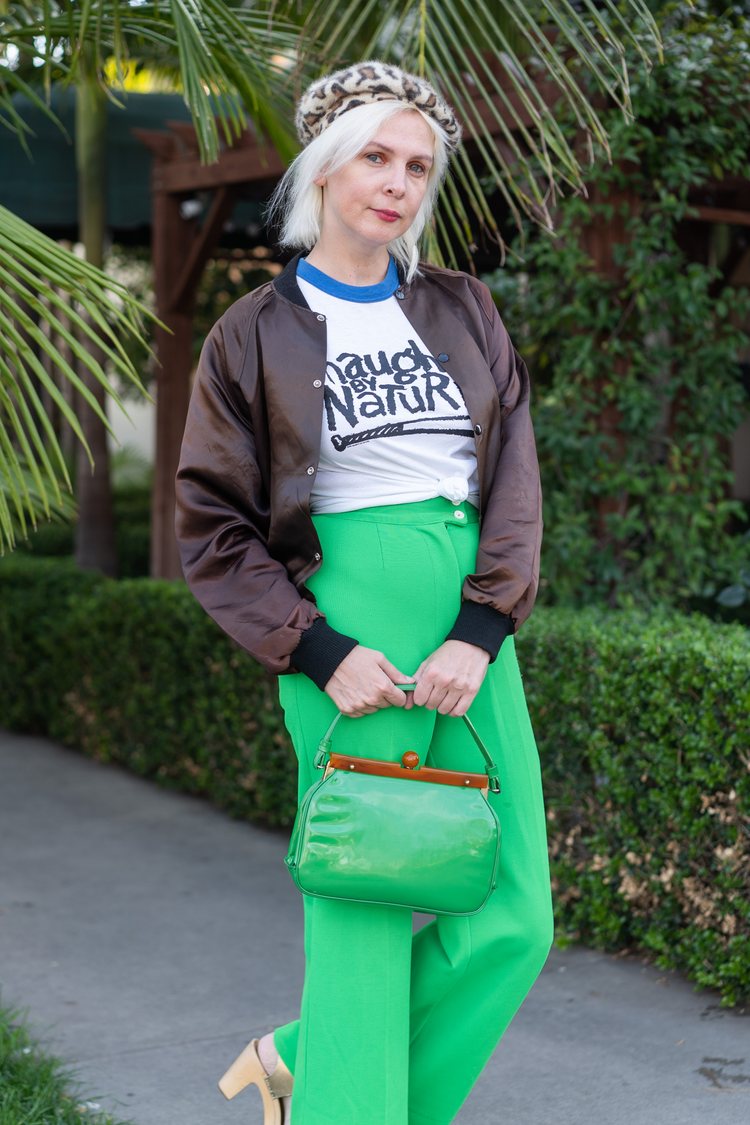 people
Fauve of Blondes In Heaven Vintage Shares Her Vintage Finds
Fauve Schoen runs a bi-coastal vintage business together with her Mom. Here she shares her favorite vintage finds with us!
Liisa Jokinen · Apr 5, 2022

"Ever since I was a little girl, I was fascinated by my mom's clothes. I dressed up in her things. Both my parents are artists and owned their own businesses for most of my life. My mom has had a few different hole-in-the-wall shops in different locations. We went to many antique stores, estate sales, and garage sales. Oddities and rare finds were always in my household. In 4th and 5th grade, I fondly remember walking to her shop after school and being enamored and curious about everything. Her stores sparked my interest, and I was immediately in love. I babysat a lot as a kid and would save my money to buy vintage items.
I've always loved that you can create your own world with style. Put your own spin on things.
I traveled after high school, and travel has always been a source of inspiration for fashion and my style – a sense of adventure and wonderment.
I've worked in vintage clothing and retail for most of my life. My mom lives between Vermont and Florida and I live in California. A little over two years ago, we started Blondes In Heaven Vintage. My mom was selling online, and I was working a full-time job in vintage/retail, but there was always an urge inside of me that I wanted to create something with my mom in this lifetime.
I love a skirt suit, especially in bright colors & pastels. This look reminds me of the 90s supermodels in pastel Chanel suits. The skirt suit and beret I got at Salvation Army and the bootleg t-shirt I got at Afterlife Boutique (which is now Afterlife Collective SF). This skirt suit immediately puts me in a good mood when I wear it. Orange has become one of my favorite colors to wear. I also like pairing browns and tans with yellows and chartreuse.
The Fiorucci tee is such nostalgia for me. I've always loved the Two Angels logo, and it brings me back to seeing ads in fashion magazines as a kid. I've always loved angels too! I used to collect anything and everything with angels on it. I like to wear the skirt suit with a kitten heel or with colorful tights and t-straps.
This outfit makes me feel like a 90s Fly Girl at Woodstock. I bought the Lucy jacket on Etsy. I truly love Lucy! She's a pioneer. She's the first woman to own her own production company and play a pregnant woman on tv, back when that was unacceptable. She said: "People either have comedy or they don't. You can't teach it." That goes along with style too. It's innate; you are born with it. Having a sense of humor and laughter is everything.
I got the pants at Buffalo Exchange in SF on Valencia Street. They spark a lot of joy. Very vibrant and playful. They're a mix of 70s Brady Bunch, rock n' roll, and my inner child. I feel like I could be coloring with a box of crayola crayons in my youth or attending a rock concert in them.
I bought the 90s Naughty By Nature hip hop tee at the Rosebowl Flea Market. I was born in the Midwest and grew up in the Bay Area and Hip Hop Hooray & O.P.P. were always blasting on the radio in my preteen years. They were one of the best hip hop groups of all time. Music is a big inspiration for my style.
The beret I got at Community Thrift Store in SF. It's very versatile and glams up any look. The purse is one of my favorite purses that I own. I love wearing this purse with the green pants. I bought it at a wonderful vintage store in SF called Schauplatz. So timeless and chic.
I couldn't believe my eyes when I spotted this jacket at Buffalo Exchange in the Mission in San Francisco. You rarely see vintage western wear in pink. I love the label Lady Caprice, too. This jacket has a lot of funk to it. I could see Sly from Sly & The Family Stone wearing it.
The Motels tee is from my old work Afterlife Boutique. They have the best vintage tees in the biz. I'm a big fan of The Motels. Martha Davis's voice will take your breath away. I like to pair this tee with bright colored bottoms, whether a mini/pencil skirt, jeans shorts or high-waisted pants.
The purse and pants I got at an amazing vintage store in Los Feliz, LA, called Replay Vintage. I love to wear color! These pants are also very comfortable. They can be dressed up channeling Jimi Hendrix with a ruffled flouncy blouse, embroidered vest, leather jacket, boots, and an oversized brimmed hat, or dressed down with a large vintage tee, baseball cap, and Adidas slides depending on my mood.
This outfit is an incredible 70s Art Nouveau novelty print halter jumpsuit with a contemporary hat. I envision a flapper girl meets Foxy Brown. I found this jumpsuit at Buffalo Exchange on Haight Street in SF. I have found many gems there. This jumpsuit is a true showstopper and speaks for itself. Disco glam with a touch of romance. I love jumpsuits because you just throw them on and have an amazing outfit. I love pairing this piece with a cropped or oversized leather moto jacket or with a penny lane coat, and platforms.
I also love wearing vests, just a vest as a top or a cute sweater vest with a turtleneck. I feel like vests are underrated. My other current favorites are studded jean jackets, vintage bathing suits you can wear as rompers or playsuits, DVF wrap dresses, and vintage designer silk scarves.
This 40s peach liquid satin dream dress screams to me Flaming June which is a famous painting by Frederic Leighton. Very Botticelli-esque. I paired it with a rare 60s blue Whiting & Davis metal mesh purse. I found the dress at the Long Beach Antique Market and the purse I bought at Replay Vintage. Unfortunately, this dress is way too small for me, but I envision someone going to the opera in it or to a grand party or wedding.
I love Whiting & Davis handbags! The architecture and texture of the bags is so interesting to me. I love to wear this purse paired with a gown or an 80s new wave look. This gown and purse are true art pieces. I'm a big vintage purse collector.
This outfit contains an adorable 60s/70s handmade patchwork mini dress & a modern corduroy conductor cap. I got the cap at Community Thrift in SF and the dress I got at Squaresville in Los Feliz. This dress has an age of innocence about it. It makes me feel like a kid again. I picture picking wildflowers/berries in it or wearing it to a park picnic. The dress looks cute worn with knee-high boots or with t-straps and a sun hat.
More people should know about the longevity and durability of vintage garments from the 60s, 70s and before.
The handiwork and fabrics are of better quality. To make these garments today would cost a fortune. People didn't have big closets back then. They'd have a few pieces that would last a long time. It's not like nowadays with fast fashion: new trends every month.
Also, selling vintage/reselling is a community. There's room for everyone.
I've always thought the show That Girl has the best fashion and this look reminds me of something Marlo Thomas would wear. I found the red mod mini at Out of the Closet in SF, the embroidered mini at Painted Bird, and the beret and Mary Janes are from my friend Christina's online Instagram shop FairgroundsFancy. She has the best stuff!
I love doing the full-on mod look with this dress and wearing it with knee-high go-go boots. The Mary Janes are darling with tennis shorts and a micro mini. The embroidered mini would look great with knee-high boots, 70s sunglasses, and a big-brimmed hat. Tres chic!
I love shopping at my friends' stores but also at antique malls, estate sales, and going off the beaten trail.
Thrifting in Reno, Las Vegas, Bakersfield, and Ventura is really good!
Our Blondes In Heaven Vintage is about time traveling. It's spiritual and is a dedication to my mom in a sense. It's eternal and will last the test of time. I'll look back in time and have no regrets because my mom and I used our time together sharing the same passion and love and you can't put a price on that. We pour our hearts and souls into this shop every day. It's our baby.
Our love for each other and vintage will live on forever. I'm forever grateful that I get to do this with my mom/my best friend.
I'll have this shop for the rest of my life and I'll be working on this shop til I join my mom and we're both blondes in heaven."
Shop BlondesInHeaven Etsy
Follow on Instagram @blondes_in_heaven