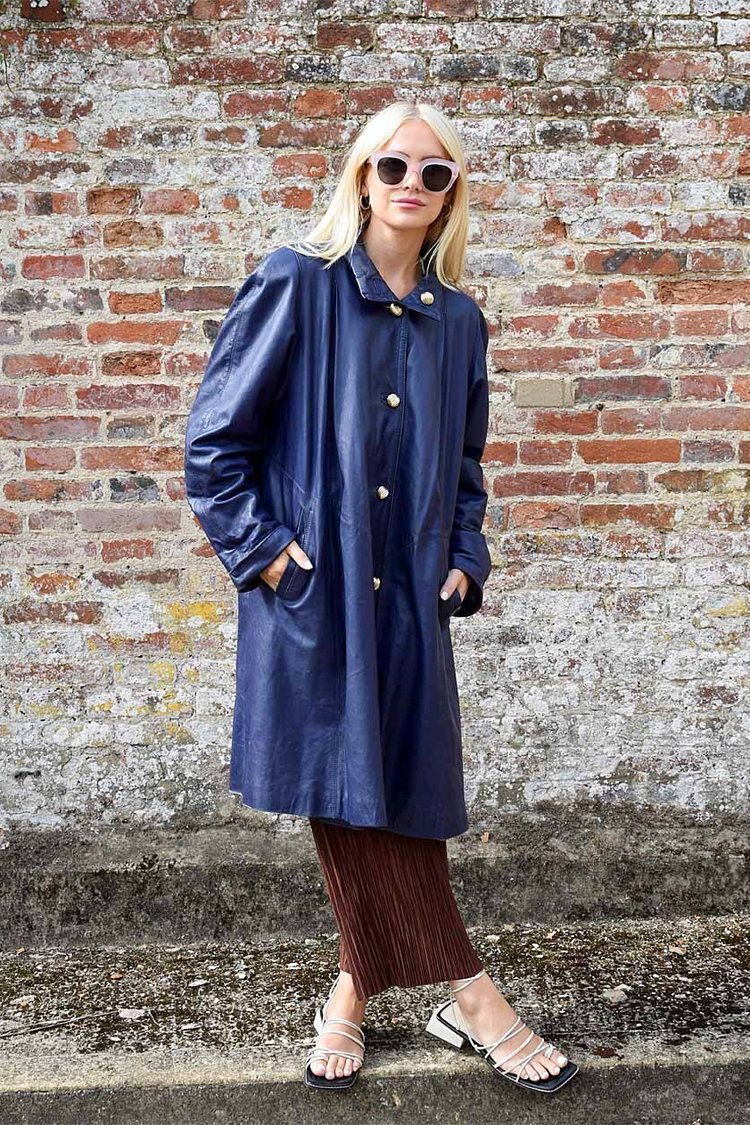 What do vintage lovers and influencers have on their fall wish list? We asked six style gurus to share their shopping tips and lists!
With a new season, comes the urge to buy new. But why buy new when you can choose used! The secondhand version of your wanted garment or accessory most likely exists, and we want to help you to find it.
When shopping used instead of new, you will save money and diminish your fashion footprint – buying and wearing secondhand clothing instead of new reduces carbon emissions by an average of 25%, according to the ThredUp's Resale Report.
According to the survey done by Depop, shoppers can save an average of 25% per thrifted item compared to what it would cost new.
On the runways, the key trend for this fall was wearability. We love this trend because it basically means seasonless pieces you can wear and restyle season after season. Think relaxed jeans, good quality leather bags and boots, vests, and dress shirts. This trend popped up also when we asked a bunch of vintage lovers and style influencers what they have on their fall shopping list.
Emily Fenves

Sustainable Fashion Advocate
@thelanderline
Oversized denim cargo jeans
I have been looking for a pair for about a year. I love a looser jean and find myself romanticizing about outfits! I would style them with a loose sweater and booties, or a boxy top and sneaker.
Long, formal dress (neutral color)
I have a few events coming up this fall and winter, and would love a neutral color dress that I can wear to a few of them. I'll mix it up with some fun, bright color heels, an oversized blazer and a sleek, chic bag.
Black over the knee boots
I have never owned a pair! Whenever I buy a leather product, I always choose secondhand. I prefer leather over suede, and want something that I can wear with a mini dress, or that can be tucked into a trouser.
Nikki Salt
Stylist & Content Creator
@nikkiesu
Slingback heels
There's a specific silhouette I just love in slingbacks that came around in the late 80s/early 90s: pointy toe, low-to-mid height heel (see the Manolo Blahnik Carolyne). I am convinced that a pair in a dark neutral or animal print goes with anything and everything in autumn, and I have my eye out for the perfect pair on online secondhand marketplaces like TheRealReal, Poshmark, and eBay via the GEM app. Once I find them, I'll be wearing them with chunky sweaters and silky maxi skirts, or turtlenecks and wide leg pants.
Oversized men's button down
A consistent wardrobe staple for me has been a men's dress shirt in oversized fit. I usually like to look for these in person in thrift stores – they're easy to find in a variety of subtle patterns and colors (hint: look for high-quality but under-the-radar brands like Façonnable or Robert Talbott). They're fun to layer under sweaters or to use for a funky high/low vibe by wearing a tuxedo shirt or one with a banker's collar with a pair of sweatpants, for example.
Vintage lace dress
I'm giving in to the dress-over-pants trend, but only once I find the right vintage dress to do it with. I'm hunting for midi dresses with lace overlays that I could remove the lining from, leaving a piece with enough volume to layer over a turtleneck and jeans. I'm mostly scanning eBay and Poshmark for this one, via GEM.
Michele Andrews

Stylist & Artist
@mishnar
Gucci Medium Lady Lock handle bag
Prada trenchcoat
90s Romeo Gigli jersey dress
I would wear all three of these pieces together plus my footwear would be Khaite Volos Cream over the knee boots. I'd wear the dress buttoned up, I would add a camel toned 70s tie for this look. I'd then toss on my favorite rings on my pinky finger, wear my hair down and wear my fav warm toned lipstick.
Greg Gusto

Fashion Video Creator
@greggusto
A good pair of jeans
This is something I'm always looking for. Honestly, a solid pair of jeans is harder to find than an affordable apartment in LA. Specifically, my go to is a sturdy pair of Levis that are light wash. I find light wash is harder to find while thrifting or shopping at traditional retailers. For me, a pair of jeans goes with everything. A go to outfit is of course a white t-shirt with jeans. It's a 1950s classic.
Sweater vest
Sweater vests have come back into style and I'm so here for it. I've seen this styled without a shirt. Of course you can put this over a button up white Oxford shirt and if you really want to elevate for the full prep uniform you can pair it with a blazer. I like lighter color cable knit sweater vests like a white or a beige for a sophisticated sporty look that screams courtside at a tennis match.
The little black bag
It's essential for everyday life. I like a crossbody bag so that you can sling it over your shoulder and wear it to run errands or take it on your way to dinner and drinks. The sign of a good bag is that you can take it everywhere and wear it almost anywhere from day to night. A good bag is your constant companion that should never leave your side.
Nichole Sesti
Owner of The Niche Shop
@nycnichole
Tailored vest
I'm looking for a really nice fitted tailored suit vest that I can wear as a top with jeans, pants and skirts. I have one I wore all summer so I'm looking for a few more in different colors to introduce into my fall wardrobe.
Sheer top
I love sheer tops (short or long sleeve) for layering pieces or going-out-tops worn with a cute lacy bra underneath.
The perfect oversized straight/wide leg denim
This is the hardest thing to find! I've been seeing tips about sizing up 2 sizes for the perfect slouchy jeans so I'll be trying this.
Isaiah Dorty
Wardrobe Stylist
@isaiahdorty
Oversized sweater
Oversized sweaters are a perfect thrift find for fall. They provide comfort, warmth, and a cozy feel during the cooler months. Look for sweaters made from high-quality materials like wool or cashmere, as they are not only durable but also offer great insulation. You can pair them with jeans or leggings for a relaxed and casual look, or even layer them over dresses for a cozy-chic outfit.
Statement coat
Fall is the perfect time to find unique and eye-catching coats at thrift stores. Look for statement coats with bold prints, vibrant colors, or interesting textures. Whether it's a faux fur coat, a plaid trench coat, or even a vintage-inspired long coat, a statement piece can instantly elevate any outfit while keeping you warm. Thrifting for coats allows you to find one-of-a-kind pieces that you won't see everywhere, making your style truly distinctive.
Vintage denim
Thrift stores are often filled with a variety of denim options, including jeans, skirts, and jackets. Look for classic cuts and washes that never go out of style, such as high-waisted mom jeans or a timeless denim jacket. Vintage denim has a unique character and durability that adds a cool and effortless element to your fall outfits.