men's vintage
Eveready Vintage –Timeless California Men's Garments
Steven Vega, the creator of Eveready Vintage, gets inspired by interesting details, timeless fashion, and his home grounds in the Southern California.
Liisa Jokinen · Apr 19, 2022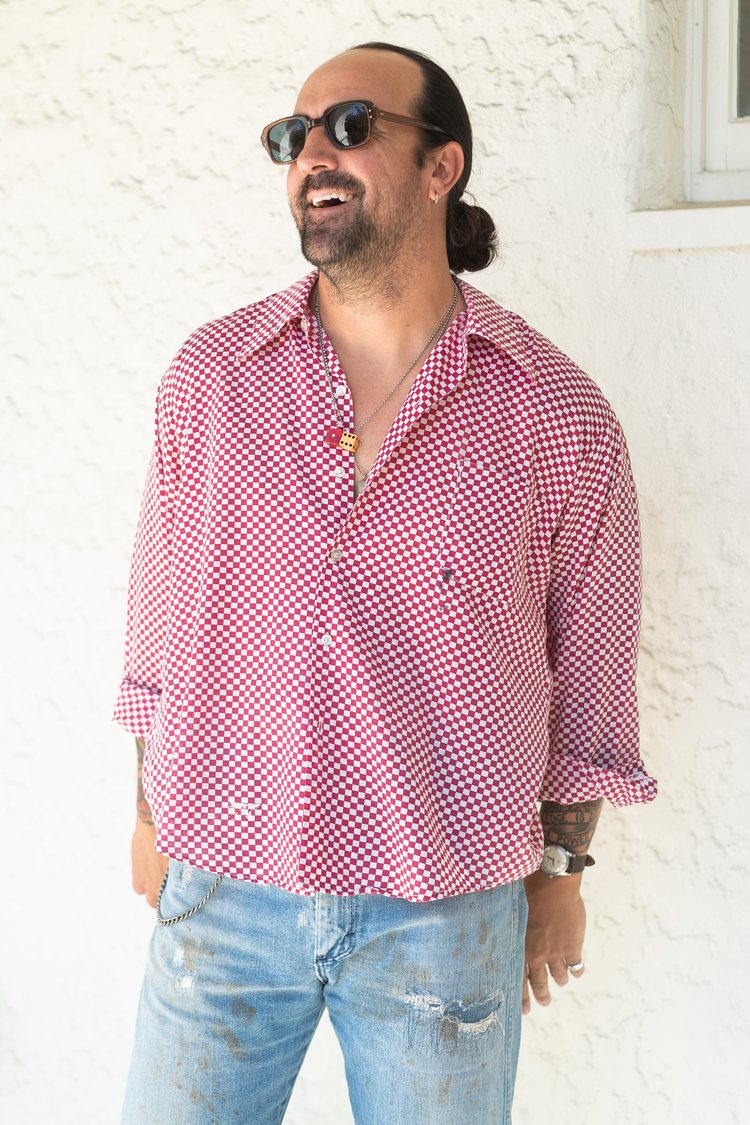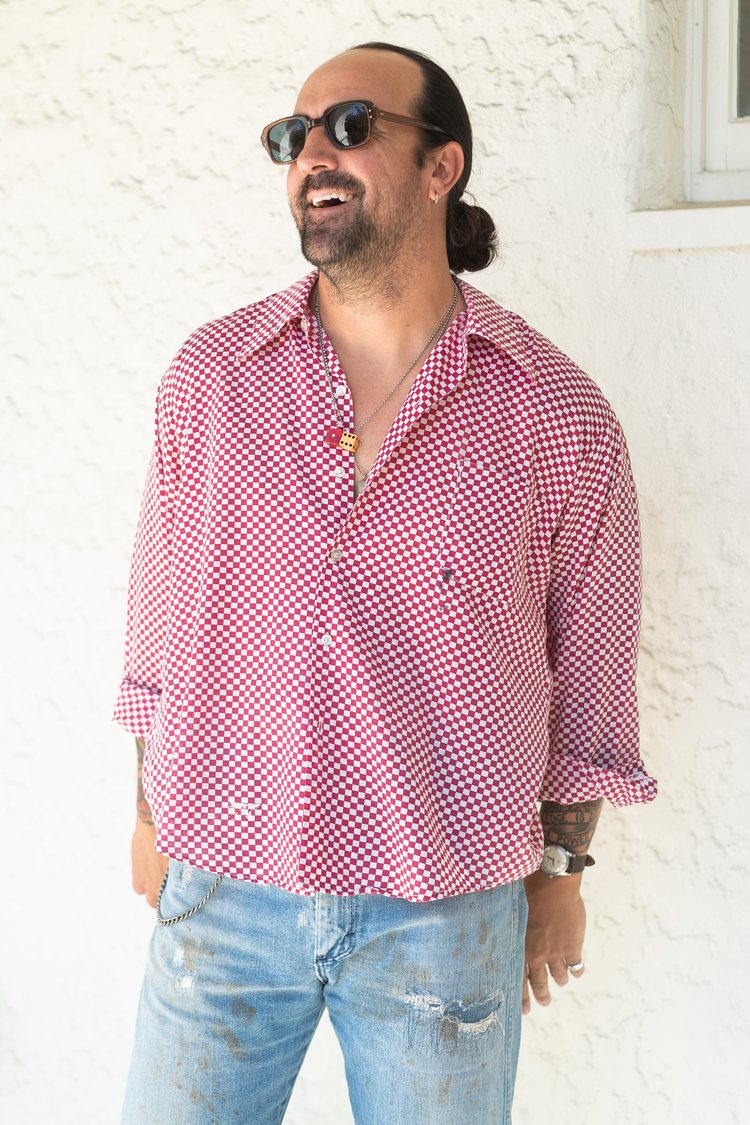 men's vintage
Eveready Vintage –Timeless California Men's Garments
Steven Vega, the creator of Eveready Vintage, gets inspired by interesting details, timeless fashion, and his home grounds in the Southern California.
Liisa Jokinen · Apr 19, 2022

"Raised by a single mother, as a kid, it seemed every weekend I would be dragged into some kind of thrift store all over Southern California. Melrose Ave in LA and local flea markets were a constant way of life back then, and we would never leave the stores or markets without something. I would spend hours watching her persistence to find old denim, military, leather jackets, beat-up Doc Martens, turquoise, jewelry, and the list goes on and on. You don't realize the passions and impact your parents sometimes bestow on you until later in life.
Around 2002 or so, right after high school, I knew I wanted to be around clothing in some sort of capacity, just was not quite sure exactly what I wanted to be doing. So I took a local job with Nordstroms and the journey arises from there. Stops along the way working with global luxury brands such as Ralph Lauren, Celine, and Brunello Cucinelli just to name a few, and doing every job title from sales consulting, to being a buyer doing wholesale. It was really the time spent with Ralph Lauren (2012-2019) that made me fall in love with Americana, and true vintage so to speak.
I'm just as excited about clothing today as I was twenty years ago. None of the mentioned fashion companies would exist if it weren't for design aspirations evolving vintage archives, in my opinion. I'm always learning more and more daily about fabrications, textiles, historical periods, and working with people. Behemoth of an industry, but having a ton of fun day in, day out.
Terry cloth shirting when found out in the wild, or at a local flea market, are some of the coolest shirts when sourcing. They just move me and my eyes gravitate towards them with profound interest. They immediately transcend my mind back into the mid-century and heavy 60s California beach scene. The fabric alone is what does it for me. Intricate weaving process to create such a soft hand of a t-shirt that's woven on a loom keeping the fabric soft and plush.
My collection simply stems from everything past and present that has inspired me from my youth growing up here in Southern California, to the present where I reside in a quaint little beach town just 25 minutes south of downtown Los Angeles. An array of garments from my collection stemming from the 20s to the 90s represents Eveready Vintage.
Old fishing and hunting clothing resonates with me due to the various pocket detailing and other details they possess. Fashion didn't derive these brands to make stylish clothing; functionality was the primary purpose.
That's the beauty I find in clothing, it serves your purpose and you are the canvas wearing the garment.
I don't fish or hunt, but I am always trying to source that type of stuff because I find the clothing to strike a chord with me, simple as that. This vest was a recent score from another dealer from the great state of Maine.
My dear friend Gen who resides in Oakland, CA hand sewed this piece of calfskin leather to the back pocket of my jeans for me over the summer. (Check out Standard and Strange, in Oakland, California if you ever get the chance.) I had sourced about a dozen small samples of leather material last year and stored them away with this exact intention in mind. I have always been obsessed with denim and leather for as long as I can remember. The patina patterns over time really evolve and develop so much character it really tells a story. It's all about the little details for me, unusual and unconventional is how I like to move.
While I may prefer one era of clothing more than another, it constantly involves because inspiration comes from many different time periods and movements.
Hawaiian shirts, chambray shirting, leather jackets, tailored clothing, and denim are just a few categories of garments I collect heavily, and am constantly searching for.
These garments represent a sense of timelessness and embody quality – two attributes I value very much. In terms of specializing in a certain era or a few strong categories, I'd like to think my business has something for everyone, and personally, I never like to stay in one lane. While the vintage community can be very competitive, with mostly everybody looking for the same old stuff that holds tremendous value, I tend to juke and jive, selecting or sourcing garments that move my eyes no matter what they are, or what time period they are from. All within the hopes or knowing that someone else will appreciate my view from the same lens too.
The vest was actually a Vietnam-era poplin fatigue jacket that I just cut the sleeves off of to wear it as a vest. I have an entire rack dedicated to garments like this and year round. Here in California it's very warm, so what better way to rock the jacket. Cut the sleeves off, throw some pins on it, bada bing, bada boom.
The surf jersey is from the 70s and I love the ringer tee style with the sleeve and neck ribbing. Such a rad graphic on the front as well. Pins on the vest are personals that stem from my collection. They usually just sit around in a dish I have at home, so decided to throw it on for some fun. It's the little things that get me excited.
Spotting a genuine Hawaiian shirt can be found typically by locating three important aspects of the shirt. Material, buttons, pocketing and collar style are a great way to start, obviously outside of locating the print you actually want. The older Hawaiian shirts are usually always 100% rayon which just has such a beautiful hand to the garment, some type of corizo or coconut buttons, a loop collar, and a badass print to top it off. They are highly sought after because they scream Americana, have loud and colorful prints, and immediately in my humble opinion make you stand out from the crowd. I own a mild collection of them, about 30-40 and am always wanting more.
Another dealer had this shirt on their webpage for months and I scooped it from them in person at the Rose Bowl. Just an exceptional shirt all around. The print, colors, selvedge lining, buttons, a shirt that stands out and can be worn forever.
A wide variety of other vintage vendors inspire me to some capacity, but ultimately carving my own path is the road I travel by. There are so many talented people within this industry globally who I admire. Whether it would be from their keen eye and godly vintage collections alone, but also their overall execution and longevity within the business is far more impressive in my eyes.
Passion for what you love to do in life breeds a journey filled with longevity.
The Vintage Showroom (London, England), Michael at Levisons London (London, England) Melissa (Stock Vintage NYC), Santa Fe Vintage (Santa Fe, New Mexico), Front General Store ran by Hiro and company (Brooklyn, NY) and Garret Miller who runs Western Gifts here in Los Angeles, CA are just a prime example of other vintage store owners who I admire from afar and keep tabs on here and there.
At the height of the pop art era in the 60s is when this jacket was produced. I just love the all-over print, collar detail, colors, and boxy fit as it is a size 44 and I am a size 40. These types of pieces are collector pieces and hardly ever show up in the wild when you are out picking, or sourcing all over the country at your thrift or antique mall. This was a gift for Christmas from a dealer who has an incredible collection as he has been in the vintage/antique business for over thirty plus years. A never-for-sale jacket, a holy grail so to speak for me as jackets are my favorite piece of clothing.
White Stag, Filson, Test, Carters, Belstaff, and Can't Bust Em are some of my favorite brands. I absolutely love the garments these companies produced, and the labels when still present, are some of the coolest in my book—clothing produced to withstand the test of time.
Ideal was a brand that made a ton of fishing and outdoor gear. I believe this vest was used primarily for fly fishing. It's cropped and sits high on the waist, has pockets for days, and has a rad silhouette. I found this sourcing last summer out in the midwest.
My tip to a guy who would like to start shopping and wearing vintage: Less is more and build your wardrobe accordingly.
A crisp white tee shirt, beat up old pair of boots or dress shoes, and a sweet pair of 501 is essentially the seamless way to build a wardrobe of vintage here in the land of sunshine. Ideally, it comes down to you as a person and what you feel comfortable wearing. I feel great in a pair of jeans and killer tee shirt, just as much as I would wearing a double-breasted pinstripe 40s suit.
Personally, what separates most stylish men from others, is the personal jewelry aesthetic in my opinion.
Choose wisely. When you stick to garments that are timeless, and easy to wear, you never lose."
Shop Eveready online and follow on Instagram @evereadyvintage