people
Embracing The Y2K – Meet Qing aka Princess of Chinatown
Growing up in China, Qing did not even know such a thing as vintage existed. While studying in London, they discovered vintage, especially the Y2K fashion – and now their favorite place to shop vintage is China.
Liisa Jokinen · Sep 28, 2021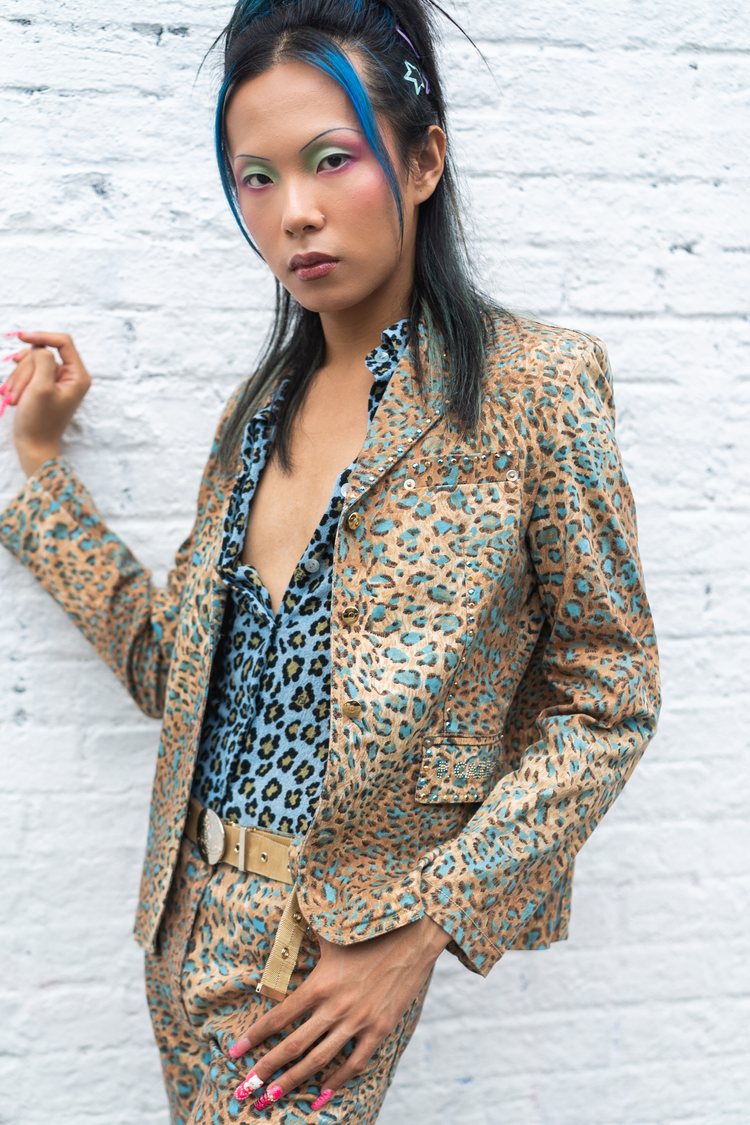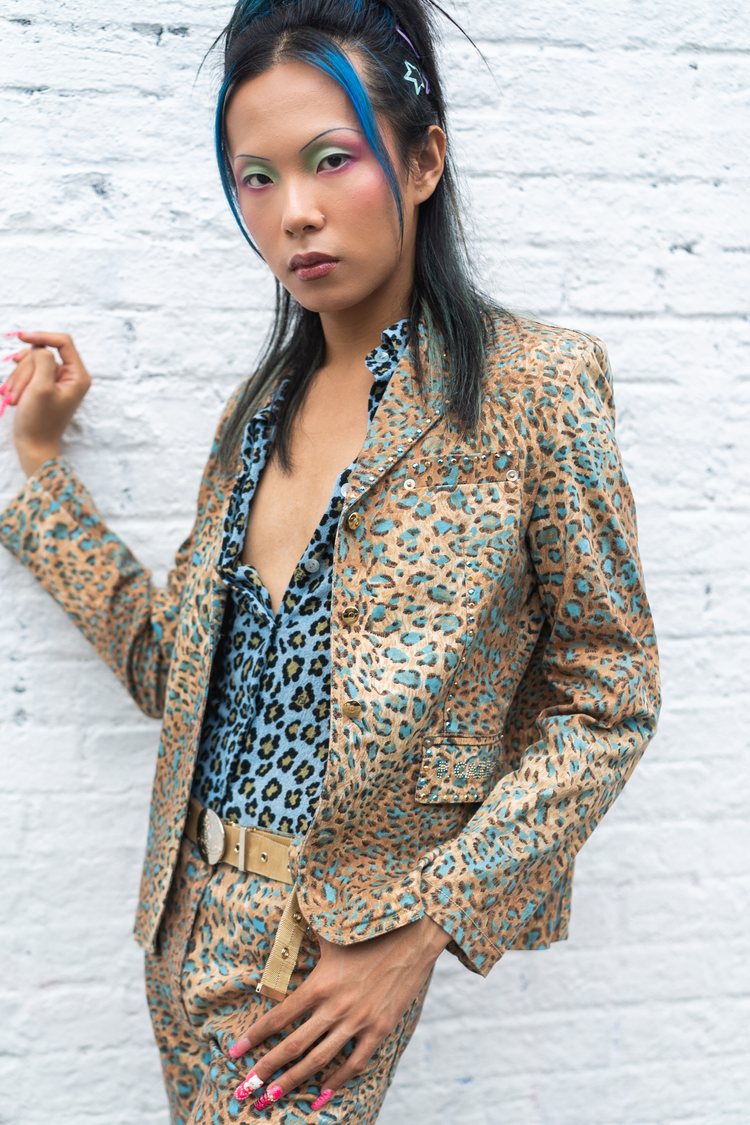 people
Embracing The Y2K – Meet Qing aka Princess of Chinatown
Growing up in China, Qing did not even know such a thing as vintage existed. While studying in London, they discovered vintage, especially the Y2K fashion – and now their favorite place to shop vintage is China.
Liisa Jokinen · Sep 28, 2021

"My style is all about the late 90s and early 00s to me: tight-fitting clothes, low waisted jeans, animal prints, tracksuits, bright colors, and sparkling, shiny rhinestones. 
I was born in 1995 and grew up in the Hainan province in southern China. I have vivid memories of watching early 2000s tv shows, movies, fashion, and American pop icons like Paris Hilton, Miley Cyrus, X-Tina, Gwen Stefani, Britney Spears, Nicki Minaj... A lot of Asian pop stars like Jolin Tsai, S.H.E, Faye Wong, Angela Chang, F4 inspired me, too.
All that pop culture and aesthetics planted a seed in my head. The fashion of that time is just so iconic and something that I really love.
For me, it's a form of escapism and it makes me really happy to relive those years by wearing vintage.
The millennium gave birth to so many styles, it is a mixing pot of everything. There is not one word or one look that would describe all those styles that were born at the turn of the centuries.
Growing up in China I did not wear any vintage. I even did not know such thing existed.
Only after moving to London in 2013 to study fashion, I discovered vintage clothing. In London, if I saw someone wearing something cool it was most likely thrifted. 
I discovered all the vintage stores and markets like Brick Lane, Spitalfields Market and Portobello Market, and loved it. Visiting the vintage stores became like a fun ritual to me. And not only because of the clothes; everyone at the stores and markets had a great style and I loved watching them.
I was surprised that you would get such beautiful and special items at such a low price. Everything felt so unique and special at vintage stores; it was not something that you could get at Zara or H&M. And there was such a great variety of things, packed with gems and surprises, so many choices for such a low cost. 
At that time, all the cool kids were wearing skinny jeans, bomber jackets, Dr. Martens, and lots of prints. I also got inspired by British subcultures and youth cultures like mods, skinheads, punks, and goths. One of the first vintage items I bought in London was a bomber jacket from Blitz Vintage in Brick Lane. 
Then I started to see different offerings at different vintage stores. There was everything you could think of. I saw a lot of Burberry trench coats, leather jackets, fur coats, printed shirts and dresses, cobalt blue workwear jackets, cowboy boots and many more. I would try on anything that caught my eye.
I started embracing Y2K style when I was feeling more confident about my body and my sexuality. I found myself gravitating towards clothes with bold prints, leopards, sparkly surfaces, revealing cuts and flares.
Y2K fashion is all about having a carefree mindset, living your fantasy, showing body and feeling unapologetically sexy.
It takes a certain attitude to wear and own that style. In a way, you don't choose style, style chooses you.  


After I graduated from London in 2017, I went back to China and was totally surprised: I discovered there were so many great vintage stores, sellers and vintage apps in China, especially in Shanghai and Guangzhou. 
Vintage culture is still not mainstream in China. It is not favored in our tradition. Vintage is not widely accepted by older generations like my parents' as secondhand items are considered to bring you bad luck and a sign of lack of wealth. The most common misconceptions about vintage are that they're all from dead people and they're unhygienic.
Vintage and secondhand culture is more accepted and popularized by my generation. We don't have as rigid a value system as our parents. We prefer style and fashion more than anything and we don't mind wearing something that is used. For example, lots of new vintage stores or online shops in China are founded by people in their 20s. 
But vintage is definitely getting bigger in China. Many start by shopping luxury vintage handbags. 
In recent years, Japanese vintage has been a huge trend in China. Chinese vendors often source in Asian countries, especially in Japan, and influencers like Kiko Mizuhara, 犰犰 and 碳酸 are popularizing it. 
Some of my all-time favorite designers and brands are Christian Dior (Galliano era), John Galliano, Jean-Paul Gaultier, Roberto Cavalli, Moschino, Versace, Vivienne Tam, Miss Sixty and Von Dutch. I have been buying these brands for a few years now. 
These brands and their designs from the early 2000s are so sick! There are all kinds of combinations of fun, audacious prints and textures and logos. The fit and cut is so different from the clothes made today.
I feel like those brands really fit my aesthetic. Not everything needs to be a designer item for me, but I think it really does add value.
I also love Japanese brands like Hysteric Glamour, Angel Blue, Comme Des Garcons, D.I.A, and If Six Was Nine. One of my recent obsessions is vintage Courrèges – I love their pastel-colored items, so cute. 
It is interesting how style changes over the years.
I always find style inspiration from the past, the current fashion does not interest me as much.
50-70 % of my wardrobe is vintage. I love collecting special unique pieces, even if I don't get to wear them often, it's just nice to have beautiful things that inspire and ground you.
I also collect pieces with oriental or Asian prints and motifs. I have such an appreciation for my Asian Chinese culture; the aesthetics. What is oriental, what is traditional Chinese – this is something I have been going back to constantly.  It is part of my identity as a Princess of Chinatown."
Follow Qing on Instagram @princessofchinatown