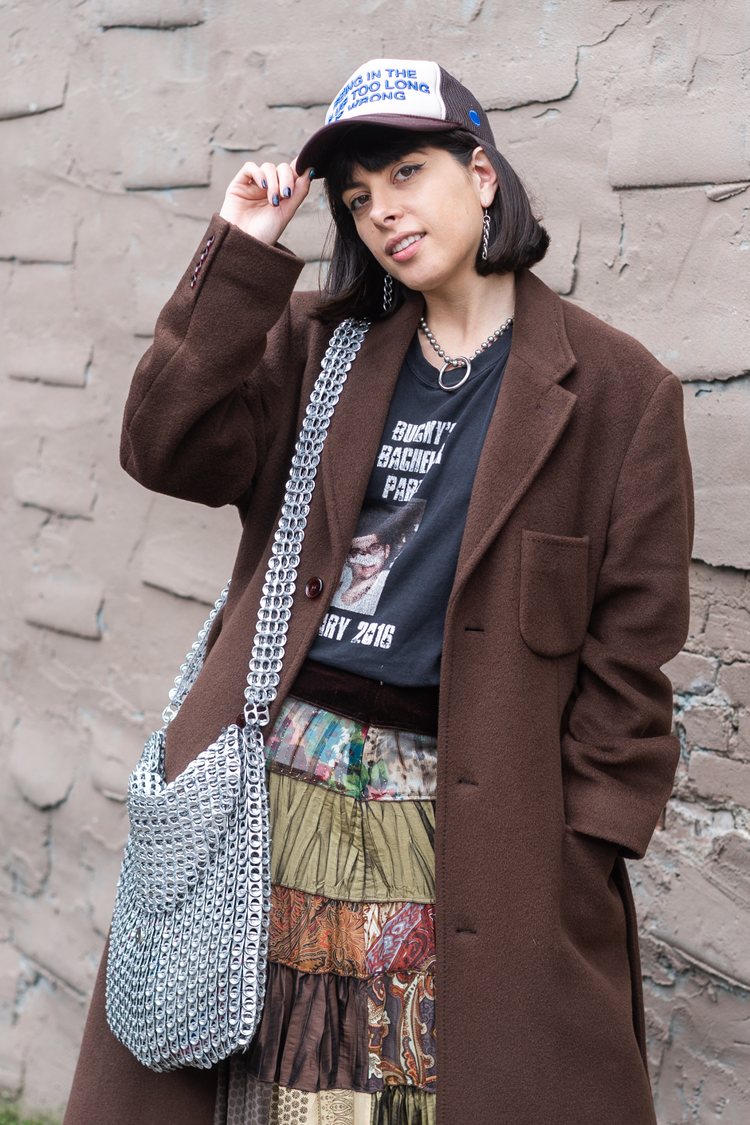 Do Trends Matter? Interview With Agus Panzoni
What are trends, and do they matter in the vintage and resale business? We sat down with Agus Panzoni, a famous TikTok creator and trend forecaster.
Agus Panzoni studied economics in Boston because she was always interested in how the economic cycle affects our choices as consumers and the design choices of the designers.
After graduating in 2018, she started working for a trend forecasting company. During this time, she started thinking about the effect trends can have on the environment. She wanted to bring her skills into the secondhand world so she went to work as a trends spokesperson for a resale company. There she helped to build their trend research division with her colleagues and talk to the media about trends. At the same time, she launched her TikTok which now has over 280k followers.
How do you forecast trends? What kind of tools do you use?
At the resale company, we used a lot of data, constantly analyzing search and demand to see what was trending. I am also constantly consuming research papers and articles on cultural intelligence. It is a lot about pattern recognition – you see something popping up over and over. I am constantly looking for early signals, early adopters, and convergences between different areas of culture.
For example, we are seeing the rise of cartoonish, playful fashion (such as the Big Red Boots and the viral Pasta Puffer). At the same time, comic sans is rising as a trending font, and artists such as Hemlocke Springs are reviving the "awkward" media character. There is a trend there – meta-irony. We are embracing the cringe. It does not matter if you are in the joke or not, we are all just having fun with it!
Can you train your eye to spot trends?
Trend research requires both qualitative and quantitative analysis. It's about constantly looking for qualitative signifiers and training your eye to see patterns, while also doing consumer interviews and analyzing data from different corners of culture (music, fashion, art, media).
But as the topic of trends has become so big, it has risen this trend of 'trend forecasting online' – a person sees something, comes up with a name, and says that there is a 'trend' here: ballet core, vanilla core, coastal grandma are examples.
But oftentimes, there is no cultural element to these 'trends'. They have nothing to do with a mood or sentiment – there is no convergency. Where are these so-called trends coming from? They only exist in the microcosmos of social media. They are not real. They are more like buzzwords. In a recent video, I compared many of the "trends" that originated from TikTok to easily changeable skins like in a video game.
When is a trend a real trend then?
The difference is on the sociological and cultural levels. For example, take the rise of dopamine dressing. It was born during the pandemic when everyone was locked inside and people felt uncertain about the future. During this time of stress, people would wear colorful and playful outfits to make it through the day.
What trends do you see emerging now?
There is a move towards minimalism at the higher end of fashion: quieting down the clothes and emphasizing craftsmanship, tactility, and quality. It aligns with the fact that we are going into a recession: people are looking to buy things that last longer. It is also a reaction to the clickbait fashion we have seen lately. Clickbait fashion is fashion that is made to create a reaction online, loud clothes that often-times lack IRL wearability.
On the other hand, the mass market is championing the aesthetics of chaos, mismatched looks that you can't really categorize. The extreme categorization of fashion has gotten us fatigued. Trends quickly feel outdated – you might as well fight against them and put on whatever! Chaos is in.
How can a vintage seller utilize trend forecasting in their work?
My recommendation for sellers is: to stick to your own taste. Listen to your surroundings but take things with a grain of salt. Don't change your whole strategy or branding because of the trends. If a trend matches your inventory, then go for it.
But regarding the made-up online 'trends', it is a good idea to utilize them as keywords in your listing titles, descriptions, and in marketing. That's what fast fashion is doing. You can compete with fast fashion, and provide people with alternatives, and it helps with SEO. Look at them more like merchandising tools. If they work for you and your brand, then use them.
Which decades should a vintage seller focus on now? Is y2k still trending?
The decades that are coming back now are the 80s, the late 2000s, and the early 2010s. If I were a vintage seller, I would focus on the 80s as the 2010s were already taking influences from the 80s. Last year, we saw an increase in sports-inspired outfits on the runways, indicating the 80s comeback. There were also a lot of anti-establishment rocker looks and corporate looks that also feel 80s related.
It is hard to know when some trending items are peaking and phasing out. For example, I listed my first corset on my online store at the end of 2019, and it sold immediately. Two years later, corsets were everywhere. Now everyone probably has one already. It is important to observe how fast some items are selling and when the sales slow down.
How about trends in the resale industry as a whole?
I am concerned about retail businesses getting into resale for the wrong reasons. I worry fast fashion companies are looking to rewire our brains into thinking that the amount of clothes they are producing is our problem to fix, instead of theirs. The resale programs they are creating oftentimes sound like another way for them to sell us their unsold inventory. These companies have no incentive to be sustainable.
Resellers are doing God's work! They have a massive influence by curating and saving items from landfills! I dream of a future with more independent resellers making fashion circular and less fast-fashion corporations.
Follow Agus Panzoni
@aguspanzoni on Instagram
@thealgorythm on TikTok