people
Discover The Bold Prints and Colors of the 70s
Fashion historian Sara Idacavage demonstrates the diversity of 70s style.
Liisa Jokinen · Feb 25, 2019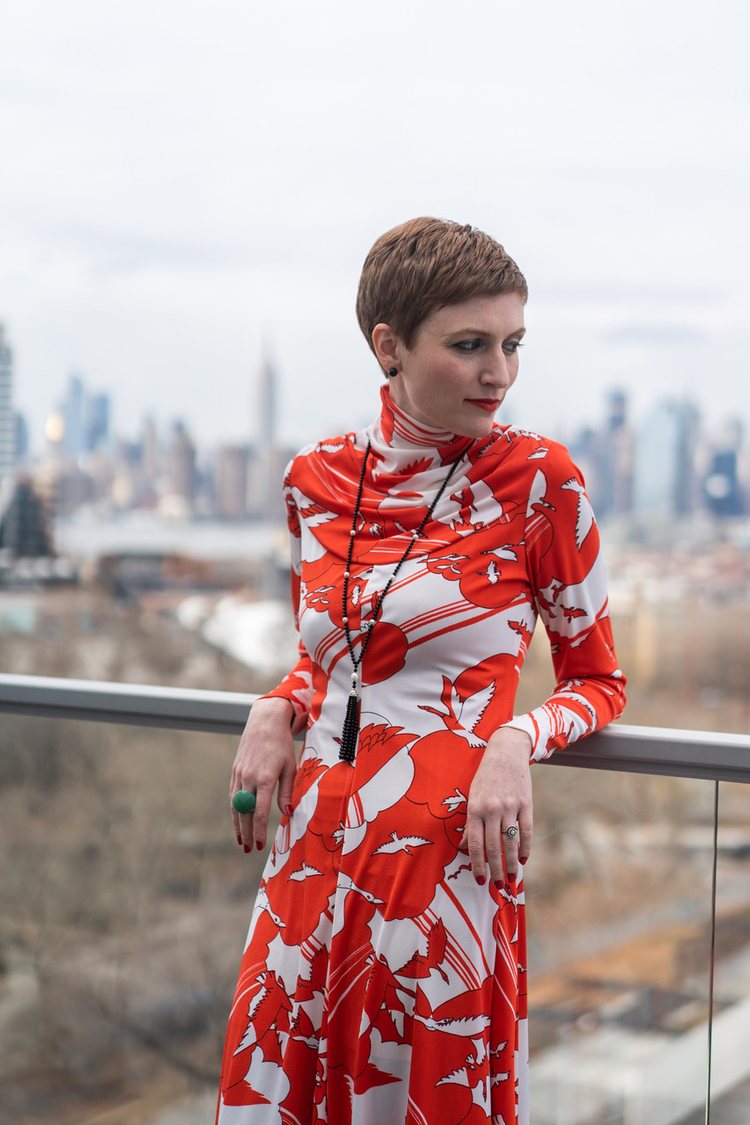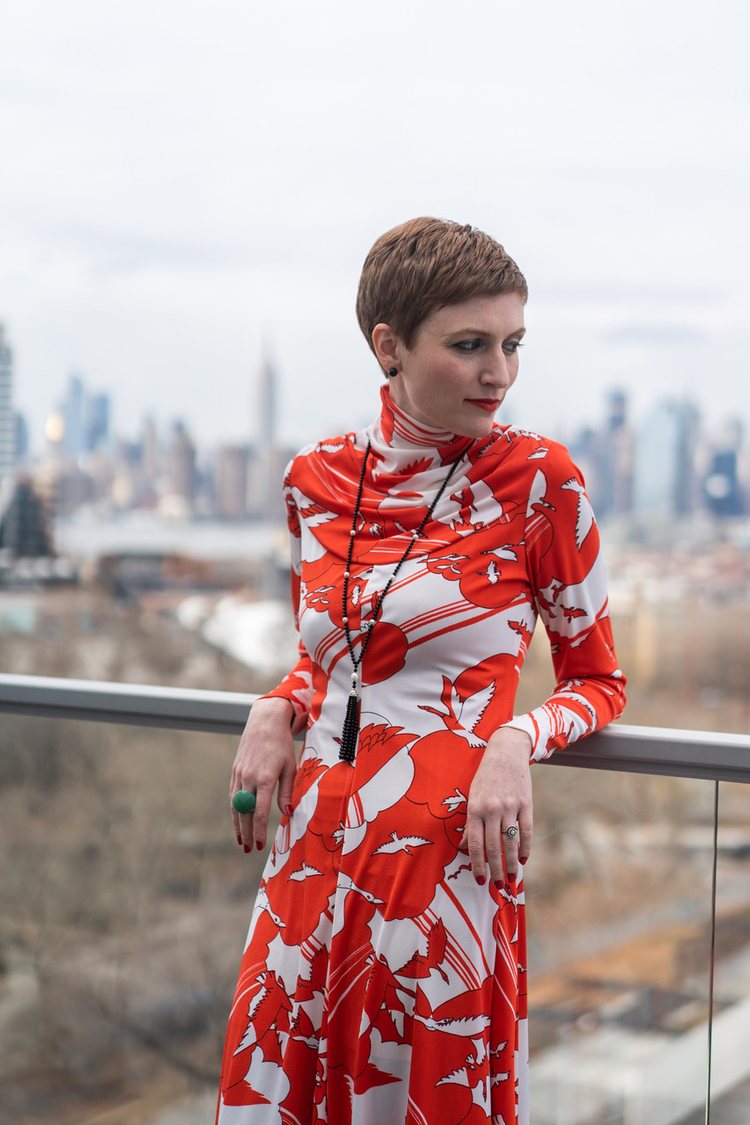 people
Discover The Bold Prints and Colors of the 70s
Fashion historian Sara Idacavage demonstrates the diversity of 70s style.
Liisa Jokinen · Feb 25, 2019

"As a fashion historian, I tend to gravitate towards the 1920s and the 1960s in terms of subject matter and overall aesthetics. But when I buy vintage clothing, it is mostly from the 1970s – something that I wouldn't predict, but it is fully in line with my style as I love crazy bright colors. The synthetic materials being used at the time were able to hold all of those crazy colors and could be very easy to wash.
Today synthetic materials have a bad reputation because they often don't breathe well and can be extremely harmful to the environment.
A big game changer for me was when I learned to wear an undershirt with a vintage dress made from synthetic materials.
It keeps me cool and wicks moisture away from my body. And, as a bonus, you don't have to wash the garment as frequently.
Only after starting to visit the Manhattan Vintage Clothing Show I have had the amount and type of vintage that I have today.
At the show, I can buy many different looks at the same time and I know that they fit me. Many sellers at the show also know me now, and are able to recommend new things.
All the items in the photo above are from the Manhattan Vintage Clothing Show. I was thrilled to discover that the pink floral dress from Metropolis Vintage was designed by Anne Fogarty, a famous American designer who is mostly forgotten today.
She was best known for tight bodices, full skirts, and other ladylike fashions of the 1950s. This dress is much more comfortable, which shows that she had to adapt to the needs and tastes of women in the 1970s.
The citrus colored dress and vest set from Tú Vintage is probably my favorite vintage look of all time. The bright green tropical print set is from Tea Street Vintage.
I get excited by weird and unusual garments like this crazy, extra-terrestrial looking lime green coat from the 1960s, also from Tea Street Vintage's stall at the Manhattan Vintage Clothing Show. To my surprise, the coat felt quite natural on me and is also made extremely well. I wear all of my clothes and don't keep them locked away, so I need them to be built to last.
The 1970s was really the start of the postmodern age, so there were a lot of interesting and different silhouettes that you see in fashion from that time.
Some fashion historians like to call the 70s the "anti-fashion" decade as more and more people refused to follow popular trends and there was less fashion "dictatorship" coming from Paris.
People were more open to experimenting with new looks and constructing their personal identities through clothing, which is pretty much what I do with my own wardrobe on a daily basis.
This art deco inspired dress is by Adele Simpson, who was another successful and prolific American designer in the mid to late 20th century.
You can find a lot of garments from the 1970s that have similar patterns featuring flappers and other art deco fashion motifs, which I totally adore.
The Adele Simpson dress came from Another Man's Treasure and is of much higher quality than other garments that I have with 1920s novelty prints because Adele Simpson was a more high-end ready-to-wear designer.
This velveteen Pucci-esque dress is by an Italian designer named Averardo Bessi and is one of my all-time favorites because it feels like wearing an art piece. I have always been into Emilio Pucci's in-your-face psychedelic prints and colors, and Bessi made very similar designs.
Many designers in the 1960s and 1970s were doing similar prints as Pucci, but the majority of them have been totally forgotten.
It is like Darwinism of fashion; only the strongest fashion houses will survive.
I'm often attracted to lesser-known designers, which can be exciting because sometimes their garments are much more rare.
While I do find a lot of gems shopping at the Manhattan Vintage Clothing Show, many of my best pieces come from Beacon's Closet like this 1960s shift dress. It gives me Lilly Pulitzer vibes, but like so much vintage fashion, it was actually made by a brand who manufactured similar designs and is completely unknown today.
A lot of my 1970s clothes are two-piece sets, which is great as they provide more potential for mixing and matching. This blue knit suit from Metropolis Vintage is fun, comfortable, and empowering.
In the 1970s, it was finally more socially acceptable for women to wear pants thanks in part to second-wave feminism, and I think that spirit rubs off on me when I put the suit on.
The red coat is by Pauline Trigère, a Franco-American designer who made high-end clothes in the mid to late 20th century. It has a label from Lord & Taylor as it used to be common to see a store tag in addition to a designer's own label inside of a garment. I'm totally obsessed with the history of American fashion and department stores, so this coat holds a lot of significance to me.
This Chinese silk jacket was given to me by my husband's aunt Nancy. It belonged to someone in the family. Although it's quite fragile and damaged inside, I still like to wear it with jeans and a t-shirt, mixing old with new.
I like how every single piece in my wardrobe looks different; I'm definitely not a "capsule collection" type of person.
An interesting thing about vintage is that I feel I can wear it both in casual and formal settings.
For example, I have worn this Bessi dress to weddings and at my job; it seems to work in many contexts because it doesn't align with the popular trends of today.
This black 1920s georgette dress I found in Durham North Carolina at a shop called Dolly's Vintage when I was there for a wedding.
The seller told me that the dress belonged to Martha Stewart once, but who knows? It does imbue the garment with an interesting story, which I like.
This sleeveless silk kimono is another find from the Manhattan Vintage Show from a seller named Phenix Vintage. I like being able to wear bright, flowing garments like this when I teach because it's comfortable and versatile. The key is to layer it on top of simple outfits, like a solid black dress.
The more I learn about fashion history, the more I appreciate vintage. But it is both a blessing and a curse.
I can get choosy while shopping because I know when items are overpriced. At the same time, I know that the value of any garment is completely relative based on my experience working in museums and archives, and I respect that vintage sellers need to make money in order to make a living."