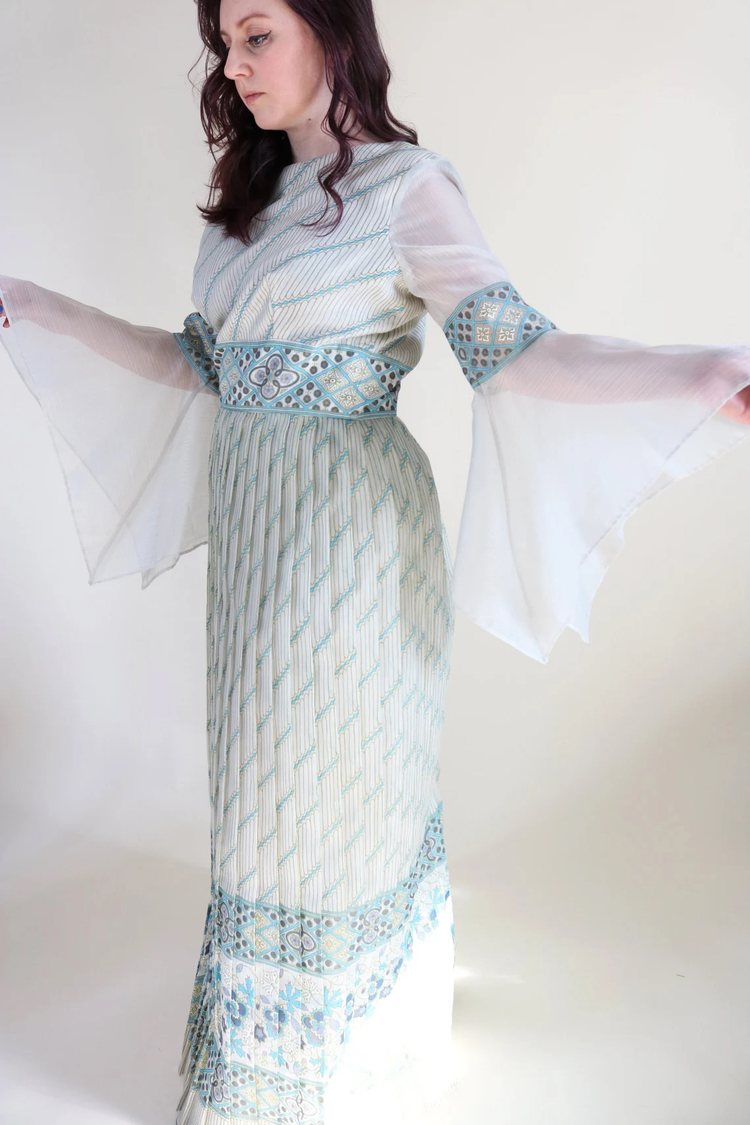 Do you know the difference between a bishop sleeve and a lantern sleeve? Is batman the same as dolman sleeve? This article helps you identify, list, and shop garments with statement sleeves.
Whether you are listing vintage for your store or shopping for yourself, it is good to know the differences between different types of sleeves. The differences between the different sleeve types can be subtle, and the terms are often used interchangeably – the more reasons to study the sleeves and learn the terms!
In this article, we take a closer look at six types of sleeves, their origins, and specifics. We also asked some vintage sellers for their advice and tips on identifying and wearing vintage garments with special sleeves.
Bell sleeve
As the name indicates, the bell sleeve's shape resembles a bell: bell sleeves flare towards the bottom. They can be short and end up above the elbow, or reach all the way to the wrist. Bell sleeves do not have pleating or shirring.
Bell sleeves originated in the Medieval times when clergymen used to wear robes with bell-shaped sleeves. Gradually the upper class adopted the fashion and made the sleeves more dramatic and eye-popping. Bell sleeves became popular in the 70s when loose and flowy clothes gained a foothold. 70s peasant dresses and caftans had often wide bell sleeves and interestingly, also the pants started to resemble bells in the 70s (think bell bottoms!).
"As an editorial stylist specializing in vintage, I gravitate towards pieces that create eccentric, high-drama silhouettes – 70s cotton maxi dresses (with bell sleeves) achieve this effect beautifully!" says Hannah Englehart of Lobstergarden.
"My go-to weekend outfit is pairing my favorite pleated, gauzy cotton bell-sleeved top with a tight midi denim skirt, Big Yank elephant leg pants, and wood bottom red leather strappy sandals."
Leg-of-mutton sleeve
Leg-of-mutton sleeves, also called gigot sleeves, first appeared in the 1830s. They are gathered and puffed by the shoulder and upper arm, and fitted on the forearm. The name 'Gigot' comes from the French word for the back leg of a meat animal, thus 'leg-of-mutton'.
"Leg-of-mutton sleeves had their biggest popularity in the 1890s – these sleeves were often padded out or stuffed with tulle or fabric to make them extra stiff. They saw a brief resurgence in the 1930s, though these sleeves were often more flowy, and less stiff. They came back into fashion in a big way in the late 1970s-1980s. Many 1980s dresses will pair a leg-of-mutton sleeve with a peplum at the waist", says Eva Elarbee of Lacey Layers.
Elarbee enjoys wearing leg-of-mutton sleeves as they have great movement and give a garment a romantic, vintage feel.
These elaborate sleeves have only one downside, she points out. "These sleeves can be difficult to iron, so steaming them is the two way to go."
Juliet sleeve
Juliet sleeve is almost identical to leg-of-mutton sleeve – they both have a puffy upper arm and tight lower arm. The difference between these two sleeves is that the juliet sleeve is made of two parts; there is a seam between the puffy upper part and the lower arm, and the transition from the upper part to the lower part is abrupt.
Bishop sleeve
Bishop sleeves gradually balloon out as they reach the elbow area, usually tapering in at the wrist. They have been in fashion multiple times since their first appearance in the 6th century.
"The bishop sleeve was first seen on Byzantine bishops' traditional garments, hence the name bishop sleeve. They became much more popular in everyday dress at the beginning of the 19th century. A full bishop sleeve was popular in the 1850s and a smaller version was popular in the 1890s. The sleeve became popular again in the 1930s and 1940s fashion of Hollywood, and was popularized once again in the 1960s and 1970s with the introduction of hippy and peasant fashion. The bishop sleeve is still trendy today and is commonly used in dresses and blouses to create a voluminous statement look", explains Valerie Sklar of Selected by Berman.
Lantern sleeve
A lantern sleeve's shape resembles a lantern or an inverted cone: They are characterized by their fullness from the shoulder to the elbow, gradually tapering down to a fitted cuff at the wrist.
Lantern sleeves can easily be mixed up with bishop sleeves but whereas lantern sleeves are more full from their top part, bishop sleeves are full throughout the entire length, from the shoulder to the wrist. Bishop sleeves are also typically longer than lantern sleeves, extending beyond the wrist, and may have a cuff or elastic gathering at the wrist to create a billowing effect.
"Lantern sleeves are simultaneously sleek and dramatic", says Shannon Ames-Letizi of Fieldwork Vintage.
Lantern sleeves were popular in the 1930s and early 40s, says Ames-Letizi.
"I most associate lantern sleeves with some of the more elegant/mature looks of the late 1930s and early 40s, rendered in silk or rayon satin and velvet."
McGee reminds to check the measurements carefully when shopping for special-sleeved garments online.
"When shopping for vintage online, make a note of whether or not the binding for a gathered sleeve is elastic or static. Elastic – in good condition – is flexible and will work for most. Sleeves with static binding may be too snug at your bicep or forearm, so it's a good idea to check that measurement! And for gathered sleeves that are bound at the wrist, check that cuffs can be opened via button or snap, otherwise you may not be able to get your hands through (if they don't open, double check the measurement!)"
Dolman sleeve
One could say that dolman sleeve is not a sleeve at all – it is part of the garment body and there is no seam between the body and the sleeve. Hence, the dolman sleeve has a huge amount of fabric and allows a lot of movement. (In contrast, a batman sleeve is made of a separate piece of fabric.)
Dolman sleeves were first popular in the 1850s and 1860s when women's fashion embraced a silhouette with wide, sloping shoulders and a narrow waist. Dolman sleeves, with their wide and flowing shape, contributed to this desired silhouette. The second time the dolman sleeves were fashionable was in the 70s.