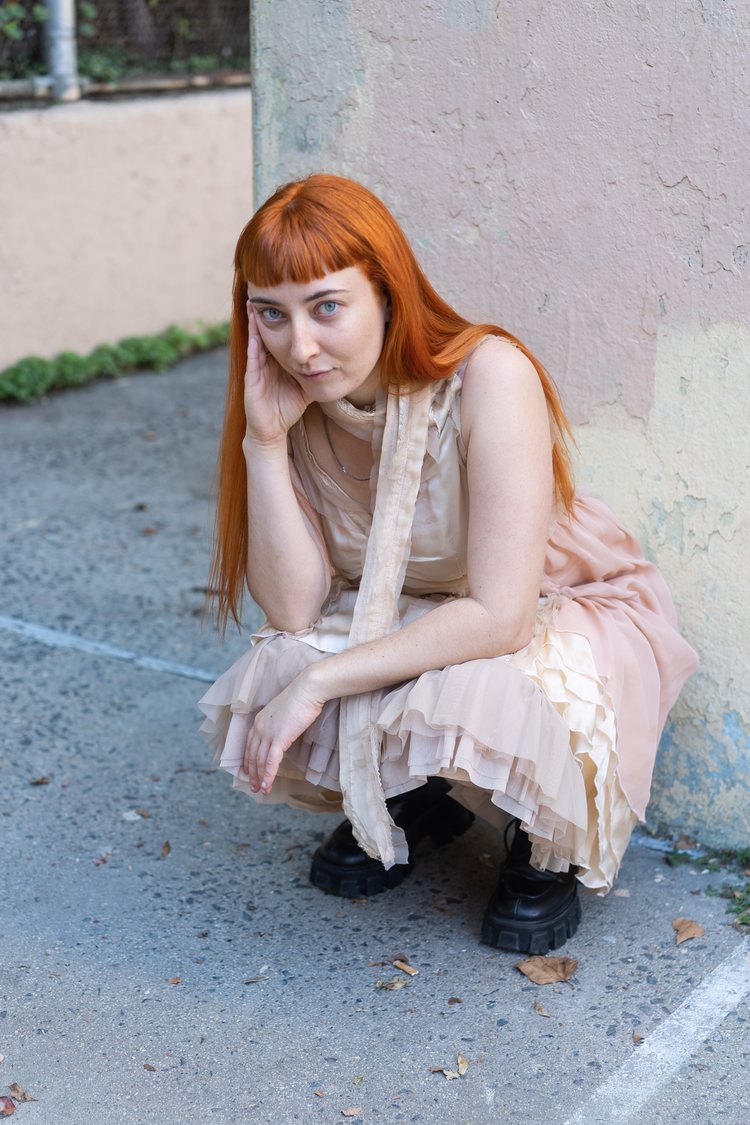 collecting
Collecting Vintage Undercover – Meet Arianna Aviram
New Yorker Arianna Aviram scours the internet to find secondhand items from her beloved Japanese label Undercover.
"I started seriously collecting Undercover in 2016. I had known about the brand and had a deep fascination with the founder Jun Takahashi's attention to detail, technical skills, and references.
I myself was a huge music nerd and it really shaped my style. I saw this parallel between me and Takahashi. He often uses music as a reference in his work. In a literal sense, his graphics depict specific musicians like CAN, Television, The Talking Heads, Bill Evans, to name a few. Patti Smith has been an influence for the AW04 collection called But Beautiful and the lightning bolt embroidered on the knee of all Undercover pants is an homage to Smith's own tattoo. And on a more conceptual level, the SS06 T collection creates imagined band merchandise for German Progressive rock bands that never existed.
These references especially resonated with me, as I have been an avid listener of many of these bands. Before I had an interest in fashion, I was delving through the internet to learn the history of music, with a strong emphasis on rock music. These interests later transformed into my passion for fashion, and I felt aligned with brands that had a strong relationship between music and clothing.
I'm fascinated by how Takahashi's brain works. He creates so many juxtapositions – feminine silhouettes, a slew of fabrics, intricate textures, art and music allusions (later these allusions become more literal) from such a de- and reconstructed approach. Takahashi will layer two shirts on top of one another, slash it through the center, drape it, and give it an A-line shape. At first glance, it seems like a punk DIY type of aesthetic, but upon deeper inspection, it is so much more than that.
I think the first Undercover piece I bought was a tank top from the AW2000 Melting Pot collection. The top was filled with large brown polka dots, and one half was adorned with a layer of mesh. The back of it featured a scalloped hem – the scallops on the mesh side were brown polka dots, and the scallops on the polka dot side, featured the mesh covered one. Ironically, I never thought I loved polka dots, yet one of my most worn pieces now is this polka dot look from SS04 Languid collection.
It's hard to say what my favorite Undercover collection is because I am so fond of so much of Jun's work. I've felt the most kinship to Languid SS04, as it is really what got me into Undercover and the idea of the contrast between the familiar and distorted has always interested me.
The top is the look 3 from Undercover SS06 collection, and the t-shirt and the pants are look 6 from SS05 collection called 'But Beautiful Homage to Jan Svankmajer'.
Since I was in high school, I was a big fan of the film maker Jan Svankmajer, even to the point of showing all my friends his film, Alice. When I found out that Jun's collection referenced this filmmaker's work, I was really obsessed and look EVERYWHERE for it on the internet.
Both the top and skirt are from the same Jan Svankmajer collection. The underlayer is a commercialized version of Look 12, and the top layer with the teeth is Look 25. I am really obsessed with the quirky concept of the teeth motif as a design element, and have four pieces featuring them! The teeth themselves are grotesque but the garments they were embellished with are very feminine and filled with lace and scalloping.
I rarely get inspired by other people's styling, as I've always had a very strong sense of personal style. But one day, I was perusing Fruits Magazine and saw a woman dressed in Undercover. She was wearing this particular dress, and I was completely influenced to find it. At one point, I was thinking of giving up, but then, magically, this dress was on the last page of my internet search – another true coincidence! The dress is Look 23 from AW04, But Beautiful.
Boots are a part of the SS04 collection called Languid. As Languid was the first collection that got me HOOKED onto Undercover, owning these boots was a MUST. I had been constantly looking for them, but could never find them in my size. I had the idea to check all of Google for them, and sadly found a pair that had sold in New Zealand. I was really sad because this was the first time I actually saw them in my size. I rarely use Depop, but thought why not check the international section and to my surprise, someone was selling them in Australia! Coincidentally, she had bought the pair I saw earlier from the store in NZ and I bought the boots from her.
The sunglasses are from the Undercover store in Aoyama, Tokyo. I purchased them in 2017. The glove bag is from the look 12 from SS07, Purple.
Both dresses are Look 10 from Undercover SS04, Languid. A fun fact – the dress I am wearing I found on eBay in 2016 for $50 and it is still my favorite dress I own!
I love that certain Takahashi collections have specific tags noting the name of the collection. SS2004 tags even have a freehand drawing on them.
This dress is Look 14 from AW06, Guru Guru. On the runway, it was shown in black, but the top version was shown in the color I am wearing. I have both the top and dress in the reverse runway colors.
The jacket is also from the Guru Guru collection. I love the versatility of this piece. You can unhook the center of the garment, wrap it around the neck and hide all of the frills and hooks.
Overall, Guru Guru is one of my favorite collections because of the amount of versatility in the pieces, and blending two opposing concepts was significant and remarkable. In this collection, models walked down the runway with their faces completely covered, so we were forced to pay attention to the subversive nature of the clothing. Each piece had multiple ways of wearing them! This anonymity made the collection even more unique.
Undercover prices have definitely fluctuated in the last 7 years. The brand is really popular amongst men and the Grailed community; especially the distressed 68 and 85 denim, hybrid jeans, graphic tees (which are one of the main pillars of Undercover), but womenswear is generally less sought after. Pieces from certain collections like Scab, Guru Guru or But Beautiful have certainly raised in price, but the thrill of finding these sought after pieces is kind of what makes it exciting to collect it.
When I was younger, I found this SS04 dress in yellow, but it didn't fit me, so I had to resell it. Years later, I mentioned it was one of my biggest fashion regrets, but randomly I saw it online in black (the runway color) for 1/2 the price. It was meant to be.
Being fascinated with specific collections, I will always continue to search for specific looks. I get especially excited when I see a piece that I've never seen sold before on a very random nondescript listing.
Although Undercover has such a heavy presence within men's fashion, there are many critical and academic writings about Jun's work, especially after he began showing during Paris Fashion Week – even one piece written by Robin Givhan earned her the Pulitzer prize."