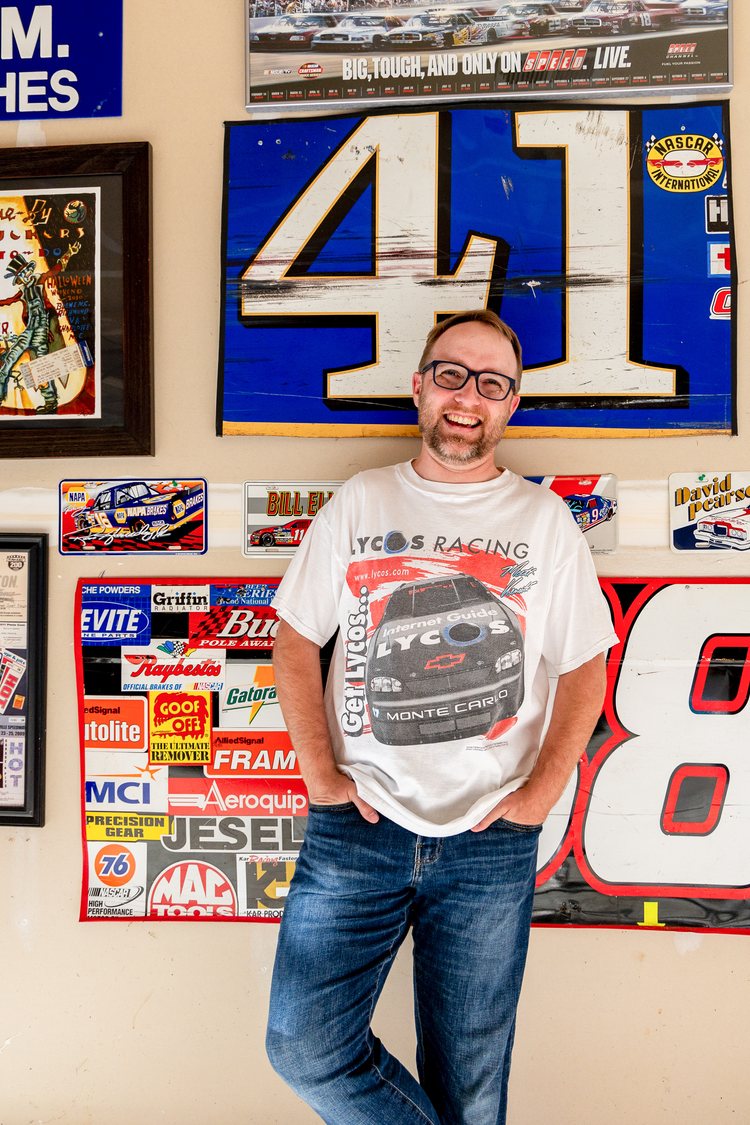 Adam Fenwick lives his childroom dream working for Nascar as a part of company's editorial team. Not sursprisingly, he is also an avid collector of vintage race t-shirts.
"When I was in high school, my dad gave me a vintage Bill Elliott t-shirt that was made when he broke the all-time Nascar speed record in the 1980s. Like my dad, I was a huge Bill Elliott fan back then, so I was excited to have it. I ultimately wore that shirt so much that I killed it and had to get rid of it. I always remembered that shirt and wanted another one, but didn't know how to find another. One day about five to six years ago I was on Twitter (X) and someone shared a post from someone who has since become a friend, Brent Wentz, who had one he was selling. I messaged him and bought that shirt from him. That purchase set off a passion for vintage racing shirts that continues to this day.
My collection isn't limited to just Nascar shirts. I love shirts from all forms of racing. I have shirts from drag racing and dirt racing as well. If a shirt has a race car on it and I think it's cool, then I'll probably want to buy it.
I have a couple of old trophies as décor in my home office and my garage is covered in posters, pictures and pieces off of actual race cars. When my wife and I bought our house one of my goals was to cover the entire garage in race used memorabilia. I'm happy to say I've succeeded!
I just counted all of my shirts and I'm up to 170 with a few more on the way. The collection has taken over the entire closet in my home office and I'm quickly running out of space. Thankfully we have another closet in our guest bedroom that's basically empty that I can take over. Just don't tell my wife!
Bill Elliott set a lot of records in Nascar during the 1980s. One of the biggest was becoming the first driver to win the Winston Million, a $1 million bonus offered by Winston Cigarettes to any driver who can win three of the four biggest races held each year. There were a lot of shirts made to celebrate this achievement, but this is by far my favorite. My friend Josh from MotorTs on Etsy made me aware that it existed and I eventually found one in my size on eBay.
Josh's store is one of my favorite sellers, the other one is Dayz Gone By Vintage, which is run by my friend Brent Wentz.
I have a handful of shirts that I call my Holy Grail shirts. Until recently, this was one of them. I became a Matt Kenseth fan in 1998 when he kind of appeared out of nowhere and won three races in what was then the Nascar Busch Series. His sponsor was Lycos, a long forgotten internet search engine. They didn't make many shirts with this particular car on it, in fact I've only seen two designs, this being one of them. I'd seen a few of them, but only recently found one in my size on Mercari. Cross one off the list.
Selling apps like Mercari or Depop are great because sometimes people will list shirts and not realize who or what they are and the price will reflect that and you can get a great deal. Gem is fantastic too since it allows you to search multiple apps at once. I just bought a shirt on Poshmark that I found on Gem that I never would have seen otherwise.
I have no less than seven shopping apps on my phone that I check throughout the day for new shirt listings. It's almost like a scavenger hunt. You've got to be on top of things because you never know when a great deal will come up for a shirt you've been looking for.
Dick Trickle never enjoyed the success in Nascar that he probably deserved, but Dick Trickle was one of the greatest short track drivers of all time. Yes, that's his real name. He was a favorite of ESPN anchors Ken Olberman and Dan Patrick, who would always be sure to announce where he finished on SportsCenter. This shirt is from one of his Nascar opportunities with Bud Moore Engineering. I got it from my friend Brent Wentz at Dayz Gone By Vintage. I just love the colors on this shirt, it's one of my favorites and I wear it often.
There is no such thing as too big or too small when it comes to collecting shirts. If you've got five or six shirts that you love and that makes you happy, then that's fantastic! I've got way more than that, more than I can wear, but I love the hunt and the excitement of finding something new.
If you're a Nascar fan, then you've seen Days of Thunder. Even if you're not a Nascar fan then you've probably seen it. Because of the pop culture significance, Days of Thunder shirts are incredibly hard to find and incredibly expensive. I'm extremely lucky to own three. This one I purchased as part of a bundle from a seller on Mercari alongside another Days of Thunder shirt. This shirt is always a conversation starter.
Two things I've run into with older racing shirts is they often smell of smoke or are stained from storage or use. These issues are pretty common. To get rid of the smoke, I usually wash and then air dry my shirt outside. The fresh air helps air out the clothing and gets rid of the bad smell. For the staining, get yourself a bucket and fill it with 3 to 4 inches of cold water, then half a cup of bleach. Soak your shirt in there for about 30 minutes then put it immediately in a washing machine with cold water. It doesn't always work, but I'd say eight times out of 10 the shirt will come out brighter than it went in and it won't hurt the design on the shirt. Obviously only do this with white shirts. I wouldn't recommend doing it with ringer shirts (shirts with a colored ring around the collar and ends of the sleeves).
I was born in Flemington, New Jersey, right down the street from a race track called Flemington Speedway. We moved away when I was three years old, so I never got to see a race there and it later was demolished in order to build a Walmart. As a result, I am always looking for any Flemington Speedway shirts, hats or sweatshirts that I can find. This sweatshirt is one of my favorites. I found this and another one from Flemington on Depop.
If I buy a shirt, I buy it with the 100% intention of wearing it. Otherwise I look at it as a waste of money. What's the point of having these awesome shirts if you don't get to wear them and show them off?
You're not a vintage Nascar shirt collector if you don't have a Dale Earnhardt shirt. This is actually a recent addition to my collection after previously having one of these shirts a few years ago. I sold the last one because it was a bit too small and I always wanted to replace it. I found this one locally from a vintage reseller called the WNW Warehouse.
When I started collecting, I feel like it was more of a niche item in the vintage world. Only people who really knew what they were looking for would be buying stuff. Now I can go for a walk in my local mall and pass six or seven people wearing an old Dale Earnhardt or Jeff Gordon shirt. These are teenagers or young adults typically who probably have no idea who these people are, they just think the shirt is cool, which is amazing. You can even see celebrities wearing older racing shirts, which is so cool."
Follow Adam on Instagram @vintageracingshirts