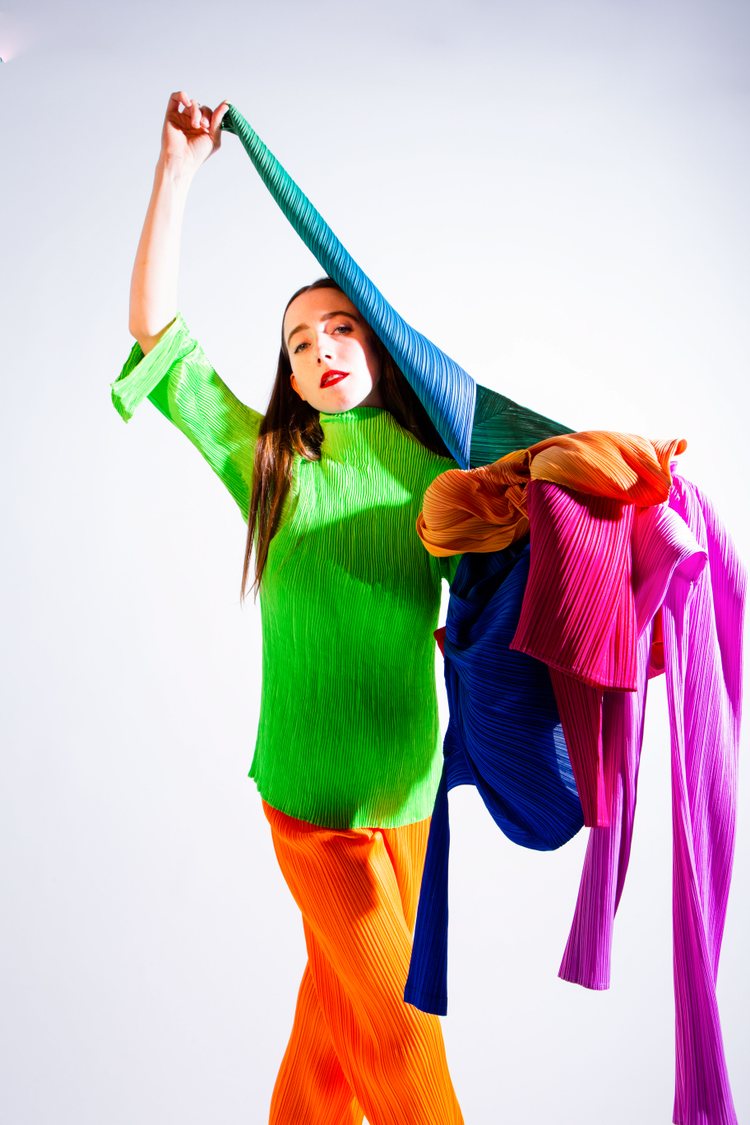 collecting
Collecting Pleats Please
Farr Bryant, 31, started collecting Issey Miyake's Pleats Please in 2013. Where does she find her best deals and why should everyone own a Pleats Please piece?
"I started collecting Issey Miyake and, more specifically, Pleats Please when I was living in NYC in 2013.
It was New Year's Eve that year and I was trying to find a last-minute outfit for that night. I went into the vintage shop Amarcord, which my older brother had introduced me to. He is a big Japanophile and had taken me there a year or so earlier because he knew as a fashion freak, I would love it. There were pieces by designers I already knew and loved, but my brother introduced me to various Japanese designers the shop carried which were totally new to me, like Yohji Yamamoto, Rei Kawakubo, Kansai Yamamoto, and of course, Issey.
This particular occasion, I was there with my little brother and as I was browsing the racks, something immediately caught my attention: a crimson red, slightly iridescent two-piece turtleneck and skirt Pleats Please set! It hung so sculpturally on the hanger that I had to see what it looked like on. When I came out of the dressing room even my fashion-adversed little brother was like, "Wow that's cool!" And so the collection began.
I love that Pleats Please works within so many different aesthetics; you can be a minimalist or a maximalist while wearing it. Color is absolutely vital to me, so I try to wear as much of it as I can. With Pleats Please I can layer vibrant colors and patterns on top of each other and look sophisticated, avant-garde, maybe even a little over the top, but all the while feeling like my truest self. The brand also works so well within a very austere, minimalistic, modern aesthetic with their neutral-hued classics.
Additionally, I love that it is so inclusive. It's ageless, it's genderless, and the stretch of the fabric and use of elastic instead of a fixed waistband makes it more size-inclusive. Literally any-body could wear Pleats Please!
I have a soft spot for the ombré gradient pieces from the AW2001 collection. I have a couple pieces already but every time I see a new one they really pull on my heart strings. There is a purple, teal and pink gradient raincoat from that season that I've been on the hunt for!
Issey's SS1995 collection is also a real favorite. The runway video is one of the greatest things ever – the bouncing of all the minaret dresses brings me such joy and reminds me that fashion shouldn't be serious. It should be beautiful, yes, but more importantly, it should be fun. Oooh and I also love the roulette print pieces. Fashion can be a gamble, after all!
I started off wearing my Pleats Please mixed with other items from my closet but as my collection grew, I found I feel most myself and energetic when I'm wearing a full head-to-toe Pleats Please look. I feel like if you are a beginner, throwing on some pants or a turtleneck is the easiest way to incorporate it into your wardrobe but I like to go for a real punch in the face of color and texture, so for me the full look is where it's at!
eBay has absolutely been a steadfast source of Pleats Please for me. I think the price point is the best there. There are so many dealers from Japan that literally just source and sell Issey and I find they have a fairly consistent inflow of product. Shipping can get expensive but I've always found these dealers to keep really good care of the pieces they have so the condition is always great and they arrive very quickly. I also have had luck on Grailed – a few very special pieces have come from there that were insane deals. I feel like sometimes more 'feminine' pieces can be overlooked on that site as it is primarily aimed at men.
Of all the physical stores, I think James Veloria in NYC has very affordable prices for Issey and Pleats Please. Also, Garment in Austin, TX, has just acquired of a 200-piece collection of Issey Miyake, so keep an eye out for that!
Yet another reason to fall in love with Pleats Please is that the care is so minimal. I just throw them in a cold wash with the rest of my clothes and let them hang dry. They are also the easiest thing to pack as they don't wrinkle and take up practically no space. They are always the first thing I pack when I'm traveling. For storage, I hang my Pleats Please pieces up in my closet to keep them all organized. The colors and textures look insanely beautiful side by side so it's always a nice visual treat every time I walk into my closet.
I am always on the lookout for special Pleats Please pieces to add to my collection. Two items which I've been on the hunt for and are more achievable goals are:
A top to match my pink, green and brown striped pants. I called them my watermelon pants. I've only ever seen one person with a button up cardigan that had the exact same print but I know there must be more out there.
And then there is this long tank dress that has 1994 graphically printed across the bust. I've seen it a couple of times and always regret not buying it. It reminds me of this sweatshirt Edina Monsoon wears to 'go running' in Absolutely Fabulous. Her sweatshirt similarly has 1992 graphically printed across it. If you love fashion and you haven't watched this show run, don't walk.
And then a pipe dream goal would be to find The Flying Saucer Dress. I want to be married or buried in that dress, doesn't matter which.
I think some people can be narrow minded about vintage clothes and write them off completely because the clothing is "used" and they have this idea that that somehow translates to dirty or gross. I think that is so silly. Sure some pieces are, but also a lot of these clothes have lasted so long because not only are they well made but they also have been looked after and cherished by their past owner(s). We all know that the fashion industry creates an insane amount of waste so shopping vintage and second hand is very important. Also there is so much history in a second hand item and what is cooler than wearing a little piece of history?
For me, Pleats Please is timeless – the use of the pioneering pleat technology, durable yet aesthetic material, the bold silhouettes, and the simple fact that the pieces look the same as they did 20 or almost 30 years ago – to me that is a telltale sign of good design. You don't need to reinvent something again and again when it is such a good design to begin with."
Follow Farr on Instagram @farrbryant
Cover photo by @heyjinnij