collecting
Collecting Gunne Sax
Gunne Sax must be one of the most loved vintage brands, and more actual than ever thanks to the prairie dress craze started by Batsheva. We asked three Gunne lovers why this brand is so special to them.
Liisa Jokinen · Jan 5, 2021
Cover photo: Kerys Evans for Prolific Quarterly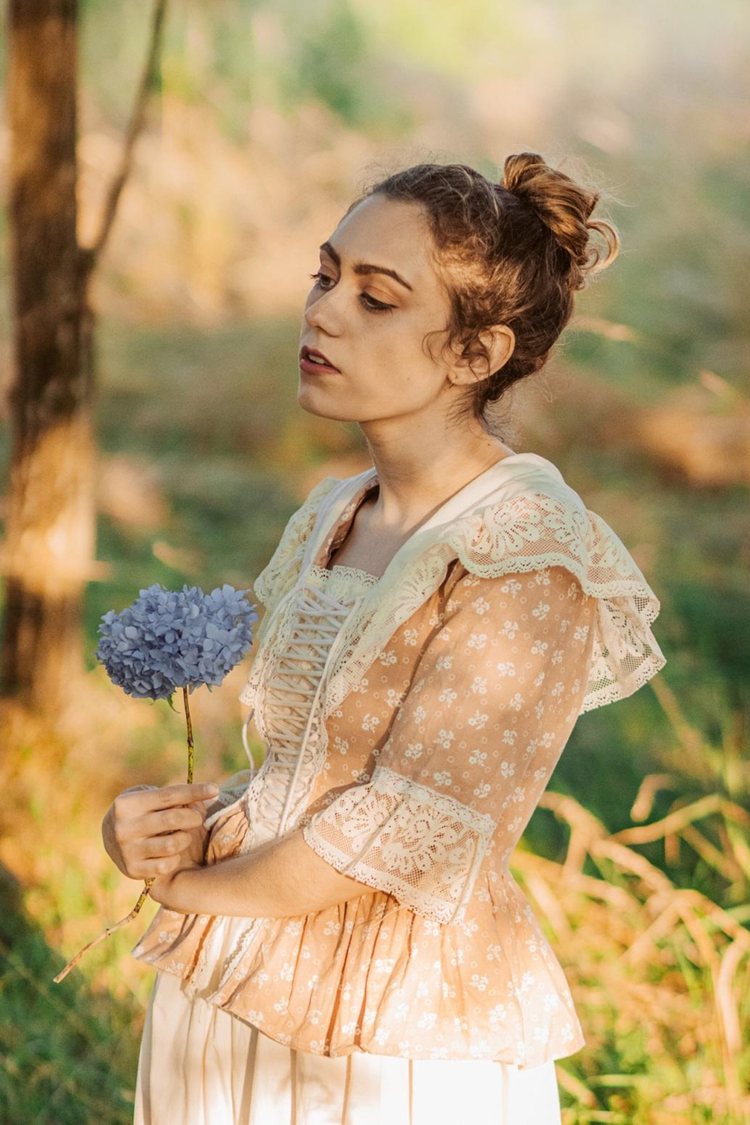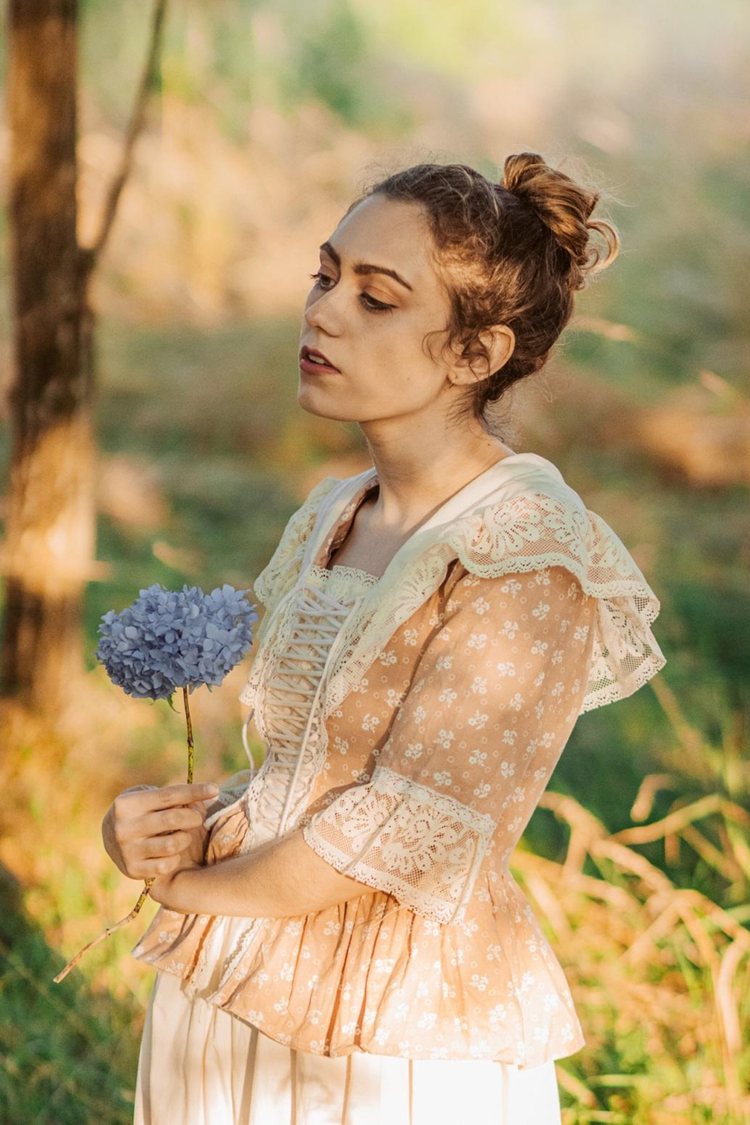 collecting
Collecting Gunne Sax
Gunne Sax must be one of the most loved vintage brands, and more actual than ever thanks to the prairie dress craze started by Batsheva. We asked three Gunne lovers why this brand is so special to them.
Liisa Jokinen · Jan 5, 2021
Cover photo: Kerys Evans for Prolific Quarterly
Carol Miller and Elanor Bailey launched the Gunne Sax label in San Francisco in 1967. Their vision was to create "sexy gunny sack" dresses – thus the name Gunne Sax. In 1969, Jessica McClintock bought out the label and began creating her own designs.
McClintock's acquisition of the Gunne Sax label came at a very opportune time, as the 1970s was the heyday of the prairie dress revival. Women across America were channeling their inner Laura Ingalls Wilder for proms, formals, graduations, bridesmaid dresses, and even wedding dresses – the most famous case being Hillary Rodham Clinton.
Now the brand is more popular than ever before. We interviewed three collectors to find out why.
Rie Izuka
Japanese Rie Iizuka 31, is a postdoc researcher in philosophy who fell in love with Gunne Sax 10 years ago and recently wore one in her wedding photos.
"In my early 20s, I moved to an area of Tokyo full of vintage shops called Shimokitazawa and got hooked on Western vintage dresses. Initially, I adored the 50s, but my taste gradually moved towards the 70s.
My grad school did not offer me a designated desk so I was studying in a cafe in the area every day. When I got bored of studying, I often went for a walk and stopped by in vintage shops. I cannot recall where and when I got my first Gunne Sax dress, but by visiting vintage shops fairly often, I gradually developed my obsession with Gunne Sax.
Gunne Sax has all the elements I adore in dresses: floral prints, vibrant colors, a particular silhouette (fitted waists and full skirts), folk dress vibes.
Gunne Sax is relatively well-known by vintage fans in Japan. This is due to a couple of reasons: first of all, American vintage has been popular in Japan since the 80s. There's no place like Koenji, an area in Tokyo with hundreds of American vintage shops.
Secondly, from the late 2000s to the early 2010s, Gunne Sax was popular among Japanese vintage collectors due to the Mori Kei trend; a trend inspired by living in the forest, somewhat similar to cottagecore.
During this time period, Gunne Sax was more sought after by vintage buyers, and hence, Japanese vintage dealers must have actively sourced it from the US.
Japanese Lolita fashion community contributes to Gunne Sax's popularity, too. Some Lolita fans collect Gunne Sax, especially the wedding dress line.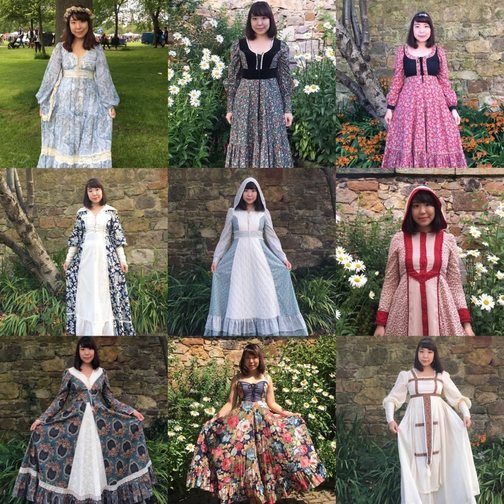 Now in 2020, Gunne Sax is highly sought after by international collectors and it's getting increasingly difficult to find one in Japan (or, I'd say, everywhere). I use Gem notifications, so my morning routine is to check a message from Gem to see what's the newest Gunne Sax listings.
I reckon that vintage is getting more and more popular in other Asian countries for the past few years. I see growing interests in Gunne Sax by Thai, Korean, and Chinese buyers, for instance.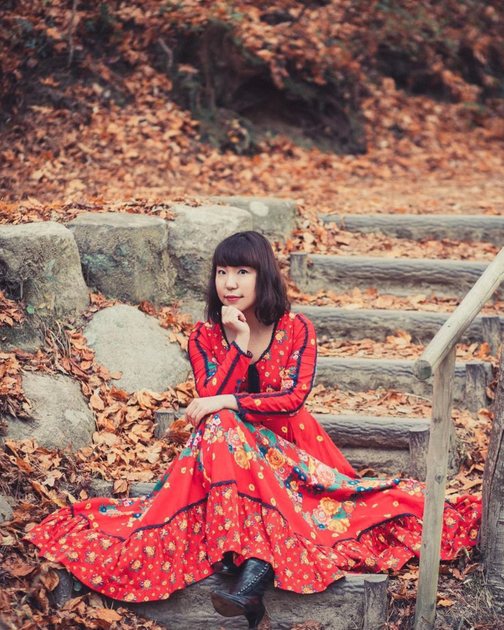 I had been looking for my ultimate dream dress for 5 years, but thanks to the help of a fellow Gunne Sax collector, I finally found the dress this summer and wore it in my wedding photoshoot last December.
I enjoy the dual nature of Gunne Sax: on one hand, Gunne Sax is so distinctly "gunne sax", all the dresses have something in common and are easily recognizable. On the other hand, Gunne Sax dresses are so diverse and come with a lot of different fashion elements. Many are heavily influenced by prairie/Victorian/Edwardian dresses. Some are very hippie and going along with the 60-70s trend back then. Some are similar to dirndl dresses.
Gunne Sax prints are also diverse. Floral prints are iconic, I have to say. Some prints remind me of the arts and crafts movement and some are Asian- themed – perhaps because an Asian American designer Gei Chan was a designer of Gunne Sax in the 70s.
I have about 100 Gunne Sax dresses and each of them is different, but they all have something in common. You can tell they are all Gunne Sax."
Jayde Rankin
Model Jayde Rankin started her Gunne Sax Addicts Instagram after being inspired by an inclusive Gunne Sax group she was a part of on Facebook.
"At the time, there was one other Gunne Sax shoutout style Instagram account, but I noticed they lacked diversity; they were only posting girls who were young, white, and roughly around the same geographical location. I knew I wanted to be inclusive of anyone and everyone who loved this brand. The Facebook group includes people of all ages and ethnicities. I wanted that to be carried onto another platform and decided to launch the account in December of 2019."
"I have always been into vintage and would wear my mom's old clothes from her childhood in elementary school. I refound my love with vintage when I was 15-16 years old and started buying vintage clothes again. My mom encouraged me to buy a Gunne Sax dress since she used to wear them and grew up taking family road trips to the outlet in SF to get dresses.
After I bought my first one I slowly got around 10 within a matter of months, from there I realized I loved how comfortable they were and how diverse their styles were. Now I have 55 dresses, seven skirts, two blouses, and two jackets which I typically wear 1-3 times a week."
"Gunne Sax is a very unique and interesting label.
I have a theory that there is a Gunne style for everyone since they really do have a little bit of everything.
I also love the fact that they look really nice and put together while still being comfortable. Many vintage styles and fabrics don't have that same level of comfort.
"Gunne Sax pieces are special because they fit my personality and style, I love dressing up while being comfortable and I've never been a fan of pants. Also, many of the calico midi styles have pockets which is always a huge bonus.
It's become a family affair finding and collecting. My mom and dad have helped me spot Gunnes in the wild and online."
"I have a lot of favorites for different reasons but my number one is my red paisley angel sleeve maxi. It has everything I love all in one dress; paisley, lace, giant sleeves with great movement, a fun neckline, and my power color red.
Because the Gunne Sax dresses were marketed for teens and tweens, their sizes only went up to a vintage size 13, which is the equivalent to a modern size 8 at best."
Carolyn Liu
Owner of Oakland-based Hello Vintage store Carolyn Liu was instantly hooked when she tried on her very first Gunne Sax dress.
"These dresses somehow capture the inexplicable romance of the medieval, Renaissance, prairie, Edwardian, and antebellum periods – all mixed into one brand of dress.
There is a mix of innocence, sex appeal, beauty, and femininity, and each dress containing different proportions of each.
"No two Gunne Sax dresses are alike, yet each dress captures the same fantastical spirit. Corset-style lace-up bustlines, mysterious hoods for those lucky enough to find an ever-elusive hooded Gunne Sax dress (I've been lucky enough to own two), poet necklines, leg of mutton sleeves, calico print, velvet, canvas, lace – I could go on."
Now Liu owns over 100 Gunne Sax dresses and organizes yearly Gunne Sax Parties at her store in Oakland (or online this year).