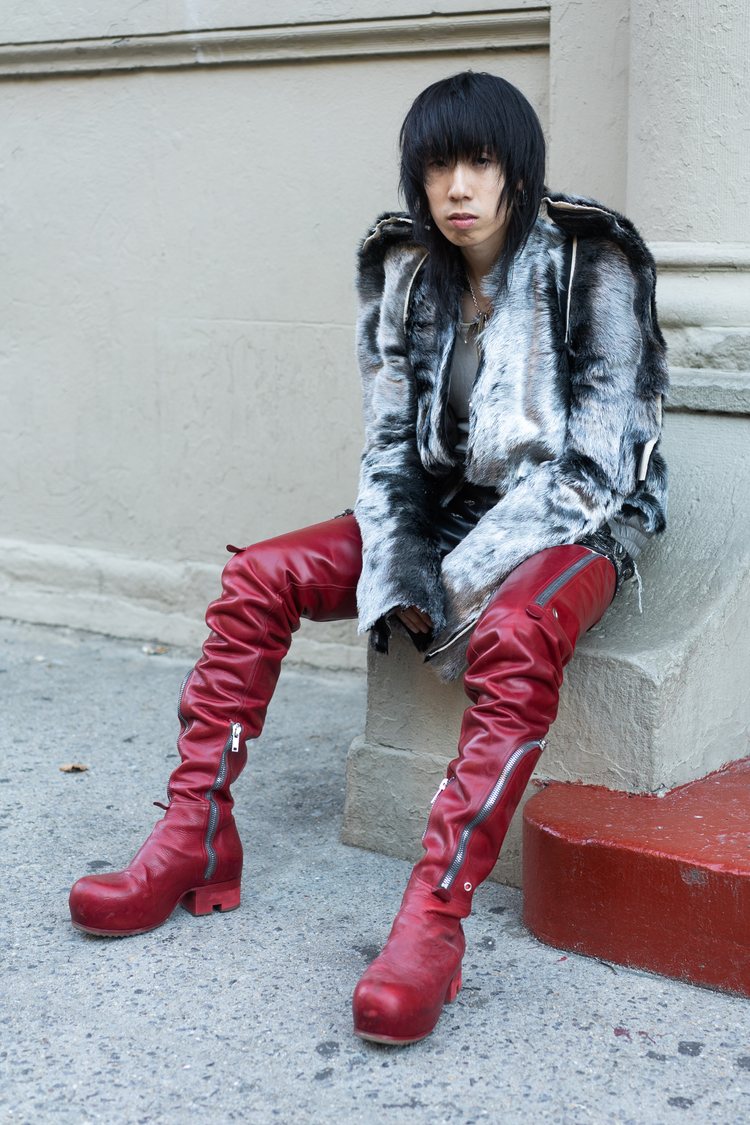 Collecting
Collecting Future Vintage with Grailed Seller Kendrick Quek
What will be a future collectible vintage item in 20 years? We met with Grailed reseller, collector, and designer Kendrick Quek, 25, to find out.
"I started to get into clothes around 2013 – I blame Tumblr, Google, and anime.
It was an era when avantgarde brands like Rick Owens, Boris Bidjan Saberi, Carol Christian Poell, Carp Denim and Ann Demeulemeester, and By Walid were popular. It was all black everything mixed with avant-garde silhouettes and innovative cuts like pointed hoodies, elongated torsos, and drop-crotch pants. Rick Ownes Geobasket and Dunk shoes were huge.
I don't think I understood trends at the time; I just liked what I liked. Tumblr was a huge place where I found interesting concepts and inspirations. Tumblr was having a huge ghetto gothic and dark wear era. I was surrounded by the influences of these two trends clashing.
The first time I got into collecting more niche brands was when I discovered Undercover in 2015. Undercover was easy to get into. I always felt it made sense; like grunge punk during the era of wearing skinny clothes. The first special piece that meant a lot to me was an Undercover AW05 all-over boucle material jacket. I had that for a while.
At that time, I was also around a community in men's fashion who were into Undercover, Raf Simons, Rick Owens, number (n)ine, Margiela, and Helmut Lang.
I slowly rotated my wardrobe and I got into reselling because I really wanted to be able to collect the articles of clothes I wasn't able to afford at the time. Since then, it's become a part of my job.
I got into reselling to be able to buy what I wanted and then sell my excessive items that would be better at other homes. Also, finding something for a price that can, later on, make money when you decide to sell is also very fun to me.
Grailed platform was introduced to me by a childhood friend who was into fashion. It just stuck to me compared to other options like eBay or Depop at the time. Grailed also was geared more toward men's fashion so I felt more seen there, I guess.
In the beginning, Grailed used to be strictly for hard-to-find archive items, high-end designers and hype streetwear. Nowadays, the platform has many pockets of subcategories.
Balenciaga sells best at the moment. The shift to a new hot brand happens every year or two.
I don't know what will be the next hot brand, but I'm assuming it's going to be up to the strong core individuals who are into the brand.
Just like Balenciaga, Rick Owens was extremely well received last year and Raf Simons was incredibly hot for 4-5 years. I think why Balenciaga does so incredibly well is for the same reason as how strong Demna did creating his first brand Vetements: relevancy. Demna understands what people want out of clothes. He is relevant.
Brands with a strong community following have items with collectability and maintain value over 20 years. It's always the fans and supporters that maintain value for brands.
Rick Owens, Walter Van Bierendonck, and Virgil Abloh's collections for Louis Vuitton are some examples. And last but not least, Kiko Kostadinov – for a relatively new brand, he has had a very strong and powerful community since the beginning.
I mainly collect based on aesthetics that make sense for me for my day-to-day wear and what I need from my closet. I'd look for thigh-high boots, for example, but it'd have to be based on a level of comfort, wearability, and color. I'll sell clothes that don't make sense in my wardrobe.
I typically keep the items that are fun to wear and sell items that are a bit too serious.
I have had some famous customers and can mention one: singer Steve Lacy's stylist bought my Kiko Kostadinov pants a while ago.
My style is about my personality and my upbringing. It is a mix of East Asian influences like K-pop, J-rock, 90s anime, hip hop influences growing up in Massachusetts.
I shop both new and old. I sometimes buy new items from the past seasons and I source a lot. I ask people I know, I ask friends who are letting go of their old closets to get new items.
I will purchase an item if I can afford it, and if I think I'll wear it consistently for over a year. I consider all my purchases as investments."
Follow Kendrick on Instagram @kendricky
Shop on Grailed @kendricky