men's vintage
Classic Men's Vintage – How to Recreate That Hollywood Look
Make-up artist and portrait painter Oscar Billis, 26, prefers to wear true vintage from the 1920s to 1940s. Even in the heat of the New York summer!
Liisa Jokinen · Jul 12, 2022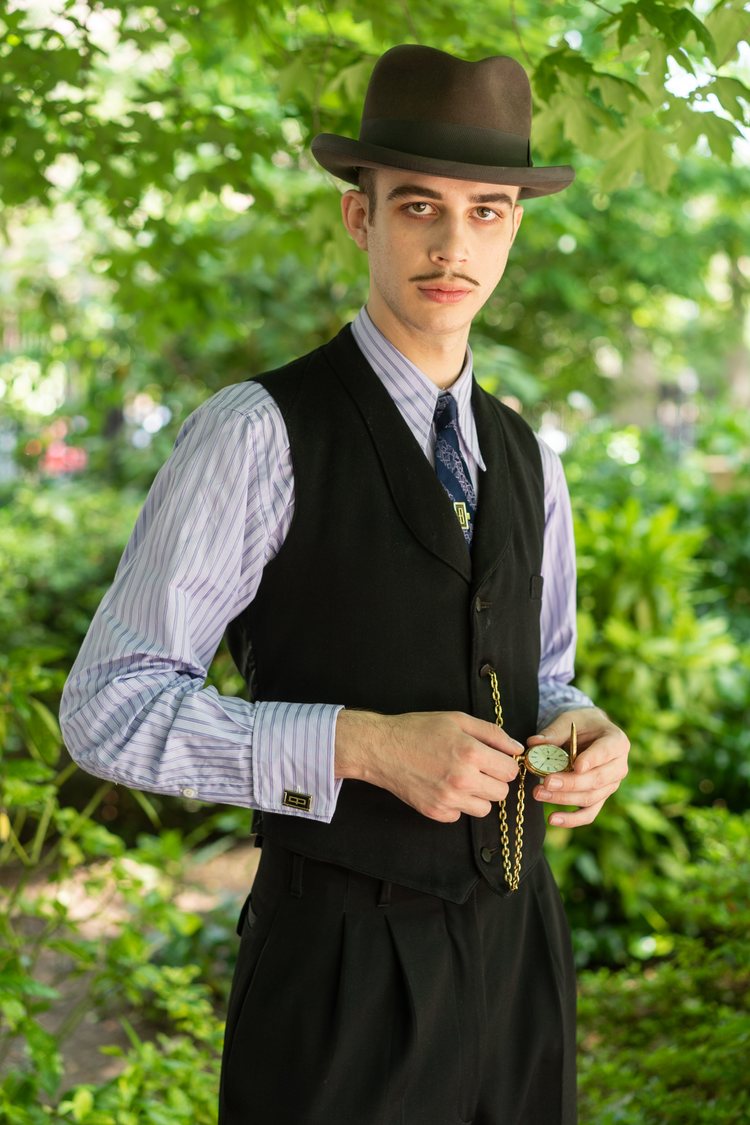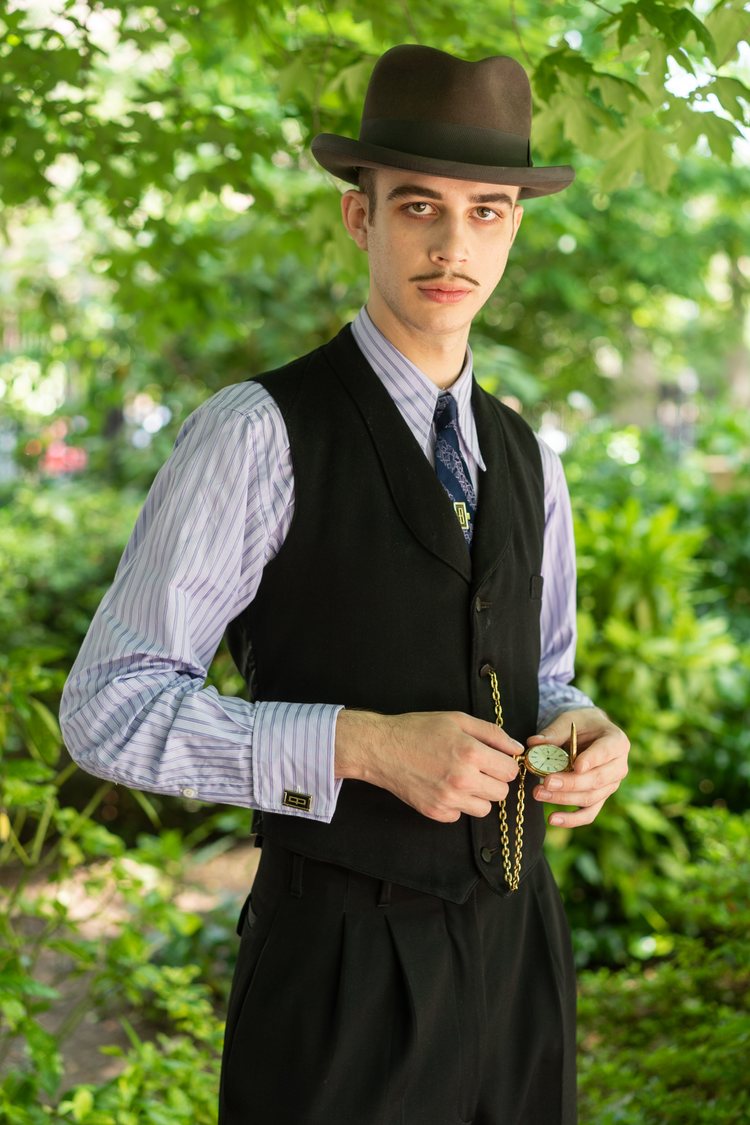 men's vintage
Classic Men's Vintage – How to Recreate That Hollywood Look
Make-up artist and portrait painter Oscar Billis, 26, prefers to wear true vintage from the 1920s to 1940s. Even in the heat of the New York summer!
Liisa Jokinen · Jul 12, 2022

"I wear true vintage every day. Even in the beginning when I only had a few pieces, I wanted so badly to wear nothing but history. I have a few reproduction pieces as well – they are always good for sturdy basics.
When I was a kid my mother introduced me to old movies, and my love for vintage spiraled from there. The first film she showed me was Bringing Up Baby with Katharine Hepburn and Cary Grant, and I fell in love immediately. The more I watched, the more I loved the styles of times gone by, and I wanted to look like that! I started collecting vintage pieces I could find in thrift stores and mixed them into my modern wardrobe, and as time went by and I got more pieces, I stopped wearing anything modern and threw myself into all vintage head-on.
This early 1930s three-piece suit is my favorite suit I own because of the exquisite tailoring and details – the trousers have a very high fishtail back, and the wide-cut leg has a beautiful swing to it. The fabric is a very rich grey chevron of impeccable quality. This fit me so well that I didn't have to have it altered in any way, almost as if it were made for me 90 years ago!
My favorite era by far is the early 1930s. The nipped and high-cut waist, the wide-leg trousers, and the Art Deco accessories really speak to me.
For suits, I love classic black, grays, and earth tones. Accessories are where I like to play up the color – my favorite is purple, and anything with a geometric Art Deco pattern is right up my alley. I'm a big fan of the 1920s as well, and I do like some 1940s.
This 1930s double-breasted navy pinstripe suit is of a lightweight fabric, with a strong padded shoulder. I'm wearing it with an Art Deco arrow tie of the same period. A bit of a geometric pattern always makes it feel so much more Deco. I almost always wear a grey hat with this suit, this one is a 1940s homburg.
My inspiration comes from the glamour of the silver screen, the drama of black and white and the beauty of times gone by that are so different from our own. Watching old movies is like a window into a different time, and as false as Hollywood must have been even in the era, it's a piece of history that I find fascinating. It's also about the real people who wore these things and simply lived their lives.
It's a really interesting feeling to give all these antique pieces a second life, it feels almost like time traveling in a way.
I always wonder about the people who wore these things before me so long ago. That in and of itself inspires me.
These pieces were all found separately: a 1920s waistcoat with a rounded lapel, simple 1940s pleated trousers made of a very lightweight gabardine, and the purple reproduction shirt but the arrow collar gives it a period feel. The hat is a 1940s deep grey homburg from Italy.
The pocket watch was left to me by my grandfather after he passed. It is one of my prized possessions that has been in the family for generations.
Is vintage comfortable to wear? This is such a huge misconception, and it's a question I get a lot. Sure it's not as comfortable as sweatpants, but as long as you're wearing things that fit you well, they're just fine. Admittedly, the heat of New York summers can be tricky, but it's all about the fabric. Vintage fabrics are made of pure materials that were woven in different weights for different seasons – for example, wool gabardine is very comfortable and breathable, even in the heat.
This outfit is a mix of eras: a 1950s casual button-up found at a thrift store, 1940s chocolate brown trousers, a 1920s boater hat, 1930s sunglasses, and 1930s two-tone summer shoes. The chain on the trousers is a random chain from a pair of modern pants that I added.
Vintage trousers are the hardest thing to find! Maybe it's because I'm so tall, but I have a hard time finding the wide-leg trousers I like so much. This is where reproduction can come in handy. True vintage shoes are hard to find as well as most men wore their shoes until they disintegrated.
In this photo, I'm wearing a 1920s silk shirt with a striped pattern, worn with a detachable club collar from the 1910s, a 1910s boater made of very fine straw, and a 1930s tie. Worn with the same 1940s trousers, but I find that vintage trousers work with most early 20th century decades if the waist is high enough.
If you want to get into wearing vintage my first tip would be to choose a decade or two that you would like to emulate.
Do the research to see exactly what people wore at the time. Then, scour your local thrift stores and vintage shops for a few pieces you can wear regularly and mix with modern things that will give an era-appropriate look. Then it's time to look online – I've gotten some of my favorite pieces scrolling through eBay and Etsy late at night. It takes time to build a full vintage wardrobe, so start small and build as you go."
Follow Oscar on Instagram @oscarbillis