people
Chic and Comfy in 30s and 40s Vintage
Who knew 30s and 40s clothes could look both so elegant and comfortable at the same time? NYC-based makeup artist and vintage collector Michelle Coursey shows how.
Liisa Jokinen · Apr 27, 2021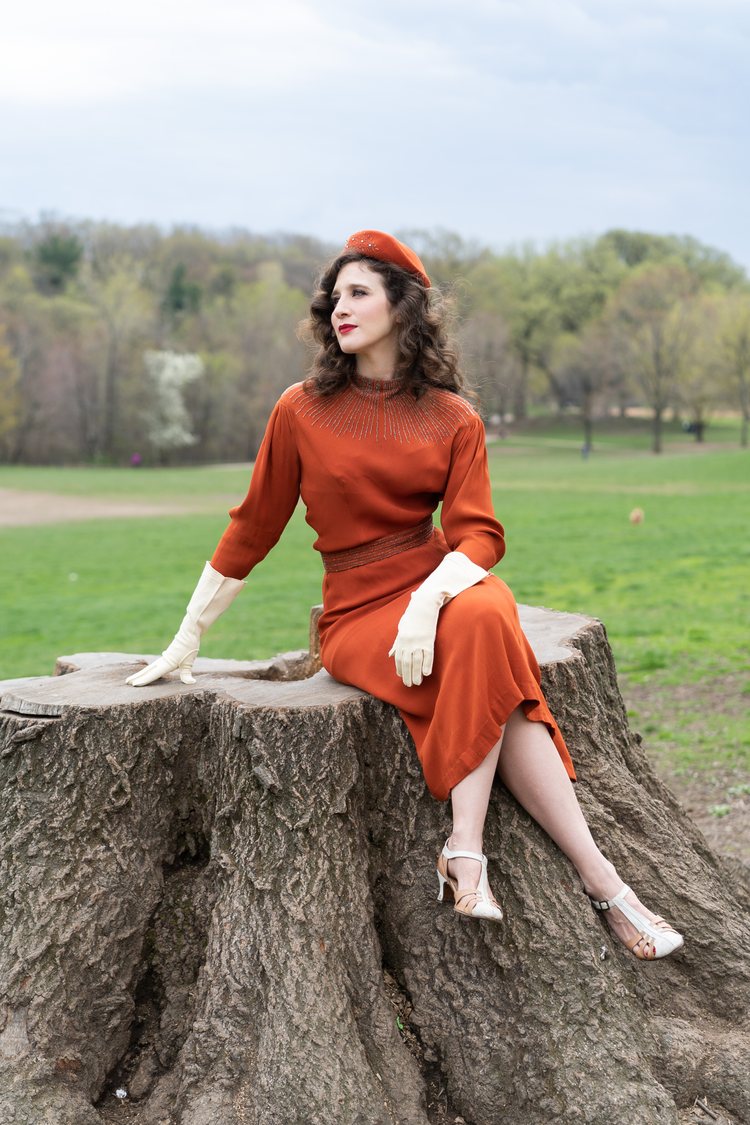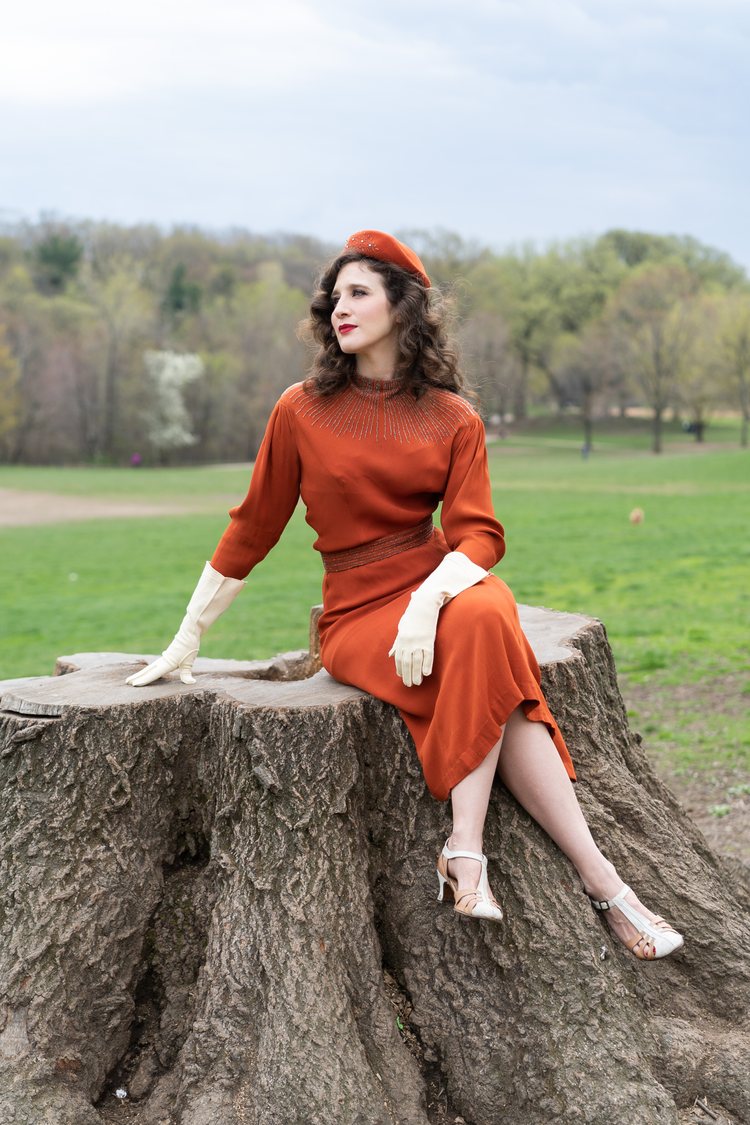 people
Chic and Comfy in 30s and 40s Vintage
Who knew 30s and 40s clothes could look both so elegant and comfortable at the same time? NYC-based makeup artist and vintage collector Michelle Coursey shows how.
Liisa Jokinen · Apr 27, 2021

"There's just something about the 30s and 40s that really appeals to me aesthetically. I love the silhouette, I love the fabrics, I love the way the fashion flatters my figure. I love how it's sexy, without showing tons of skin. I just find something inherently beautiful about those decades; I'm not sure why, they just make me happy. Not just the clothes, but the architecture, cars, and the whole design aesthetic.
I would watch old movies with my mom growing up and she would always point out how beautiful the clothing was, and I think that really formed my idea of what was beautiful and flattering. I started swing dancing in the late 90s and that led me to be interested in vintage clothing, and I started collecting a few pieces then, but really got into collecting in the last 10 years or so.
These beach pyjamas are my total holy grail piece. Beach pyjamas are one of those amazing vintage pieces that are hard to find nowadays. I remember seeing these as I walked up the stairs in the store where I bought them, and I swear I heard angels sing, lol. I wore them to the Roaring 20's Lawn Party at the Crane Estate and they are so comfortable and fun to wear! The hat is from my dad's Navy uniform. I always like to wear pieces from my family whenever I can.
Vintage can be super comfortable – contrary to what many people think! Wearing a dress, or pants or a skirt and a top, is super easy and comfortable and I find wearing vintage just as comfortable as yoga pants or jeans. Comfort is a relative thing anyways.
Ooooo mama. I love this dress! 30s knits are challenging to find and I'm always on the lookout for a good one. I found this one at Amalgamated Vintage at the Manhattan Vintage Show. I love the trompe l'oeil design on it, how lightweight it is, and how curve-hugging it is. If anyone says vintage isn't sexy, have them take a look at 30s knit dresses! I bought this right before quarantine started, so I sadly haven't been able to wear it to any events yet.
I love a nipped-in waist and will almost always gravitate towards a piece with that silhouette. I'm always looking for beautiful colors, prints, and fabrics. I can't even say what draws me to particular pieces, I just feel something when I see something I love. I guess I have a fairly distinct style, because I've had quite a few people say they can always spot a dress that's my style, but I couldn't tell you exactly what I'm looking for.
I love vintage menswear! I've worn this outfit or a variation of it to the annual Tweed Ride that we do in Prospect Park, Brooklyn, where a bunch of us get dressed up in tweed and ride a few loops around the park. Jodhpurs are one of those challenging pieces to find, but I found these perfect ones at the Manhattan Vintage Show from vendor Wildfell Hall. Another item that I swear I heard angels sing when I tried them on and they fit, lol. The jacket is from Marshall Field & Company which I bought from my good friend and vintage seller Audrey Ropeburn. I always borrow accessories from my husband when I wear menswear, so the fedora and tie are from his collection.
I bought this lavender gown at one of my absolute favorite vintage stores, Chez Poupoule in Paris. It's one of the most lovely and charming vintage stores in the world. I remember seeing it hanging on the wall and thinking it was the most glorious dress I'd ever seen. I thought about buying it for a week and I'm so glad I did. I wore it to the Avalon Ball on Catalina Island. I love everything about it, but the huge, flowing skirt is my favorite part. So fun to twirl in!
There aren't many good vintage stores left in NYC, to be honest. I always go to the Manhattan Vintage Show and have found some of my favorite pieces there over the years. Cobblestones in East Village is always fun to go through and dig around. 9th Street Vintage is a lovely store that is well-curated and has some pieces from my favorite eras. Other than that I shop online or we always try to see if there are any vintage stores/antique malls wherever we travel.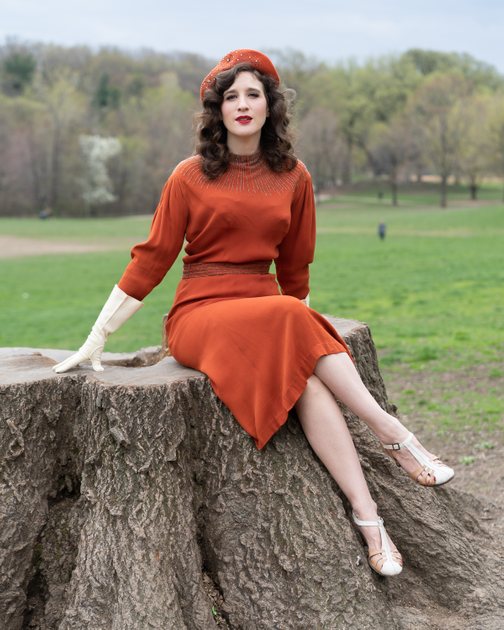 This burnt orange dress is from Dorothea's Closet Vintage. The seller said she actually found the hat and the dress separately but they are such an amazing match she sold them as a set. It's so rare to find a matching dress and hat that I jumped on the chance! I love the color and the beading and the dolman sleeves. It's pretty much everything I love about 30s fashion in one set.
I try to wear the same time period from top to toe, but I'm not a true purist in that way. I wear whatever I think goes together best, and if that means mixing decades, that's ok with me.
Although we vintage fans enjoy wearing vintage clothing, that does not mean we want to live in those eras. All of my vintage-loving friends are very progressive and appreciate the rights that we have now as opposed to back then: #vintagefashionnotvintagevalues.
Vintage is a wonderful hobby and a great way to meet interesting people. I've met some of my best friends (and my husband) through the vintage world and I'm so grateful for the whole vintage scene."