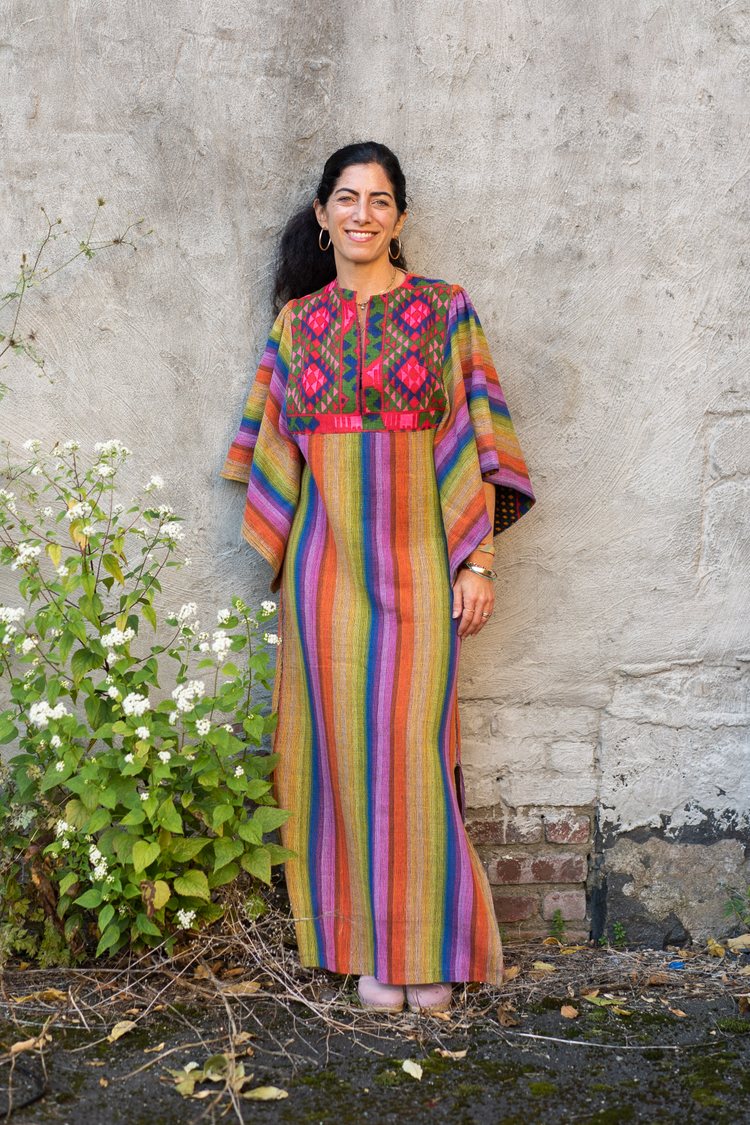 Amy Abrams, 46, is the co-founder of Artists & Fleas marketplace of makers with locations in NYC and LA. She has been wearing vintage since her 20s.
"I love to wear vintage because there are so many amazing vintage one-of-a-kind pieces out there! I love that you are wearing the original design that has undoubtedly been reimagined in countless ways. I love that vintage is unique and timeless and that it is good for the environment, too.
I have worn vintage since I was in my 20's. I remember one of the first vintage pieces I purchased which was a hand crochet sweater set.
In college I used to raid my mom's closet—she had a lot of great silk blouses. She wears a shoe size larger than me but I did find a pair of vintage Bottega Veneta red woven sandals many years ago that fit me and that I love. My grandmother knit sweaters and I have a few of those, too. I also have my mom's sweater which she made for herself to wear at my bat mitzvah in the 80s. I "claimed" it in my 30's.
I bought this dress at Illisa's Vintage Lingerie at Showplace Antique + Design Center in Chelsea in New York. I was just popping in and she was selling a few pieces of lingerie that she had painted. When I saw this dress I just felt I must have it. It fit me perfectly and I love the earthy tones. It feels like the dress came from the earth. Every time I wear it I love it even more.
If you are new to vintage I suggest buying things that you feel comfortable in and that you can integrate into your wardrobe right away.
I wear a lot of colors because they make me happy.
And this coat seems to make everyone else happy, too. I get a million comments every time I wear it. I bought it from Lucinda Portobello at the Portobello Market in London—she has an epic collection.
I am not a big jeans person but I absolutely love these 70s Gucci jeans. 70s Gucci has really beautiful hardware and details. I found these pants at A Current Affair vintage fair a few years ago. I love that I can wear these for more official meetings. I usually wear them with colorful silk blouses like the vintage YSL from the Aztec print collection in the photo. In winter, I often wear my silk blouses with leather pants or skirts.
I bought this Hungarian blouse from Denyse's Closet at the Manhattan Vintage Fair which I have attended since I was 25 years old. For me this is the most beautiful embroidery I have ever seen. It is like a piece of art. I wear the top with jeans or a leather skirt.
I would say my style is colorful, playful, creative, comfortable, original, chic.
My style icons are Farrah Fawcett, Cher, all fashion from the 70s and 80s. I love big hair and big shoulder pads.
My husband bought me this antique Indian wedding necklace for my 40th birthday. It is magical. I have been collecting jewelry since I was a little girl. I buy a lot of jewelry when I travel. Some of my favorite pieces are from India and Israel. I have also purchased from vintage dealers and I have been gifted beautiful heirlooms from my grandmother, my mother, and my mother in law.
My favorite stone is a ruby which is also my daughter's name.
I have a love for jumpsuits and metallics in general but this piece is really the perfect combination of both loves! This jumpsuit from Buis and Whistles is shiny, happy, and sparkly and I am always up for a party.
One of the perks of having been long in the vintage business is that vintage dealers oftentimes suggest pieces to me that they think I would love, and usually they are right—like when Andrew from Buis and Whistles showed this jumpsuit to me. The warmth of the copper is perfect. I have worn the jumpsuit to my birthday party and lent it to my friends. I have even worn it to work.
I tend to wear less separates because a one-piece is so much easier. I can't really tolerate uncomfortable garments.
I joke that a lot of my clothes are like pajamas, they are so comfortable.
Martha from Gypsy Nation Vintage gifted this Victorian lace embroidered jacket to me after she had repaired it because she knows my love for texture and vintage. It is a very special piece that I treasure for its beauty and for the thoughtfulness. You can wear the piece like a top or backward as a jacket.
I love the history of the designers but I do not buy for designers, I buy for what I like. I love Gucci, YSL, Ritu Kumar, Adini, Rikma, Norma Kamali, Zandra Rhodes, Laise Adzer, Bill Tice, Sant Angelo, Ossie Clark, Adele Simpson... the list goes on but many of my favorite vintage pieces do not have a label.
This dress was created by Lietta Cavalli Mali Firenze and it has been displayed at the Galleria del Costume di Palazzo Pitti museum in Italy so I have to take extra good care of it. Her signature was the knitwear with metallic threads and beading. I have always loved Missoni, too. Their knitwear, colors, patterns.
I buy what I love and make it work —sometimes with the help of a great tailor.
I just trust my instincts and buy what makes me feel great. I don't take it too seriously and I get to play dress-up daily. "
Artists & Fleas x The Hoxton Present: THE VINTAGE SHOWCASE on Nov 7. Enjoy cocktails and shop vintage with 13 curators & collectors.
Get your tickets ($20 in advance) here.