people
Blythe Marks' Vintage Style – Tailoring and Pleats Please
A hardcore collector, expert thrifter and vintage vendor – meet Blythe Marks and see her best vintage finds.
Liisa Jokinen · Mar 15, 2022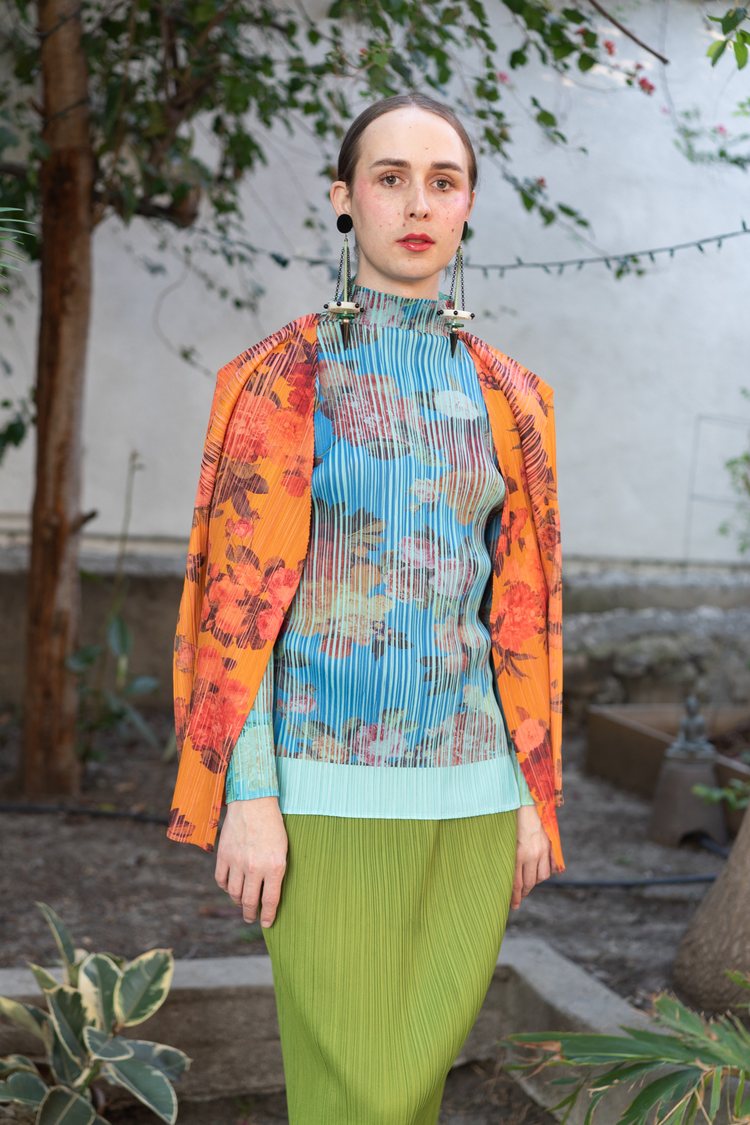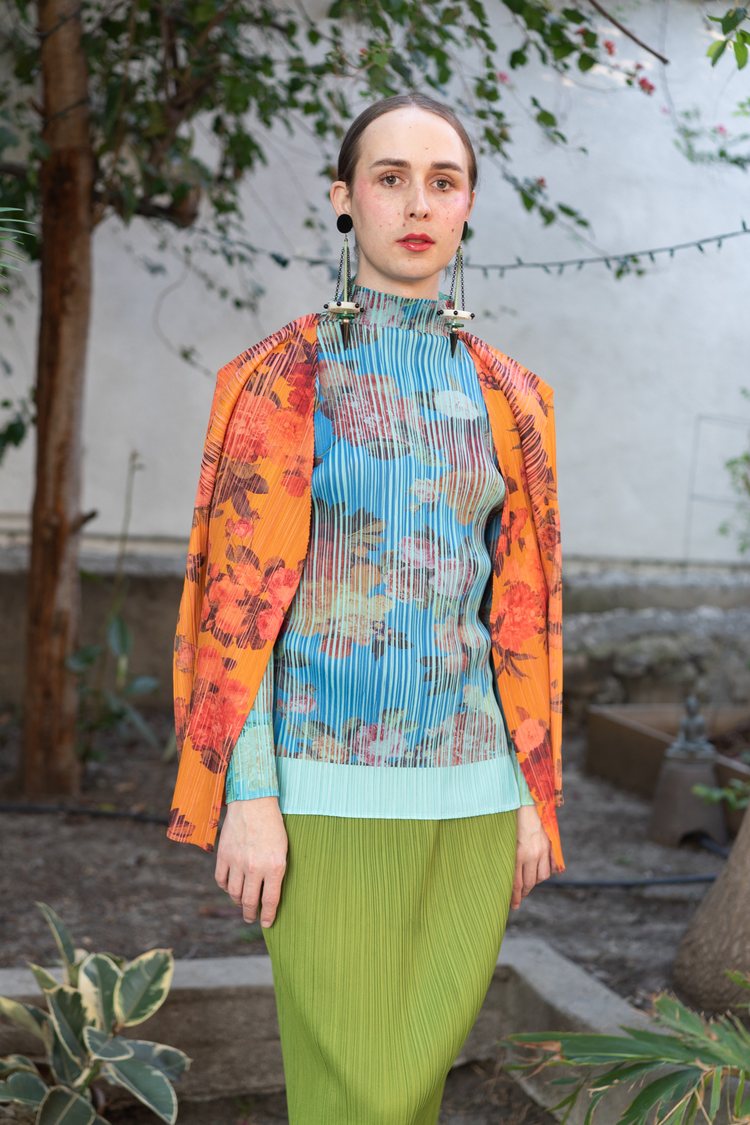 people
Blythe Marks' Vintage Style – Tailoring and Pleats Please
A hardcore collector, expert thrifter and vintage vendor – meet Blythe Marks and see her best vintage finds.
Liisa Jokinen · Mar 15, 2022

"I got into selling vintage after years of being a hardcore collector and expert thrift store hunter. In college I'd trade my finds to shop owners for store credit but never had the confidence to go out on my own. It took me a long time to get over my hesitation but at a certain point I realized my fashion knowledge and research skills were far superior to people in my age group, even sometimes the older established dealers I'd trade with – and particularly the haughty boys' club hypebeasts I competed with at the Goodwill bins. There's nothing like spite to light a fire under your ass!
Richard Wainwright, the founder of A Current Affair, gave me the opportunity to host his collection for ACA's virtual Instagram showcase in the summer of 2020. That really opened up a whole new world for me. Soon enough I hosted my own collections and my passion became a real profession. It's provided me so many priceless industry connections with shoppers, stylists, designers, and other dealers.
This Issey Miyake Pleats Please three-piece set is from 2001 so it counts as vintage now! I originally found the sleeveless top (worn underneath) alongside its sister blouse in a similar print on Grailed. I instantly fell in love with how absurd the figures are: They're making out, acting drunk, lounging on chairs with their crotches and breasts showing. So perverse and perfect.
I found the pants on The RealReal a few months later, quickly followed by the long sleeve button-up. A miracle! I love wearing them all together. For someone who mostly wears all black, it's definitely my loudest outfit and it gives me so much energy. The earrings are Moschino and remind me of a pair worn by Toni Collette in Muriel's Wedding.
My Grace Jones power suit! This leather two-piece set is 80s Miyake. I bought the jacket online and almost sold it during A Current Affair but a little voice in my head told me last-minute to keep it for myself a little longer. Very soon after I found the matching pants from an Etsy dealer in Arizona who lived probably a mile from my parents' house. I love those kinds of weird and funny connections vintage brings me.
Reconnecting pieces that originally went together always makes me really proud.
The earrings are unsigned 80s from Lofty Vintage with the most incredible Memphis Group vibes. I wear them often and always get stopped and asked about who makes them. I wish I knew, I'd buy a million pairs.
More Pleats Please! I reunited these runway pieces from the fall 1994 collection, Miyake's second-ever after launching the Pleats label. The blue mock neck is a lucky eBay find and the orange top is from James Veloria. The chartreuse skirt is from Scout in Los Angeles. Usually, I keep my cool but had to break character and do a happy dance when I left the store. Earrings by dear friend Heidi Abrahamson based out of Washington. She titled them 'Memphis Goth' and they're my fave jewelry ever. Future vintage!
This circa 90s ensemble is by local Los Angeles fabric artisan Justine Limpus Parish. Not many people know about her work but I love her pleated, hand painted Fortuny-inspired pieces. She still works as a professor at the Art Center College of Design in Pasadena and has a wonderful blog. It's on my bucket list to meet her and learn more about her design process. Paired with 90s David Spada earrings; I love how they make the copper paint on the pleats stand out.
I get statement jewelry from Marie and Ian at Recess and architectural archival gems at Joey Grana's Scout, glam rock rarities from Carmen Hawk at Avalon, upbeat-yet-edgy pieces from Brandon and Colin (mom & dad!) at James Veloria, eclectic treasures from Karen and the crew at Mercy Vintage, tees and workwear from Tommy at Mothfood, and iconic, Instagrammable pieces from Tab Vintage by Alexis Novak, who's a fave of Olivia Rodrigo and Dua Lipa. I also make time to shop at Antique Sugar in Phoenix and Desert Vintage in Tucson whenever I visit friends and family in Arizona.
Bonus: I always manage to find something from Notch and Ziggy Loves, respectively owned by Japanese style icons Keiko and Kazue. They've long been my dealer neighbors when I run the Arcade Shops booth at Pickwick Vintage and they're the best! Visit their showrooms next time you're in LA, it's a must.
90s-does-40s wool jacket by Todd Oldham is my first piece by him and probably the most understated thing he's ever done, but I love that he still included surrealist details like the mismatched buttons. I bought it to wear with this surreal gold necklace and earrings I purchased from Recess. All-time favorite pants by Miyake; I wear them all the time and with absolutely everything. The whole look together radiates major Schiaparelli by Daniel Roseberry vibes.
I often say my style is about tailoring and Pleats Please.
Endless hours spent watching fashion shows from days gone by, from Galliano's tour de force Dior couture triumphs to avant-garde Hussein Chalayan presentations and Mugler's theatrical blowouts, emphasized to my 14-year-old brain the magical tension between flou et tailleur: fluid dressmaking and strict tailoring. That push-and-pull made me keenly aware of my body but also set me free from it in a way. In discovering the contours of my physical form I also learned to transcend my body entirely. An 80s Yohji Yamamoto blazer with huge padded shoulders can go perfectly with alienesque pleated drop-crotch trousers—not necessarily because they beautifully compliment each other but because their juxtaposition creates a delicious tension that makes me feel alive.
I'd be nowhere without the two greatest who ever lived: Gilbert Adrian, Hollywood master of architectural suiting and dramatic draping alike; and Mariano Fortuny, the Renaissance man who took his pleating secrets to the grave. They're the foundation of my entire wardrobe philosophy. So many of my favorite designers from Miyake to Rick Owens have referenced their bodies of work from the beginning of their own careers. This shared obsession between us has inspired me to collect their reference points that still look extremely modern and forward-thinking today. If you're reading this and have a 1940s Adrian skirt suit for me, please say hi!
This purple Romeo Gigli cocoon blouse is my most recent find. Discovered in the men's shirt section at Squaresville in Los Feliz while on a date. I had to stop myself from freaking out at scooping such an incredible Gigli piece for $40. Worn with a Han Feng micropleat skirt and earrings from Notch LA. I feel like a sculptural flower in this look. Alluring but poisonous at the same time.
Right now I'm extremely inspired by vintage jewelry from Arnold Scaasi, Judith Hendler, Hector Aguilar, Edouard Rambaud, Julie Rubano, Guillemette L'Hoir, and Martha Sturdy; pleated pieces by Sybil Connolly, Ellen Hauptli, and Ana Colón; and 90s Barbie tees from Jerry Leigh that always seem to sell before I can snatch them up.
I wish more people would realize that vintage is abundant! Don't be discouraged from shopping vintage by the incorrect assumption that thrift stores raise their prices because of shoppers and resellers. It's just not true. In 2012 alone, 84% of all discarded clothing in the United States ended up in landfills. That's unhinged! On the bright side, it proves there's enough to go around.
A scarcity mindset is dangerous and we need to come together as a community to combat mindless consumerism and hype around the latest, hottest, trendiest new thing.
Most importantly, buy from smaller vintage dealers whenever you can over huge chains like Goodwill. Putting a face to the clothes you bring into your wardrobe will give you an appreciation for all the hard work we put into this business. Ultimately we are storytellers, albeit shy and socially awkward ones who prefer to speak through the language of clothes. We want so deeply to be in conversation with the world at large and people around us. You just have to listen a little more closely."
Follow Blythe Marks on Instagram @blythemarks
Shop her collection online at Arcade