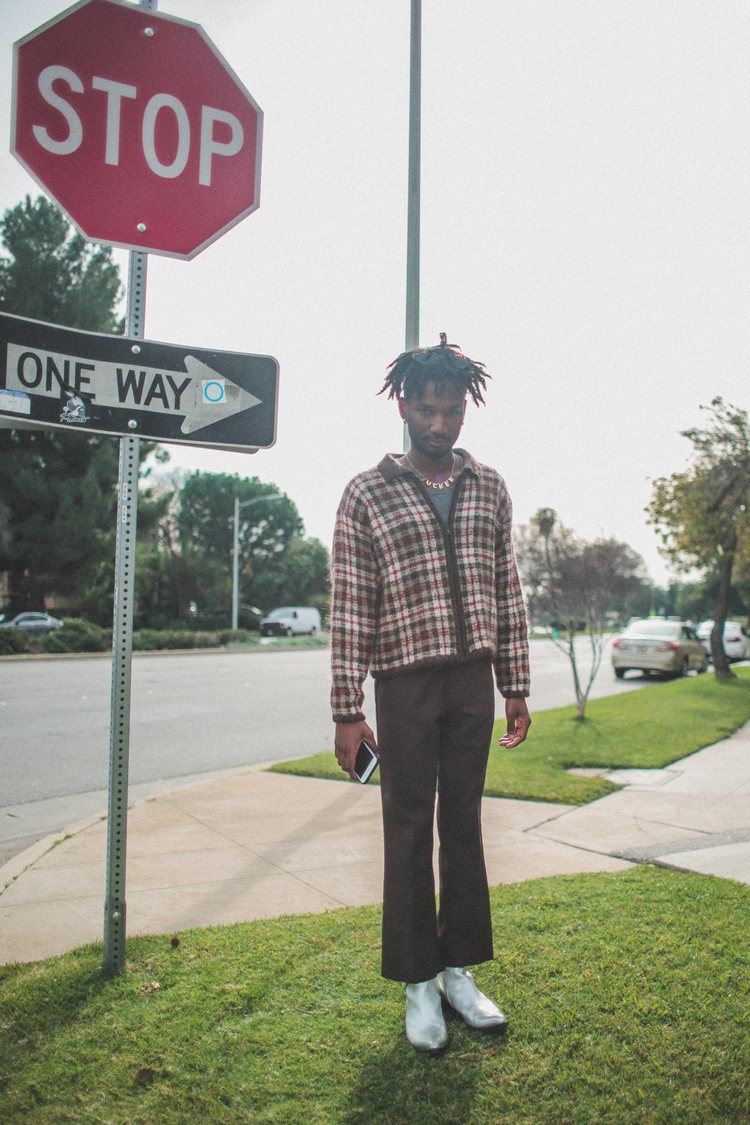 Xavier Means, 20, runs a unique online thrift store: he sells items from Black-owned brands only.
"I knew that in the year 2020 I wanted to create some sort of brand, but I had no idea what it was. During quarantine I found myself watching a lot of 90s and early 2000s sitcoms like Moesha, The Parkers, One on One, and Martin. I would always stop the shows and research the brands that the characters wore just out of curiosity, and I ended up discovering that most of them were owned by Black people!
From that discovery, I came up with the idea to start X-Perience Thrift. I am also always shopping and finding really unique finds, so it was a very practical business to commit myself to. I believe my store is the first thrift store to sell Black-owned vintage only.
Some of the brands that I sell include Cross Colours, Fetish, and F.U.B.U.
Cross Colours' owner Carl Jones was originally a designer for Karl Kani (another Black-owned brand that I sell). The brand is unique because the clothing reads positive messages that aimed to be "a way to broadcast political and social messages – such as denouncing gangs or calling for racial unity-to the African American community" and it was worn by huge figures in the 90s such as TLC and Will Smith.
Fetish was created by the rapper EVE. The brand is really special because Black women have always been the inspiration for fashion, so to see a brand executed by a Black woman is amazing! The clothing and accessories are so cute and the brand is very provocative which I love as well.
F.U.B.U stands for "For Us By Us'' which says it all. The brand was created specifically for the Black community and some of my favorite items that I sell in X-Perience Thrift come from F.U.B.U.
All these brands have their own aesthetic and were known for different pieces, but they all style very well together. A lot of the brands that I sell were discontinued, but have recently come back. Cross Colours, Karl Kani, and Baby Phat have resurged in the past four years. Rocawear and Sean John have never stopped creating clothing.
The first item I ever sourced for the store is super special to me and that is a velour Rocawear tracksuit. I am in love with matching sets and I've always wanted a velour set, so I was able to live out my dream while making content for my store.
It is definitely difficult to source items that fit my store – in addition to the limited choices, I am also extremely picky with the items that I source. If I wouldn't wear it myself then I won't sell it! Also, a lot of these brands were created in the 90s when baggy was the trend, so I find a lot of items that are really nice but are like a size xxxl.
I source from every possible option. The most unique sourcing that I do is from family members and my friends' family members who were teenagers or young adults during the 90s and early 2000s.
The most special piece from my store is the Fubu leather varsity jacket, it is the epitome of 90s fashion. I'm surprised it hasn't sold yet, but if it was my size I would've saved it for myself.
There are so many music artists who have had clothing lines that haven't been successful and have since been discontinued, and I would love to run into some of those pieces. Bow Wow, Busta Rhymes, Outkast, Common, and DMX have all had clothing lines and I have not been able to find a single piece from any of them – which is crazy because I pride myself on being able to find any piece of clothing on the internet.
My goal for the first year of X-Perience thrift is to grow and collaborate with as much Black talent as possible. I really want to make X-Perience Thrift as iconic as Black brands in the 90s. I aim to use my platform to shine a light on black designers, models, photographers, and artists. I also hope to start getting into wardrobe lending for movies and tv shows that are based in the 90s and early 2000s.
Currently, I'm working on the second drop of my store. You can expect that to be released in early March. For myself, I am working on leveling up my content creation via music and on my YouTube channel Internet X."