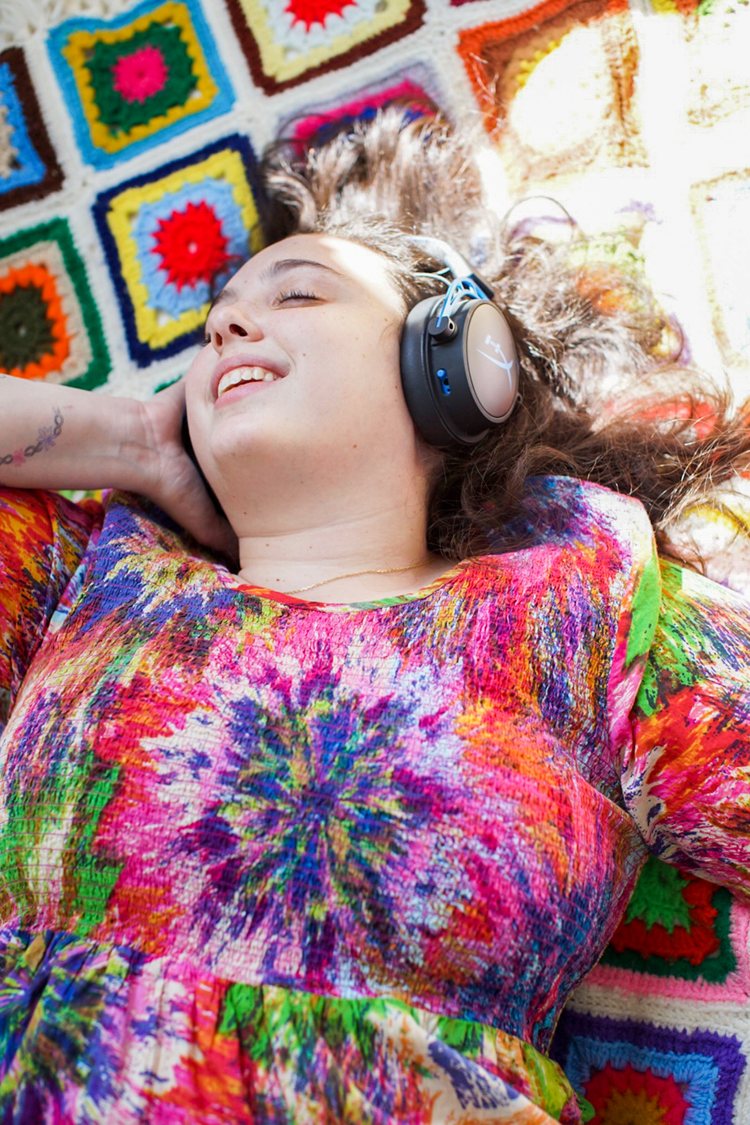 This week we introduce six podcasts that offer different perspectives on the vintage and secondhand world.
Today, over 50% of adult Americans have listened to a podcast at least once and there is a podcast for every imaginable topic.
Naturally there is also a growing number of podcasts for us vintage lovers. We contacted a number of active podcast hosts whose episodes are both entertaining and informative and tend to provide new viewpoints and perspectives.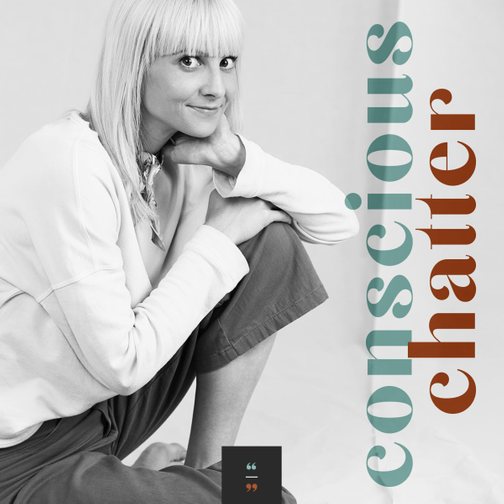 Conscious Chatter by Kestrel Jenkins
Conscious Chatter covers all the aspects of sustainable and ethical fashion and shows why what we wear matters. Host Kestrel Jenkins is a longtime advocate for sustainability.
What is the mission and goal of your podcast?
To have conversations about our clothing + the layers of stories, meaning, and potential impact connected to what we wear. The podcast intentionally reimagines the narrative around sustainability, explores the importance of resourcefulness, questions conscious consumerism, and works to deconstruct how oppressive systems impact the sustainable fashion space.
Why and how did you decide to launch a podcast?
The podcast was an idea sparked by a good friend Matt who is behind the brand Be Kind Vibes. Matt suggested that I start a podcast to talk about what I was already talking about on AWEAR World (a previous project where I highlighted individuals' work in and around the sustainable fashion space, while sharing more details about the story behind their style / outfits). At first, I totally wrote it off – I had NO IDEA how to build a podcast or where to start. Surprisingly, I dove in and went for it, and figured it out as I went, and I am so grateful I did.
If a listener wants a short intro: what is the best episode to get to know what your podcast is about?
I talk with designer Mara Hoffman in the beginning of her sustainability journey with the company, and then again a couple of years later to get an update. I think this is a great intro to understanding the way I like to tell stories and follow up with certain guests to continue learning alongside them.
What is your favorite episode of all you have recorded?
The episode with the founder of Melanin & Sustainable Style, Dominique Drakeford, was pivotal in impacting the trajectory of the podcast. Dominique's platform brings melanin to the forefront of sustainable fashion, beauty, and living, and gives the ethical industry an authentic and culturally relevant voice. This episode also inspired The Root project, a special edition 5-part podcast series which we co-produced. The Root features 17 BIPOC experts and discusses a framework for solutions within the movement.
I also really loved my recent episode with Isaias Hernandez where we touched on the gentrification of thrifting.
What is coming up next for your podcast?
Lots of exciting episodes in the works – several that are dedicated to ideas around upcycling and repurposing, as well as with larger brands working to build new systems into how they do fashion.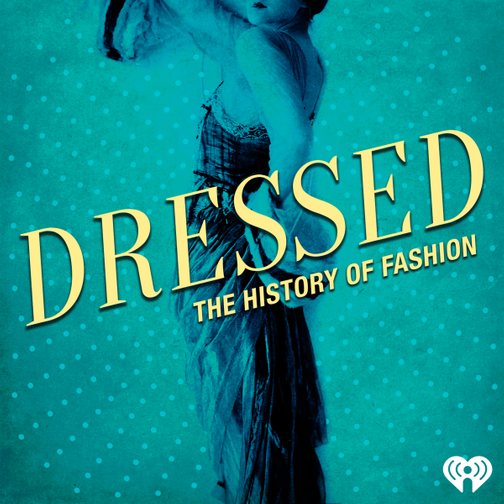 Dressed: The History of Fashion by Cassidy Zachary and April Calahan
The Dressed podcast is a bi-weekly deep dive into the history of fashion, hosted by two fashion historians.
Why and how did you decide to launch a podcast?
We were approached to develop a podcast after April had been a guest twice on Stuff You Missed in History Class. An offer from a major podcast network (at that time How Stuff Works) is not an opportunity to pass up! We had already been working together professionally for several years and had worked on two books together, so moving into a different mode of storytelling was a natural transition for us.
What is the mission and goal of your podcast?
Our clothes tell the stories of who we are. Woven into the garments we wear are themes of gender, race, politics and even the history of technology. Our show explores the cultural and social significance of dress and fashion.
If a listener wants a short intro: what is the best episode to get to know what your podcast is about?
Clothes are meant to be inhabited, to be worn. One of our first episodes, The Body: Fashion and Physique explores first and foremost how our bodies are subject to ever-shifting social constructs of what body type is considered the 'ideal.' In one decade, curves may be coveted and only a few years later a slim, trim boyish physique may suddenly render curves passé. In this episode, we also talk about how people have historically gone about achieving the silhouette considered ideal in a given era as well as the history of standardized sizing. Given our bodies are the literal foundation for and the reason our garments exist, this is a good episode to start with.
What is your favorite episode?
After three seasons, our favorite part of making the show remains our interviews with fashion history makers. Cassidy's favorite episode is her interview with photographer Tony Vaccaro, who recently beat COVID-19 at the age of 96. After serving as a combat soldier and photographer in WW2, Tony vowed to find beauty in the world, turning to fashion photography during the "golden age of haute couture" in the 1950s.
One of April's favorite interviews was with fashion designer Stephen Burrows who joined us in a studio in New York to share insights into his life lived in fashion. A habitué of Studio 54 and participant in the legendary Battle of Versailles, Burrows work was influential in the ethos of chic comfort and minimalism inherent to 1970s and 1980s American fashion. These are just two examples of the many fashion-history making guests that we have featured on the show.
What is coming up next for your podcast?
We just launched season 4 of the podcast and are excited to bring ninety plus new episodes to our audience in 2021. We will be covering a wide range of topics from the history of Vietnamese nail salons to pockets!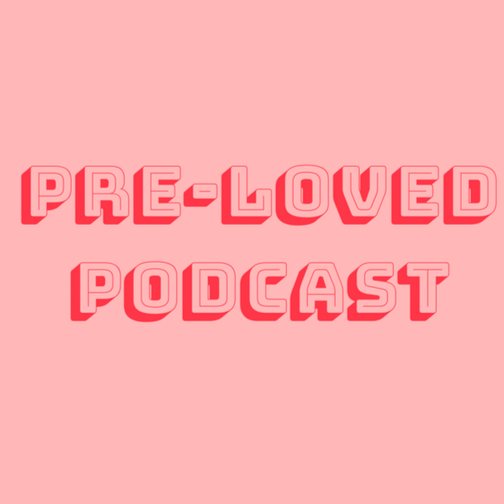 Pre-Loved Podcast by Emily Stochl
If you want to be updated about what is happening in the global vintage world and get to know international vintage vendors, Pre-Loved Podcast should be your choice. The host Emily Stochl is also known as an avid reader and activist.
Why and how did you decide to launch a podcast?
I launched the podcast on October 1st, 2018, and there are currently over 100 episodes available. But when I made the decision to start the show, back in the spring of 2018, it was because I was deeply interested in sustainable and ethical fashion but realized there wasn't a podcast that specifically focused on the secondhand side of things, which was what I've always felt most passionate about. I'm a firm believer that if you want something to exist, maybe it means you should be the one to make it, so I did!
What is the mission and goal of your podcast?
Pre-Loved Podcast is a show about vintage and secondhand style. I wanted to create a show that focused on the pre-loved side of the sustainable fashion industry because thrifting was my entry point to sustainable and ethical fashion. The secondhand fashion space is really just as large, diverse, and complex as any other element of the sustainable fashion industry, and we need to tell and understand those secondhand stories. I interview vintage sellers, thrift influencers, ethical fashion advocates, upcyclers, flea market organizers, fashion historians, experts on the global secondhand supply chain, and more.
If a listener wants a short intro: what is the best episode to get to know what your podcast is about?
I'm going to cheat and pick two episodes from my most recent season, the first with Sally of @callmeflowerchild, because it's a great example of how we talk about fun subjects like vintage and thrift, alongside serious topics like inclusivity and garment worker solidarity; and the second with Kate Sekules, who is a fashion historian focused on visible mending, because I love an episode that has a bit of history in it, as well as actionable sustainability advice!
What is your favorite episode?
Okay, I'm cheating once again because I have a couple! The first is with Elizabeth Cline, author of Overdressed (2012) and The Conscious Closet, because Overdressed launched my interest in sustainable and ethical fashion – Pre-Loved Podcast wouldn't be here without that book.
Another favorite is with Dr. Nick Juravich, who is a labor historian. We did a whole episode on the International Ladies Garment Workers Union – vintage collectors will know those cherished tags! My grandma was a union organizer, so this subject means a lot to me.
Finally, the episode with Liz Ricketts, the co-founder of The OR Foundation, which is about the global second-hand clothing trade, specifically centered on the foundation's research in Accra, Ghana at Kantamanto Market. We dig into subjects like waste colonialism, and this was the episode that really cracked something inside me open and revealed the potential for unique stories that Pre-Loved Podcast could have.
What is coming up next for your podcast?
This season we'll cover deadstock, vintage bridal, working as a stylist, textile recycling, accessibility in the thrift scene, and more. It's also my goal to continue to make the show more global, and this season will feature episodes from secondhand sellers in Peru, New Zealand, Belgium, and India.
This year I launched Pre-Loved Podcast Patreon which has also given me the flexibility to start a new segment of Pre-Loved Podcast: The News Flash, new and noteworthy topics of the secondhand space.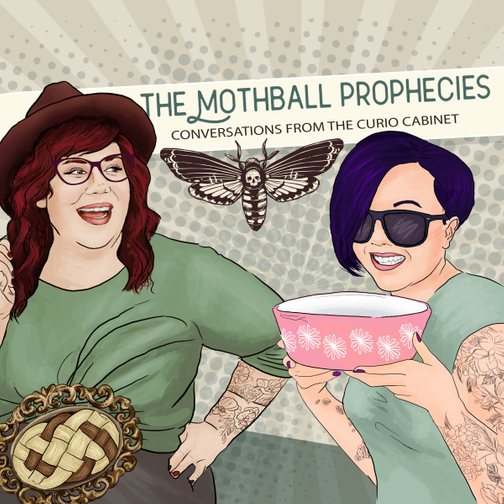 The Mothball Prophecies by Samantha Mashburn and Jill Huffman
The newest podcast on our list is all about vintage collecting. The Idaho-based hosts themselves collect oddities, Pyrex, vintage linens, and cake stands, to name a few items.
Why and how did you decide to launch a podcast?
I am in a local antique study group and I am 50 years younger than some of the members. I would sit and listen to these women share their love for collecting and the stories of treasured family heirlooms and I knew we needed to find a way to save these stories. Due to the pandemic and the inability to meet with these members, the show pivoted but we hope to sit down with the women who inspired us this year when it's safe.
What is the mission and goal of your podcast?
Our main goal is to create a community of people who love old things, people who love a good story, and the history of their items. We hope that people can come to our show week after week and learn something. We want people of all walks of life and all levels of collecting and knowledge to feel welcome when they are listening to our show.
If a listener wants a short intro: what is the best episode to get to know what your podcast is about?
I would suggest EP 4, Linda Heikens-Davies of Wildhare Estate sales for a truly remarkable look at the world of estate sales.
What is your favorite episode?
We don't think we could choose one. Each guest is so different and interesting that they all really hold a special place for us. One thing we didn't expect to find when doing this show was the deep friendships that have formed with our guests. The show has created a beautiful community for itself. A bonus perk is now we have people all over the world to ask for help with identification or clarification!
What is coming up next for your podcast?
We hope in the coming year we can start to travel to interview and pick across the country.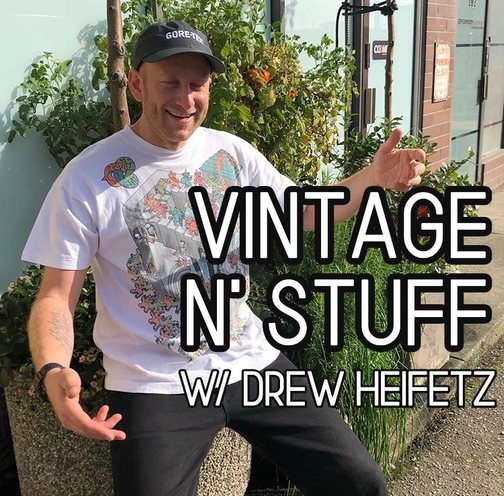 Vintage N' Stuff by Drew Heifetz
What started as casual conversations with this vintage seller's father, is now one of the most entertaining vintage podcasts. The Vancouverite host Drew Heifetz sells vintage and reworked fashion at his two Canadian stores and online.
Why and how did you decide to launch a podcast?
In 2019, I started with the idea of recording my father's memories about vintage business. He has been in the business since the 60s. I thought maybe one day we will have enough material for a book for someone to create. Then I just got an afterthought and published our conversation as a podcast. People were very interested and I got listeners right away. It really just grew from that. Now I have done five episodes with my father, and we are going to do more.
What is the mission and goal of your podcast?
The main focus is vintage education: learning from other and helping people who want to learn more. I enjoy learning from people who have tips and tricks about vintage clothing and running a business.
What I have learned along the way is that you don't have to be the best in something to go ahead and do that. I'm not the best podcast host or the best vintage dealer but I enjoy what I do. I enjoy all I do, I get great feedback, although I used to be a shy person. If you are passionate about what you do and stick to who you are, people will respond.
If a listener wants a short intro: what is the best episode to get to know what your podcast is about?
I have never done an actual intro episode but the episode Legends and Trailblazers is David Cho of Vintage Depot interviewing me for his show Chatting with Dav‪e‬.
What is your favorite episode?
The one with Larry McKaughan of Hellers Cafe. He is a very interesting and respected man in the vintage world.
What is coming up next for your podcast?
Some of the upcoming guests will be Molli Jean from Strange Desires, Kelly Cole, and Lindsay Rose Medoff from Suay Shop – a true eco-warrior and one of the largest reworkers in the US. We'll also have another episode about Polo archives and snapbacks with my brother.
I would like to have more guests who specialize in streetwear and sneakers, recycling and upcycling, and talk more about the environmental impact of the clothing industry. I'm hoping to get The Round Two co-owner Sean Wotherspoon hopefully soon on the show, too.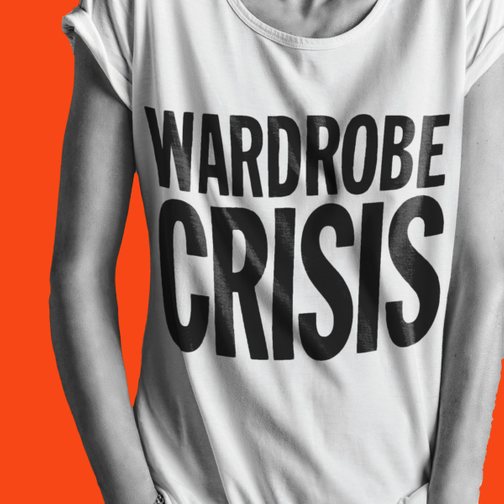 The Wardrobe Crisis by Clare Press
Launched by the former sustainability editor of Australian Vogue, The Wardrobe Crisis is more than just a podcast. It is a book about history and ethics about what we wear, a magazine, and soon also a documentary.

Why and how did you decide to launch a podcast?
Wardrobe Crisis is based on my 2016 book of the same name. Why a podcast? Actually, there is a reason and I don't think I've ever told this story before, but it was because of Patagonia. More specifically, Patagonia's founder Yvon Chouinard. I did this incredible 2-hour interview with him for the book, and afterwards realized how rare it was to get time with him, and wished I could have sought permission to publish the audio – only it was a terrible scratchy recording done over the phone. I was like, what a waste! I need to record this stuff properly…
Over 15 years in magazines, I interviewed all sorts of legends using this little Dictaphone with tiny cassette tapes. When I was done transcribing, I'd tape over them. Can you imagine? I taped over Marianne Faithfull telling me what she wore to date Mick Jagger in the 60s. I taped over Beyonce.
What is the mission and goal of your podcast?
To get people thinking about sustainability. Fashion is the jumping-off point, but we're just as likely to make a show about soil erosion or biotech as we are about a dress. We look for big names and extraordinary, unique stories.
If a listener wants a short intro: what is the best episode to get to know what your podcast is about?
They are all different, so it depends what you're into. For vintage, try Episode 108 with London-based stylist and former Cheap Date editor, Bay Garnett. Or try the most recent episode about vintage and second-hand, featuring Gem founder Liisa Jokinen and two other listeners!
What is your favorite episode?
Recently, we ran a pass the mic series and Episode 136 is essential listening for anyone who cares about how their clothes are made. Guest host Ayesha Barenblat interviews Bangladeshi union leader Nazma Akter. I am proud of publishing this important piece of journalism.

My favorite episode where I'm asking the questions has to be the two-parter where I went to Laos with NYC jewelry brand Article 22, and detonated an unexploded bomb on air with the Mines Advisory Group. Part 2 (Episode 122) features the most extraordinary person I have ever interviewed - the anti-war photographer Giles Duley.
What is coming up next for your podcast?

Wardrobe Crisis is a podcast right now, but it's might be something else tomorrow. It's also a magazine and a social media platform but, ultimately, it's a community. I'm making a documentary at the moment.
More noteworthy vintage podcasts:
• Allow Us to Rethriftroduce Ourselves
• My Best Vintage Life
• Tee Time
• Very Vintage
• Well Worn Pod