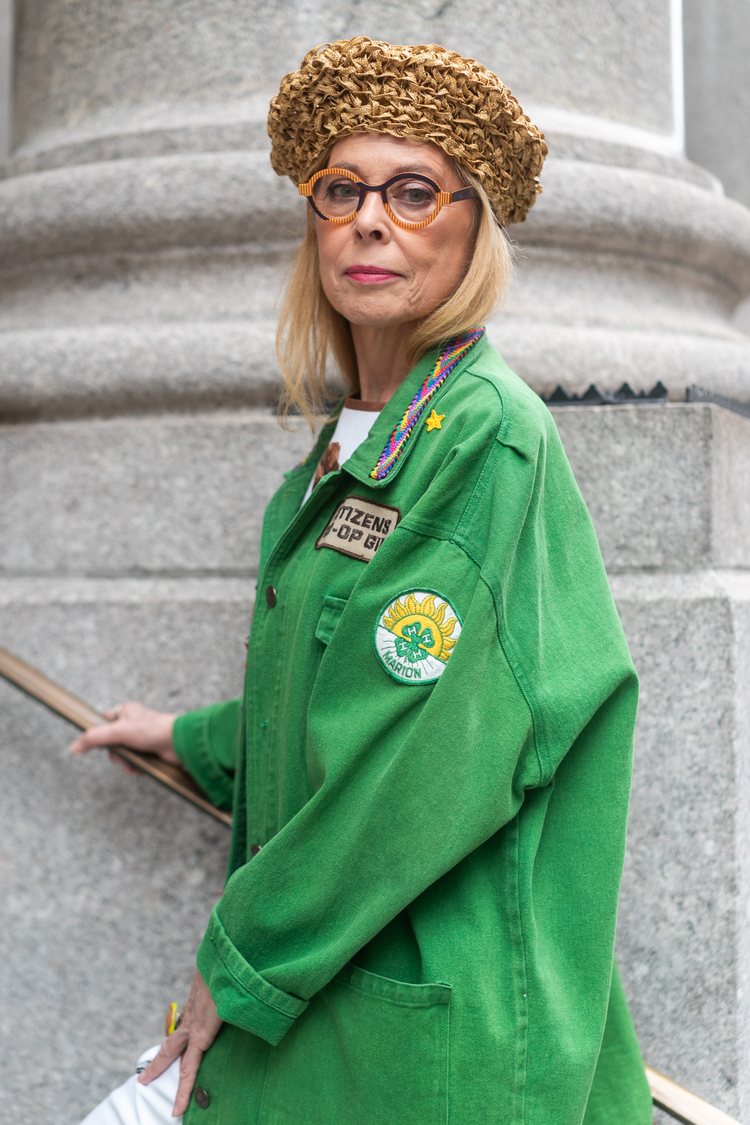 Artist Apryl Miller's sense of style was developed by her fashion-conscious mother, Sunday pew, and 60s mod movement.
"I was raised by a fashion-conscious mother and that set me on the path of both conformity and lifelong style experimentation. To follow trends is conforming, it's a world we know well.
The best news is, whatever our choices, there's no wrong in fashion. At all times, we are free to choose our own way.
I was a preacher's kid, so our Sunday pew sitting was paramount, especially the view to our pew. We were a pack of 7 kids, 5 boys and only 2 girls, but we don't much talk about all them boys. We girls received the bulk of the bounty of the clothing attention. My mom sewed both for herself and us girls, (YAY). Later, I, too, learned to wrangle a sewing machine, spending heavenly hours sporting my completed garments. I remain dedicated to how I present myself to others.
My defining era with fashion began in the 6th grade. For Christmas, Santa brought me an official miniskirt. In my dinky little town on the west coast, I was Venus, arriving on the half shell, clad in my ever so exciting skirt! That skirt! And arrive, I did. The first day, I was sent to the principal's office, mom was called to fetch me. The sin? 'Twas the miniskirt, the length of it. It could not be allowed, it would excite/entice the hormonal boys in my grade. I was being punished, without crime. I cried. It turned out OK, though, as that was the year I discovered Courreges.
I was 12 in 1967. A mere 2 years later, the first astronauts landed on the moon. Courreges was prescient. He prepared us, he made our world ready.
I was drunk with modernity. I've not been as mesmerized with an era, its clothing, or a designer since then.
The change in fashion was radical, unprecedented and I was there to see it. Twiggy, Jean Shrimpton, Mary Quant, zippers in unexpected places, metals, cutouts in dresses, showing the skin of waists, backs, midriffs, heels went low, waistlines dropped, plastic as fabric, double breasted jackets, geometric shapes, short skirts, some short as they could get, with unmentionables barely covered, PARIS, large round dark sunglasses, cropped, short hair on girls, it was futuristic, it was space age, we looked like astronauts in our small white hats and white go go boots, it was the clothing of now and the unknown future.
This look consists of 7 pieces. My concept was a vast array of colors, combining a sleek, silky, sensual skirt with a soft sweater, juxtaposed against a textured purse, vest and necklace. I thrifted the form fitting sweater, with luscious fall colors. The skirt is Dries van Noten, purchased at Nordstrom.
I bought the lace up shoes at Barney's. When I opened the box at home, I discovered one shoe was a high top, the other a low top! As serendipity makes the world go round, I had to keep them. The Koret wicker purse is vintage, purchased via Etsy.
The necklace is a stunning 1960's piece consisting of small gold seed beads, rhinestones and other shimmery plastic pieces, purchased from Etsy. The showstopper vintage orange vest is covered in gorgeous, embroidered flowers, and multicolored rhinestones. It was a gift from one of my daughters. Lastly, I am sporting a fave article of clothing, that has been a wardrobe staple for decades: ski socks of many colors. I do not seek colors to match. I seek more colors. Bright colors, not muted.
This ensemble is composed of 6 pieces, the look is sleek, sleek, sleek, oozing with sensuality and sophistication. I sought simplicity in style and color, which is very far from my fashion nest. To achieve my objectives, I pulled items from my closet that don't get much play. I've worn this luscious dress once, only. It was time it got out. I purchased the kimono style dress from Black Book Vintage. The sleeves are lined in a light green fabric, with slits on each side up to the knee, the fabric is printed in a darker green shade. A very long zipper, zips up the back, completes the dress's attitude. I've paired it with a silky scarf, modernist purse, shoes, a stretchy cap and a pin. I paid $3 for the scarf, discovered at my church's rummage sale. On picture day, it just had to jump on up round my neck and tie itself in such a sassy manner. I applauded its gusto.
In keeping with my simplicity concept, I kept matching color, hence the shoes, purse, hat combo. I purchased the midcentury leather purse from Modig, the trapezoidal shape is stunning, complete with matching wallet. The shoes are new, from Re-Mix Vintage Shoes. I'm a devoted customer. The little knit cap was thrifted, I've adorned it with a petite heart pin which I made. So cute. Now, when you look at it in the picture, you'll think of love.
I just dang look like I'm having myself a gay old time!! I'm gonna keep this simple. Ya don't need many words when you got this outfit. Vintage Adolfo hat was purchased at 1stDibs, a 1970's sheath, flea market fare, chosen to match with the hat and the coat adornment. Vintage TU-KHAN purse, (how do you spell a Lion roar?) purchased online, Charles Jourdan cute little boots, bought at Saks Fifth Avenue.
And now, my collaboration, the houndstooth and the pins. The same daughter presented me with the coat, so I'd quit borrowing hers. When I saw that coat, I knew what it needed, knew what it yearned for. I brought out my secret stash of vintage 1980's dayglo pins into the light, (Etsy purchase) and pinned them up and down the placket of the jacket. Me, the coat and the whole dang thing, all set to take on the world.
I'm back to my roots with this 6 piece amalgamation of sublimeshimmery, textury purse, thrifted, rhinestony vintage top, thrifted lacey dress, vintage from Etsy, boots new from Barney's, vintage pins and jeweled hair clips attached to the rhinestony top, accented with hot pink SPANX arm tights. With this combo, any woman is decked out to go where ever she desires, with others, or alone. Along the journey, the hair clips may be removed from the rhinestony top and she can make herself a twisty new hairdo. This is a look that dares to be itself and will take you with it.
Asymmetry rules in the heart of The Apryl Miller Zeitgeist, asymmetry and unmatch. All is a jumble in a big mix of imbalance and unexpected, in my sartorial choices and expressions in my home. I do not care for black and white, therefore, their use is judicious. They are not colors to me.
To match is easy, comes natural to the eye. The opposite requires concentration. When match is not involved, cacophony and disharmony become peace, which glides to the surface. Peace.
Streamlined, minimal, party on the front and on the back, I present a 4 piece ensemble. The dress is a 1960's sheath purchased from Etsy. Brown is exceedingly rare in my closet, tho I'm oddly attracted to the few pieces I own. The brown floral pattern is repeated on the back.
The woven Italian straw hat, purchased at Bergdorf Goodman, is a delicious textury confection. Its weave is loose enough, all sorts of interest can be introduced, dried flowers, weave a necklace in and out, clip on earrings, even those little paper Japanese umbrellas. The sky's the limit in my book.
Lastly, we arrive at the denim jacket. I purchased this decades ago with the idea of stitching patches on it, which I did. 4-H patches, Bowling Teams, patches from churches, people's names, stars, etc. Around the collar I placed a colorful trim and down the front, I stitched a trim of fruits and vegetables. I chose these two garments to illustrate the dress down/dress up aspect of the two pieces."