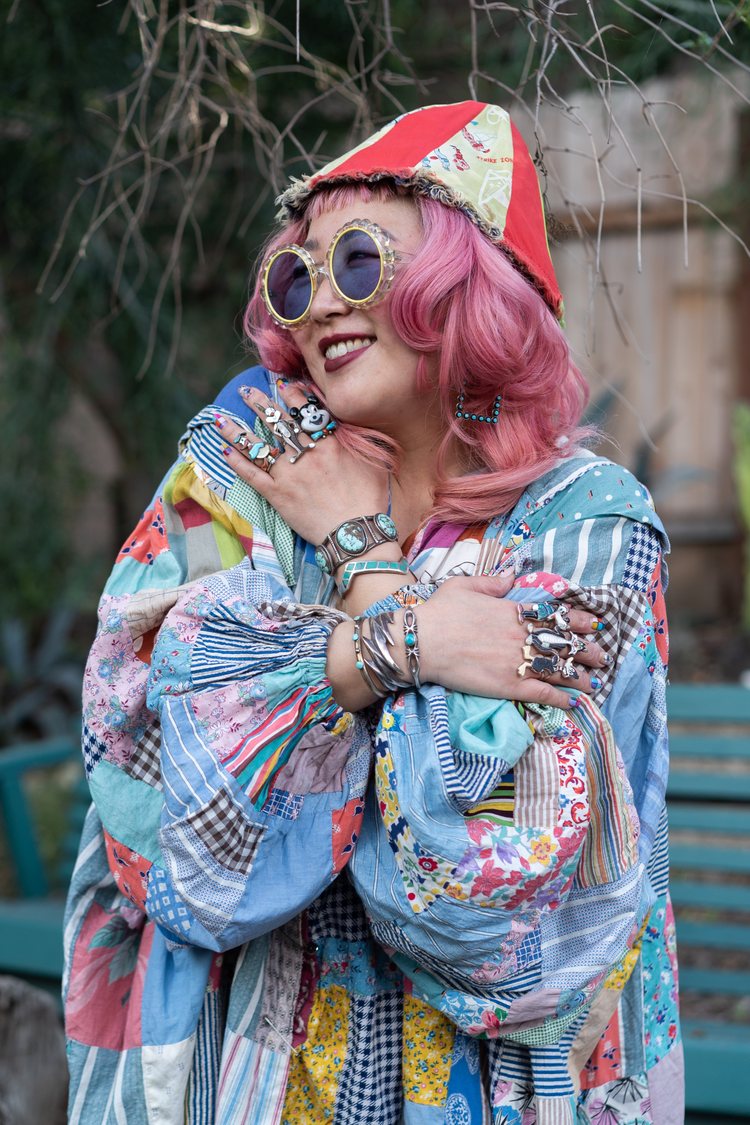 people
Akina Sato Shares Her Favorite Vintage Finds
Akina Sato's style is a happy mix of vintage, designer pieces, and weird items.
"I am a wife, a buyer, and seller of vintage clothing (online and at the Rose Bowl Flea Market). I design a brand called Chemist which is inspired by vintage clothing and based on the concept of using existing materials to create wearable art. I also work with my partner Andrew as the North American sales agent of a Japanese brand called Readymde.
I liked vintage when I still lived in Japan, but when I moved to the US about 10 years ago, I was charmed by the way of life in LA and since I was so much closer to so much vintage I really fell in love with it.
I don't really wear vintage in the way that it was styled at the time.
Rather, I enjoy mixing eras, combining them with modern and designer fashion to create my own style.
When I look at vintage items, I think about how each of them was used and cared for in such a way that they still exist today. Almost every item is unique, with its own history passing from owner to owner, occasionally being customized (embroidered, cut, patched, etc), with color or fabric damage that tells a story. I think that story in each piece is what is really special about vintage clothing.
I have clothing with holes or damage, but I think of each of those flaws as an irreplaceable part of that particular piece of art. I start to see it as a map of the item's life, and it fosters a sense of nostalgia.
I purchased this 30s handmade oversize patchwork top at Brimfield Antique Market. It looks like this is a clown costume that was cut, but I wear it as an oversized top. I love the way it wears while keeping some of the original feeling.
I love mixing colorful, weird items, vintage or designer, to try and create a one-of-a-kind style.
Right now I love mixing flared pants and bell-bottoms with 30s costumes.
I like the design of 70s black light posters and psychedelic prints, and 90s Comme des Garcons-like clown outfits. I'm also into polka dots and swirls patterns right now.
I've loved Martin Margiela since I was in my teens, particularly when Martin was still designing for the brand.
I love how he would find inspiration in everyday items and create something completely unique, something that no one else could make. I feel his inspiration when designing for my own brand as well.
I have been collecting Margiela Tabi boots since I was younger. Between boots, long boots, mules, and pumps, I have about 30 pairs.
There are people whose style I admire, or occasions when I think a look is cool, but I don't have someone that I think of as an icon. I think even if I admire someone, I wouldn't look like them even if I wore the same outfit. So many things go into fashion, especially a person's body. I will look at other people's styles, but go back to my closet and choose something that suits me.
My favorite places to shop vintage in Los Angeles are Raggedy Threads Vintage in Little Tokyo, Meow Vintage in Long Beach, Golyester Vintage in West Hollywood, and Vintage On Hollywood in Silverlake.
Online and at flea markets my favorites are The Goods, Strange Desires, Irons and Duck, Please and Thank you Store, Gypsy Hunter, Winning and Losing, and Antique Wardrobe.
My fashion sense today will be old tomorrow, so I just try to think about what I want to wear right now."
Follow Akina on Instagram @akyana