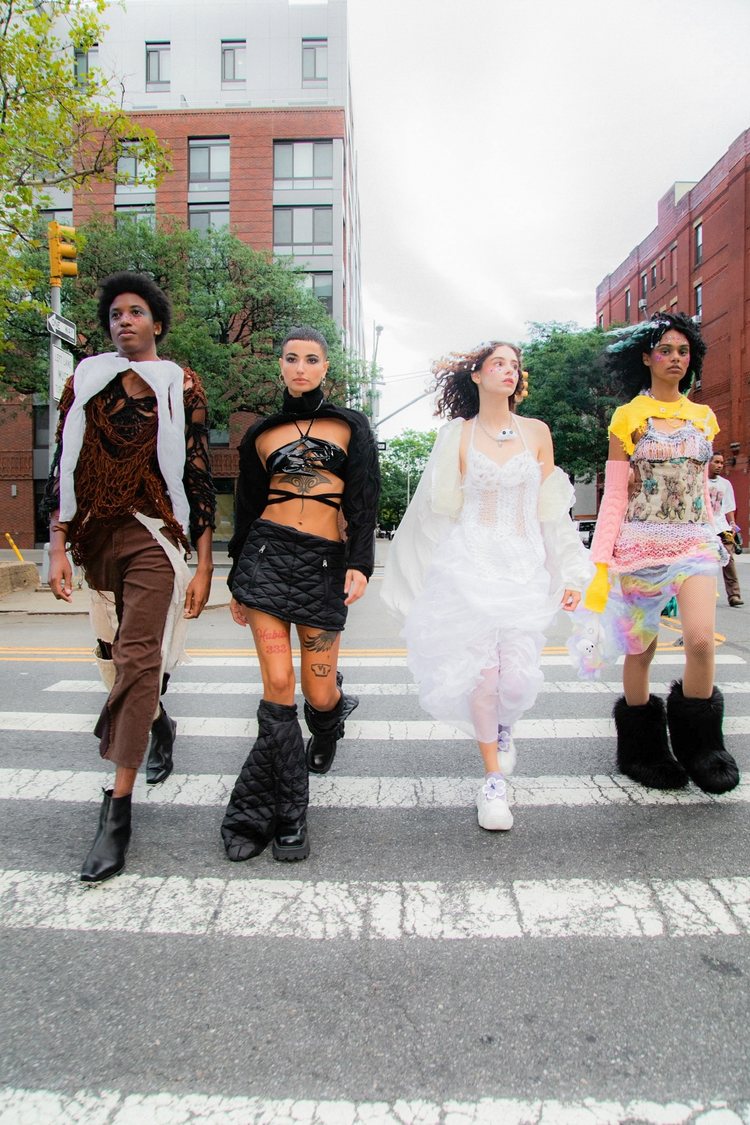 Get to know Gen Z upcyclers, curated by podcast host Lexi Ciagne, 23.
When even big brands are exploring upcycling, you know there is a major shift happening. Marni has made patchworked outerwear from existing garments, and Coach recently launched reworked 70s bags. Gabriela Hearst's SS21 collection contained 60 % upcycled pieces, to name a few examples. Even the fast fashion behemoth Shein is going to launch a reworked category.
After graduating in May 2022, Lexi Ciagne started asking herself, what would be the one thing she would have wanted to accomplish if she died tomorrow.
"The answer was simple: I need to make upcycled fashion a normal part of society, pop culture, everyday life, and business models. I need to bring upcycled fashion mainstream. I love all things circular fashion, innovation, creativity, and exploration", Lexi explains.
So, in June, Ciagne launched a podcast called That's Not Rubbish about all things upcycling and sustainability.
"It's not only mindblowing to see what upcyclers are doing with everyday—making corsets out of sneakers or slides out of tennis balls—but also so good for the environment. No new materials are being made, and no materials are being thrown away. That's a major impact! I think our society has forgotten about where things come from, where they go when we are done using them, and the cost of it all. It's so satisfying to see things reach their full potential", Lexi explains.
Usually, upcycling is defined as making new products out of waste, useless, or otherwise unwanted material.
"Upcycling can be ground-breaking and eccentric, or it can be minimal. It's about the process and materials used. But it is always creative, resourceful, avant-garde, innovative, and just amazing", Lexi says.
"I just know everybody would love the idea of upcycling if they just knew about it. It's ethical, unique, fascinating, and a fun challenge."
For this post, we asked Lexi to handpick some upcyclers that she believes in. Learn more about these young creators, their brands' origins, and future goals below.
Fruitful Interpretation of Time by Ruby Webb
"In the summer of 2019 I took a two-day upcycling workshop taught by the oh-so-wonderful Alexa Stark. After that, I began teaching myself how to sew and practiced creating reworked garments. I wore my pieces to school and started selling to friends, then put my work onto the internet and have continued on that path ever since.
I make one-of-a-kind garments and art pieces for any size or person. I source my materials from thrift stores, deadstock fabrics, estate/garage sales, donations, etc… Not only do I love keeping my work sustainable, I have always felt that there is an extra cherished connection to clothing when it has had past homes. There's a story to be told, even if you are unaware. There's such an intimate and special feeling, creating and wearing any kind of secondhand or sustainable clothing. I'm inspired by what randomly interests me from time to time, ex: houses, clocks, miniature objects, etc… I think it's good to remind yourself to have fun, and by doing so you unconsciously stay motivated by the surroundings.
In fast fashion, and especially in the sustainable realm, size inclusivity is slim pickings. I think it's important to have accessibility for everyone. One of the many reason why I think sewing resonated so deeply with me was because growing up and all my life being plus size, it was insanely hard to find clothing that was in my style and size. Now I am able to bring my ideas to wearable life and hopefully to many others that surround me!"
Fruitful Interpretation of Time
@fruitfulinterpretationoftime
Reworked 4 Women by Danasia Griner
"I launched my brand in June 2022 when I reconnected with my passion for sewing and design. My brand started as a vending only brand where I would do pop-up shops with upcycled pieces I made. When I got a lot of positive feedback I wasn't expecting, I decided to take things more seriously. I started working with denim and really enjoyed the process of distressing and recreating these streetwear inspired designs. In the past few months, I rebranded myself into solely reworking garments for women, making it my mission to create streetwear and fashion-forward sustainable designs for the coolest women out there.
I source all my materials secondhand. I go to vintage and thrift stores seeking out quality denim brands like Levi, Calvin Klein, Harley Davidson, etc.
My future plans for my brand are to get my name out there and let people know that streetwear can be sustainable. I want to see my pieces on more women who aren't just fashionable but also care about the environment, and how damaging these fast fashion companies have become by profiting off of someone's lack of personal style."
Reworked 4 Women
@reworked4women
CityGirlBeachBum by Laura Cook
"I made up the brand name in 2006 when I was making jewelry out of little things I'd find and just give it to my friends. Fast forward to 2016, and I used that name to open an Etsy shop to actually sell a piece of jewelry I'd made. The transition went from selling handmade found art jewelry to selling vintage, to getting a sewing machine when the pandemic hit. Then I just never stopped sewing!
The thrift stores are an endless supply of funky sheets and clothing items that need new life. My friends, who are also thrifters and pickers, will pick things up for me too. If I need something specific, I usually turn to eBay.
In the near future, I hope to host some classes to teach some simple upcycling techniques. Maybe for kids, or maybe for anyone! Never stop learning right? Upcycling is such a great way to keep what we already have in circulation and make your wardrobe really be a reflection of you. I am just in love with the idea of every piece of clothing being a unique art piece. Even the basics don't have to be basic."
CityGirlBeachBum
@citygirlbeachbum
The Modern Alien by Alexandria Carroll
"I started my brand in March of 2020. I make clothing for all occasions, such as raves, high fashion and everyday streetwear. A lot of the materials I use are bed sheets, curtains, and other articles of clothing. My goal is to enter the high-end fashion world as a sustainable fashion brand. I will be a designer for New York Fashion Week in September, and I am excited to start my journey breaking into the scene."
The Modern Alien
@themodernalien
Wäneforever by Anthony Vanheyningen
"Wäne was born as a gradual progression of my interest in clothes when I started my vintage business Lanky Boy Vintage. I did a lot of my sourcing for vintage at estate and yard sales and began to notice all the various blankets, table runners, napkins, bedding sets, etc, that had sick patterns or images depicted but didn't get bought/used. I started with Grandma squares making my first set of scab patches, and I haven't looked back since. I opened my website in May of 2022 before I graduated high school.
I still run my vintage business so I find a lot of the stuff I work with at estate sales, thrift stores, yard sales, buyouts, etc. The things I make are based on stuff I need in my real life (i.e. all the bags I make and sell are based on the sample bags I've made for my own everyday use).
I believe that each piece of fabric I find, no matter how large or small, is a perfect match with a clothing article, and it's my job as a designer to get that match perfect every time. I see it as an artistic challenge of sorts to try to make the best garment I can with every piece of fabric I can, and I do my best to improve on every one of my products constantly. Clothing has been an integral part of my life since I was 13. The eventual goal with wäne is to have all the clothes I interact with on a daily basis, from my jacket to my underwear, be designed and made by me."
Jobi Angel
"In 2020, during the pandemic, I started by selling vintage and preloved clothing, then I started making my own designs, and it all took off.
My brand started with my imagination. I just started to make what was in my brain and heart. My brand is independently run by me only, but I do have an amazing community of helping hands and supportive creatives when the time comes. I have a four-year background in mixed media painting and drawing, so I like to bring those elements over into clothing and different fibers. I like to source gently used knits, fabrics, and materials from local secondhand stores and small-owned shops. I'm a big fan of sustainability. Sometimes my family and friends gift me various fabrics and clothing that I use.
The future goal is to penetrate the high fashion industry with pure creativity and childlike wonder/ joy. I also hope to host independent pop-ups and be carried in different stores worldwide! I also would like to expand my knowledge on fabric construction and the psychology of fashion."