collecting
70s Novelty Prints
Student and designer Elias Matso started collecting 70s novelty print shirts at the age of 17. For him, they are the pinnacle of camp in menswear.
Liisa Jokinen · Nov 23, 2021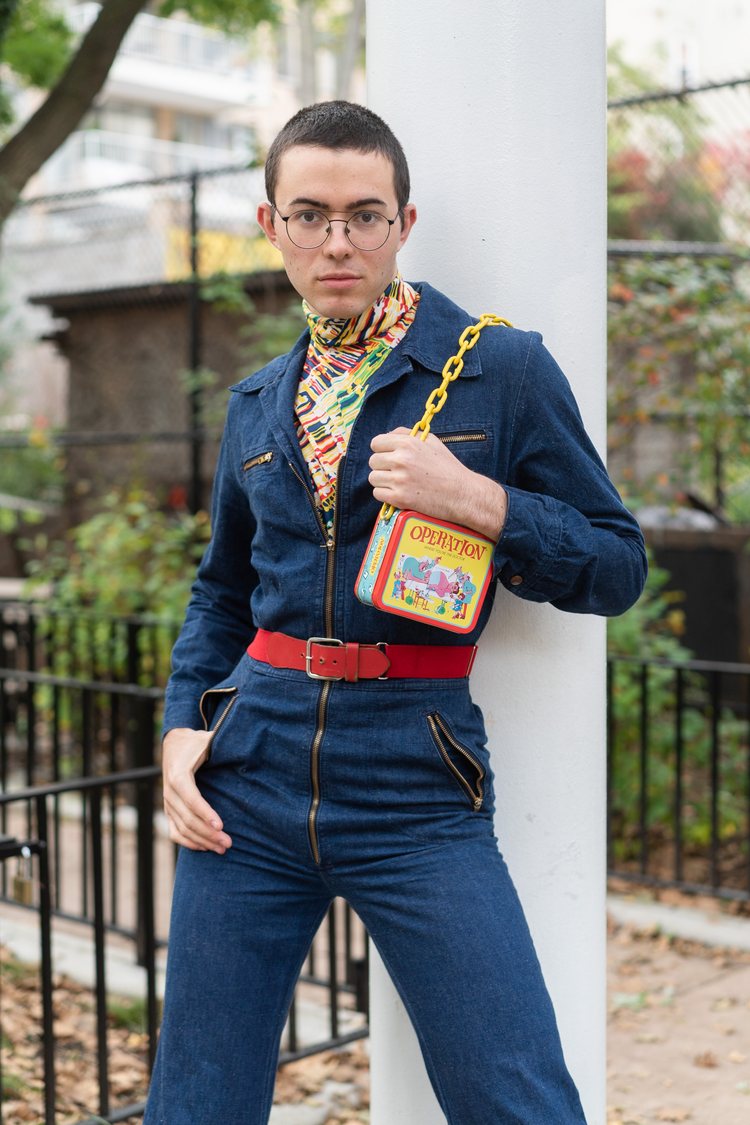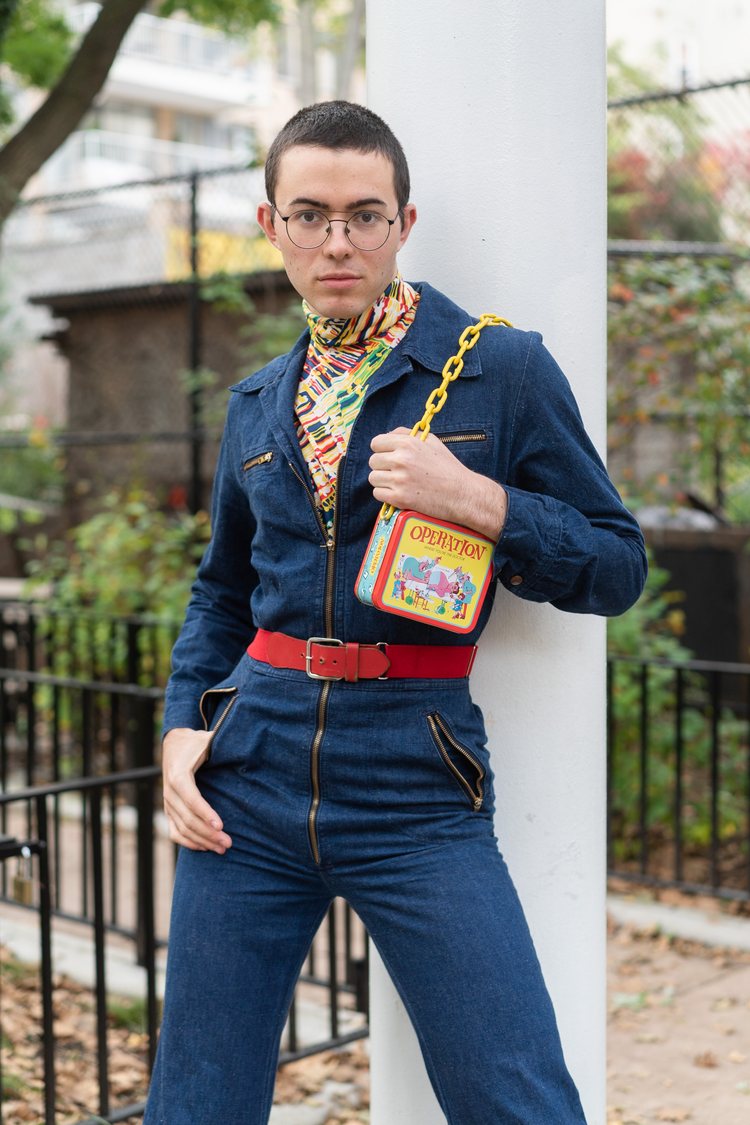 collecting
70s Novelty Prints
Student and designer Elias Matso started collecting 70s novelty print shirts at the age of 17. For him, they are the pinnacle of camp in menswear.
Liisa Jokinen · Nov 23, 2021

"When I was going to high school I passed a vintage store every single day on my walk home. I became friends with the owner Rebecca and a regular and began helping with the photoshoots and social media. I basically lived in this store all through high school. The name of the store was Cotillion Bureau. One day I saw a menswear shirt with leopards and poppies on it.
I had not realized fun like that could exist in menswear.
Homophobia was so rampant 50 years ago, and yet I would have been the target audience for this piece. So I bought my first ever 70s novelty shirt. Now I have 15 of them.
For me, these shirts are the pinnacle of camp in vintage menswear. I enjoy how much whimsy there is.
The print on this shirt makes me laugh a lot: a tiger walking across a Parisian bridge in Egypt – I love how little sense it makes. The subtle use of blue and orange is a big draw for me – it is my favorite color combination. The shirt is from David Owens Vintage.
I love imagining the person who would have worn these shirts and laughed at these prints and now me laughing at them again – that really makes me smile.
My favorite brand to look for is called Hukapoo. It was started in the early 60s when a sportswear brand hired a very young designer from Parsons School of Design – where I go now – to help them sell clothes to the junior market. They started with dresses and sweaters, and then in the mid 70s they introduced these printed nylon tops and they become a huge craze.
Hukapoo shirts were the first contemporary fashion items that MET Costume Institute accepted to their collection in 1978. As someone who religiously follows the MET Gala and the fashion exhibit every year, I kind of love the idea of having pieces that the MET also has in their collection.
I bought this deadstock Huk-a-Poo ski sweater from Farfalla Design at Chelsea Flea last year. I love the simplicity of the pattern and the odd mix of bright colors. It feels very childish which makes me happy! Plus it's cropped with sleeves that actually fit my arms, which I never find.
The shirt is also deadstock Huk-a-Poo Limerix (their teen line) from Hello Banana in East Village. The store was brand new at the time and now I'm good friends with the owner Bailey. The fact that the two pieces of deadstock Huk-a-Poo that I have work so well together is a total serve.
For a while, my secret weapon was the vintage rack at the back of the Buffalo Exchange in Chelsea: nice vintage pieces but with Buffalo Exchange prices. That's where I found this suit for $40.
At first, I would buy every 70s novelty print shirt I spotted. I didn't really realize that abstract ones are actually not that hard to find. If I bought every nylon shirt with a nice floral or plaid, I would be broke constantly.
I try to stick to ones that have a scene or narrative going on because they are way more collectible.
People in fashion often talk about telling a story with clothes, and these shirts do that in the most literal sense. I am a very sarcastic person and I think it's funny to dress in a way that is 'on the nose' and very obvious.
This shirt is from Cotillion Bureau and it's probably my favorite print in my collection. It has ridiculous spacemen jumping around the galaxy with little briefcases. It's from the era when space travel was still a somewhat novelty thing so their outfits are super stylized and mod. I feel like they look like a mix of medieval knights and robots. I like to think of it as a prediction of the future when going to work means strolling through space.
The pants are part of a vinyl suit I made last year for myself. I have always wanted to make vinyl pants and I was having so much fun that I also made a jacket to match. The reaction on social media was unprecedented for the amount of followers I had at the time - it is probably the best-received thing I've ever made. I was very alone and stressed at the time, living in NYC during the pandemic. Making that suit was a good way to channel my energy and I am definitely going to revisit that design very soon.
This one I found on eBay. The bid was scheduled to end while I was on a plane so I asked my best friend to bid on it. Later on, I heard she had to go to a doctor's appointment and had to ask her mom to bid in her place. It makes a great story that I tell whenever I wear it.
My go-to look is to wear these shirts with a clashing neck scarf tied under the collar. They don't really match at all and that's kind of the point.
I like a challenge when it comes to styling an outfit and the ridiculous prints on these shirts have definitely made me late to work multiple times.
This 70s nylon printed turtleneck was the first piece I ever bought at the Chelsea Flea in New York – my favorite place to shop at the moment. The shirt cost only $15. The colors of the shirt remind me of spring and Jackson Pollock.
Last spring, I was invited by my friend Adam Irish to attend the Threadbare vintage show in Southbridge, MA. I spent all my money, and then, on my way out I saw this sexy denim 70s jumpsuit at Dated Vintage's booth. It fit me perfectly. But I couldn't buy it because I had maxed out my budget. I mourned and eventually got over it. But when I came back to NYC, I found the very same jumpsuit at 9th St. Vintage, and at that point I was like: if nobody has bought this insane item in 4 months and it fits me better than anything I've ever put on my body, I just need to buy it. It is the best vintage piece I have ever purchased.
This print is extremely sentimental to me: I was given the shirt by a dear friend of 13 years when we came back home after not seeing each other for 6 months. She said she had a gift for me and gave me a mysterious bag. Inside was this shirt: a men's Huk-a-Poo with peacocks in shades of blue and orange. She had found it for 5 dollars in DC. It is the best gift I have ever received."