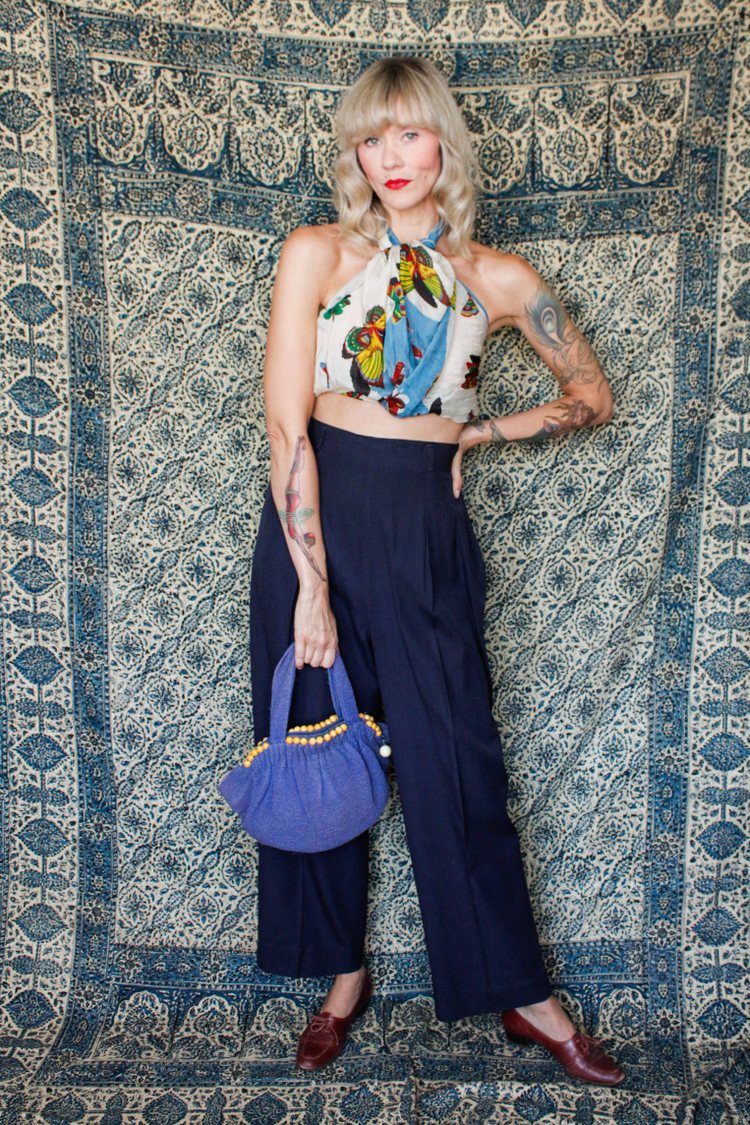 30s vintage tends to be rare and come in small sizes. Luckily you can create 30s looks by using more affordable and common 70s vintage. Karyn Dethrow of Dethrose Vintage shows how to do it.
"I always gravitate to the 30s and the 70s. The 30s were ahead of the time. So many designs began in that era that were sexy, playful and really celebrating feminine and masculine lines. A balance.
And the 70s took on that 30s inspiration and really opened those designs to so much more. The 30s and 70s fashion bends gender expressions to be fluid and innovative. I just feel those eras showed strength in sexuality and often genderless style.
I think because the 30s was embracing the freeness of the 20s in fashion to a higher extreme, it makes sense the 70s, an era of sexual expression, music and freeness would be inspired by designs of the 30s.
This is an outfit entirely from the 70s with a nod to the 30s. The bold floral blouse with the classic 70s collar is definitely inspired by the 30s color palettes, the sharp dagger collar, and the softness of nylon jersey. I paired it with a 70s skirt which has a trumpet silhouette made popular in the 30s. It balances the width of the hip, creating a flattering look on every type of body. The perfect addition was the hat, a small brim woven hat from the 70s that screams 30s!
If you want to create an authentic 30s look with 70s clothes, my advice is to look for soft fabrics, silks, rayon, and light jerseys.
Take pants for instance: instead of what some may think of with The Pant of the 70s, bell bottoms, go for a extreme high waist wide leg pant. Pair it with a super feminine top, one that shows the back, or with a low cut neckline.
This one is a 30s no-brainer! 70s small floral jersey gown with a puff sleeve, the colors and print is very 30s. I paired it with another classic 70s hat with a nod to Halston and Angelica.
Colors in the 30s are often mistaken for the 70s. Small floral prints in muted colors, bold prints in bright colors, dagger large lapels, soft rayon jerseys, bias cut fits that drape over the body...I could go on with all similarities that those two decades have.
A perfect 70s does 30s summer outfit! Early 70s jersey backless bold halter top, a 70s a-line skirt, and a scarf in the hair tied in a 30s style with soft curls.
For my online vintage store, I buy what I like and what speaks to me, as well as items that I feel will always be in style. I tend to stay away from fast trends and stick to what people may want to have in their closets for decades like the owners before them. Silhouettes that flatter and translate era after era for simply being beautiful. 30s is my favorite decade to sell but also not, because I often want to keep it all!
This outfit is one of my favorite tricks if I have a 30s piece I want to style around. The woven purse (in the cover photo) with bakelite details and the wide-leg navy trousers are both late 30s. (The pants I scored are men's suit trousers that were misdated.) I was missing a top and shoes to pull off a full 30s look. So I tied this 70s silk scarf in the style of the 30s and found the perfect 70s Ferragamo oxblood oxford leather heels to go with it. The result is an immediate late 30s end of summer 'masculine meets feminine' look.
I love backless halters paired with wide leg trousers and oxfords, soft fabric that glides on the body embracing every single curve.
This piece is the epitome of 70s does 30s: 70s polka pantsuit with an extremely wide leg and high neck sleeveless blouse.
It is reminiscent of a 30s beach pajama look that every vintage-obsessed collector searches for. If you can't find the rare and always sought-after 30s original, look for a 70s wide-leg jumpsuit and accessorize it with a 30s style turban scarf or soft waves in the hair.
Simple and translates to this day. I have seen three versions of this look: a 30s one with a longer hem, a 70s version shown here with a shorter hem, and again in the 90s with a midi hem.
Bias cut, rayon crepe, slight bishop sleeve – all very 30s and always stunning.
Styling without exact eras you may be looking for doesn't have to be a chore or difficult. Look for similarities, silhouettes and small details that translate effortlessly. I'm definitely not a vintage purist, my chosen way to style is to mix every decade and prints. I pick looks that people don't immediately know it's vintage. They just know it's good."
Shop Dethrose Vintage on Etsy
Follow @dethrosevintage on Instagram