denim
70s Denim by Hellhound Vintage
Kerri Barta and Jason Yolkiewicz are the founders of Hellhound Vintage, an online boutique specializing in premium vintage tees and curated vintage from the 60s to the 90s. One of their special fields is 70s denim.
Liisa Jokinen · Mar 24, 2020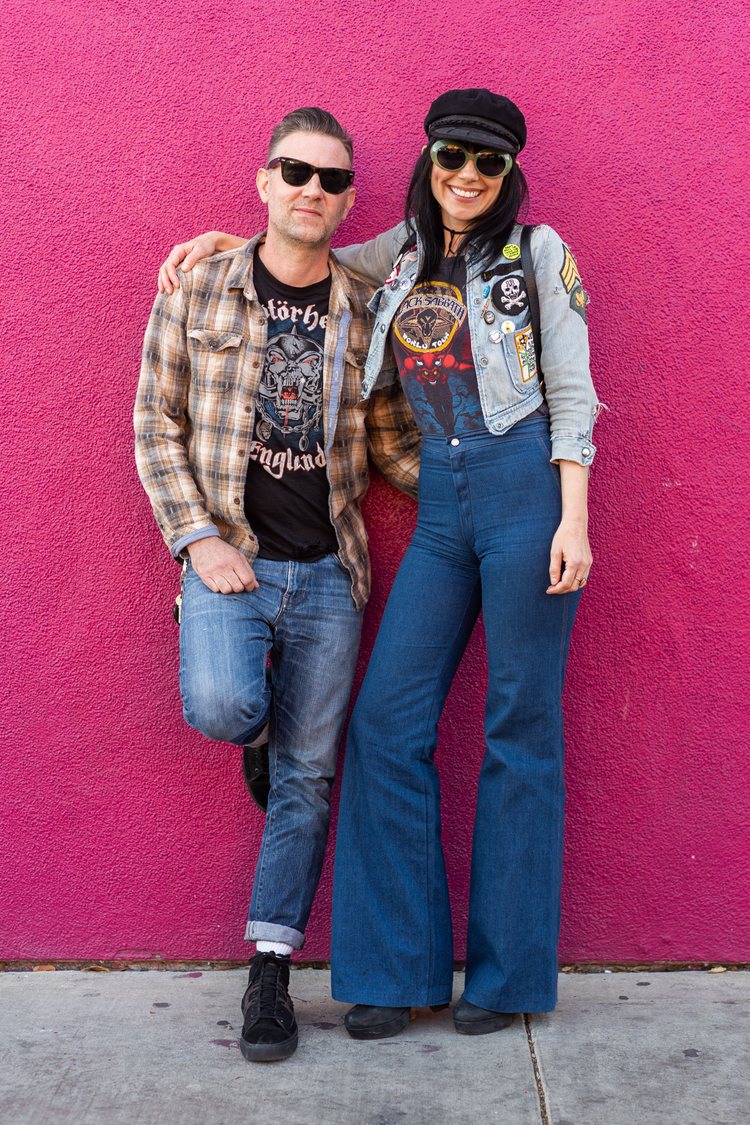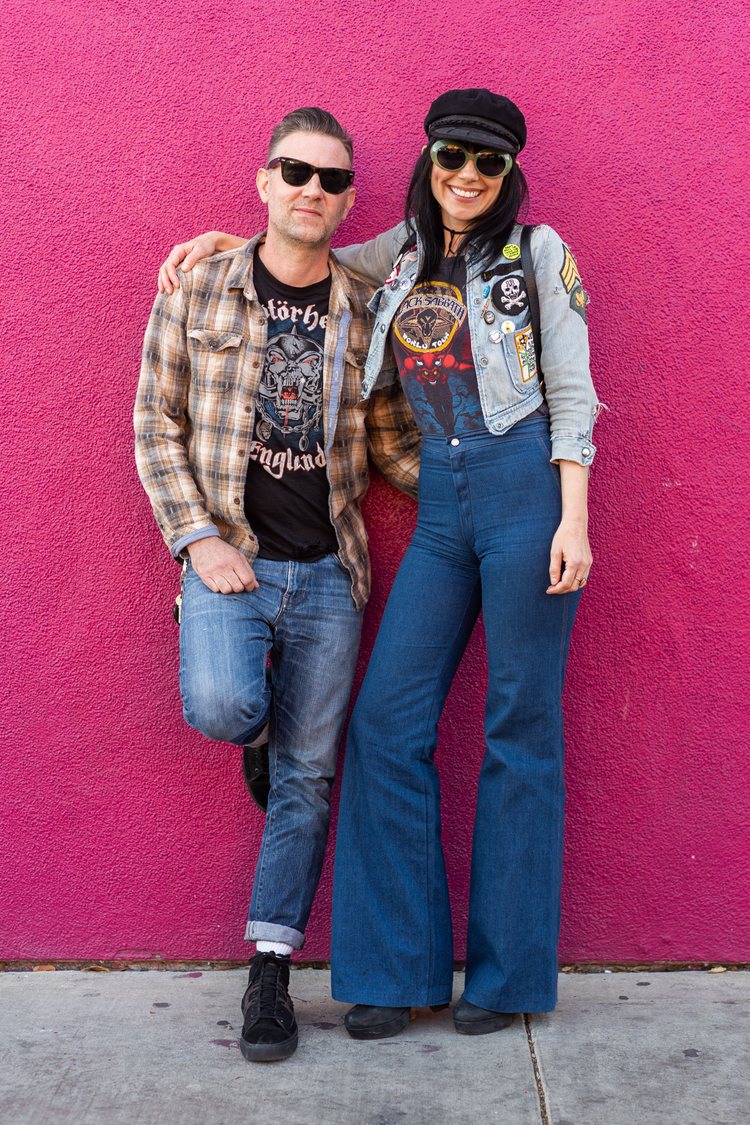 denim
70s Denim by Hellhound Vintage
Kerri Barta and Jason Yolkiewicz are the founders of Hellhound Vintage, an online boutique specializing in premium vintage tees and curated vintage from the 60s to the 90s. One of their special fields is 70s denim.
Liisa Jokinen · Mar 24, 2020

What you love about 70s denim?
Kerri: It's all about that high waisted fit. There is nothing better than a super high-waist and super long inseam worn with a pair of sky high platforms. It is the best silhouette – legs for days. I like a 13 or 14 inch super high-rise, all the way up to my true waist.
Jason: Vintage denim is usually 100% cotton so it has a better fit compared to modern-day stretch denim which has a good fit at first but after wearing, it starts to sag. You can wear vintage denim for a month straight and it still has a crazy good fit. And the more you wear it the better it looks, you almost get a different pair of jeans because of the fade and patina change over time.
Which 70s labels you like?
Jason: We are not really about labels, it's more about aesthetics and quality. We are always trying to bring our customers something really unique that has a killer fit – a piece that makes people take notice when you walk into a room. Levi's and Wrangler are definitely the most common labels. Dittos have a cult following. They were the first brand to focus on women's fit in the 70s, before that denim was pretty much unisex.
Kerri: Dittos created the saddleback detail and made denim as well as twill pants in rainbow colors. They made both super low hip-huggers and high waisted jeans. People collect the colors. Nest ce Pas? are definitely legendary, they made the ultimate roller disco jeans. They created the original Star back jeans. They were known for their innovative patterns, stars, arrows, and sunburst details. My personal favorite brand is L.A.P.D.'s (L.A. Pants Department). The fit is unreal.
How to get started with 70s denim?
Kerri: Know your measurements. True waist (waist at the narrowest point), hips (measured 9 inches down from your true waist), and inseam.
Jason: A lot of 70s jeans came with an extra long inseam and just a serged edge at the bottom so that you could hem them to the perfect length. There is also some play in the waist if you need to take them in, we've found a few pairs where darts were added from the waist down to the back pockets.
Kerri: We usually find sizes between 24 and 29. Unfortunately, the fits that people dig most were targeted for juniors so they tend to be really small – we've seen several pairs labeled size 26, XL, like 26 was the largest size offered.
As far as styling, we always pair extra long inseams with super high platforms. I usually rock my cropped bells with flats or Doc Martens.
How to care for vintage denim?
Jason: Wash as little as possible. With every wash some indigo is lost. Use cold water only and a little bit of mild, unscented detergent, hang-dry. If you want to tighten them up, you can dry them in the dryer. I mean you can just throw them in the washer and dryer if you want, it's just going to wear them out quicker if you do.
Kerri: The only thing you should never do is use scented detergent, for any of your vintage. It deposits a scented wax into the fabric and the only way to get it out is with multiple vinegar or oxi clean soaks. If it's denim or a t-shirt it's fixable but if its a delicate fabric it pretty much ruins the vintage piece because so many people are allergic to it. Also, it's just bad for the environment. Unscented is always best.
Most amazing jeans you've found?
A pair of natural denim 1969 Levi's which were hand-drawn all over with hippie imagery – an unreal piece of counterculture art, museum quality. Personally embellished Levi's were a medium that hippies used to express themselves & Levi's had a denim art contest in the early 70s. It was judged by Rudi Gernreich among others. There is a book that showcases the winner's denim entries. Who knows, maybe these were an entry?
Gold Marijuana Embroidered Super Bells by Fric Frac Paris. These Bells are insane. Original un-hemmed condition with an unheard of 38 inch inseam, stash pockets, & big bells.
We had a vintage tunic from our shop in the movie Once Upon A Time in Hollywood, and when we posted about it on IG, the actress Cassidy Vick Hice, hit us up and said she had no idea the tunic she wore in the movie came from our shop, but she had bought these embroidered bells from our website to wear to the Once Upon a Time wrap party.
These desert mystic airbrushed hip huggers by Wrangler are another amazing piece of 1970's wearable art.
What inspires your style?
Our main inspiration has always been music, movies and subculture.
Jason: I've always drawn from my memories growing up in the Detroit suburbs in the late 70s and early 80s. My parents and their friends wearing Harley tees and old Levi's with lots of turquoise jewelry. My uncle was a classic metalhead, my aunt rocking shimmer pants with a satin jacket on her way to the arcade.
Kerri: I was into punk music as a kid in the 90s, but I was always drawn to the hippie revival thing happening too. Jason and I were both always really into thrifting. We collect VHS and watch tons of old movies. Movies like Over The Edge & Switchblade Sisters and bands like The Ramones & The Runaways are definitely big influences.
Why you love vintage?
Jason: Each era has a color palette that transports me to that time period. In a sea of fast fashion, a person wearing vintage always stands out. People recognize it immediately.
There's an inherent value in vintage; the piece you are wearing might be the only one left in the world.
Kerri: The beauty of vintage is that sometimes you see a piece and you immediately know you have to have it, it evokes something inside of you, reminds you of something. Those are the pieces you have to buy, because as vintage lovers know, there is a good chance you'll never have that opportunity again.
Follow and shop Hellhound Vintage
@hellhoundvintage