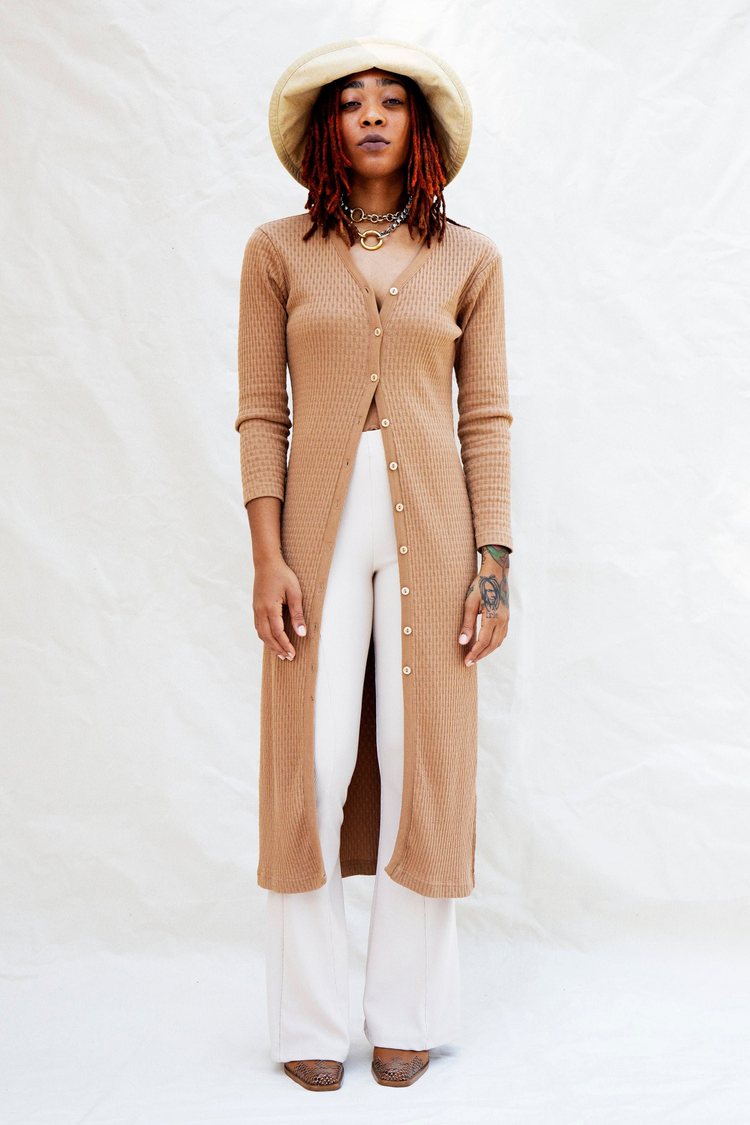 Look up fashion magazines' summer trend reports, pick your favorite look and choose the real deal – vintage.
With each season come the fashion magazines' trend reports: what to shop and wear this time around.
You probably already know this but great things are worth repeating: There is simply no reason to buy new – let's just copy the best ideas from the fashion press and go thrifting!
According to ThredUp, if everyone bought one item used instead of new this year, it would save 25B gallons of water (that equals 1.25B showers!) and 449M lbs of waste = 18,700 garbage trucks full.
What we buy, really makes a difference.
60s & 70s Groovy
Summer 2021 will be grooving – 60s-70s maximalist, vibrant prints and bright, energizing colors will be back, says Who What Wear.
"The world is ready to embrace youthful, energetic, and fun styles for the hopeful summer ahead. It was evident when designers released their S/S 21 collections in the fall, and it's clear as day now when you take a scroll through your favorite retailers. Amid the pages of your everyday basics, you'll find a rainbow of colors and maximal prints that seem like they were delivered right out of a time capsule", writes Yusra Siddiqui.
Vogue echoes the sentiment. "There's talk that after the pandemic, there will be another roaring twenties. But for a summer of reemergence, love, and togetherness, it's not surprising that we see a handful of late 60 and 70s-inspired florals across a handful of summer staples and modern silhouettes", writes Madeline Fass.
The keywords here are: technicolor and psychedelic. Try an over-the-top print mix á la Gucci – see how many prints you can wear in one outfit? Clash away, as fashion rules don't exist anymore.
Minimal
In the article about summer 2021 trends, Kerry Pieri of Harper's Bazaar recommends pieces "that you can wear now and definitely wear again later". This means a classic, minimalist style that always looks good, no matter what year you live in. Think aviator sunglasses, oversized button-up shirts, clogs, and "basics in subdued colors and no-fuss silhouettes", according to Sara Holzman of Marie Clare.
If you want to try something different but still keep your look timeless, look for knits in maxi length.
"A knit maxi skirt checks all the boxes: chic, cozy, cool, and a great base for everything from a T-shirt to a blazer", Pieri writes.
Simplifying your summer wardrobe with uniform-like looks is a "foolproof approach to chic summer dressing", knows Holzman.
California Casual
"We've waxed poetic about our obsession with tie-dye, but the summer trend is leaning further into its West Coast roots", writes Justine Carreon in Elle.
This means Hawaiian shirts, bucket hats, racer back tank tops – and anything tie-dye.
"Polish off the look with denim cut-offs and old-school sneakers like Vans to really capture the SoCal aesthetic", Carreon writes.
A more grown-up version of the tie-dye trend is a dress or skier with a sophisticated silhouette. "In other words, you don't have to go full-hippie to participate", Carreon continues.
Unisex Utilitarian
The utility trend has been going on for some time already, and this summer it is evolving from safari and workwear jackets to full-on battlefield looks, says Teo van der Broeke in GQ UK.
"Now, for Spring/Summer 2021, the look has been updated with more of an all-round "high-function" vibe. … next summer it's all about looking like you're coming out of the apocalypse fighting (which you kind of will be)."
In a sturdy coverall, you will literally be prepared for anything. Or pick up multi-pocket y2k cargo pants and throw on an anorak for your post-pandemic look.