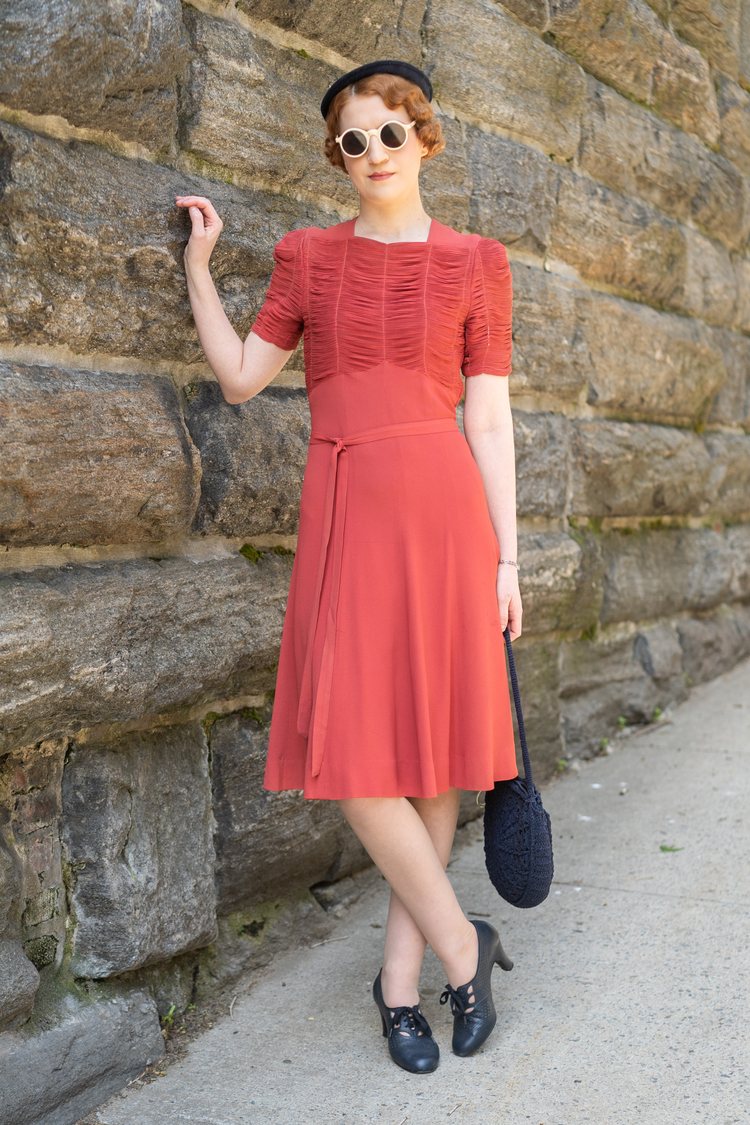 Like many, Caroline Schaffer discovered vintage through Mad Men. Now she only wears 30s and 40s vintage.
"I wear a full vintage look every day if I leave the house.
I grew up going to antique malls and flea markets with my mom. I've always liked collecting old things but I didn't get into vintage clothing until I first watched Mad Men. That show made me start collecting real 60s and 50s clothing and thrifting vintage-style clothing until it was most of my wardrobe. I started to go back in time by collecting earlier and earlier clothing until my whole wardrobe was the 30s-40s with a bit of 20s.
My 40s dress is from Sweet Disorder Vintage and has one of the best prints I've seen, which is really saying something. I love a good novelty print, especially if it's floral. The Plasticflex bag is from Sister's Vintage, and it looks so modern but is actually from 1941. I think it goes so nicely with my 30s hat from the Netherlands. My other accessories are bakelite bracelets and another pair of Memery shoes.
Wearing true vintage isn't really difficult or uncomfortable.
You do need to be more careful because of the age of the clothes. And okay, some dresses are hard to put on because they have no side openings....but overall, my clothing is comfortable to wear. The fabrics are soft from age and they're all made of natural fibers, so they breathe well. Plus, I find it easier to shop for vintage because it all goes by measurements rather than a single size, so I can find clothing that fits me better.
This is a 30s cotton dress that I purchased from Liliesandremains on Etsy. The crochet hat is really cool because it has a National Recovery Administration (NRA) blue eagle label inside, which dates it to between 1933-1935. The 30s bag has a cool mix of textures because of the ostrich leather details. I wear this outfit a lot because it is incredibly comfortable but also looks put-together.
I love the silhouettes and details from the 30s and 40s – puffed sleeves, shoulder pads, matching belts, deco prints, bias-cut skirts. It's fun to wear. Also, a lot of clothing from this era was made from rayon which can be worn year-round (very practical when you live in an apartment and have one small closet).
This is one of my favorite dresses but also one of my most fragile...the silk on the sleeves and neckline are shredding in places, but the deco print really distracts from it. I purchased it at the Manhattan Vintage Clothing Show. The hat made by Deco Dreams is crocheted from a vintage pattern. I wish I could have this hat in every color.
My deco hardbag is from my favorite vintage store, Edith Machinist here in NYC. I'm not sure if the bag is alligator or crocodile but I like to wear it with this dress because of how the circular scales on the purse coordinate with the print so well. My shoes are from the 40s.
This late 1920s dress was a gift and is one of the best, most pristine vintage items I own. I'm wearing it with my favorite watch and 30s bag. The shoes are also real 20s shoes with silver lamé and cutout details. I got them cheaply because they were well worn and rust-stained. I don't mind some damage to my clothing – everything is 80+ years old, after all – but they were SO stained. I painted the cream leather carefully with shoe dye and now they are presentable again!
I like to do the whole look with hair and make-up even though I am asked if I'm in a play all the time because it's fun. I guess I can get away with doing the whole look because I work in a creative field and live in New York. For my hair, I do a wet set by using foam rollers and a setting spray on wet hair. I'm not very good at styling hair so my only tip is to watch a lot of tutorials for wet sets, make sure the hair is FULLY dry before taking the rollers out, and just practice a lot. The best tutorial I found was on a blog called Chronically Overdressed. For makeup, I would look at old makeup advertisements and the vintage makeup guides on vintagedancer.com.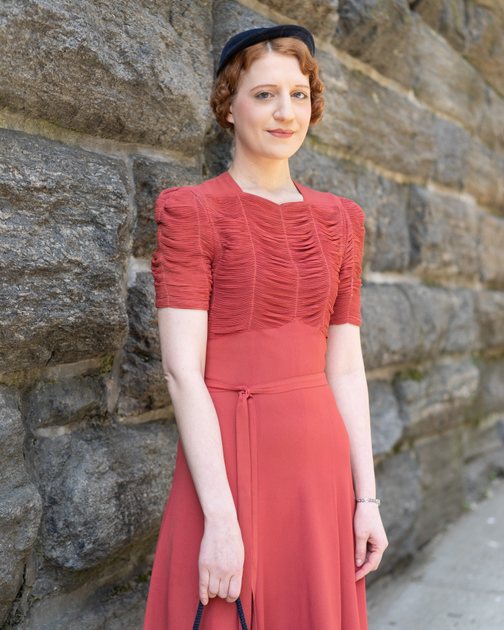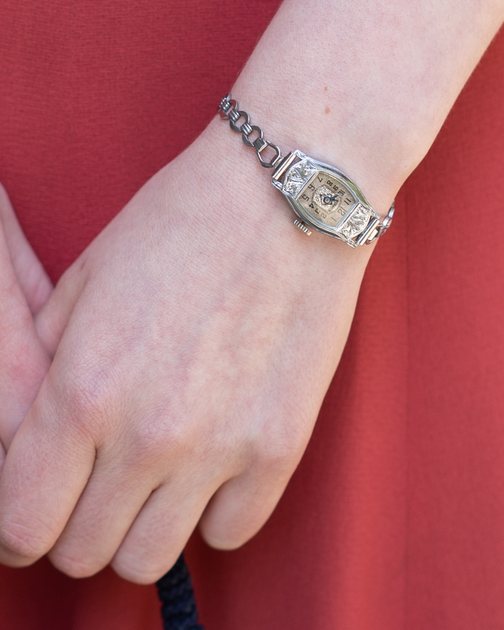 This dress I found on Etsy came with a note that said 'Dress married in – December 20, 1938' and I think it's so cool that someone picked a dress like this for their wedding! I try to wear it every December 20. The navy 30s hat was found on Etsy using Gem search. 30s celluloid sunglasses are also from Etsy, and the cordé bag is from Stella Dallas in Brooklyn.
My shoes are from Memery, a company that makes reproductions of vintage shoes. I own a lot of shoes from this brand because I think their styles and colors are the most authentic out of all the repro brands. I'm also wearing a 30s watch which I had repaired.
My tips for someone who would like to start wearing 30s 40s vintage: You don't need to wear all true 30s/40s clothing to get the look.
There's a lot of 70s or 80s-does-40s clothing out there that can be styled in a more 40s way but is less expensive/fragile. Plus, mixing eras is cool. I myself find it fun to wear an outfit that's all one era. I love when other people mix eras though!"
Follow Caroline on Instagram @carolineinvintage